Jumbo sounds resound in a flattop that's a straight-up steal.
Excellent value. Great quality for the price. Super playable. Unique tone profile.
Midrange can sound brash.
4
4.5
4.5
5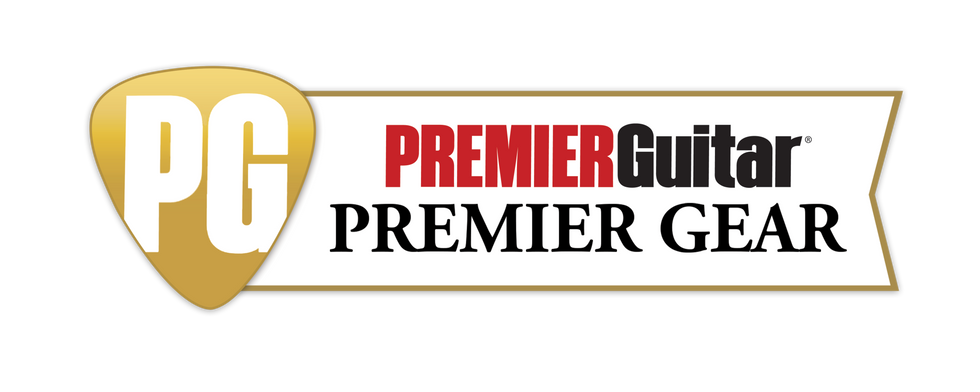 Everyone should try playing a jumbo-bodied acoustic at some point. Though unless you live somewhere with a well-stocked guitar shop, it's not always the easiest thing to do. Compared to dreadnoughts and orchestra-sized models, jumbos make up just a small fraction of the acoustic market. But playing a good one is an extraordinary experience. They are viscerally vibrating things—loud, powerful, and pianistic for all their sustain and panoramic tone spectrum.
---
While they didn't build the first jumbos, Guild is a giant in this narrow field. The company launched their F-50 in the mid 1950s, and the basic body style has been a fixture ever since, becoming a platform for rosewood- and maple-backed incarnations as well as a number of 12-string versions, which are an absolutely essential acoustic guitar playing experience.
The F-240E is Guild's newest addition to their jumbo family. And as a member of the company's affordable Newark St. line, it's Guild's most affordable jumbo. At $399 and with Fishman-designed electronics, it is as fine an acoustic bargain as you'll find. But the F-240E provides much more than the generic entry-level acoustic experience you often encounter in that price class. It offers a truly different sound picture and tone profile that, depending on your comfort with the big body, can unlock inspiration and dormant approaches to acoustic playing. It also upsets the notion about jumbos being exclusively strummers. The F-240E is a beautifully responsive fingerstyle instrument, as well.
Arched and Feathery Light
Many Guilds—particularly from the '60s and '70s—are pretty heavy guitars (remarkably, at no detriment to their tone, which can be massive). The F-240E suffers no such afflictions. It's light for its size and very well balanced. And while players of small stature will probably find the body to be an armful, the satin finish makes it a pleasure to hold.
While a lot of old Guild jumbos were top-of-the-line instruments and dressed-up accordingly with acres of inlay, the F-240E is comparatively austere and flattered by the minimalist design. Like any jumbo, the F-240E is a beautifully curvaceous instrument, and those lines are, in fact, accentuated by a lack of adornment.
Construction quality is excellent for a guitar in this price range. There are a few details that could use a bit more attention: some fret ends, for instance, felt like they could have used another quick pass from the file. But for the most part, this Guild exhibits the kind of build quality that you see in instruments much further up the affordable- to mid-price food chain. One notable deviation from flattop convention that is typical of many Guilds is the laminated arched back. Many luthiers swear by the structural integrity of this approach, but it's not hard to imagine that has more than a little to do with the F-240E's lively personality.
The F-240E is comparatively austere and flattered by the minimalist design.
A Baby Baby Grand?
It would be an exaggeration to equate the F-240E's output or tone complexity with that of a grand piano. Nevertheless, the Guild's big body does impart many piano-like dynamics and sonorities that can shape and inform your playing style. The guitar's 6th-string notes, for instance, could certainly be more rich or characterful, but the big body and expansive spruce top lend them a lovely sustaining quality that is a beautiful counterpoint to the clear, bell-like top-end. It makes a very pretty combination of sounds in spacious fingerstyle arrangements.
If there's a downside to the F-240E's tone profile, it's a very present midrange that can sound strident against the more gently resonant high and low strings. This affect is exaggerated in aggressive strumming situations—a playing style that many aspiring Pete Townshends associate with jumbo bodies. Some players may end up perplexed by this essential paradox in the F-240E: a born strummer that arguably sounds finest with a light touch. But these are highly subjective assessments, and if you fear midrange less than me, you may find the Guild's big strumming voice exciting. Certainly, it can sound massive in recording situations. And with a little compression and EQ, you can create a mighty wall of chugging rhythm with the F-240E.
The Verdict
There's a slightly giddy thrill that goes along with playing an inexpensive instrument that sounds great. And while there are certainly affordable flattops that sound as "good" as the F-240E by one measure or another, few have a character quite this distinct. As with any affordable guitar, there are limitations. I'd love to hear more bloom and complexity in the low end and less dryness in the midrange. But the sensation of feeling bass notes resonate against your ribs, and the expansive piano-like contrasts of the high notes and droning bass notes, could guide you to entirely new approaches to songcraft. And if $399 is all you have to pay to add a few extra tunes to your catalog and some extra musical verbiage to your vocabulary, how can you go wrong?