A newly designed koa wonder that packs a punch.
Incredibly easy to play. Well-balanced tone.
Not as visually stunning as other koa models.
4.5
4.5
5
4.5
Hawaiian koa has been a favorite of boutique acoustic builders for ages. It has a cool tone personality, somewhere between rosewood and mahogany. It can be used for both back and sides and for top wood, and it's beautiful. It's also pretty expensive. The good news is that Taylor's new 724ce is built with a breed of Koa that actually helps players save a few bucks.
How did Taylor pull off this trick? Well, back in 2015 Taylor formed a partnership with a tonewood company called Pacific Rim Tonewoods. The collaboration strengthened the forestry stewardship projects that are always a Taylor priority. It also allowed Taylor to cut the logs themselves, leading to discovery of a supply that wasn't as spectacularly flamed as traditional koa, but retained the sound the wood is famous for. The new wood supply enabled Taylor to build a koa instrument that sells for nearly $2,000 less than their normal koa offerings. Dubbed "select-grade," this new crop of tonewoods is now one of the foundations of the company's 700 series.
Koa Chameleons
In my experience, Taylor's guitars are usually impeccably playable. Sure enough, the neck on the 724ce is comfy and fast. It feels inviting and the 1 3/4" nut width lends itself to fingerstyle. The 724ce is built around Taylor's most popular body size, the Grand Auditorium, which in this case, features a Venetian cutaway that also opens up a lot of the fretboard for exploration. The neck is tropical mahogany and is capped with a West African ebony fretboard that goes well with the dark amber of the koa and the Indian rosewood binding. The guitar also comes with Taylor's Expression System 2 preamp.
When I first picked up the 724ce, two things stood out. One was how light and balanced the instrument felt. The other was the finish on the body. Normally, I associate koa instruments with deep, glossy finishes, but designer Andy Powers went for an extremely thin (2 millimeter) matte finish here. It's so thin that you can feel the pores in the wood, and the thin finish arguably adds to the instrument's liveliness. Another feature of the 724ce is the updated V-Class bracing, which Powers tweaked a bit to make the ends a bit stiffer across the back of the guitar. And at first strum, I could hear the pronounced midrange that is a Taylor trademark as well as airy top end. Together, the tone profile reminded me a bit of a modern, midrangey dreadnought with more focus. And though it doesn't have the headroom of a full-bodied dread or jumbo, it's balanced in a way that would fit in with a broad range of styles. When I played a bit harder with a pick, I could sense how the koa top and, most likely, the bracing tweaks widened the dynamic range, and enhanced the guitar's responsiveness.
The tone profile reminded me a bit of a modern, midrangey dreadnought with more focus.
Express Yourself
Taylor's proprietary Expression System 2 preamp does a fine job of representing the 724ce's detailed sound without enhancing the high-mid frequencies and harsh attack typically associated with undersaddle pickups. Taylor achieved this improved tone in part by moving the transducers behind the saddle. The sensors can also be adjusted with an Allen wrench, which means the pickup tone you hear isn't necessarily the tone your stuck with.
The Expression System 2 certainly makes performance more worry free. I recently worked a stage musical production that required a fair amount of acoustic work, so I brought the 724ce and plugged into a Line 6 Helix that fed the front of house. I didn't have much tone processing going on, but the raw sound from the board through the theatre was magnificent. I kept the guitar's tone controls mostly flat and ended up boosting the high end just a bit to cut through the band. And overall, the Expression System 2 did an admirable job.
The Verdict
The 724ce works, sounds, and plays almost exactly as advertised. The koa tones are complex and nuanced, with a little touch of mahogany midrange and maple sparkle that add up to a practical and satisfying balance. At $3,499 it's a long way from being a budget model, but if you're considering a koa instrument, it does allow you save a few bucks in exchange for a slightly less flamboyant look. As with all high-end tonewoods, the 724ce will likely sound much better after a decade of solid strumming. But even in its infancy, the rich tones are there.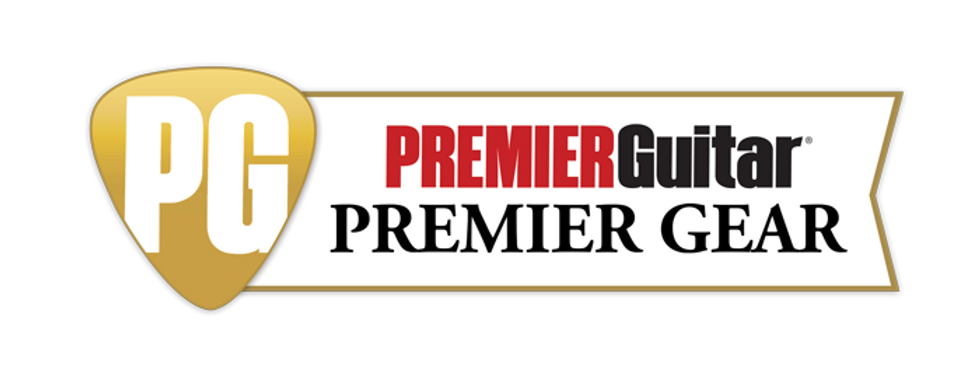 The Presentation Elect #6, from Abyss Guitar Company.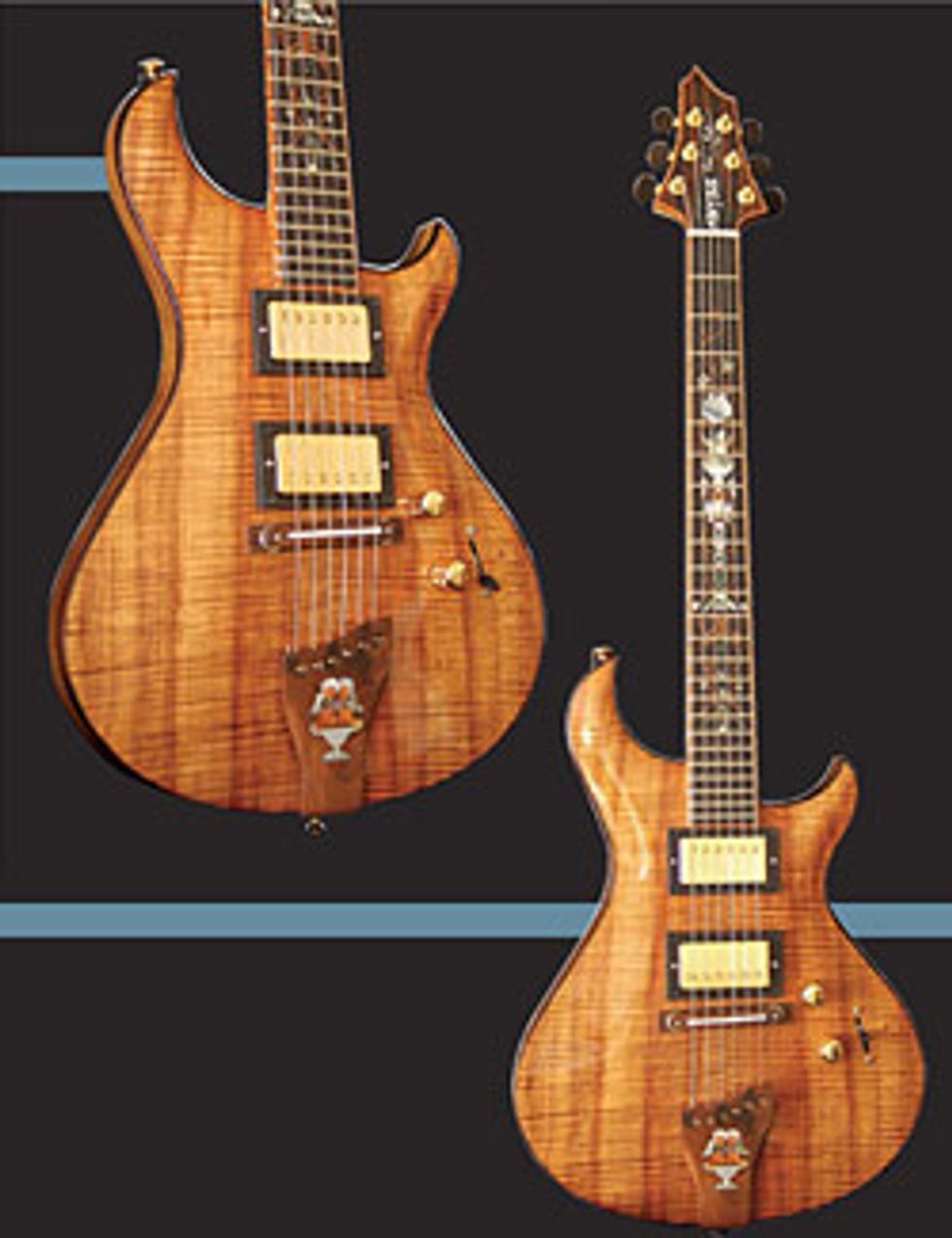 The Presentation Elect #6, from Abyss Guitar Company.
This guitar features a variety of exotic woods, including a master flamed koa carved top, Macassar ebony binding, striped korina neck-through-body construction and ebony fingerboard and pickup surrounds.
The bridge base and headstock overlay is Macassar ebony, while the tailpiece is Brazilian rosewood. The Schaller tuner buttons are gold with ebony buttons and the Presentation Elect #6 features a bone saddle and nut to enhance tone. It is wired with a Seymour Duncan JB in the bridge and a '59 in the neck position. The inlay is abstract VineArt using koa, abalone and mother of pearl.
The guitar was handmade by Kevin L. Pederson, of the Abyss Guitar Company.
If there was another tonewood that does it all for me, and (dare I say) almost better than any other, it would have to be koa (Acacia koa).
Honduras mahogany has been considered a standard guitar tonewood for generations, known for its warmth and fullness. American and European maples have made the grade with all the flame and quilt. Indian rosewood and other more modern, exotic woods have hit the scene over the last 30-40 years, including ebony, lacewood, ziricote, cocobolo, walnut, cypress, and even mango wood!
Yes, the common belief is that the ultimate, Holy Grail of tonewoods is Brazilian rosewood, which toils with tenor and marketing. This makes it difficult distinguishing the two at times, and I do agree that Brazilian is wonderful. Cut from the stump, it can possess the most striking, dark, shimmery ripples that look as three-dimensional as it sounds (More on the Brazilian in future articles).
If there was another tonewood that does it all for me, and (dare I say) almost better than any other, it would have to be koa (Acacia koa).
Only found in, and native to the Hawaiian Islands, this beautiful, fast growing hardwood forest tree has an amazing history. It was prized by early settlers for canoe carving, being fairly light and buoyant, and it was "the" wood for the famous Ukulele craze in the teens and twenties. It wasn't long before word got out (mostly after WWII), that fine crafted koa instruments were popping up all around the world.
There are three main things that many builders look for in a great tonewood: workability, resonance, and appearance. In my opinion, koa has it all.
Though its density can vary, I find koa to be fairly lightweight with excellent rigidity. It sands well without gumming up or leaving any oily residues. It bends well, and finish adhesion is never a problem.
When paired with a nice soundboard, koa has the crispness and clarity of the finest rosewood, but with all the warmth, thick tone, and airiness that mahogany possesses. Its individual note definition has magnificent separation, with power and projection that is almost self-generating. Adding to this is koa's ability to be boisterous and brash, or soft and smooth if you so choose. Koa is also one of the few tonewoods that can literally take on a "two sided" role; as a back and side wood, and as a soundboard … making one dazzling piece of instrument!
Its beauty can be breathtaking. koa's color spectrum and swirling grain pattern is as wide as they come; from mild ambers to brick reds, cinnamon browns and bold charcoal streaks. When figured with curly tight flame, koa possesses a depth and allure that is truly from Kane. I've seen people so struck with the beauty of koa that they practically fall off their chairs as the guitar is removed from its case.
With all the koa hoopla, there is bad with the good here. The koa forests have been drastically depleted over the years, which explain the soaring prices: $300-$500 a set, and declining quality. Wide board sets for guitars are becoming more difficult to get no matter how fast the tree grows. This is why koa is rarely found on the modern production guitars of today. It's just too expensive.
The great debate of the best tonewood for steel string guitars will go on forever, and rightfully so. Everybody has different ears, and everybody has different tastes in tone and beauty. So I say, whatever floats your boat – or canoe.
Photo Credits:
Koa Tree in Hawaii: Forest Starr & Kim Starr
Babicz Signature Koa Guitar: Jeff Babicz

---
Jeff Babicz
, founder of Babicz Design Ltd., builds his acoustic and electric guitars using his patented, and award winning Lateral Compression string anchored Soundboard, Torque Reducing Split Bridge, and Continually Adjustable Neck designs.
www.babiczguitars.com
Questions? email me at:
babicz@babiczguitars.com