Need to mix it up? Here are 10 options that can go from twang to growl to … gristle.
One of the most effective—and least invasive—ways to mod a guitar is to swap out the pickups. Wanna experiment with a 'bucker in the bridge? Leave the router at home. We've rounded up 10 options that range from affordable and effective to boutique and beyond.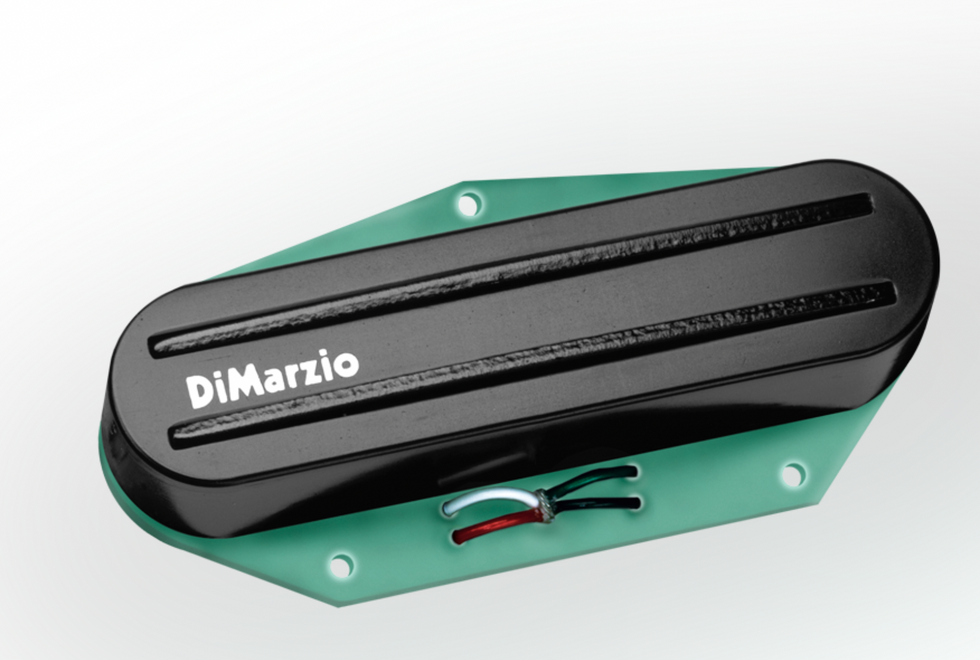 This single-coil-sized version of the company's legendary Super Distortion is aimed at T-style players who want the thick sound of a 'bucker in the bridge. It has a pronounced low-mid response with a roll-off on the high end.
$99 street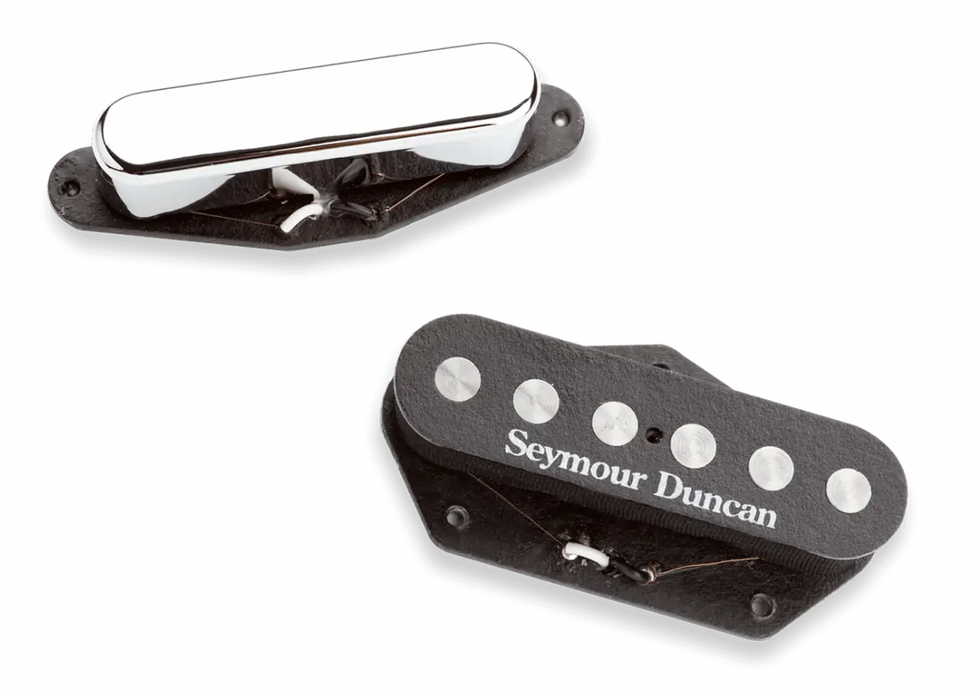 Centered around a set of alnico 5 magnets, this high-output single-coil crosses into P-90 territory. You can also get a tapped neck variation that allows for both vintage- and high-output sounds within a single set.
$89 street
Introduced in 2016, this T-style pickup features the guts of the company's T-Armond pickup, but with a little more juice. Like many of the pickups on this list, it's a straight drop-in replacement for standard-sized pickups.
$120 street
With less than 10 components in a single pickup, Mojotone made these designs very simple. They use their "Quiet Coil" technology to get rid of the hum without batteries or stacked coils. The pickups are also scatterwound for more sensitivity and clarity.
$98 street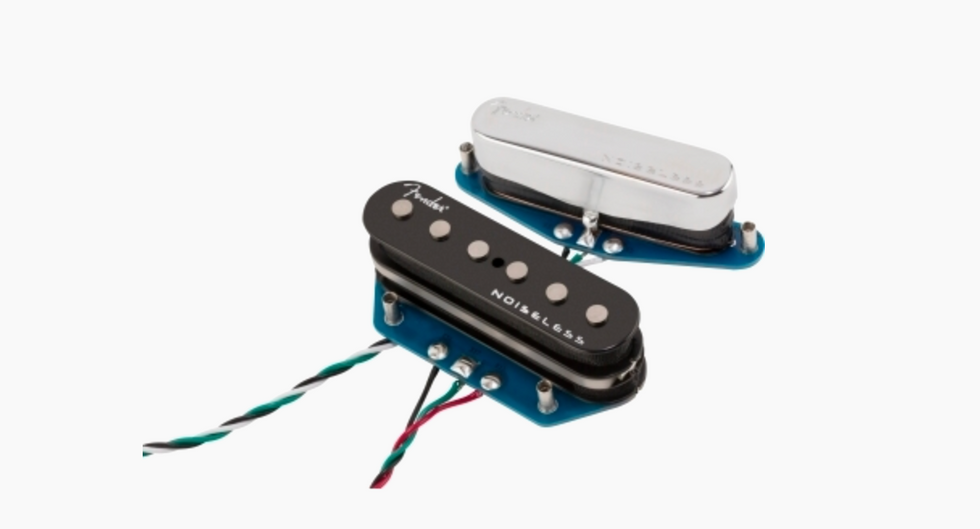 These stacked-coil setups aim to capture the classic sound and sparkle of vintage Tele pickups. They use alnico 5 magnets, Polysol-coated wire, and flat, non-beveled pole pieces. The neck pickup measure about 11k resistance and the bridge comes in around 10k.
$199/set street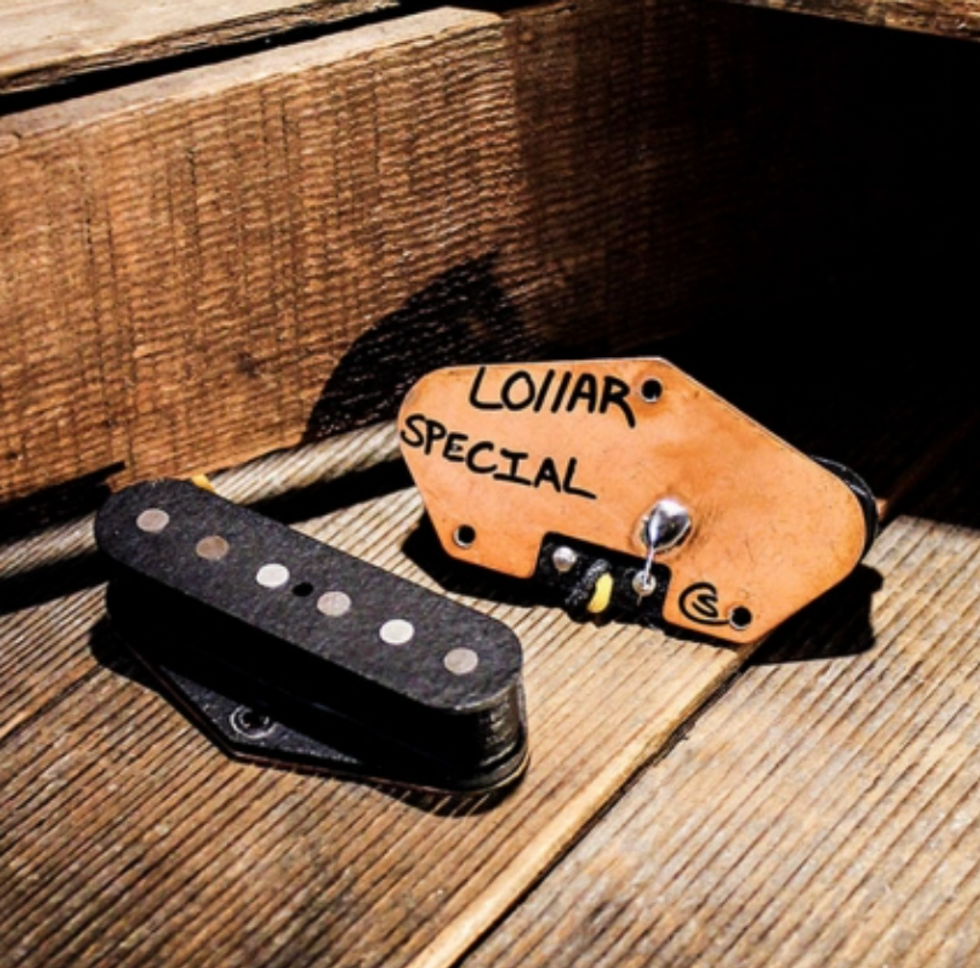 Jason Lollar is a bona fide pickup genius, and his take on the classic '50s Tele sound is represented here with a pronounced mid and bass response along with a smoother top end. Described as slightly hotter than a vintage Broadcaster pickup, the bridge comes in at 8.0k.
$125 street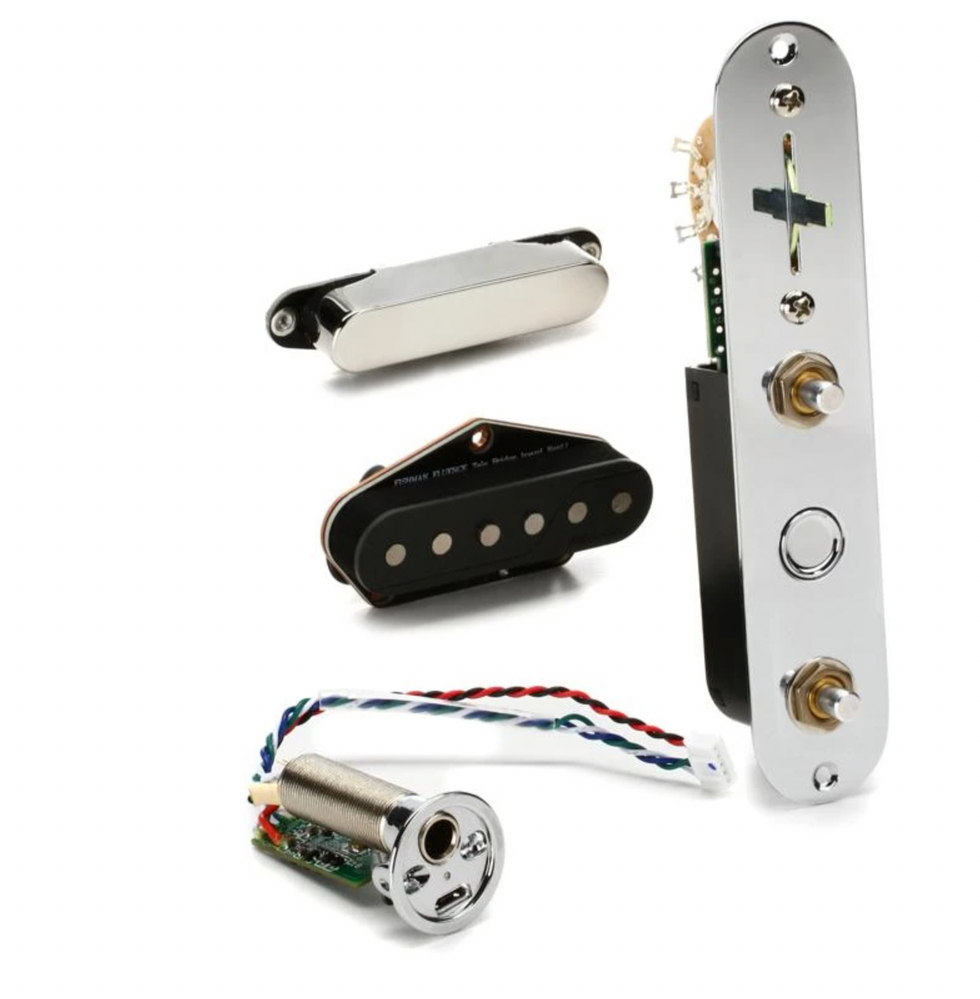 Wisconsin's most gristly guitarist teamed up with Fishman to create an entire T-style setup based on their Fluence technology. Each set includes both pickups, a control plate, and an output-jack cup with a USB charging input. With the push of a button, you can easily go between "blackguard" and "whiteguard" tones.
$359/set street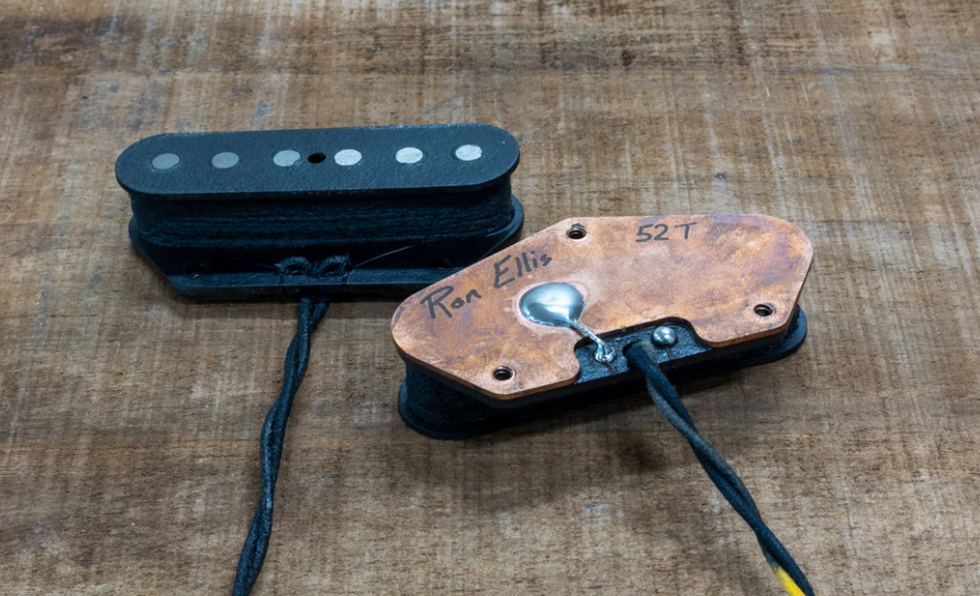 Ellis might be one of the most in-demand pickup designers around today—and the going rate for his offerings bear that out. This particular flavor goes after the "blackguard" tones of classic Tele pickers such as Vince Gill and Brent Mason.
$375 street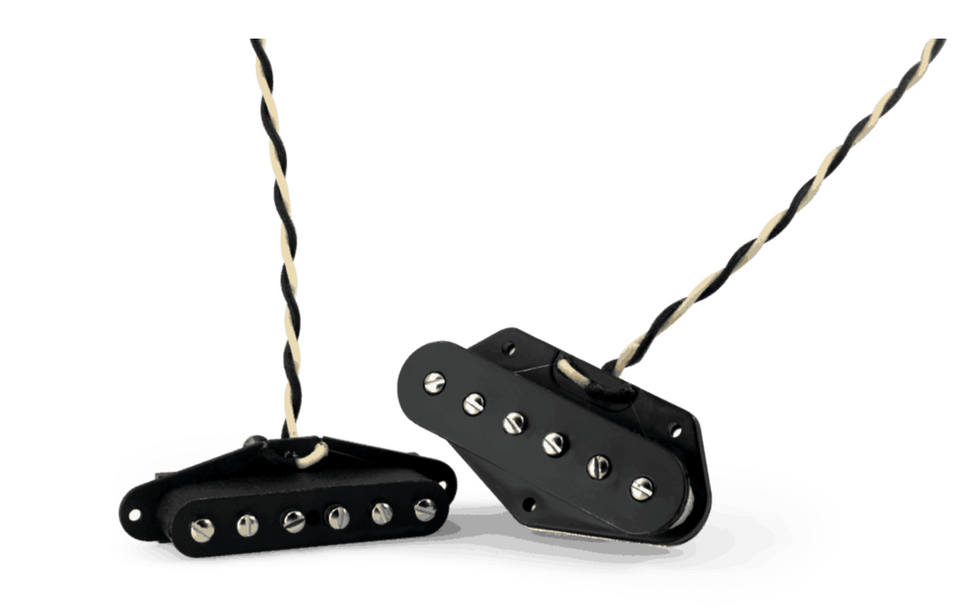 Described as a cross between a T-style pickup and a P-90, this design houses a ceramic magnet and adjustable steel pole pieces. Sonically, it has a mid-forward tone that offers a faster breakup when playing with distortion.
$115 street
Hate the hum? These active pickups aim to balance the punch and clarity of vintage Tele pickups with the modern convenience of quiet. It uses alnico magnets and a custom winding to increase bandwith and fullness of tone.
$89 street
Fender's hallowed vintage humbucker with CuNiFe-magnet pole pieces boasts one-of-a-kind tones. Problem is, it costs $500+ per pickup on the used market.
There are present-day options for chasing the tone from Seth Lover's originals of yore—without spending a small fortune on a '70s Wide Range pickup or going for a rebuild. We've rounded up 10.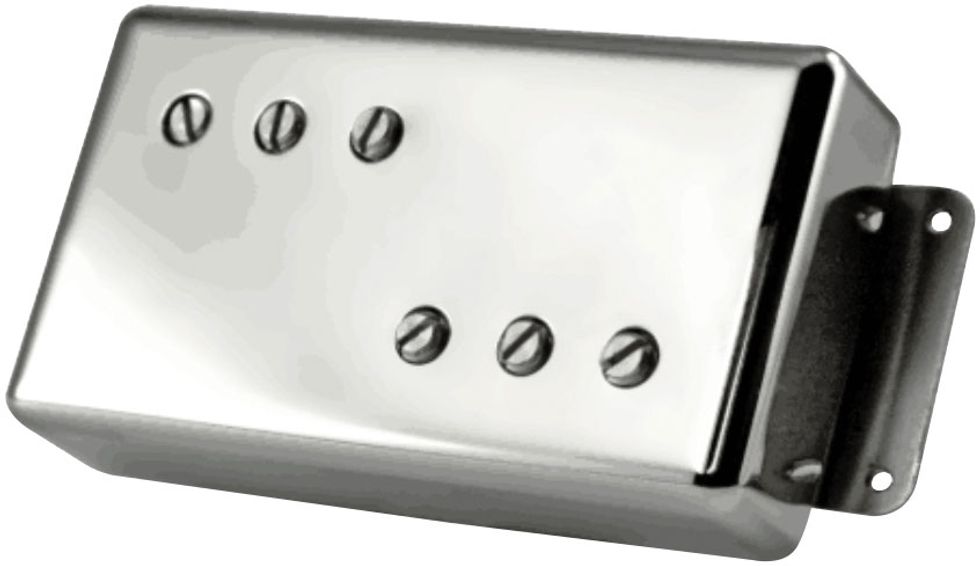 These one-at-a-time handwound versions of the original are made with all-U.S. parts, and are designed to be clean, articulate, and bright for era-specific tone.
LINDY FRALIN
Built with staggered, alnico-5 magnets—with beveled, exposed poles—these 'buckers are 20 to 30 percent overwound, compared to the company's regular-sized humbuckers, for bigger, thicker tone.
PORTER
For classic, fat, single-coil "doubled-up" sounds, these pickups are made with a warmer midrange sound than standard singles and, with a higher output, intended to break up an amp nicely.
CREAMERY
These vintage-correct Wide Range-style pickups are handwound with threaded-rod magnets using the larger Fender-style frame and cover, and can also be ordered with a Fender logo cover.
CURTIS NOVAK
For his version of a classic Wide Range, Jason Lollar designed the tooling to accurately produce his pickups to the original specs, and they are available in chrome, nickel, or gold.
LOLLAR
Fully vacuum potted, these clones of the original were designed to completely capture historic sound, but include some improvements, like a slightly underwound neck pickup and 4-conductor wiring.
MOJOTONE
Utilizing threaded alnico-5 rod magnets and a period-correct wind pattern, these pickups are designed to get as close to the bark and bite of the vintage originals as possible.
SEYMOUR DUNCAN
Another homage to Seth Lover's original design, these pickups promise jangle and power with their vintage-correct and -sized bobbins—and to be a great option for indie sounds to blues tones.
REVEL
Ready to fit into Fender Tele Deluxe and Custom guitars from the '70s, the WideTone Fats are geared for extra sweetness, girth, and beefy overdriven tones.
GUITAR FETISH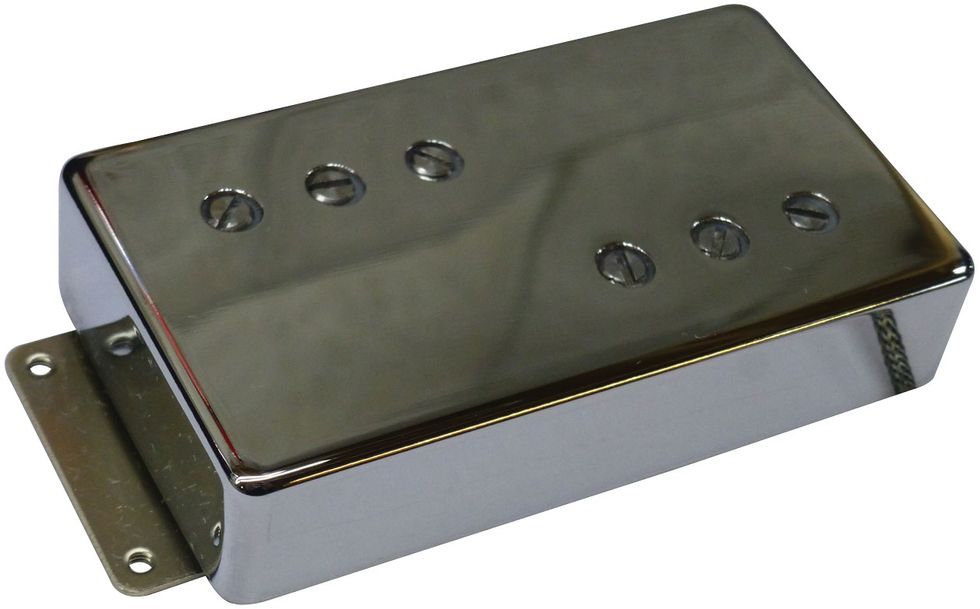 Using a plastic injection mold to produce the correct-size bobbins for the correct-size wire on the '72 originals, these pickups also feature a version of alnico-2 and alnico-5 threaded magnets.
BRANDONWOUND
Genuine acoustic and magnetic-pickup plugged-in tones, at the same time? You bet.