Bilt and Milkman collaborate on a tweed Deluxe-style amp that adds tone options and enticing styling.
Responsive with an impressively wide range of tones. Bass knob is a welcome addition. Super sleek. Successfully sags at high volumes.
Only available to Bilt owners. Expensive. Cabinet finish might not hold up to heavy gigging.
$2,999 base price (available as add-on to Bilt order, or to current Bilt owners)
5
5
5
4
There's a good chance your first electric guitar came in a packaged set with an amp, case, cable, some picks, a tuner, and maybe even an instruction book. Mine did—and I still remember the excitement I felt while opening it on that fateful Christmas morning. The Bilt Starter Pack is a chic, high-end, customized guitar/amp combo package designed to re-capture that thrill for players with fancier tastes. And while the Starter Pack isn't exactly designed for budget-conscious newbies, unless you already own a Bilt guitar, it's the only way to get your hands on the new Bilt Amp.
Bilt's first amplifier is a modern love letter to the 5E3 tweed Deluxe circuit created in collaboration with Milkman's Tim Marcus. One interesting twist is that each Bilt Amp is made using the same tonewood and finish as the Bilt guitar it's paired with—at least if you're a new Bilt customer opting for the Starter Pack package. But whether you buy the Bilt Amp as part of a matched pair or to go with the Bilt you already have, it's a great sounding take on the tweed Deluxe circuit.
The Bilt Amp Review by premierguitar
All clips recorded using Shure SM57 into an SSL 2+ interface.
Recorded using a Bilt Relevator with Lollar JM pickups, neck position. Amp tone at noon, bass at 5, then cycling through bass knob settings (4, 3, 2, 1).
Recorded with Creston T-Style with Lollar Gold Foils, middle position. Amp tone at noon, bass at 5, bright off, down, then up.
Recorded with Creston T-Style with Lollar Gold Foils, neck position. Tone off, then noon, then cranked. Bass knob at 5.
Recorded with Creston JM with Lollar JM pickups, middle position. Amp tone cranked, then lowered to noon. Bass at 5, full volume.
Recorded with Creston JM with Lollar JM pickups, neck position. Volume at 4, then 6. Bass at 5, tone at 6.
Made To Match
The Bilt Amp cabinet design is sleek, with rounded corners and a large C-shaped cutout with white piping that recalls many vintage Valco-made Gretsch amps. Sitting next to a matching guitar—which for our demo Starter Pack was an alder, shoreline gold Relevator with a bedazzled birds-eye maple fretboard—the pair make a major statement.

The Bilt Amp is a top-quality piece of work. Our Amp's alder cabinet was crafted at the Bilt factory in Iowa and loaded with a 12" alnico Celestion gold speaker. The electronics are handwired by Milkman in San Francisco using Jupiter capacitors, Mercury Magnetics transformers, and JJ tubes. Twelve to 15 watts of cathode-biased, class AB tone are generated via a 5Y3 rectifier tube, two 6V6 power tubes, and two 12AX7 preamp tubes. The controls include high- and low-impedance inputs, a 3-way bright switch, a power switch with a standby setting, and three oversized RCA-style knobs for volume, tone knob, and bass contour.
Click for Bass
As a hopeless tweed Deluxe enthusiast excited at the prospect of any good 5E3-style amp, I'll admit I gave a side-eye to the Bilt's bass knob. The single tone control of an original 5E3 is, after all, an essential part of its sound and operation. But the Bilt's bass knob, which clicks into its five pre-set positions proved to be an asset—not least because the Bilt Amp tends to be stronger in the low end than a typical tweed Deluxe-style amp, which could have something to do with its larger enclosure (24" x 9 1/2" x 18 1/4").
Even without additional gain, the Bilt easily achieves the hallowed sagging compression that makes tweeds so legendary.
When I fired up the Bilt with relatively neutral settings to start—low volume, tone at noon, bright switch on middle/off setting—I immediately recognized the relatively fast, mid-focused response of a tweed Deluxe at lower volume. At that setting, the clean tone is warm and clear with well-rounded highs. It's such a natural tone that particularly low volumes almost feel acoustic. It's a cozy, organic experience. At moderate volumes, the Bilt's Deluxe-ness still shines. There is noticeably more treble to my ears, but the mids are just as robust.
More Tone, More Volume
The Bilt's tone knob offers plenty of range. It works dynamically with the volume control, and at low and moderate volumes, adding treble also adds bite that can push the amp to overdrive. At high volume settings, that treble is an essential part of the signature, wide-open, overdriven tweed sound. And while I could fulfill all my treble needs with the tone knob alone, there is a 3-way bright switch if you need to go that extra mile.
Cranking a tweed-style amp is a raggedly glorious feeling and the Bilt delivers on that promise. There's a bit more body in the Bilt's voice than a tweed Deluxe. That's a good thing, though— especially when pedals are involved. Paired with overdrive and reverb, the Bilt turned into a saturated rock 'n' roll monster. But even without additional gain, the Bilt easily achieves the hallowed sagging compression that makes tweeds so legendary.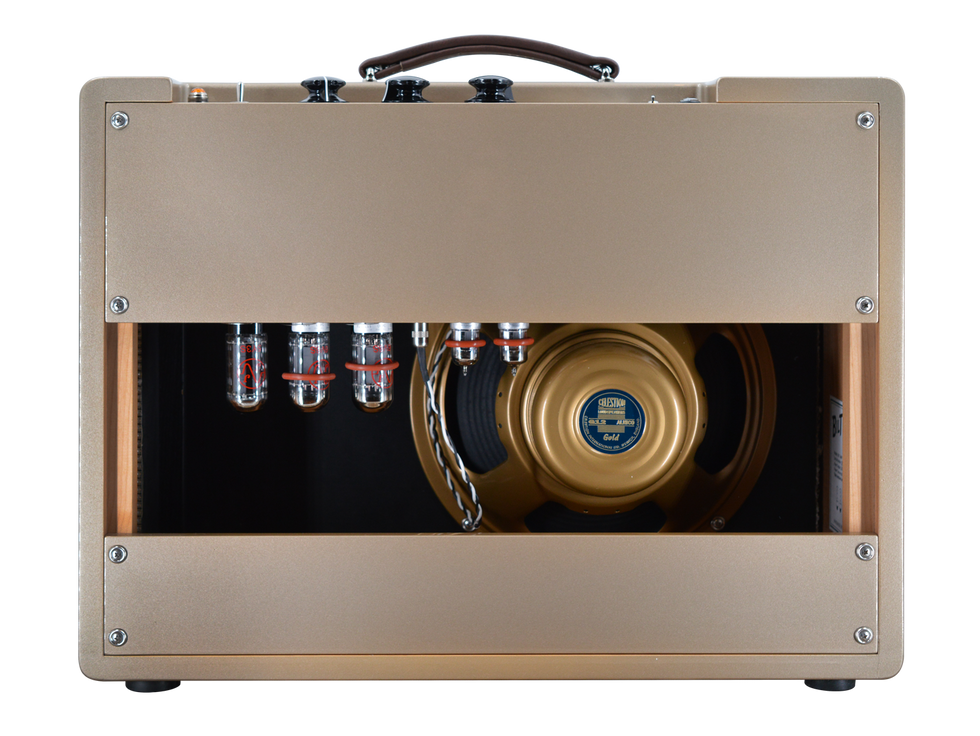 Although the wattage rating is the same as a Deluxe, the Bilt feels like a louder amp, which could have something to do with the cabinet's bigger-than-tweed-Deluxe size, alder construction, or the 50-watt speaker. Uninitiated players might be concerned about the low wattage, but the Bilt will give most players all the volume they need to soar above a band—any louder might actually be too loud.
The Verdict
There's some danger in making an amp look this good. I'm not precious with gear, so I'd be concerned about scratching the finish on the Amp at gigs—even though it comes with a sturdy padded nylon case. And with an amp that sounds this good, I'd want to play it anywhere. I'd also want to be able to buy it—whether or not I was in the market for a Bilt guitar. So, yes, there are some obstacles to practical ownership of the Bilt Amp. Hopefully, Bilt will consider a more flexible purchase plan in the future.
Purchasing limitations aside, the Bilt Amp is a finely crafted boutique amp. It sounds amazing and does an excellent job at manifesting the essence of a tweed Deluxe—an impressive feat in itself— while adding more tone-shaping flexibility. Do matching amp and guitar tonewoods sound better together? Sure, playing the matching Relevator felt cool. But every guitar I played out of the Bilt sounded equally fantastic. That said, I won't mind watching tone-nerds hash out that discussion in forum threads.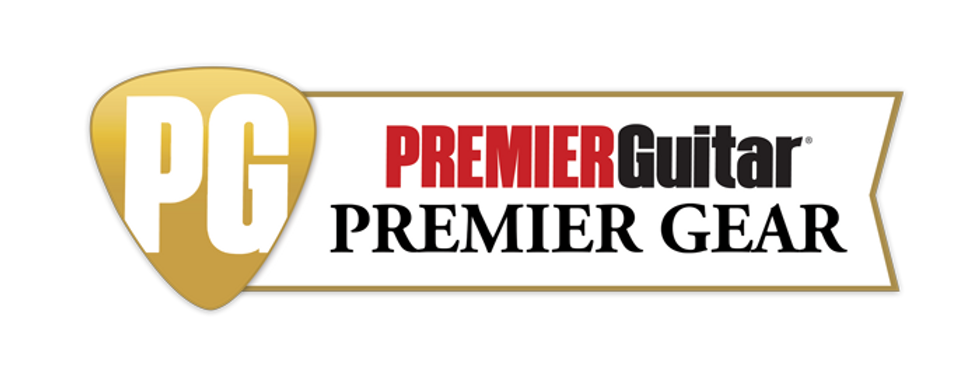 A 10-watt amp that's "class A" in every regard.
The term class A is often misapplied by naïve guitarists and sneaky amp manufacturers. Maybe it's because the letter A signifies premium quality. Doesn't class A/B sound sort of second best, as if the device could barely manage an A-/B+ in amplifier school?
For example, Vox amps are not class A, though they can deliver sounds with class A characteristics: explosive treble energy, the early onset of harmonically rich distortion, and a tendency toward loose, spattery tones. True class-A amps (also known as single-ended amps) usually have just one output tube. That's a design often used in vintage practice amps—notably the Fender Champ (which probably makes Clapton's tweed Champ tones on "Layla" rock's best-known class-A colors).
With its dual single-ended design, Pint provides a fresh take on familiar Fender flavors.

But there's a rare exception to the "class A = one tube" rule: A few vintage amps, including Gibson's GA-8, deploy two output tubes in parallel, essentially treating the pair as a single tube for increased output. And that's exactly what's going on inside the 10-watt Pint, the latest creation from San Francisco's Milkman Sound.

Fantasy Fender
Milkman has a reputation for exquisite Fender-derived amps, handcrafted with audiophile parts and painstaking attention to detail. Pint is a spinoff from the 5-watt Half Pint, a sort of über-Champ powered by a single 6V6 tube. Pint is similar, except—you guessed it—it employs two 6V6s in parallel for double the output.
That's a configuration Fender never used, which makes Pint a sort of Fullerton fantasy—something Leo might have conceived if he'd pursued dual single-ended circuits. And sure enough, Pint provides a compelling take on the Champ sound, but with greater power and several killer upgrades.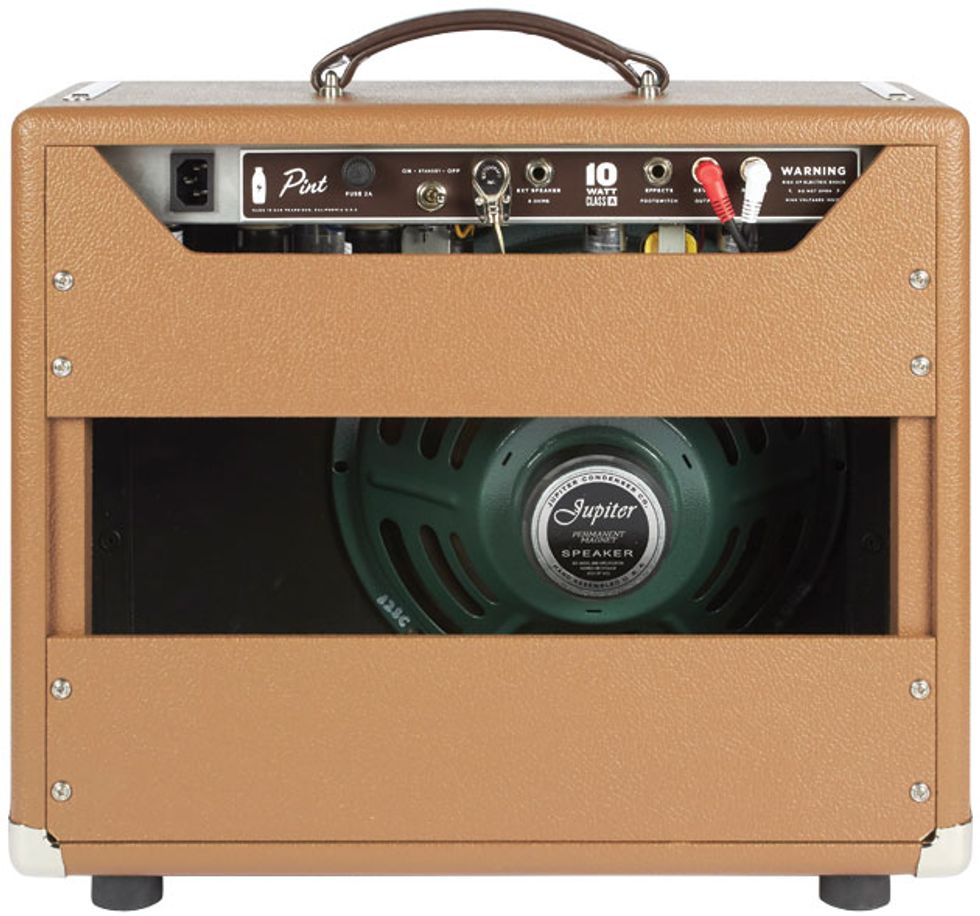 A Pint of Perfection
Pint's build is a thing of beauty. The solid pine cabinet is flawless. The top-shelf parts include Mercury Magnetics transformers and Jupiter capacitors. The 12" ceramic speaker is also by Jupiter. (Alnico-magnet speakers from Jupiter and Celestion are upgrade options.) The components are neatly arrayed on turret board and linked by fastidiously organized wires. In addition to the two 6V6s, there's a 5Y3 tube rectifier, plus 12AX7s for the preamp, trem, and reverb.

Yep, Pint is sort of a Champ on steroids. The shimmery cleans are detailed and three-dimensional, with ample low mids to balance their sparkle. Tones start clipping relatively early in the volume knob's range, but all settings are extremely touch-responsive. It's easy to control the amount of distortion via finger pressure and guitar knob adjustments. You can literally go from warm, sweet jazz tones to violent clipping without touching the amp. Class-A circuits are by nature less efficient (that is, quieter) than their A/B equivalents, but Pint's dual power tubes are at least loud enough for small gigs with light-touch drums and bass.
Ratings
Pros:
Stellar workmanship. Deep, detailed tones. Glorious trem and reverb.
Cons:
Class A distortion isn't for everybody. Pricey.
Tones:


Ease of Use:


Build/Design:


Value:



Street:
$2,499
Milkman Sound Pint
milkmansound.com
Presence Plus
Be aware, though, that while I've given Pint the highest possible tone rating, the amp's maximum-volume sounds aren't for everybody. Many players romanticize class-A distortion until they actually encounter it. The hot class-A sound is bright, noisy, and at times painfully present. If you prefer your high-gain tones tight and fat, this simply may not be the circuit for you. (Whenever I post demo clips of a maxed-out tweed-style amp, discerning readers inevitably inform me how crappy I sound.)

Take these comments as clarifications, not criticisms. I happen to dig anarchic class A overdrive. You can also generate less harsh colors with lower amp volume settings and overdrive pedals. Also, the two tone controls are perfectly voiced to shape distorted tones. The treble knob can help tame that brutal presence or add sheen when playing darker-toned pickups. The bass knob also helps rein in diffuse distorted sounds. (Ironically, siphoning off lows can make the highs sing more sweetly.) And naturally, some players will use Pint chiefly for its lovely clean and lightly overdriven tones, rarely venturing into the meltdown zone.

Pint's effects are stellar. The tremolo throb is sweet and sexy, and the rate knob has a nice, musical taper. The reverb is a warm bath you never want to exit, with more headroom and top-end detail than you tend to encounter on vintage amps.

The Verdict
With its dual single-ended design, Pint provides a fresh take on familiar Fender flavors. Its workmanship is faultless. Rich and beguiling clean tones make the amp ideal for refined jazz and fingerstyle guitarists playing in living rooms and intimate venues. Lightly overdriven tones have impact and complexity. The maxed-out class-A distortion won't suit all tastes, though some players will thrill to its punky edge. The luscious trem and 'verb are to die for. When the price is $249 per watt, you should expect excellence. Thankfully, Pint pours it on.
Both amplifiers come in response to customer requests to add a bit more size and power to two of Milkman's most popular models.
San Francisco, CA (July 5, 2016) -- Milkman Sound amplifier company is excited to announce two new 10-watt amplifier models, both based around a custom-designed Mercury Magnetics transformer set which allows for a pair of 6V6 power tubes to operate in parallel, without a phase inverter, for true class A amplification. Both amplifiers come in response to customer requests to add a bit more size and power to two of our most popular models.
First there is the One Watt Plus, a 12" Combo with 10 watts rms of Class A power. This amplifier is a larger and more powerful version of the One Watt model. Housed in a larger cabinet, and with a larger range of power, the One Watt Plus offers an unbelievable amount of tonal options in a very simple device. Onboard power scaling drops the output from 10 watts down to a single watt. There is enough gain onboard to drive the parallel 6V6 output beyond its stunning clean tone into saturation and harmonically rich class A overdrive peaking at 18 watts.
The Second offering is The Pint, which is based on the very popular Half Pint 12" combo model currently in production. The Pint steps up to a 10 watt rms dual 6V6 class A power amplifier with onboard reverb and tremolo. The Pint has enough gain and tonal options to transform from a delicate and lively clean tone with reverb to a monstrous harmonically rich rock box. When pushed into overdrive, the amp will deliver 18 peak watts of class A crunch into an onboard 12" speaker.
Both models are available beginning July 5th as either a 12" combo or as a standalone head. They will be available in all custom shop finishes, and can be ordered directly from the Milkman Sound Website www.milkmansound.com or through our growing network of dealers.
$1599 - One Watt Plus 12" Combo
$2499 - Pint 12" Combo
Watch the company's video demo:

Watch the company's video demo:

For more information:
Milkman Sound