A 10-watt amp that's "class A" in every regard.
The term class A is often misapplied by naïve guitarists and sneaky amp manufacturers. Maybe it's because the letter A signifies premium quality. Doesn't class A/B sound sort of second best, as if the device could barely manage an A-/B+ in amplifier school?
For example, Vox amps are not class A, though they can deliver sounds with class A characteristics: explosive treble energy, the early onset of harmonically rich distortion, and a tendency toward loose, spattery tones. True class-A amps (also known as single-ended amps) usually have just one output tube. That's a design often used in vintage practice amps—notably the Fender Champ (which probably makes Clapton's tweed Champ tones on "Layla" rock's best-known class-A colors).
With its dual single-ended design, Pint provides a fresh take on familiar Fender flavors.

But there's a rare exception to the "class A = one tube" rule: A few vintage amps, including Gibson's GA-8, deploy two output tubes in parallel, essentially treating the pair as a single tube for increased output. And that's exactly what's going on inside the 10-watt Pint, the latest creation from San Francisco's Milkman Sound.

Fantasy Fender
Milkman has a reputation for exquisite Fender-derived amps, handcrafted with audiophile parts and painstaking attention to detail. Pint is a spinoff from the 5-watt Half Pint, a sort of über-Champ powered by a single 6V6 tube. Pint is similar, except—you guessed it—it employs two 6V6s in parallel for double the output.
That's a configuration Fender never used, which makes Pint a sort of Fullerton fantasy—something Leo might have conceived if he'd pursued dual single-ended circuits. And sure enough, Pint provides a compelling take on the Champ sound, but with greater power and several killer upgrades.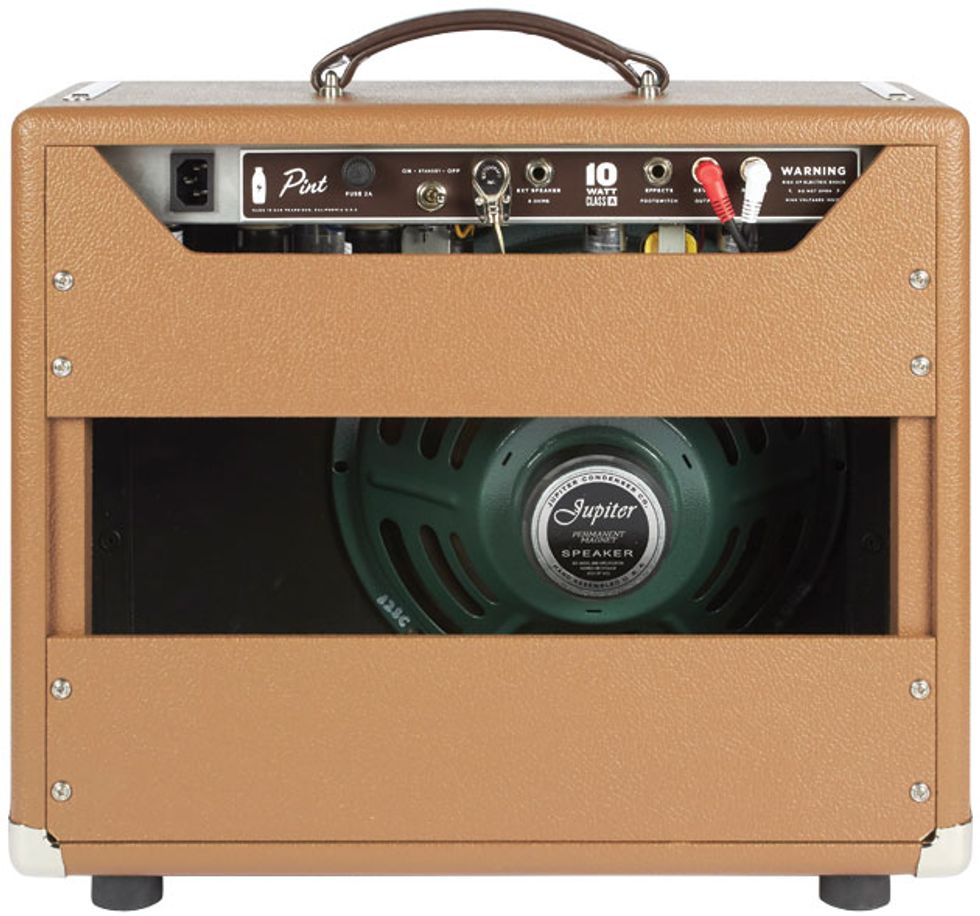 A Pint of Perfection
Pint's build is a thing of beauty. The solid pine cabinet is flawless. The top-shelf parts include Mercury Magnetics transformers and Jupiter capacitors. The 12" ceramic speaker is also by Jupiter. (Alnico-magnet speakers from Jupiter and Celestion are upgrade options.) The components are neatly arrayed on turret board and linked by fastidiously organized wires. In addition to the two 6V6s, there's a 5Y3 tube rectifier, plus 12AX7s for the preamp, trem, and reverb.

Yep, Pint is sort of a Champ on steroids. The shimmery cleans are detailed and three-dimensional, with ample low mids to balance their sparkle. Tones start clipping relatively early in the volume knob's range, but all settings are extremely touch-responsive. It's easy to control the amount of distortion via finger pressure and guitar knob adjustments. You can literally go from warm, sweet jazz tones to violent clipping without touching the amp. Class-A circuits are by nature less efficient (that is, quieter) than their A/B equivalents, but Pint's dual power tubes are at least loud enough for small gigs with light-touch drums and bass.
Ratings
Pros:
Stellar workmanship. Deep, detailed tones. Glorious trem and reverb.
Cons:
Class A distortion isn't for everybody. Pricey.
Tones:


Ease of Use:


Build/Design:


Value:



Street:
$2,499
Milkman Sound Pint
milkmansound.com
Presence Plus
Be aware, though, that while I've given Pint the highest possible tone rating, the amp's maximum-volume sounds aren't for everybody. Many players romanticize class-A distortion until they actually encounter it. The hot class-A sound is bright, noisy, and at times painfully present. If you prefer your high-gain tones tight and fat, this simply may not be the circuit for you. (Whenever I post demo clips of a maxed-out tweed-style amp, discerning readers inevitably inform me how crappy I sound.)

Take these comments as clarifications, not criticisms. I happen to dig anarchic class A overdrive. You can also generate less harsh colors with lower amp volume settings and overdrive pedals. Also, the two tone controls are perfectly voiced to shape distorted tones. The treble knob can help tame that brutal presence or add sheen when playing darker-toned pickups. The bass knob also helps rein in diffuse distorted sounds. (Ironically, siphoning off lows can make the highs sing more sweetly.) And naturally, some players will use Pint chiefly for its lovely clean and lightly overdriven tones, rarely venturing into the meltdown zone.

Pint's effects are stellar. The tremolo throb is sweet and sexy, and the rate knob has a nice, musical taper. The reverb is a warm bath you never want to exit, with more headroom and top-end detail than you tend to encounter on vintage amps.

The Verdict
With its dual single-ended design, Pint provides a fresh take on familiar Fender flavors. Its workmanship is faultless. Rich and beguiling clean tones make the amp ideal for refined jazz and fingerstyle guitarists playing in living rooms and intimate venues. Lightly overdriven tones have impact and complexity. The maxed-out class-A distortion won't suit all tastes, though some players will thrill to its punky edge. The luscious trem and 'verb are to die for. When the price is $249 per watt, you should expect excellence. Thankfully, Pint pours it on.