This year's highlights include an obsession with Lehle switchers, a literal charcuterie board repurposed into a stomp station, a pedalboard project to celebrate years of sobriety, and a guitarist who plays his wah like he's riding a skateboard. Enjoy!
When it comes to the pedalboard puzzle of assembling your guitar toys into an order that works for you and your sound, putting it all together is an adventure. Each year, we love to play voyeur to approaches wide and far … and learn about obscure stomps we've never tried before. Enjoy!
Aaron Juracek: Jackson Audio Enthusiast
I love Jackson Audio pedals. They sound amazing and are the only usable MIDI-controlled gain pedals I can find. There are other MIDI-controlled drives, but I find that whenever you play in a different room, the drive settings need to change, which, for a lot of them, means modifying presets every time you play in a different location. These have all of the gain and EQ settings as knobs, so I can just change them on the fly, and still have MIDI control whether it's on or off—the clipping type and the gain staging. I also love the combination of the Strymon BigSky and Neunaber Expanse reverb. The Cloud reverb from the BigSky into the wet reverb setting on the Expanse is one of the most beautiful sounds I have ever heard.
From my guitar I go to an Old Blood Noise Minim, FoxRox Octron 2, and a Keeley Dark Side before going into the loop of a GFI Synesthesia. In the loop sits a trio of Jackson Audio pedals: Golden Boy, Broken Arrow, and Abasi along with my amp's preamp section (via the effects loop) and a Jackson Audio Bloom. Out of the GFI's post-section sits a Walrus Audio ACS1, Keeley Halo, Strymon TimeLine, Strymon BigSky, and a Neunaber Audio Expanse. From there I can choose whether I need to go mono or stereo and if I need to use an amp or go direct.
Andrew Yankowsky: Simple, Not Elegant
I play, write, and record music for a local ska/reggae/punk/Afrobeat band called Zeme Libre out of Portland, Maine. I put this board together to take a bit of a beating at live shows with wonderful pedals that give me the tone and sound I'm looking for. Although my board changes every so often, I keep similar pedals in the mix to keep certain sounds I use on recordings. Simple, not elegant. Thanks for checking it out!
First, I go into the Boss TU-2, DOD FX59 Thrash Master, Ibanez TS9 Tube Screamer, EarthQuaker Devices Hizumitas Fuzz Sustainar, MXR Handwired Script Phase 90, Way Huge Supa-Puss Analog Delay, Boss DD-6 Digital Delay, Boss RE-2 Space Echo (connected with Boss FS-5U Foot Switch for tap tempo), DOD FX65B Stereo Chorus, and out to an Electro-Harmonix Holy Grail Nano.


Chris Voigt: My Modest Bass Rig
My board is still and ever evolving. At the moment, it has just about everything I need or want. People often ask me why I don't use a preamp. The answer is, simply, that I really like the tone of my Orange Bass Crush 100 and the gain it delivers. My favorite pedal is the All-Pedal Electronics Macrodose Envelope Filter. It's a very fun pedal with many face-melting psychedelic tones and shapes, and it pairs nicely with the Walrus Audio Slötvå.
This is my modest bass rig. Pedalboard is run through an Orange Bass Crush 100 FX loop: Electro-Harmonix EHX-2020 Tuner > Walrus Audio Kangra Filter Fuzz > Walrus Audio Mira Optical Compressor > Walrus Audio Julia Chorus/Vibrato > All-Pedal Electronics Macrodose Envelope Filter > Electro-Harmonix Canyon Delay & Looper > Walrus Audio Slötvå Multi-Texture Reverb.
Guido Stoecker: Love for Lehle and Weehbo
After two decades of using a Bogner Ecstasy, I was introduced to Eich Amplification, and I'm endorsing them now by using the GT3500 non-master volume head. It took me more than a year to come up with the concept of the board, testing tons of overdrive pedals, 'til I found Weehbo guitar pedals. On the spot, they gave me the sound I wanted. I took the board out on the road on a tour with the Sweet and it worked fantastic with no failure in any way. Easy to handle—it is big, it looks big—but it is, at least, very simple.
The board is controlled by Lehle switchers. My guitar runs into the Lehle 3at1 green switcher. From there, the signal runs into a Real McCoy Wah, into the first yellow Lehle D. Loop, from there to the next yellow looper, and finally into the red Lehle Dual switcher. Then we go stereo into the TC Electronic Quintessence, from there one channel to amp 1, the other channel into the BBE Sonic Stomp, then into amp 2. The yellow loopers allow me to only connect the pedal I need for each sound into the chain; all others are off then. I use a Weehbo JMP Drive and an MXR Delay for my slightly distorted clean tone, and a second Weehbo JMP Drive for AC/DC-like crunch. This can be boosted by the second looper. The blue Weehbo JVM Drive is my main distorted rhythm sound. The black Weehbo JVM Drive in connection with the T-Rex Duck Tail Delay is my lead sound (the Duck Tail has a tap function). I can connect up to three guitars to the board. For tuning, I press the button on the green Lehle switcher, and the signal is led then to the Fender PT-100 Tuner, so I can tune without any sound. The board is powered by two CIOKS power supplies.
Mako G: The Surfybear Board
This is my surf guitar rig. The Surfy Industries Surfybear Reverb provides the essential, classic spring reverb "drip"; the Boss OC-5 Octave instantly turns me into two thirds of a power trio; the Boss BF-2 Flanger is used as an organ simulator; the Ibanez TS9 Tube Screamer is used as a dirty boost. I originally got the Electro-Harmonix Oceans 11 to do what the Surfybear does, but kept it on the board even after getting the Surfybear, because it's so versatile. I mainly use it for tremolo. The Quilter SuperBlock is basically three classic Fender amps that fit on a pedalboard and can even be powered by a power brick at lower volumes. With the Joyo JP-05, the full rig can be powered without being plugged into a wall (I also use an adapter to turn a cell phone powerbank into a 12-volt source for the Surfybear).
Boss TU-2 Chromatic Tuner
Boss BF-2 Flanger
Surfy Industries Surfybear Classic Reverb
Powered by Joyo JP-05 (rechargeable power supply)
Marc Weakland: Like a Skateboard
When I was younger, I lost both my legs from the knees down. I have to play sitting down due to my balance. I can't flex my artificial foot, so I have my Wah horizontal on my board and play it with two feet like a skateboard!
Here's the breakdown of my pedals: DigiTech Drop, Boss TU-3W, Dunlop Kirk Hammett Wah, Electro-Harmonix Tone Corset, Does It Doom Sabbathi Fuzz, TC Electronic Spark Mini Booster, TC Electronic Eyemaster Metal Distortion, Wampler Dracarys, Wampler Ratsbane, Catalinbread Sabbra Cadabra, Boss NS-2 Noise Suppressor, TC Electronic Dreamscape, MXR Phase 90, Ernie Ball Tap Tempo, Electro-Harmonix Canyon Delay & Looper.

Matei Haskins: Divine Purpose
I'm permanently disabled with a neurological movement disorder, so I'm usually broke, but I got a year of rent assistance last year and was able to build up a recording studio again (I lost my original studio and instruments to homelessness). I got all of these in 2022, but this is it. Back to paying rent—I can barely afford to keep fresh strings on the guitar and bass. But I have what I need to stay creatively productive. These are bass and guitar pedals in one chain; I just switch the amps. The board is a coffee table cut short to 8" and spray-painted black. Music is the only effective treatment for my neurological condition and my divine purpose on Earth is to create music and dance. You can hear the music I make with this pedalboard at DECEMBERmusic.org.
My signal chain:
Guitar > TC Electronic Wiretap Riff Recorder > DigiTech FreqOut > Keeley Compressor Pro > Friedman Buxom Boost > Horizon Devices Precision Drive > Wampler Belle > Fender Pugilist > Amptweaker Tight Metal Pro II > Revv G4 > F-Pedals Lorion > Marshall DSL20CR, FX send > Behringer PEQ-2200 rack (not pictured) > Electro-Harmonix Tri-Parallel Mixer [Loop 1: Arion SFL-1 Stereo Flanger, Loop 2: Seymour Duncan Polaron, Loop 3: MXR Analog Chorus > TC Electronic Thunderstorm Flanger > DOD FX72 Bass Stereo Flanger] > DOD FX62 Bass Stereo Chorus (stereo out) > Source Audio Nemesis Delay > Source Audio Ventris Dual Reverb > Source Audio Vertigo Tremolo > Boss SL-2 Slicer > two BBE Sonic Stomps (not pictured) > FX returns (Marshall DSL20CR left, Marshall Valvestate 40V 8040 right)
Randy Johnson: Crunchy, Crunchier, Uber-Crunchy
I like the Boss BCB-60 Pedal Board because the foam padding can be shaped to hold your pedals firmly in place without having to use Velcro tape or zip ties, and provides for a very clean presentation. My board has evolved over the years, having gone through many different iterations before arriving at my current setup. The more I used my board in a live setting, the more I realized that certain tones could be improved more to my liking, or others were just not used that much. I'm very happy with how my personal quest for tone has evolved!
I've finally settled in (for now) on the thought that I like the sound of overdrive ... A LOT, so my board goes from clean to crunchy, crunchier, and uber-crunchy with a few extra tools to modify the sound.
It all starts from the guitar, as follows:
Wampler dB+: I've got enough pedals connected that it helps to give the chain a boost at the front end, so this one is left on.
Fender The Bends Compressor: I spent a lot of time going through compression pedals to enhance my sustain without making the signal sound squishy. This one does a great job of that, and I pretty much leave it on all the time.
EarthQuaker Devices Special Cranker Overdrive: I love this pedal in that, unlike other overdrive pedals, you can go from zero gain to a moderate amount.
Wampler Tweed '57 Overdrive: This pedal does a great job of sounding like an overdriven Deluxe Reverb amp, and holds the middle position in my dirty to dirtiest chain. I don't think that Wampler produces these anymore, so I'm really glad I was able to score one!
Fulltone OCD: What can I say.... This is a great pedal for super-overdriven feedbacky sounds! Another pedal you need to get while you can.
Boss TR-2 Tremolo: This comes in handy for shaping sounds on certain tunes. I don't know if there's anything better out there, as this one has always made me happy.
MXR Carbon Copy Analog Delay: This is a great delay pedal, and I tend to use it mostly for solos. A good way to jump out in the mix. From here, it's out to the amp.
I can't stress enough how important patch and power cables are to the overall tone. I upgraded my to EBS Premium Gold Flat patch cables and was amazed at the audible difference in my tone. Finally, I switched to a Truetone 1SPOT combo pack for my 9V AC converter. It turns out a good power supply greatly cleans up the buzzing and humming.
Scott Agner: Charcuterie Board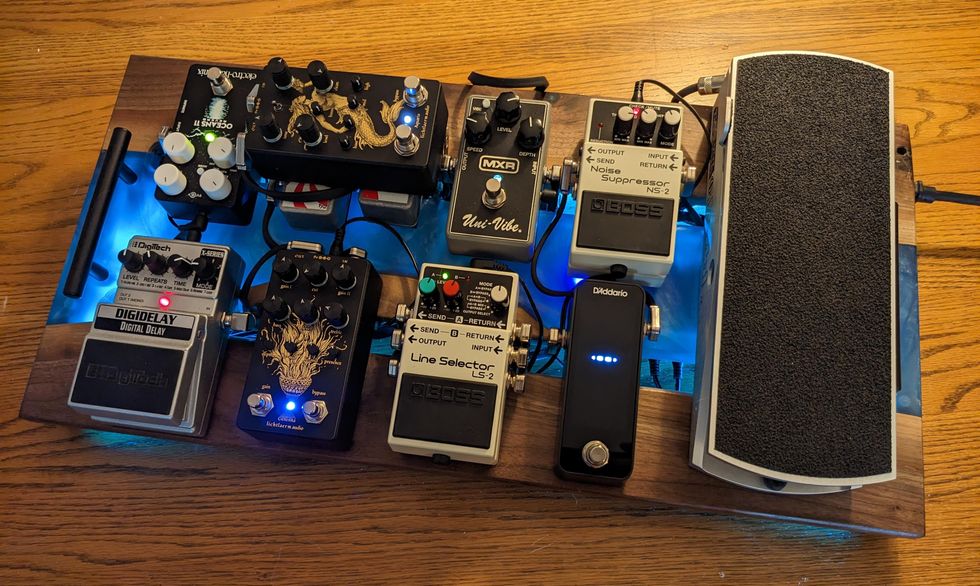 I started building my first pedalboard in August 2022 to meet some very specific needs, namely sending magnetic pickups and a piezo pickup to two different amps and using a Boss LS-2 Line Selector to switch between a high-gain tone and a psychedelic blues tone, which both include a common overdrive pedal (the Lichtlaerm Audio Aquaria).
I repurposed a black walnut/epoxy resin charcuterie board with homemade MDF base and added an LED backlight. I'm very proud of how it turned out and hope to make more wood and epoxy resin pedalboards in the future.
Signal chain as follows:
Boss NS-2 to D'Addario PW-CT-23 to Boss LS-2 (Loop 1: MXR Uni-Vibe to Saturnworks Passive Combiner to Lichtlaerm Audio Aquaria to Saturnworks Passive Splitter back to LS-2; Loop 2: Saturnworks Passive Combiner to Lichtlaerm Audio Aquaria to Saturnworks Passive Splitter to Lichtlaerm Audio Gehenna back to LS-2) to amp input, amp effects send to Ernie Ball Stereo Volume/Pan (fades between magnetic pickups to electric amp and piezo pickup to acoustic amp) to DigiTech DigiDelay to Electro-Harmonix Oceans 11 to amp effects return.


Scott McCue: Drilled My Own
It started with a medium Mono Pedalboard, but I didn't care for the huge holes. So, I mounted a piece of polyboard onto it and drilled the holes where I needed them. All of my power and patch cables are custom made to length. Of course, it's foolish to think I'm done. Lol.
Signal chain: Line 6 Relay G50 wireless system (underneath with power supply), Korg Pitchblack Poly tuner, A/B switcher. Path A of my chain starts with the mini wah, into the Friedman BE-OD Deluxe, Electro-Harmonix B9 Organ Machine, and Tech 21 Roto Choir to a Friedman Smallbox amp. Path B of my chain is a Boss PS-6 Harmonist, MXR Talk Box, Keeley Halo Andy Timmons Dual Echo, to the Boss RV-6 Reverb in the effects loop.
Stephan Stacey: Are you a Holdsworth?
Two Yamaha Magicstomp IIs (their modulations and multi-tap delays still can't be beaten) bookend Eventide H9 Harmonizer units for days! So much sonic flexibility in a relatively small footprint (by today's mega-board standards).
The two Magicstomps have been staples since they were released in 2001. (No, I'm not particularly an Allan Holdsworth, which is always the first question.) Many, many other pedals have come and gone until I realized that the Eventide H9 could cover so much ground. Then one became two, and two became four.
Stephen Cyford: The Illuminator
I could've gone crazy with the number of pedals but my goal with this board was to limit myself to the size of the Pedaltrain 2. I feel it's worthwhile to invest in a good soldering iron and make your own cables. On my Pedaltrain 2 board, I utilized a plexiglass top to increase surface area and to have an illuminated edge on all sides of the board.
It's a good idea to leave at least one auxiliary position on your board, two if you utilize an FX loop (one in front of the amp and one in the loop). In my setup, the DigiTech FreqOut (in front) and the MXR Smart Gate (in amps effects loop) can easily and quickly be swapped for another pedal.

Signal chain:
Guitar > TC Electronic PolyTune 3 > Dunlop Cry Baby Mini 535Q Auto-Return Wah > DigiTech FreqOut > Musicomlabs EFX MKII switcher input A > Xotic SP Compressor (loop 1) > Wampler Tumnus (loop 2) > (loop 3 and 4 empty) > Musicomlabs EFX MKII output A to input of the amp (Bogner Shiva 20th Anniversary or EVH 5150III) > FX loop send > Ernie Ball VPJR Super Bee > Musicomlabs EFX MKII input B > 1982 Boss CE-2 Chorus (loop 5) > MXR Smart Gate (loop 6) > Strymon TimeLine (loop 7) > Strymon Flint (loop 8) > Musicomlabs EFX MKII output B > Amp FX return.

Additional fun facts about how I use this board:
MXR Tap Tempo simultaneously sets tempo of the Strymon TimeLine and the Flint's tremolo.
Musicomlabs EFX MKII sends MIDI commands to the amps for channel switching.
Voodoo Lab Pedal Power 2 Plus powers everything. The Strymon TimeLine utilizes the Pedal Power's courtesy AC output for power.
All Mogami 2319 cables with a mix of HiCon, SP400, and Switchcraft plugs.
LED tape strip under board is also powered by the Voodoo Lab Pedal Power 2 Plus.
Altoids tin stores picks.
Board has been gigged routinely since 2016.
Steve Tumolo Jr: Two Tiers of Tone
My best friend and mad scientist Don Kern built this board for me. We went with a two-tier design for ease of getting to the back row of pedals. From the start, the plan was to run the A/B setup. The fatness of the Fender blends well with the Marshall. I keep the tuner all the way to the left because I use my right foot to hit all the pedals, and it made more sense to keep it out of the way and not waste the space by putting it in front of the other pedals.
This is what I've got going on: Morley Bad Horsie 2 Contour Wah, Dunlop Rotovibe, DOD Boneshaker Distortion, Ibanez TS9 Tube Screamer, Electro-Harmonix Big Muff Pi, DigiTech Nautila, Ibanez PT9 Phaser, Electro-Harmonix Canyon Delay & Looper, TC Electronic PolyTune, Electro-Harmonix Switch Blade Plus A/B box running to a Fender Hot Rod Deluxe and Marshall Valvestate VS65R.
Taylor Frost: Taking My Life Back
After my first year of sobriety after quitting drinking during the pandemic, I treated myself to my first effects pedal after playing for around 10 years. During my alcoholism, everything music-related seemed to drift away from me, whether it was my bandmates or my prized equipment.
As I begin my third year of sobriety, I look at my pedalboard as a reflection of the life I took back after nearly losing everything. Some pedals are the ones I lusted after in high school; others, like the FET preamp, have a special story. I repainted it purple and placed a pit bull decal on it to commemorate the dogs I've fostered over the years in my volunteer work for an L.A.-based pit bull rescue. Every time I fire up my board, it feels like a treat I give to myself for staying sober another day.
Effects loop: Ibanez FL9 Flanger > Pigtronix Moon Pool Tremvelope, TC Electronic 3rd Dimension Chorus > TC Electronic The Prophet Digital Delay > Electro-Harmonix Cathedral Reverb

In front: Dunlop Cry Baby 535Q Multi-Wah > Pigtronix Philosopher's Tone Compressor > homemade FET preamp clone > Boss MT-2 Metal Zone > Ibanez Tube Screamer Mini > Donner Noise Killer

Thomas de la Perrelle: Do It All Board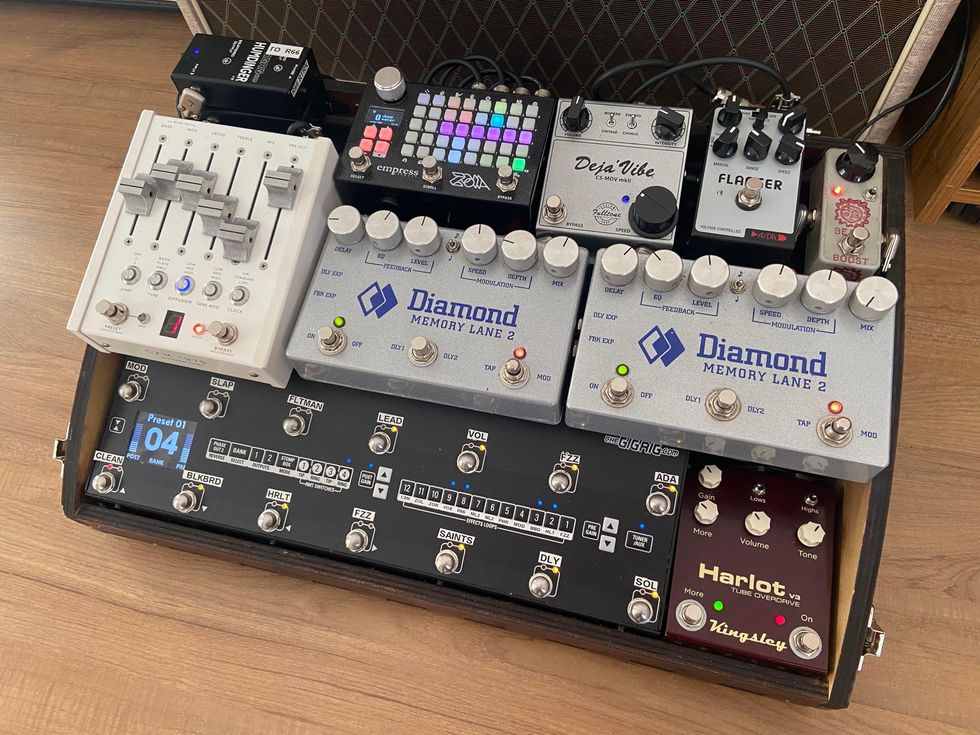 My pedalboard is my dream recording "do-it-all board," controlled via the GigRig G3 switcher. The signal chain:
Analog Man Beano Boost
Williams Supa Fuzz
Effectrode Blackbird Vacuum Tube Preamp
Kingsley Harlot
Universal Audio A/DA Flanger
Fulltone DejáVibe MkII
Moogerfooger MF-103 12-Stage Phaser
Diamond Memory Lane 2 Analog Delay
Diamond Memory Lane 2 Analog Delay
Empress Effects ZOIA
Chase Bliss Audio CXM 1978
The pedals are powered by a combination of an Eventide PowerMax and a variety of GigRig power adapters.
I mainly play pop, indie, and rock music, so the board was built with the intention of having a variety of gain stages and a powerful modulation/delay section. I run the pedals in stereo or wet-dry with a Vox AC30 and a Dr. Z Route 66. The pedalboard is perfect for everything from punchy drives to atmospheric soundscapes and juicy fuzz tones.
Panic! At the Disco, Idles, the Sword, Torres, and more appear in this gallery of our 14 favorite boards from the last year's worth of Rig Rundowns.
The bad news: Covid put in-person Rig Rundowns on hold till mid 2021. The good news? Zoom episodes were every bit as compelling! Here are our favorite stomp stations from the last year.
Nicole Row
It may not look like a lot, but Panic At the Disco bassist Nicole Row (who's also a prolific session player) says these half-dozen pedals cover all the bases for any gig, session, or audition she might find herself at.

Nicole Row's Pedalboard
For Panic's snarling indie-rock anthems, two of her most-stomped stomps are the Aguilar Fuzzistor and Darkglass Electronics Vintage Microtubes. Meanwhile, she often stacks an EBS OctaBass with other pedals to mimic vintage synth sounds. For silkier, "underwater" sonics, she engages an EBS DPhaser, and for funkier lines she uses an MXR Bass Envelope Filter. Her go-to for sending signal to the house board is a Noble Dual Vacuum Tube Preamp/DI Box.
Rig Rundown: Nicole Row
Kurt Ballou
More often than not, famed metal producer/Converge guitarist/God City Instruments proprietor Kurt Ballou's biggest pedal need is violent distortion—but he's got plenty of other toys, too.

Kurt Ballou's Pedalboard
Going clockwise (from top left), we have a Demedash Effects T-120 Videotape Echo ("one of the coolest analog delay pedals"—when bypassed, holding down the left footswitch engages a momentary freeze/shimmer/oscillator), then a Shift Line A+ Astronaut III Multiverb Space Unit from Russia. The red, single-knob God City Instruments design is a "mid-forward, ultimate thrashy, djenty, clanky, articulate, heavy guitar pedal," while the God City SBD (Super Beatle Distortion) features an active mid boost in front of its fuzz circuit and gonzo bass after it. The GCI OGR (Optical Gain Reduction) is a compressor that Ballou uses on every bass track recorded at God City Studio, while the Foxrox Electronics Octron2 comes in handy for thorny solos bristling with weird overtones and elastic ghost notes. Inspired by the Rangemaster, the GCI Crimson Cock treble booster has an added range control and a switch that adds a Big Muff-style gain stage at the end of the circuit. Lastly, the GCI Ape Eye is based on a vintage API 2520 op amp, and the GCI Jugendstil is a silicon fuzz that Ballou says stands at the crossroads between '90s British shoegaze and '90s Swedish death metal.
Rig Rundown - Kurt Ballou
Bones Owens
Alt-roots rocker Bones Owens' signal first hits a Boss TU-3 tuner, then a Spaceman Saturn V Harmonic Booster, which is always on. After that, the signal zips into a Pete Cornish A/B/C amp splitter, whose A line provides rumbling bass by feeding an Electro-Harmonix Micro POG (used for octave down only), a "tall font" EHX Big Muff (rehoused by Mike Hill), and a Tech 21 SansAmp Bass Driver/DI, which in turn feeds both Owens' Hiwatt DR103 head and a mixing or recording console. Pre-Covid, the splitter's B path featured one effect—an Echopark Echodriver preamp—which then fed Owens' Echopark Vibramatic 4T5A amp, while the splitter's C line would feature the bulk of Owens' effects routed to a third amp.

Bones Owens' Pedalboard
However, at the time of our Rig Rundown only the Hiwatt and Echopark amps were being used—so his C-line stompboxes were also being routed to the Echopark head. These include a plethora of Cornish gear—a TB-83 Extra treble ooster, an NG-3 fuzz, an SS-3 overdrive and P-2 distortion (in the same housing), a CC-1 boost/overdrive, and an NB-3 linear boost. Other noisemakers include a silver Klon Centaur, an Endangered Audio Research AD4096 analog delay, a Skreddy Pedals Skreddy Echo, a JHS-modded Boss TR-2 Tremolo (rehoused by Barry O'Neal at XACT Tone Solutions), and a Toneczar Halophaze.
Rig Rundown - Bones Owens
Ariel Posen
Canadian slide master Ariel Posen toured and did session work with this setup for over a year before Covid shut everything down.
Ariel Posen's Pedalboard
Starting at the top left, there's a Chase Bliss Tonal Recall, a Walrus Audio Monument, and a Chase Bliss Dark World. There's also a Vemuram Jan Ray overdrive, a KingTone Germanium miniFUZZ, a Morningstar Engineering MC6 MIDI Controller, and a TC Electronic PolyTune3 Mini Noir.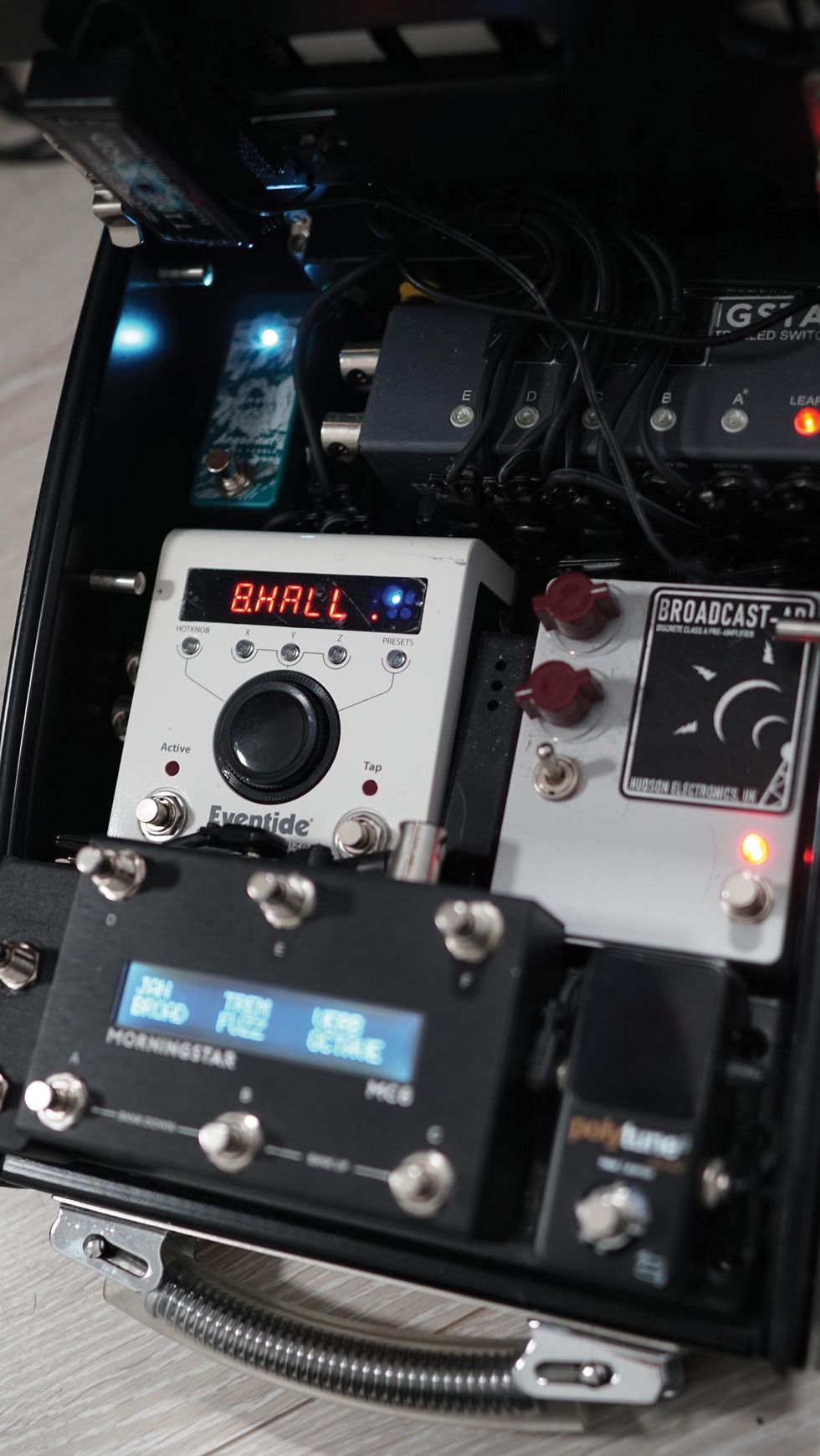 But wait … there's more! The top panel of Posen's board lifts to reveal a trio of stomps—a Mythos Pedals Argonaut Mini Octave (delivering up tones), an Eventide H9, and Posen's signature Hudson Electronics Broadcast-AP, which is always on.
Rig Rundown - Ariel Posen
My Chemical Romance's Frank Iero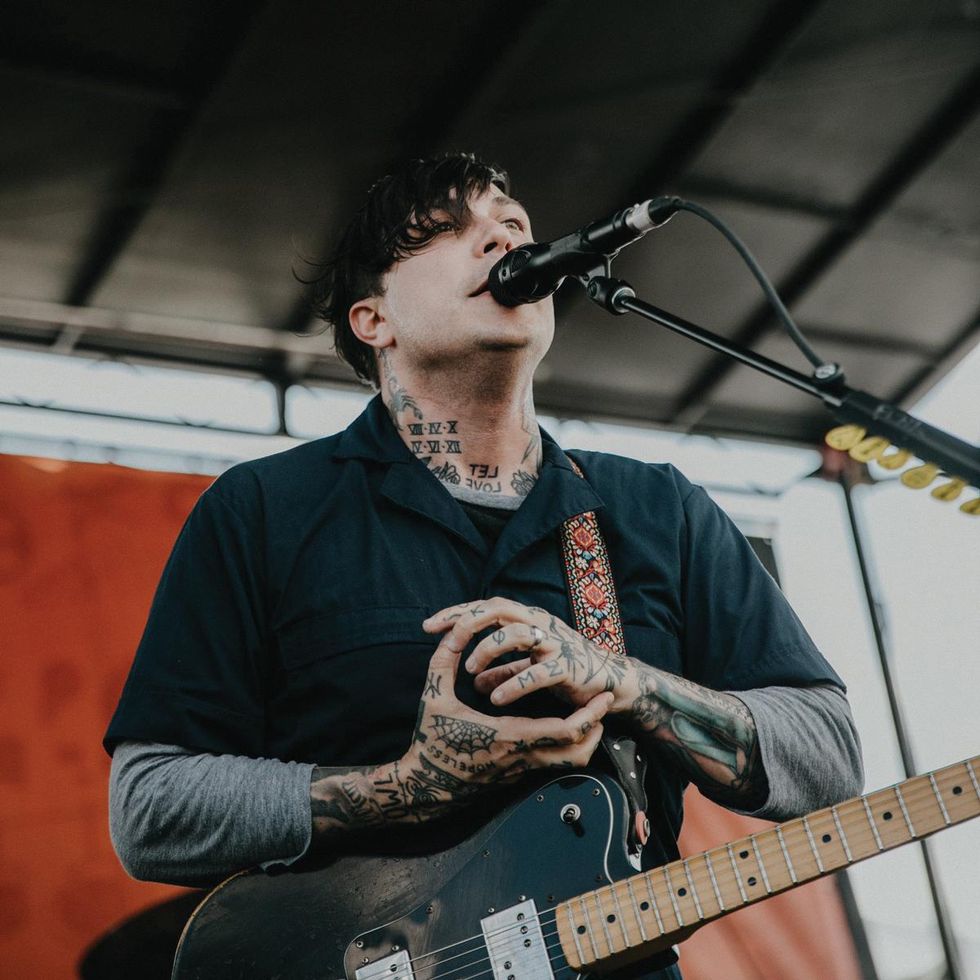 During the pandemic, My Chemical Romance rhythm meister Frank Iero's pedalboard saw a lot of change as tone hunting became a mind-saving pastime. He has some mainstays, but at the time of our Rig Rundown not much was permanent.
Frank Iero's Pedalboards
The board that was the closest thing to gig-ready had a Fender Marine Layer Reverb, a vintage Pearl CH-02 Chorus, an old Boss DM-2 Delay, an Ibanez CF7 Chorus/Flanger, and an Electro-Harmonix Holy Grail (left side). Meanwhile, the right side of the board was home to menace: a Marshall Blues Breaker, an SNK Pedals VHD distortion/preamp, a Keeley-modded Boss BD-2 Blues Driver, and a Klon Centaur. Everything was powered by a Strymon Zuma and controlled by a Carl Martin Octa-Switch MkII. His tuner was a TC Electronic PolyTune 2 Mini, and his volume pedal was an Ernie Ball VPJR.
Here's his mess-around-the-house board (with a fine tribute to EVH) that has a pair of Strymons (BigSky and Volante), an Ibanez DE7 Delay/Echo, gold Klon Centaur, Fuzzlord Effects Drone Master, Bowman Audio Endeavors The Bowman (company ran by Rig Rundown alumnus and Against Me! guitarist James Bowman), and an Ernie Ball VPJR Tuner Pedal.
His recording board is made up of versatile staples including a 4-pack of Strymons (Ola, Flint, El Capistan, and Iridium), Bowman Audio Endeavors Fortune and Glory, and a Templo Devices Model 33 Supa vibrato.
Rig Rundown - My Chemical Romance's Frank Iero
Olivia Jean
In addition to vibey guitar work, Third Man Records artist Olivia Jean dedicates much of her onstage energy and focus to singing—which means keeping pedalboard tap dancing to a minimum. Even so, her streamlined stomp station serves up an enviable variety of tones.

Olivia Jean's Pedalboard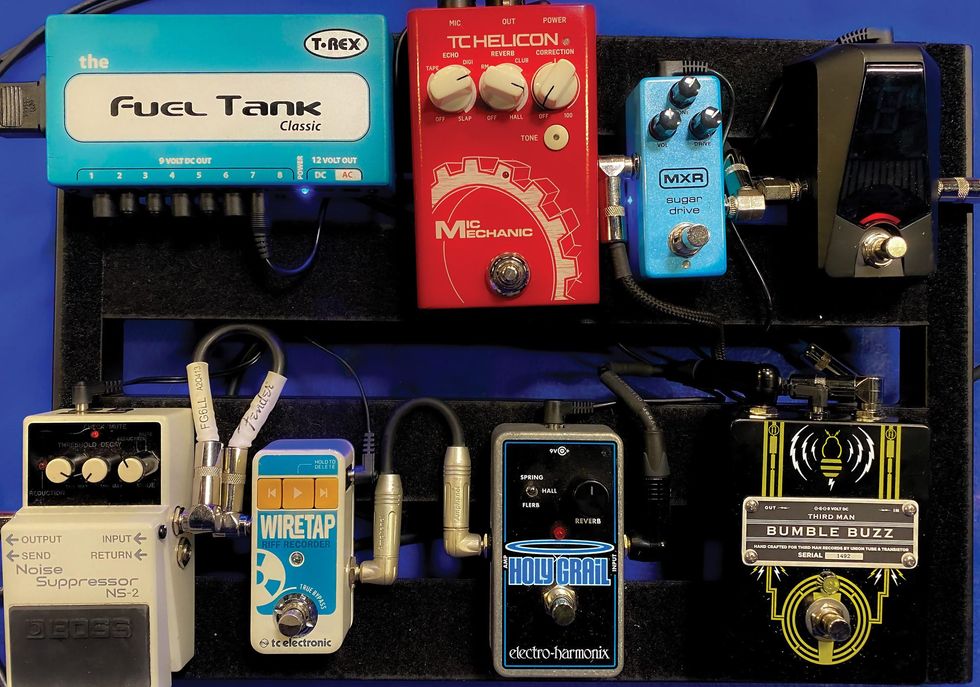 Always-on pedals include her Electro-Harmonix Holy Grail and MXR Sugar Drive, while the Third Man Bumble Fuzz gifted to her by Jack White avails stinging solo sounds (the Boss NS-2 Noise Suppressor is handy for reducing unwanted fuzz buzz). She's also got a TC Helicon Mic Mechanic for vocal reverb, and a TC Electronic Wiretap for recording song ideas. Everything is powered by a T-Rex Fuel Tank Classic, and tuning is monitored with a Korg Pitchblack.
Rig Rundown - Olivia Jean
The Sword's Kyle Shutt
Kyle Shutt's pedal playland keeps it classic.
Kyle Shutt's Pedalboard
His pedal playland just a Dunlop Cry Baby 95Q wah, a signature Idiotbox Effects Wild Kyle distortion, an Electro-Harmonix Micro POG, an EarthQuaker Devices Levitation reverb, and a Boss TU-3 tuner. Nearly every square inch of J.D. Cronise's flight-friendly board is filled with an effect. His guitars hit a TC Electronic PolyTune 3, then a pair of oddballs—a DigiTech Drop and an Electro-Harmonix Freeze—then basics like a Way Huge Conspiracy Theory overdrive, an EarthQuaker Devices Tone Job, MXR Phase 90 and Carbon Copy pedals, an EHX Holy Grail, and a Rocktron HUSH.
The Sword's J.D. Cronise
J.D. maximizes his flight-friendly board by filling nearly every square inch with an effect.
J.D. Cronise's Pedalboard
His guitar hits the TC Electronic PolyTune 3 before reaching a pair of necessary oddballs—the aforementioned DigiTech Drop and an Electro-Harmonix Freeze. The bottom row contains the basic food groups for most rockers: Way Huge Conspiracy Theory (drive), EarthQuaker Devices Tone Job (EQ), MXR Phase 90 (modulation), MXR Carbon Copy (delay), and EHX Holy Grail (reverb). The Rocktron HUSH pedal helps control any unwanted noises and buzzing.
Rig Rundown: The Sword [2021]
Steve Earle
Folk-rock activist Steve Earle's guitar signal first hits a Boss TU-3 tuner before running into a pair of MXR Carbon Copy analog delays (one set as a 1-second delay for a pre-song rippling effect, and one for slapback) and a Fulltone Full-Drive 2 with two levels of gain. A Voodoo Lab Pedal Power 2 supplies the juice.

Steve Earle's Pedalboard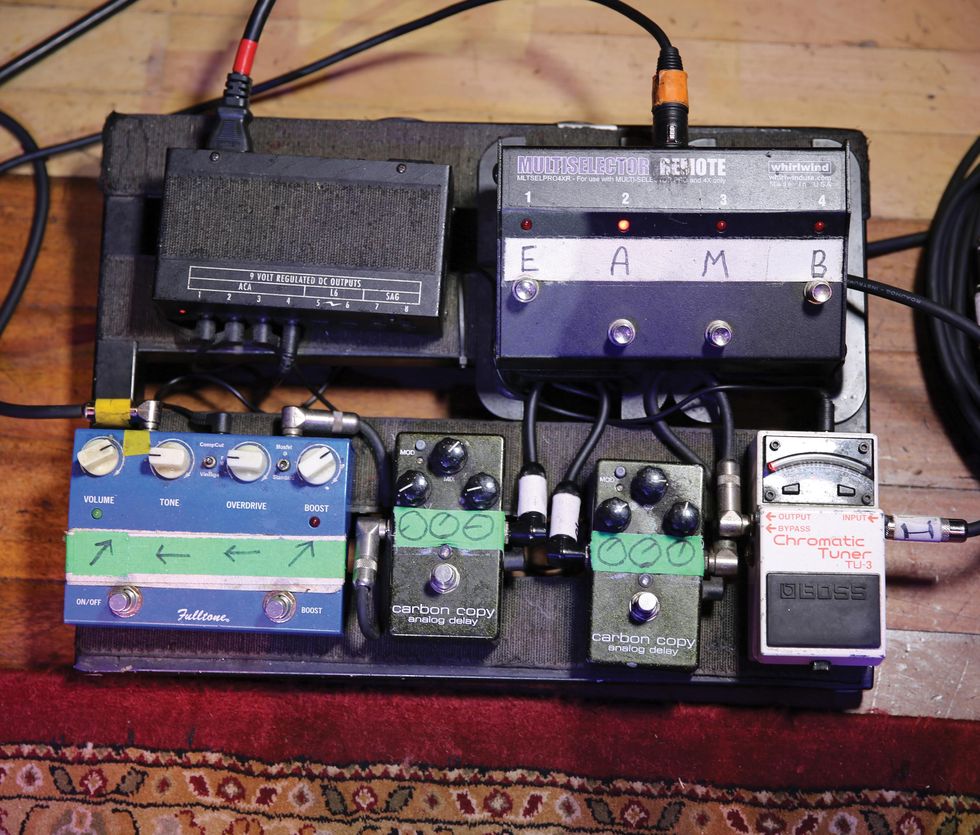 Chris Masterson
Chris Masterson's Pedalboard
The first stop on sideman Chris Masterson's pedalboard is an Analog Man Sun Lion. From there the signal hits a Boss TU-3w Waza Craft tuner, an Origin Effects Cali76 compressor, an Analog Man King of Tone, and two Strymons—a Mobius and a TimeLine. A Strymon Zuma supplies power, while a Radial BigShot SW2 controls amp reverb and tremolo.
Rig Rundown: Steve Earle and the Dukes
Torres's Mackenzie Scott
Little on Mackenzie Scott's pedalboard could be described as subtle or "transparent"—even her delays and reverbs accentuate the weird.
Mackenzie Scott's Pedalboard
Filth and fury come courtesy of a Joyo Vintage Overdrive and an EarthQuaker Devices Palisades. Next is a Death By Audio Echo Dream 2 modulation/delay/boost/fuzz, which Scott says is her most-used pedal. An EarthQuaker Afterneath provides deep, ambient reverbs, which she often beefs up with faux-synth vibes from an Electro-Harmonix POG2. (Another favorite application for the POG2 is pulling its attack all the way down and dramatically gliding into the notes.) Scott uses an Empress Vintage Modified Superdelay to sprinkle in modulation, reverse delay, and compression, as well as tape-echo-like grit. The last pedal on her board is a Meris Enzo, which she half-jokingly says is equal parts inspiring and frustrating. "I have a hard time getting it under control and taming the beast, but that's what I love about it."

Rig Rundown: Torres
Mackenzie Scott (aka Torres) likes a good juxtaposition. Her music is a tightrope act between vulnerability and violence. Scott's lyrics often reflect intros...
IDLES' Mark Bowen
To accomplish all the fantastic and outrageous tones captured on Idles' last two records, Bowen brings a whole cast of characters to accomplish that feat.
Mark Bowen's Pedalboards
Mark Bowen's main board features two Death By Audio units—a Reverberation Machine and an Echo Dream 2—an Adventure Audio Dream Reaper, a pair of Moogs—an MF Delay and an MF Ring—a Death By Audio Waveformer Destroyer, an Electro-Harmonix POG2, a 4ms Pedals Mini Swash Full (which serves up fuzz, distortion, and self-oscillating LFO craziness), two Red Pandas—a Particle and a Raster—and a JHS Haunting Mids. A Boss TU-3w Waza Craft tuner keeps his guitars in check and a GigRig G3 controls preset changes.
Near his amps, Bowen has another batch of tone morphers. Up top he's got a 4-pack of Moog Moogerfooger monsters—MF-107 FreqBox, MF-102 Ring Modulator, MF-108M Cluster Flux, and a CP-251 Control Processor—and another no-name glitch/synth device. Below those we have an Electro-Harmonix 95000 Stereo Looper, a Strymon TimeLine, an Electro-Harmonix POG2, and an Old Blood Noise Endeavors Minim (reverb/delay and reverse). Lastly, he has a Nord Electro 6D at his disposal. Everything is powered by GigRig Timelord power supplies, while two Strymon Iridiums handle cab emulations.
The last part of Bowen's setup is this board under his keyboard/Moogerfooger workstation. Here, he has another GigRig G3 switcher, another Electro-Harmonix 95000 Stereo Looper, a GigRig Three2One (to help balance levels between instruments), and three Mission Engineering EP-1 expression pedals (controlling some of the effects in the previous photo).
IDLES' Lee Kiernan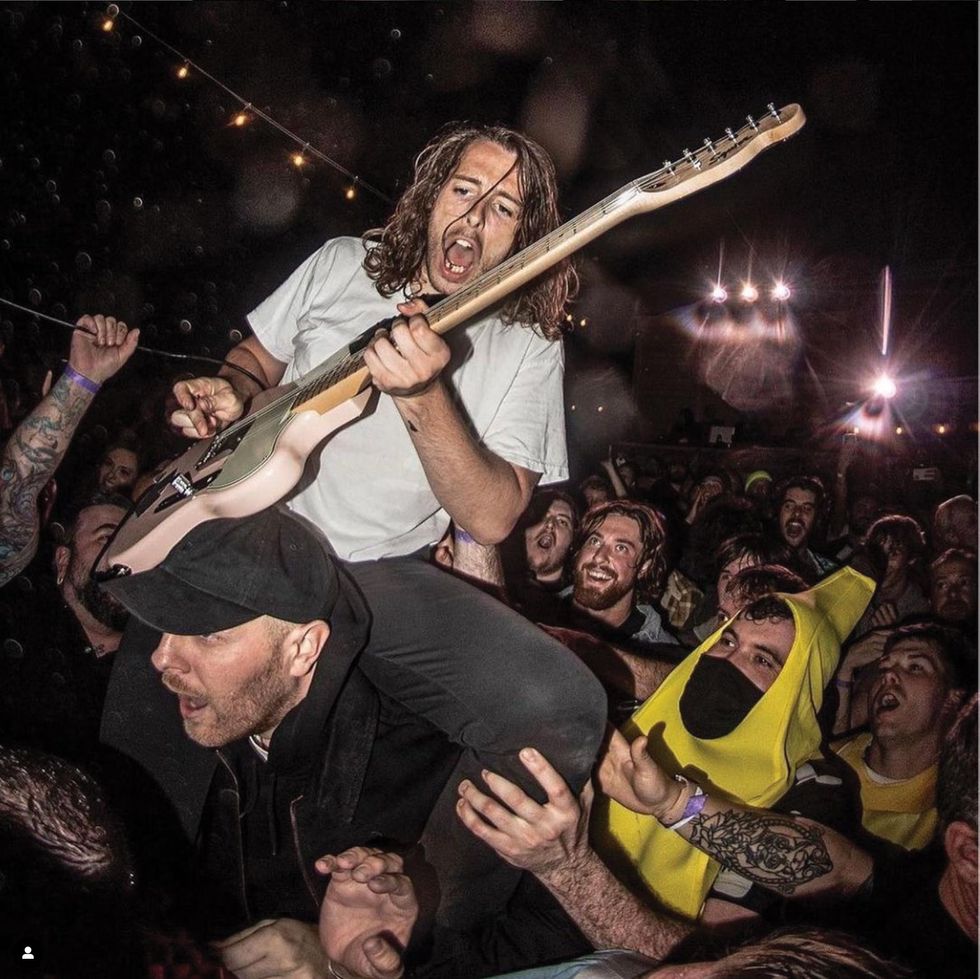 The time spent mentioning everything Kiernan does with these pedals is better served watching the Rundown, listening to Idles' music, or attending one of their shows. But in doing our due diligence, here are the stomps that corrupt, challenge, and ravage his tone.
Lee Kiernan Pedalboard
Lee Kiernan relies on (upper right) a Strymon Flint, a couple of Drolo Fx stomps—a Twin Peaks tremolo and a Stamme[n] looper/glitch delay/tape machine/sustainer/reverb—and a pair of Death By Audio devices—a Micro Dream delay and a Space Bender prototype. The bottom row of this board is also home to a DigiTech Whammy, an Electro-Harmonix Synth9, an Intensive Care Audio Vena Cava Filter, a Moog MF Ring, and a Boss TU-3 tuner. A GigRig ABY-Baby (top right) is used for amp switching. (The small black box labeled "in/out" was built by tech Gavin Maxwell so Kiernan could quickly test out a pedal without having to rip his setup apart.) The board on the left begins (lower middle of pic) with a Mission Engineering EP-1 expression pedal, a Boss PS-6 Harmonist, an EarthQuaker Devices Data Corrupter, a Death By Audio Interstellar Overdriver Deluxe, and a Death By Audio Evil Filter. The top row of this board features a quartet of EarthQuaker stomps: an Organizer polyphonic organ emulator, an Arrows preamp, a Gray Channel overdrive, and a Tone Job EQ/boost—then proceeds to a Moog MF Chorus, a Death By Audio Reverberation Machine, and a Jam Pedals TubeDreamer.
These days, there's more time to spend in the pedal vortex. Behold the boards of fellow guitarists from around the world.
It's that time of year, when Premier Guitar readers get the chance to show off their pedalboards and share how they approach these tools to unlock their sound. There's no wrong way to wire up your effects—as we know, the options are virtually endless. But that's the fun of it! Read on to see a completely blacked-out pedalboard created by a pro guitar tech, a repurposed Target dish-drying rack, a family tree of 12 (!!!) pedalboards, and much more. Some boards are painstakingly planned and arranged, and some are visually appealing. Whatever you like, stomp on!
Alec Palmer: Brand Loyalist
I use my board to practice and record from home, and I love jamming with a couple of my musician buddies every so often. I'd say my favorite pedals are the EarthQuaker Devices Plumes and the Big Ear Albie. I can get a ton of different effects out of the Albie, and the Plumes is the best overdrive I've ever played. I'm a bit of a brand loyalist. When I find a pedal I love, I tend to go back and buy more pedals from that specific company. Lately, that company has been Mythos Pedals!
Signal chain: Mythos Pedals Golden Fleece (Au79 Mass Street Music exclusive), Ibanez BigMini Tuner, Boss OC-5 Octave, EarthQuaker Devices Spatial Delivery, Mythos Pedals Positron Collider Fuzz, Mythos Pedals Wildwood Vipera, Onkel Amplification Stratoblaster, Ryra Klone, EarthQuaker Devices Plumes, Big Ear Pedals Albie (2), Mythos Pedals Oracle Analog Echo, and a TC Electronic Ditto Looper.
Brad Konick: Is It Humble, Though?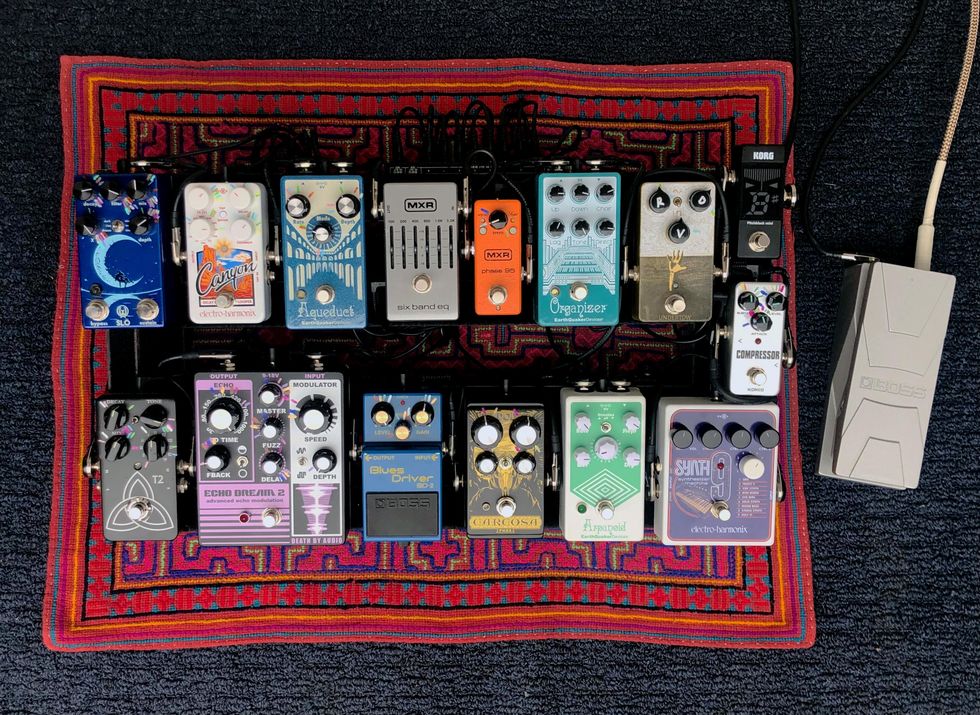 Here's my humble pedalboard submission for your consideration. Each pedal is listed in order of the signal chain. I'm also including a photo of the electric guitar I use, which I made a few years ago. It's a handbuilt custom solidbody, black walnut T-style electric guitar, with handcarved bas-relief and handmade steel inlay. Pickups are a Seymour Duncan Hot Rodded humbucker set: Jazz (neck) and JB (bridge). The guitar plugs first into the Boss volume pedal listed below.
Pedals - Signal Chain:
Boss FV-30H Volume Pedal >
Korg Pitchblack Mini Tuner >
Kokko Mini Compressor >
Electro-Harmonix Synth9>
EarthQuaker Devices Arpanoid V2 Polyphonic Pitch Arpeggiator >
DOD Carcosa Fuzz >
Boss BD-2 Blues Driver>
Death by Audio Echo Dream 2 Advanced Echo Modulation >
TC Electronic T2 Reverb >
Pedal Projects Undertow Tremolo >
EarthQuaker Devices Organizer Polyphonic Organ Emulator >
MXR Phase 95 >
MXR Six Band EQ >
EarthQuaker Devices Aqueduct >
Electro-Harmonix Canyon Delay/Looper >
Walrus Audio Slö Multi Texture Reverb >
Roland JC-22 Jazz Chorus (amp)
Power and Cables:
MXR M239 Mini Iso-Brick Power Supply
Donner DP-2 Power Supply
Snark 9-volt power adapters
1/4" Audioblast pancake patch cables (6", 8", 3')
Fender tweed 1/4" TS 15' instrument cable
I'm also including a photo of the electric guitar I use, which I made a few years ago. It's a handbuilt custom solidbody, black walnut T-style electric guitar, with handcarved bas-relief and handmade steel inlay. Pickups are a Seymour Duncan Hot Rodded humbucker set: Jazz (neck) and JB (bridge).
Chris Gibbs: Load In, Load Out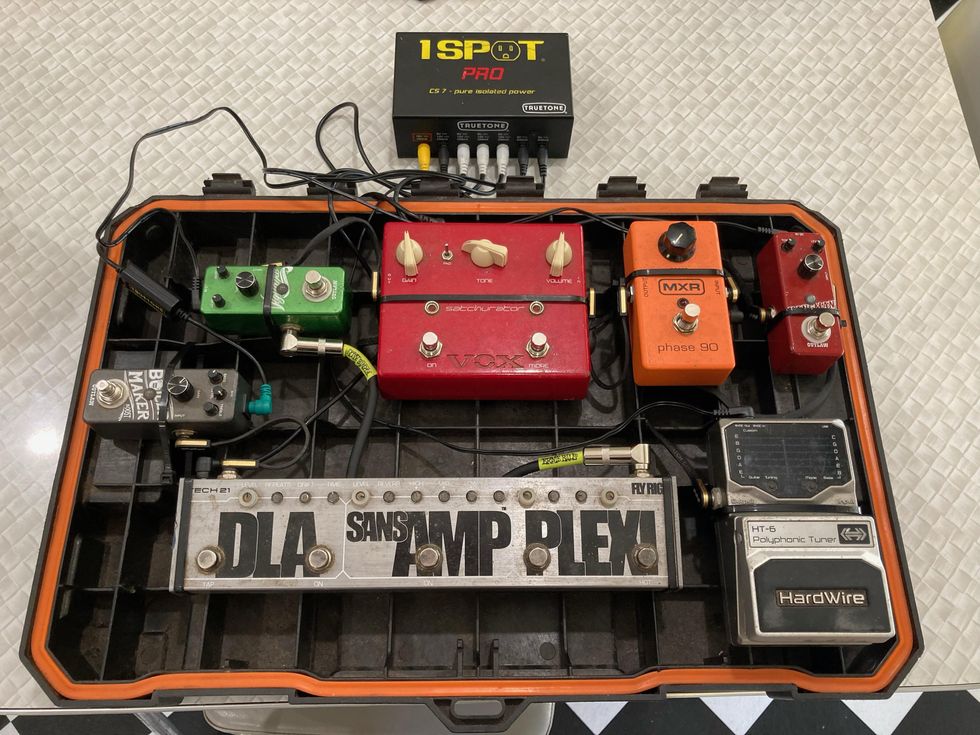 This is the pedalboard I use for gigs with my band, Triple Engine, in York, Western Australia. The board is actually the lid of a Craftright tool/accessory case.
When the gig is finished, I can pack leads, extra pedals, power supplies, and more into the case, flip the board so that it becomes a lid again, re-insert the removable hinge pins, and load out!
Here's how it flows:
DigiTech HardWire HT-6 Polyphonic Tuner > Outlaw Effects Hangman Overdrive > MXR Phase 90 >Vox Satchurator Distortion > Outlaw Effects Vigilante Chorus > Tech 21 Fly Rig 5 > Outlaw Effects Boilermaker Boost.
Clint Roth: Vision Board
Hey PG,
Here's my current small board I'm using for writing with my band, Big Jaw. I plug into a TC PolyTune 2 Noir that feeds a Loop-Master A/B Box. The "A" loop is my JHS Charlie Brown overdrive, and the "B" loop is my fuzz, which is an old EarthQuaker Devices Hoof fed by a TC Electronic Sub 'N' Up Octaver. I usually use the octave and fuzz together so it's helpful to have them on a loop like that so I can switch to both with one click. The output of the Loop-Master feeds my TC Electronic Flashback Delay, which is usually just giving me a little slapback. Thanks!
David Reaume: Bass and Bow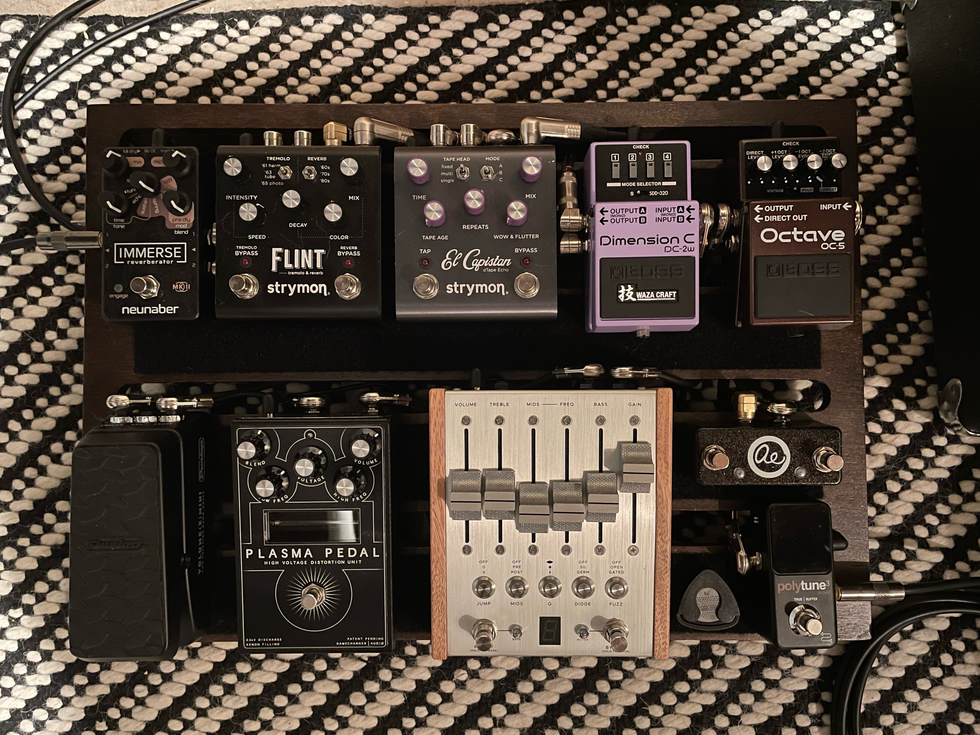 Here's my bass board! I use it mostly for ambient music to create textures, but it covers a lot of territory as you can see. I use a cello bow frequently. Paired with the octave and additional reverb, it really makes for a convincing string section.
Signal Chain:
TC Electronic PolyTune 3 >
Boss OC-5 >
Chase Bliss Audio Automatone Preamp MKII >
Gamechanger Audio Plasma Pedal >
Dunlop DVP4 Volume (X) Mini >
Boss DC-2W Dimension C (split in stereo for the rest of the chain) >
Strymon El Capistan dTape Echo >
Strymon Flint Tremolo & Reverb >
Neunaber Audio Immerse Reverberator MKII
All powered by a Strymon Zuma power supply on a custom board (made by yours truly) with custom-length Mogami patch cables. The Analog Endeavors Dual Favorite switch is for the Strymon pedals.
DeMatt Harkins: The Dishwasher
My name is DeMatt Harkins and I live in Jackson, Mississippi. I made my pedalboard out of a wooden dish rack from Target.
Signal Path:
Guitar ->
Boss TU-2 Chromatic Tuner ->
Catalinbread SFT Overdrive ->
TC Electronic Vortex Mini Flanger ->
JHS 3 Series Chorus ->
MXR Phase 95 ->
Danelectro BLT Slap Echo ->
Strymon Flint Tremolo & Reverb ->
EarthQuaker Devices Dispatch Master
Thanks very much!
Jack Thompson: The Alan Parsons Project
I'm a musician based out of the Twin Cities, Minnesota, and I saw that you were taking pedalboard submissions! So, here's mine. I've been refining and building this in a variety of ways the last seven years. I hope you enjoy and get a laugh.
High Level Overview:
The board consists of two loops (two different boards) controlled via EarthQuaker Devices Swiss Things. This sends the signal to a Mesa/Boogie Mini Rectifier 25 and Fender Hot Rod Deluxe III. The left board is pre-loop, and loop 1 (distortion based) with Dr. Evil in a moonsuit holding Austin Powers' mojo. The right board is loop 2 (modulation based) with Dr. Evil holding Mr. Bigglesworth. My guitar cable is an orange Divine Noise Curly Cable, purchased from Chicago Music Exchange.
Pedalboard 1 (left):
Pre-loop section:

Guitar goes straight into an Emma Electronic Okto Nøjs.
Then to a Pigtronix Philosopher's Tone Germanium Gold Micro (this is an "always on" pedal).
Next is the Dunlop Dimebag Cry Baby from Hell Wah.
And then finally a MXR Uni-Vibe set at minimal settings (this is typically an "always on" pedal).
Loop 1 (via EarthQuaker Swiss Things):
Behringer SF300 Super Fuzz
Horizon Devices Apex Preamp
Electronic Audio Experiments Model feT
Boss DD-7 Digital Delay
EarthQuaker Devices Afterneath V2
Pedalboard 2 (right):
Loop 2 (via EQD Swiss Things):
JHS Bonsai (minimal drive settings, "always on")
Subdecay Quasar Phaser
EarthQuaker Devices Rainbow Machine

Moog MF Flange
Dwarfcraft Devices Witch Shifter
Black Cat Pedals Black Cat Vibe (Proline expression pedal on the far right is hooked up to it)
EarthQuaker Devices Avalanche Run
EarthQuaker Devices Astral Destiny
And that's it! I'm fortunate to play with some of my best friends in a band called the Electric Honeycomb. Blessings to all of you.
Joe Grant Jr: Satisfying Symmetry
My pedalboard is a Temple Audio TRIO 43 Templeboard. All cables—patch, power, and MIDI—are hand-soldered. I have USB ports on the side to update firmware and program MIDI.
Underneath the pedalboard:

Strymon Zuma
Strymon Ojais (2)
Voodoo Lab Control Switchers (2)
Goodwood Audio Audition
On top:
Goodwood Audio The TX Interfacer
Kingtone Battery Box (2)
Xotic RC Booster
Dunlop Volume
Origin Effects Cali76
TC Electronic Ditto Stereo Looper
Mythos Argo Octave Fuzz
Peterson StroboStomp Tuner
Mythos High Road Fuzz
Wampler Ratsbane
J. Rockett The Dude
Analog Man King of Tone
Walrus Audio Julianna
Chase Bliss Automatone Preamp MKII
Strymon TimeLine
Chase Bliss Gravitas
Chase Bliss Thermae
King Tone The Duellist
Walrus Audio Slö
Chase Bliss CXM 1978
Electro-Harmonix POG2
Eventide H9 Max
Universal Audio Golden Reverberator
Universal Audio Astra
Universal Audio Starlight
DigiTech FreqOut
Catalinbread Echorec
Morningstar MC8 Midi Controller
Malcolm Carmichael: Like Angels Singing
So many pedals, so little time. I don't think there's one pedal I haven't tried out at some point in time but now I just keep it as simple as possible to have everything I need for the setlist my band plays. Also, I'm terrible with patches and programming. All of these are powered just by a simple Power-All 9V/2A wall wart. I've tried lots of power supplies and this is light and reliable.

First, the Mooer Baby Tuner is very simple, works every time. Next, is the Dunlop Cry Baby Mini Wah. I'm the rhythm player in my band, but there are a couple tunes where I solo, and I use this when I'm just winging it. It helps and makes me sound better than I am! I think all distortion pedals are a trade-off, but the MXR Distortion III is as good as any and it's tried and trusted.

Then we have the Electro-Harmonix Holy Grail Nano. Everybody needs a Holy Grail! I'm always surprised how many pro pedalboards I see it on. Very versatile pedal and easy to use. Next is the Hotone Eko delay: I go through all sorts of these little pedals. I find them in bargain bins. This delay is perfectly fine with all the adjustment you need. The Donner Echo Square is a little gem. It's got everything, including a reverse, which is what I use it for on an original song we play, but it's got a lot of other great options as well. I like the TC Electronic Stereo Ditto Looper because it's so simple.
Lastly, I have one of the best ABY switchers in the game, the Radial BigShot. With this, I send out into a Fender Blues Deluxe Reissue and a Vox AC15. Together they are like angels singing. All we have to do now is get this craziness behind us so we can get gigging again. Cheers!


Matt Straw: The Blackboard
I saw the all-white pedalboard from last year's reader pedalboards, and it reminded me of my black one. My pedalboard(s) are constantly in a state of evolution: I've since ditched most of these and gone back to basics. I was using this board from 2014-2016 back when I lived in Nashville and was in the band Things That Crawl. I've always hated branding of any type, and I found the varied colors and designs kinda messy and a distraction.

I'm also a professional guitar tech (Robert Plant, Bonnie Raitt, Jack White, Shania Twain, etc.) and am used to fans trying to sneak a peek at the pedals onstage, so I liked the idea of keeping a bit of mystery there (not that anyone could care less about what I was using).
Here's the list of pedals:

Boss Tuner
Boss NS-2 Noise Suppressor
Ernie Ball Volume Pedal
ZVEX Super Hard On
Electro-Harmonix POG
Tech 21 NYC SansAmp
Electro-Harmonix Bassballs
Electro-Harmonix LPB-1
Boss DD-7 Digital Delay
Red Witch Medusa Chorus Tremolo
Electro-Harmonix POG2
MXR Classic 108 Fuzz
Marshall The Guv'nor
I eventually added two EarthQuaker Devices pedals (Organizer and Talons), plus a TC Electronic Alter Ego and an MXR Ten Band EQ.
In 2016, I formed a short-lived band called Buffalo (before moving to Joshua Tree) and built a totally new pedalboard with the El Rey Mystic Fuzz, El Rey Fuzz De La Muerte, Electro-Harmonix POG, TC Electronic PolyTune, and a Lehle Dual. Both the El Rey pedals remain unpainted as I think they look super cool! Enjoy.
Nedim Kirlic: Streamlining in Sweden
I'm a guitarist in Sweden. As a 40-year-old, I decided to build my first pedalboard because I wanted to simplify my rig and give myself fewer options than there are in my Line 6 modeler products. Having said that, I quickly realized that it's not as simple as just putting a few pedals on there. I wanted a pedalboard with a simple pitch shifter-overdrive-distortion-chorus-delay-reverb setup. But it turns out I needed four utility pedals, and more than one overdrive. I was never into fuzz, but I decided to go for it.
The board right now consists of the list below, with the signal chain in order. Though the Boss delay will probably be moved early in the chain, along with a second reverb that I haven't gotten yet.
T-Rex pedalboard, 70 cm wide
T-Rex Fuel Tank Chameleon isolated power supply, mounted underneath with a rail (two pieces)
Boss TU-2 Chromatic Tuner
TC Electronic Brainwaves Pitch Shifter
MXR Uni-Vibe
Boss GE-7 Graphic Equalizer
Donner Noise Killer Noise Gate
Donner Ultimate Comp Compressor
MXR GT-OD Overdrive
Boss BD-2 Blues Driver
Mad Professor Fire Red Fuzz
ProCo RAT
Boss DD-8 Digital Delay
Electro-Harmonix Canyon Delay & Looper
TC Electronic Hall of Fame 2 Reverb
Ibanez Tremolo Mini
Boss RC-3 Loop Station
The empty spot is reserved for a Boss IR-200 Amp & IR Cabinet
The signal chain right now is going straight into the front of the amp, but sometimes I use the FX loop. In that case, I put the delay, reverb, and tremolo pedals into the loop. And lastly, the loop pedal is last in my signal chain for trying out quick ideas: I record a riff, loop it, and see what bass notes and what sort of bass line I'm going to play over it. The bass line makes a huge impact on the idea and on the finished song.
Ronald Caminati: Aesthetically Pleasing
Here's my list of pedals: Dunlop Cry Baby Mini Wah, TC Electronic PolyTune3 Mini, Sweet Sound MoFaux Vibe, Toms'line Cream Distortion, Stax Phaser, Mooer Hustle Drive, Rowin Chorus, and finished off by a Boss FB-2 Feedbacker Booster. All powered by a Pedaltrain Volto.
Steve Kellett: The Family Tree
I recently decided to take a family portrait of my pedalboards. I had to take two photos to get it all covered! Spoiler Alert: I have 12 pedalboards.
In the first image, there's a custom-built flight case containing a TC Electronic Nova System plus extension footswitch and a Dunlop Mister Cry Baby Super Volume/Wah.
Pictured above that, is a Gator Pedal Tote board with the following on it:
Boss TU-2 ->
Barber Tone Press ->
Fulltone Ultimate Octave ->
Fulltone Full-Drive 2 FM ->
Om Labs Sahasrara Overdrive ->
Fulltone Mini-Deja'Vibe ->
ZVEX Box of Rock Vexter
(Just to prove that nothing is permanent in the pedal world, the Sahasrara has since been replaced by a Fulltone GT500.)

The second photo (do I really have to do this?) ... DEEP BREATH.
Top row from top left we have my Leftovers Board:
A beat-up CNB case containing a cheapo tuner
XFX Boutique Destroyer (Friedman BE-OD clone)
DemonFX King of Drive (clone of a guess what)
Twinote Pi Fuzz
Reverend Drivetrain II
Twinote BBD Chorus
Twinote BBD Delay
Ibanez TS-9 RI
Moving clockwise to the right is my Workhorse Board 1:
Cry Baby Wah
LY-Rock King of Tone clone
ProCo Vintage RAT
Korg G4
Rowin tuner
Ammoon Nano Delay
TC Electronic Spark Mini Booster
Next, to the right, Grab and Go Board 1:
Boss BCB-30 board
Boss DS-1 40th Anniversary Edition (which I won from PG's Stomboxtober giveaway in 2018)
Keeley-modded Boss BD-2
'80s Ibanez AD9
Fender in-line tuner that gets used when required
Moving on to the second row and starting on the very left is my Chopping Board 1:
Rowin tuner
Muslady Golden Horse (Klon Klone)
Mosky Red Fox (Timmy-based overdrive, CE-2-based chorus, and a delay; FX loop between overdrive and chorus)
Mosky Black Rat in the FX loop
Mosky Spring Reverb
Moving to the right is Chopping Board 2 (Yes, they really are bamboo chopping boards that fit into laptop slip cases):
Rowin tuner
Rowin Frenzy fuzz
Mosky DTC (Suhr Riot-based distortion, TS-9-based overdrive; FX loop, and delay)
Rowin Nano Phaser in the FX loop
Poor Person's Pink Flow Board:
Ghost Fire case
Tomsline AGF-3 G-Fuzz (Germanium Fuzz Face clone)
Mosky Mini Muff
Rowin Tuner
Mosky Tone Bus (Dyna Comp, TS-9, and OCD clones plus power supply for the board)
Tom'sline AMS-3 Mod Station
Mosky Tone Makestation (Plexi distortion, FX loop, EP booster, and delay)
Mastersound Flanger in the FX loop
Tom'sline ASR-3 Shaper (cab sim)
Mosky Mini Clean Buffer
Grab and Go Board 2:
Ammoon pedalboard (containing all XFX Boutique pedals)
Nine O Nine (TS-based low-gain overdrive)
Tikus (RAT clone)
Classic 741 Distortion (MXR Distortion+ clone)
Slowpick Analog Delay
Bottom row from left to right:
Workhorse Board 2:
Boss BCB-60 board
Korg Pitchblack Mini Tuner
Boss CS-3 Compression Sustainer
Keeley DS-1 Ultra Mod
Keeley SD-1 Overdrive
Boss JB-2 Angry Driver
Orange FS-1L
Boss CH-1 Super Chorus
Boss DD-8 Digital Delay with Mosky tap tempo
Mooer Pure Boost
The Cheese Board:
Pedaltrain Mini
cheapo tuner
6 ModTone Mini-Mod pedals (Fuzz, Distortion, Overdrive, Chorus, Delay, and Boost)
The Hendrix Board:
Ammoon pedalboard
Dunlop Hendrix 70th Anniversary Fuzz Face
Hendrix Octavio
Hendrix Univibe
Whew! And that concludes my family tree of pedalboards. Strewth!
Taylor Schlupp: Tom Bukovac Inspo
Hey guys! Here's a pic of my studio board that I use for recording music and YouTube videos. It's got a bit of Tom Bukovac inspiration here after seeing his Rig Rundown lol.
Signal Chain:
TC Electronic PolyTune
J. Rockett Blue Note Overdrive (always on)
Wampler Belle Overdrive
Nobels ODR1 Natural Overdrive
Boss GE-7 EQ
Joyo Ironman Molo-Trem
Wampler Faux Tape Echo
Electro-Harmonix Oceans 11 Reverb
Truetone 1 Spot Pro CS7 Power Supply
Tom Foreman: Tone Hunters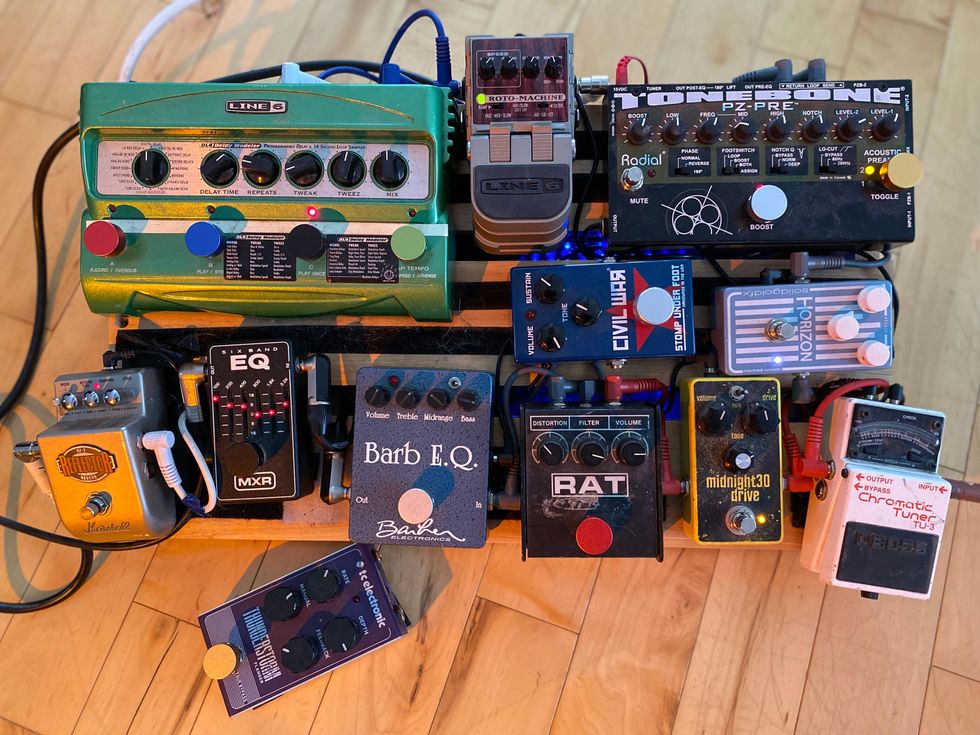 Hi Folks,
I hope all is well with each of you. I look forward to seeing the issue with these photos because it's always nice to hunt for ideas. I made the pedalboard out of some hardwood sugar maple wood bits left over from a "music-lesson-for-lumber" trade I did with a local forester. It is roadworthy and weighs a ton (just in case I ever need to stun a drummer with it, I suppose).
This board serves a dual purpose with supporting my acoustics and electrics. For acoustic, I run a 1963 Gibson J-50 and a Crafter D6/N through the Radial Tonebone PZ-Pre Preamp with a SolidGold FX Horizon Compressor in the effects loop.
For the electric side, I run a Gibson ES-339 or my Tele into the following:
Boss TU-3 Chromatic Tuner
Midnight 30 Music Upstate Drive (Always on, always awesome! Josh Eiler makes some absolutely killer gear, and this pedal was one of the earlier ones.)
Late 1980s Pro Co RAT (I got it from Not Just Another Music Shop in Vancouver, BC, while on tour sometime in the early '90s ... I think)
Stomp Under Foot Civil War Fuzz (sometimes it sits in for the RAT)
Barber Electronics Barb E.Q. (boost, grit, chime)
MXR Six Band EQ (for when I blow a string on my 339 and have to shift over to the Tele mid song)
The effect-loop chain includes: a Line 6 Roto-Machine or TC Electronic Thunderstorm Flanger, a Line 6 DL4, and a Marshall RF-1 Reflector Reverb.
Everything goes into a Dr. Z MAZ 18 NR and a Port City Waves 2x12 cab that I think has one vintage Greenback and one WGS Veteran 30 speaker, but I haven't looked under the hood in a long time so who knows? Love the magazine and I look forward to it showing up each month!