Snarky Puppy's Three-Headed Guitar Beast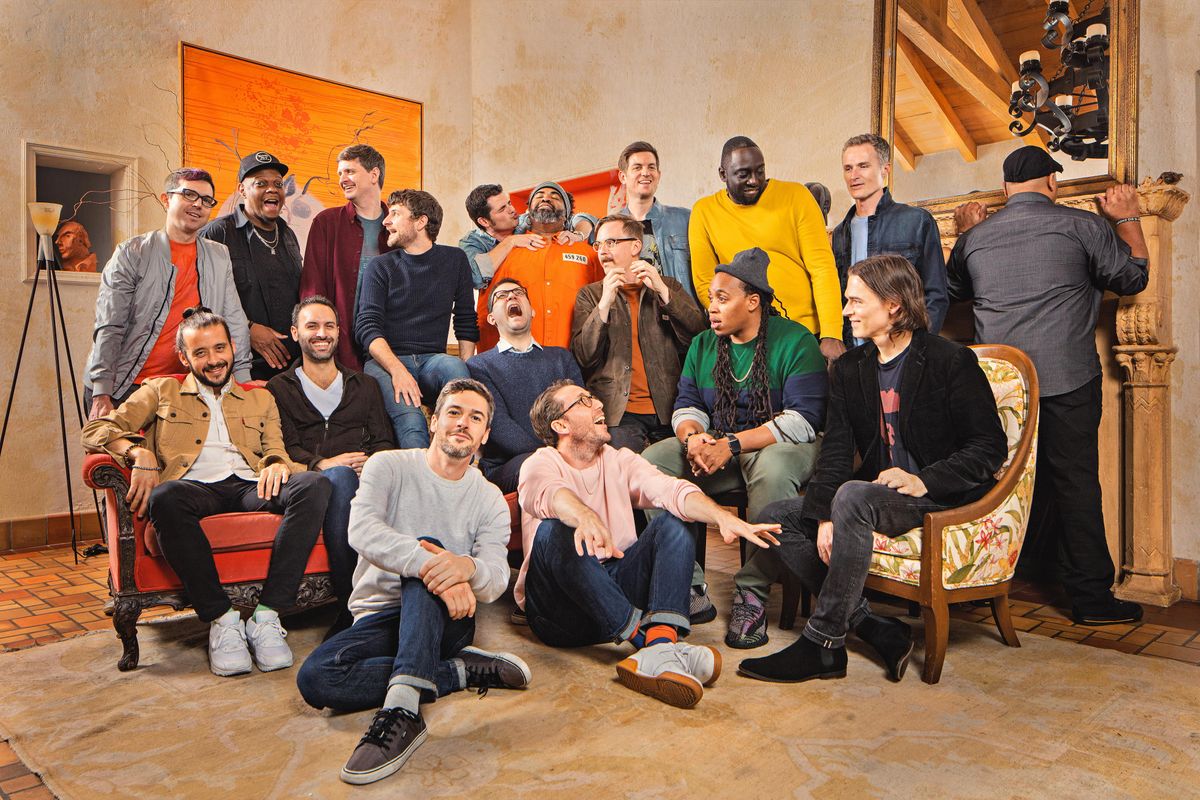 Photo by Francois Bisi
This 6-string Cerberus finds it way home on Empire Central, an album honoring classic Black music and the band's Dallas roots.
Back in the big-band-swing heyday of the 1940s, seeing up to 20 musicians onstage performing what was the era's brand of popular music was not just common, but the norm. Today, with 19 members and a rotating crew of 25, Snarky Puppy is perhaps some new-age iteration of that once ubiquitous model—an electric jazz-rock-funk fusion orchestra version.
---
But before the four-time-Grammy-Award-winning ensemble was so massive in both size and sound, it was a somewhat smaller group of 10 college students, formed by bassist Michael League while he was studying at the University of North Texas in Denton, a city 30 miles outside of Dallas. The band's music featured a blend of the aforementioned genres, and given the makeup of their original members, that made them an incidental example of cultural integration.
Snarky Puppy - Belmont (Empire Central)
"The band started with only white kids, when we were in college, but we basically only played the music of Black Americans," acknowledges Chris McQueen, one of Snarky Puppy's three guitarists. "Whether it was jazz or fusion, gospel, R&B … that was the source of all our inspiration. We started playing gigs, jamming with several musicians from the Black Dallas music scene. They were our heroes. That's how we got connected to that world.
"What ended up happening was, we combined it, and it felt very natural," he continues. "Shaun Martin, Bobby Sparks, Robert 'Sput' Searight, Jason 'JT' Thomas…. All those guys welcomed us in. I remember we would go to jam sessions. Sput was playing drums, and we would get up there and play the same songs that he wanted to, while coming at it from a very different perspective … then would meet in the middle and hopefully inspire each other."
"People think of Nashville or Austin, but Dallas is really where it's at!"–Chris McQueen
As Snarky Puppy's lineup grew to include those players and many more, the group's makeup became increasingly diverse. And on their new release, Empire Central,League asked the collective to reconnect with both the city of their founding and the lineage of Black music that defines their sound. "This is a 'coming home' kind of album. The idea was to try to either do an homage to [our musical foundation] or encapsulate it; pay tribute to it," McQueen shares. "Dallas doesn't always get the credit it deserves for being the music city that it is. People think of Nashville or Austin, but Dallas is really where it's at!"
The 77-minute album was recorded over the course of eight nights in front of a live audience at Deep Ellum Art Company in Dallas, and, like everything Snarky Puppy has done, is musically polyglottal. While combining jazz, rock, funk, R&B, soul, and various international elements into one new, chimerical artistic mode is becoming a modern vernacular in its own right, the way they pull it off is all their own—as if it was delivered to us, their humble audience, via interstellar starship.
Snarky Puppy's new album features a 19-piece version of the ensemble paying homage to its roots in Black American music and in the Dallas-area scene from which it emerged.
For example, "Trinity," composed by guitarist Mark Lettieri, doesn't announce a definitive musical identity. Rock weaves in, funk weaves out, and jazz makes for some adhesive, overall giving off a strong Weather Report influence. Violinist Zach Brock's horn-driven "Honiara" jumps between odd-meter grooves, while keyboardist Bobby Sparks' "Take It!" leans into a deep pocket with vibrato-heavy synthesizers and laidback trumpets. It also features a synth solo by Bernard Wright, a close friend of the group who passed away not long after the recording sessions.
More than half the band's members contributed original compositions to Empire Central, and it all came together quickly. Leading up to the recorded performances, which took place in early March 2022, each composer put together a demo to bring to the band. While some final aspects of the arrangements were decided as a collective, most of each song was fully prepared before being shared.
Mark Lettieri's Gear
Mark Lettieri used PRS guitars, a Dano baritone, and a Kemper Profiler for the Empire Central sessions. Here, he digs into his signature PRS Fiore model.
Photo by Brian Friedman
Guitars
PRS Mark Lettieri Signature Fiore
PRS McCarty 594
Danelectro '56 Reissue Baritone
Amps

Kemper Profiler (Naylor Duel 60 head and 1x12)
Strings & Picks
Dunlop (.009–.044, Fiore; .010–.046, McCarty 594; .014–.068, Danelectro)
Dunlop heavy celluloid
Effects
J. Rockett Mark Lettieri Signature Melody OD/EQ

J. Rockett Hot Rubber Monkey
Boss DS-1 Distortion
MXR Poly Blue Octave
MXR Carbon Copy
MXR EVH Phase 90
TC Electronic Nova System multi-effects
TC Electronic Hall of Fame
Line 6 M5 Stompbox Modeler
"Usually, whoever writes the song writes everything. They just make demos in Logic. We'll send the Logic files to everyone in the band, and everybody learns all of the parts," says Bob Lanzetti, another of Snarky's guitarists. "We'll learn the chords or the melodies; usually it's not totally figured out in terms of form. Then, when we get together, we'll trade parts around and see what works best for each section. Things definitely shift when we play live, too. Depending on who ends up being on stage, you might have to play parts that you've never played before. It keeps you on your toes, for sure."
The drum parts are "sometimes, but not usually" fleshed out, Lanzetti explains. "If anything, it would be some kind of simple groove just to keep time. A lot of the time, we leave it up to the percussionists and drummers to come up with something, 'cause it's always much better than what the rest of us do."
The track list for Empire Central was put together during a series of intensive rehearsals for the live performances. As Lettieri explains, rehearsals were roughly 8 to 10 hours each day. "We would basically work on two songs in the morning, two songs in the afternoon, then two more songs that night. We holed up at Universal Rehearsal in Dallas, and that was our home for about a week."
Given that Snarky Puppy's mix of genres lends itself to a live setting, there's been some division among fans over the quality of their studio versus stage recordings. For Empire Central, the band sought to actualize the best of both worlds through a live-in-the-studio recording process they prefer, with the Deep Ellum Art Company audience wired into the mix via headphones.
"Depending on who ends up being on stage, you might have to play parts that you've never played before. It keeps you on your toes, for sure."–Bob Lanzetti

"The albums that most people know us for are ones that we did [with that setup], where we were trying to blend the best parts of a studio album with the best parts of a live album," explains McQueen. "We felt like we needed that energy, but we didn't want to have the sound of a live album, so the solution was to do that."
In preparation for the performances, a crew built a studio at the venue that was fully equipped with mixing consoles, drums, keyboards, DI boxes, and Kemper Profiler amps, creating what Lettieri refers to as a "laboratory for us to record in." Kempers were ideal for the small bar space. "Having that many guitar amps would have been a sound isolation nightmare," he notes. They captured about five to six takes of each song. "It wasn't really like a live gig, in the sense that we wanted to stay true to the compositions and keep our risk-taking to a minimum," Lettieri adds, "but also, we still wanted to express ourselves and feed off of the audience."
Lanzetti and Lettieri each contributed a song to Empire Central, following League's suggestion to draw influences from artists who shaped Black music history. Lanzetti shares, "Especially in the United States, Black music is such a huge part of everything. Pretty much everything that exists was influenced by Black Americans, and in the early days by Africans who were brought here. It's music we all grew up with. It was such a huge part of who I am. With writing, everything that you've ever listened to is going to be all wrapped up in that."
Chris McQueen's Gear
"We listen to each other a lot, and probably end up imitating each other," says Chris McQueen of the band's trio of guitarists. "We're trying to mimic each other sometimes, or at least I am."
Photo by Brian Friedman
Guitars
Moollon Thinline T Classic
Moollon LP-style
Amps
Supro Coronado
Supro Royal Reverb
Brown-panel Fender Princeton
Kemper Profiler (Doug Sewell amp)
Strings & Picks

Dunlop Nickel .010s
Blue Chip TD60
Dunlop Gator 2.0 mm
Surfpick wooden picks
Effects
J. Rockett Archer
Moog MF Delay
Moog MF Chorus
Moollon Tremolo
Moollon British Octah Fuzz
Telonics Multi-Taper Volume Pedal
ZVEX Instant Lo-Fi Junky
MXR M300 Reverb
Vintage MXR Envelope Filter
Jim Dunlop Cry Baby
MXR Phase 95
MXR Uni-Vibe
(Wingman Option Knobs on all pedals)
With 19 members in the band, you might think it would besomewhat like a traditional big band, in the sense that there would be first, second, and third chairs, etc. But that's not really how Snarky Puppy works. "There's no competition," says Lettieri. "Everyone's on equal footing. Mike [League]'s assembled this crew of players that are all top-notch, who all have a very unique thing that they bring to the table. I think the main thing that makes the band work is just the massive amount of respect we have for each other's talent."
"Everyone has the opportunity to be an artist. None of us are really sidemen within Snarky Puppy," Lanzetti adds. There is, however, still a leader in League, although his approach has shifted somewhat over the years. "In the beginning, Mike controlled things a lot more," Lanzetti continues. "But once everyone started to get a sense of what the band was, and it started to have its own identity and its own sound, everybody kind of understood it and then he didn't need to control it so much."
"It's kind of impossible, especially for a band this size, to be without a leader," McQueen says, elaborating on some of the practical inner workings of performances. "We've kind of developed a system where, if he's shaking his head, that means, 'No, stay there, do exactly what you're doing right now.' And if he's nodding his head, that means, 'Yes, go on to the next thing.' And that's pretty much the way that we keep things organized."
McQueen, Lanzetti, and Lettieri each come from slightly different musical backgrounds, which shape their individual playing and contributions to Snarky Puppy's sound. McQueen mentions that he's probably spent the most time playing indie rock, notably in the Texas-based bands Oso Closo and Foe Destroyer, which gives his approach a rawer edge. "I'm definitely very inspired by Radiohead, too—always have been," he adds.
"It wasn't really like a live gig, in the sense that we wanted to stay true to the compositions and keep our risk-taking to a minimum. But we still wanted to express ourselves and feed off of the audience."–Mark Lettieri
"We listen to each other a lot, and probably end up imitating each other," he continues. "We're trying to mimic each other sometimes, or at least I am. I don't know if the other guys are," he laughs. He plays guitars made by Moollon, a Korean manufacturer, including a thinline T-style and another model that's "kind of like a Les Paul, but not quite as saturated sounding." Regarding influences, Hendrix is his "North Star," but Kurt Rosenwinkel and Johnny "Guitar" Watson also come up, as well as the psychedelic rock band, Unknown Mortal Orchestra. "It's a continual virtuous cycle between hearing the music in my head, finding it on the instrument, and then playing it well. It's a little bit of that Hendrix thing, too," he continues. "He was very obsessed with surprising people. Once you get them accustomed to the thing that they think they're going to hear from you, you play something else."
For the past few years, Lanzetti has been playing a Fodera, made by the Brooklyn-based company, modeled after his favorite Stratocaster. "I have a Tokai as well that I used to use all the time. I'm starting to use it a little more again," he shares. "But that's what I'm usually playing—some sort of single-coil Strat-type sound. I also do a lot of single-note, syncopated funky stuff. I used to be in an Afrobeat band, so a lot of that influence comes out."
Lanzetti lists Bill Frisell, Wayne Krantz, and David Fiuczynski of the Screaming Headless Torsos among his main influences, along with Freddie King, Albert King, Django Reinhardt, and Charlie Christian. "Then, besides that, a lot of the textural stuff I do is kind of coming from non-guitar-based music. I'm really into a lot of 20th-century classical music—people like György Ligeti, Belá Bartók, Arnold Schoenberg, and Anton Webern."
When it comes to improvising, Lanzetti says, "The goal for me is to try to have there be no difference between improvising free or improvising on a tune. A lot of times when I'm practicing, I'll play free for a while, and then start improvising over a tune. I try to make it feel as open as it did when I was playing free."
Bob Lanzetti's Gear
For the Empire Central sessions, Bob Lanzetti relied on a Tokai S-style and the Fodera seen here.
Photo by Brian Friedman
Guitars
Fodera S-style
Tokai S-style
Amps
Kemper Profiler (Fender Vibrolux)
Victoria 20112
Strings & Picks

D'Addario sets
Gravity Gold series 1.5 mm
​Effects
ZVEX Fuzz Factory
ZVEX Box of Rock
Boss DD-6 Digital Delay
Boss VB-2 Vibrato
Empress Tremolo
Strymon blueSky
Electro-Harmonix POG2
EBow
Lettieri comes from a rock background, but has a "pretty heavy funk influence, and sometimes I like to shred, sometimes I like to play lyrical stuff. The Snarky Puppy guitar chair is a challenging gig, because a lot of times I'm playing a part that makes more sense when somebody else plays it." He shares that when the band is on tour, he might be the only guitar player, and then he has to learn Lanzetti and McQueen's parts. "It stretches me," he elaborates. "They probably feel the same: 'Aw, man, I've got to learn this Lettieri part! This is a Lettieri part!' But with this record in particular, I'm at home with a lot of the stuff I'm playing. I don't feel like I'm having to wear someone else's pants to do it."
Lettieri's primary guitar is a PRS Mark Lettieri Signature Fiore. His secondaries include a PRS McCarty 594 and a Danelectro '56 Baritone reissue. His big three influences are Prince, Jeff Beck, and Eddie Van Halen, but also mentions Stevie Wonder, Steely Dan, Metallica, A Tribe Called Quest, and ZZ Top as heroes. As an improviser, he subscribes to Eddie Van Halen's philosophy that soloing can be like "falling down the stairs and landing on your feet." "That always resonated to me," he says. "I love risk-taking improvisers. Sometimes it's brilliant, sometimes it's flawed, but it's human and it's personal."
It's clear from the guitarists that the band dynamic is overall familial and playful. After hearing about our interview with Lanzetti, Lettieri immediately interjects, "Whatever he said was a lie! All hearsay. He's a big liar."
And McQueen later calls everything into question, saying, "But you don't know if Mark is a liar, too. How can you know who to trust?"
"Everyone has the opportunity to be an artist. None of us are really sidemen within Snarky Puppy."–Bob Lanzetti
Lettieri adds, "We haven't killed each other yet, so I guess we're good enough buddies. It's a family at this point."

"There's so many different kinds of personalities given the fact that the band is so big," says Lanzetti. "It's also nice because you can bounce around from little groups of a couple people. There are little groups within the band of people who like to hang out with each other a lot. But we all really like food, so we like to go find nice restaurants or whatever a particular place has to offer." He adds, as an afterthought, "We used to play frisbee a lot."
In response to a tongue-in-cheek question asking what this album would say if it had a voice, Lettieri laughs heartily: "It would say, 'What's up!' You know what I mean? It's a very inviting album. It's deep compositionally, but it's not going to be over your head." He continues, "Honestly, it might be a cool way for a lot of people who have never heard the band to hear the band. There's something for everybody. There's some pretty heavy, intricate stuff; there's some really beautiful, melodic ballad stuff; there's some really deep, groovin' stuff. It's a little bit of energy. I'm really, really stoked about this one."
Snarky Puppy - Bet (Empire Central)