Week #2 is here! You could win pedals from Electro-Harmonix, Ibanez, Xotic Effects, Summer School Electronics, Flamma Innovation, or Peterson Tuners!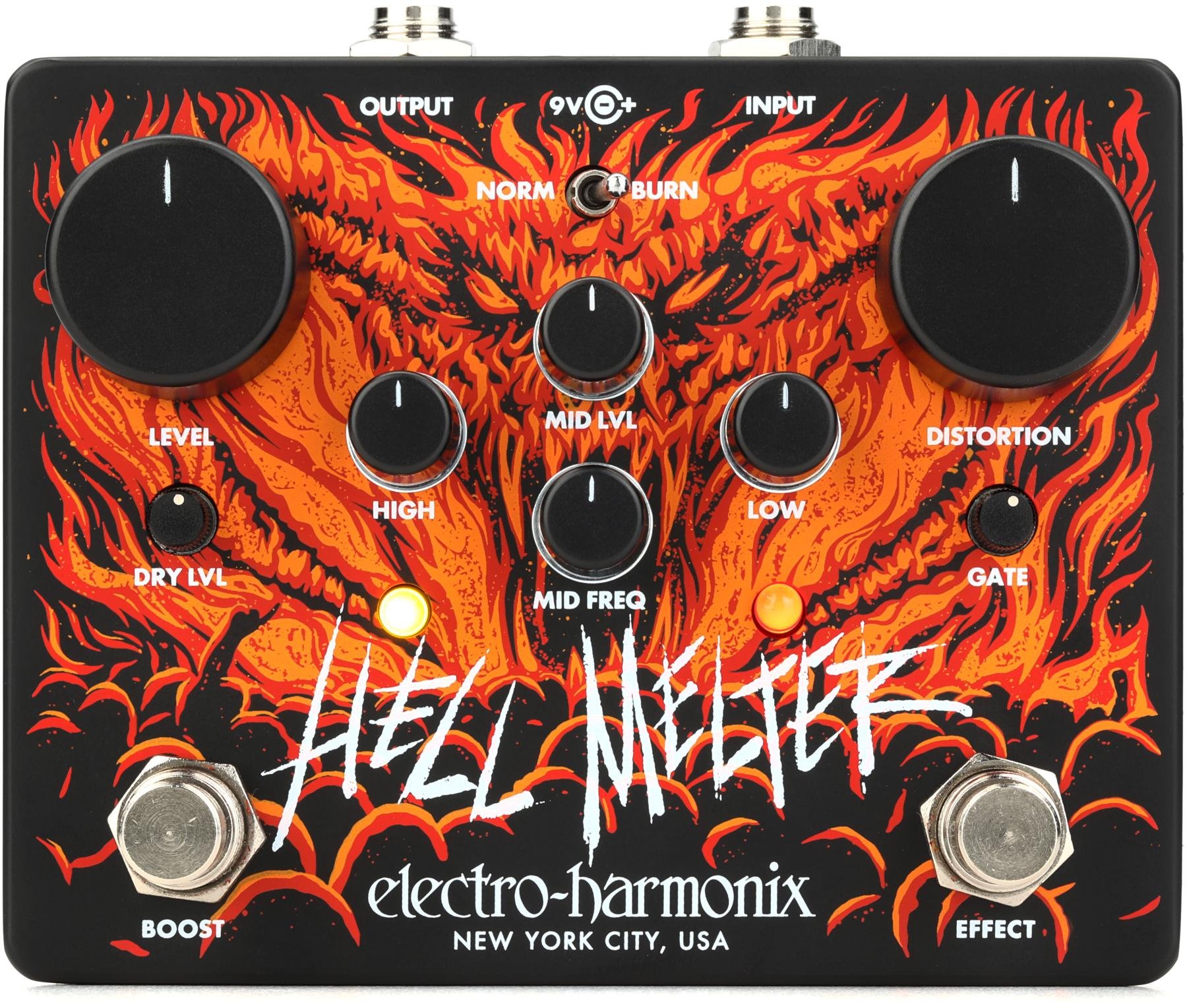 With its take on the cult-classic, chainsaw distortion pedal, the EHX Hell Melter takes distortion to its extremes. The Hell Melter features expanded controls and tonal capabilities, allowing the already in-your-face sound of the pedal to broaden by switching to more open clipping options and boosting the internal voltage for increased headroom, less compression, and more attack.
Originally designed as the ultimate in high-gain tone, this world-famous distortion circuit is known for the death metal sounds of Sweden's Entombed and the shoegaze wash of My Bloody Valentine. It's even found a home in the rig of David Gilmour!
Electro-Harmonix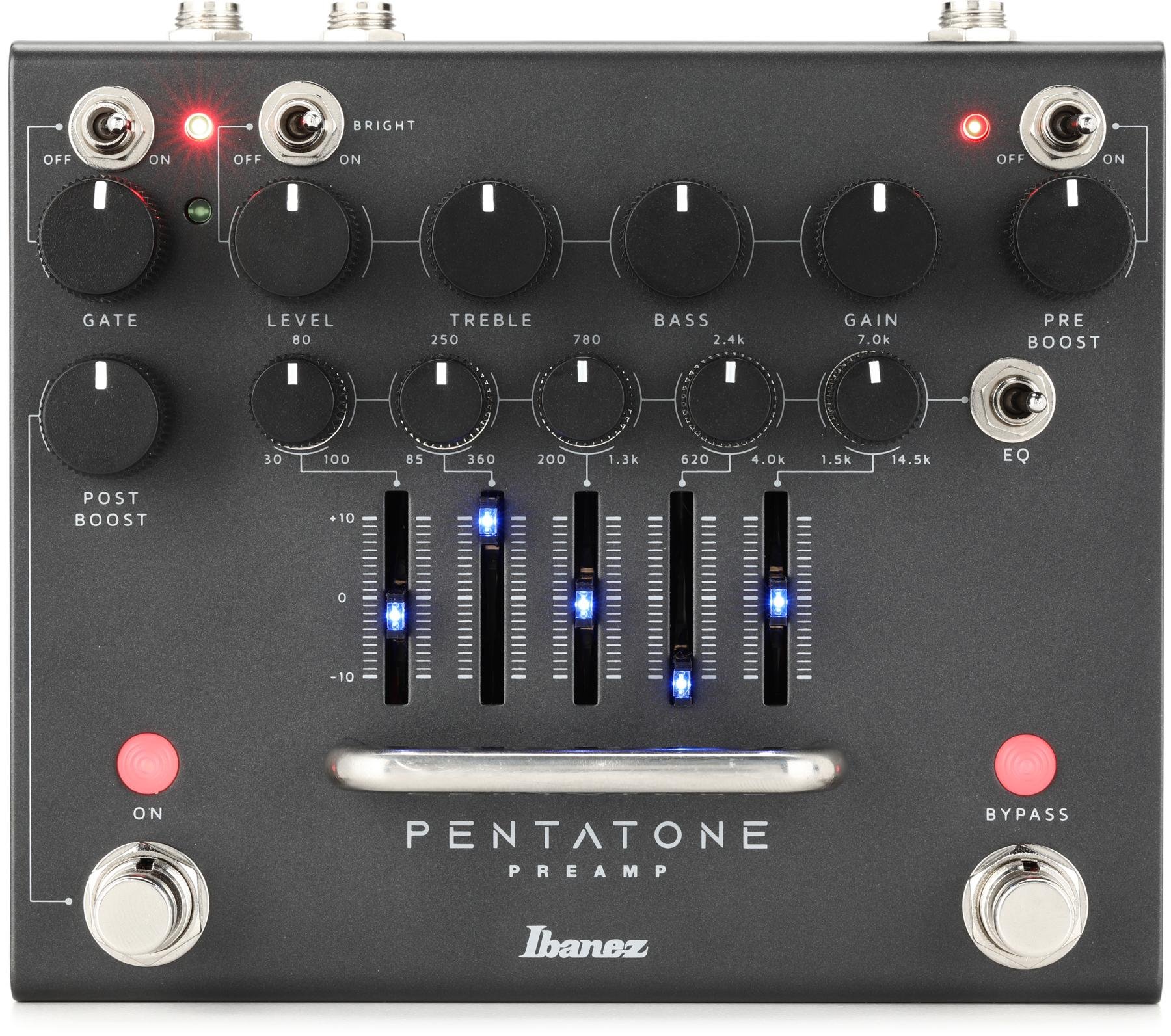 Extraordinary tone shaping control, dynamic arrays of distortion, and exceptional amounts of EQ are all laid out at your feet. The Pentatone preamp from Ibanez affords the perfect blend of features all wrapped up in an intuitive, all-analog platform. This preamp combines five individual tone shaping sections: a pre-boost, distortion with two-band EQ, a noise gate, 5-band parametric EQ, and post-boost. The pedal also includes a bright switch, which enhances treble response by boosting the high-frequency range. The two integrated footswitches control the preamp bypass and post-boost functions while adding an Ibanez IFS2L external foot-switch enhances the player's control even further by also making the pre-boost and 5-band parametric EQ foot-switchable. From simple tone shaping to crunchy overdrive and even the most crushing distortion, the Pentatone preamp covers it all.

Learn More
Ibanez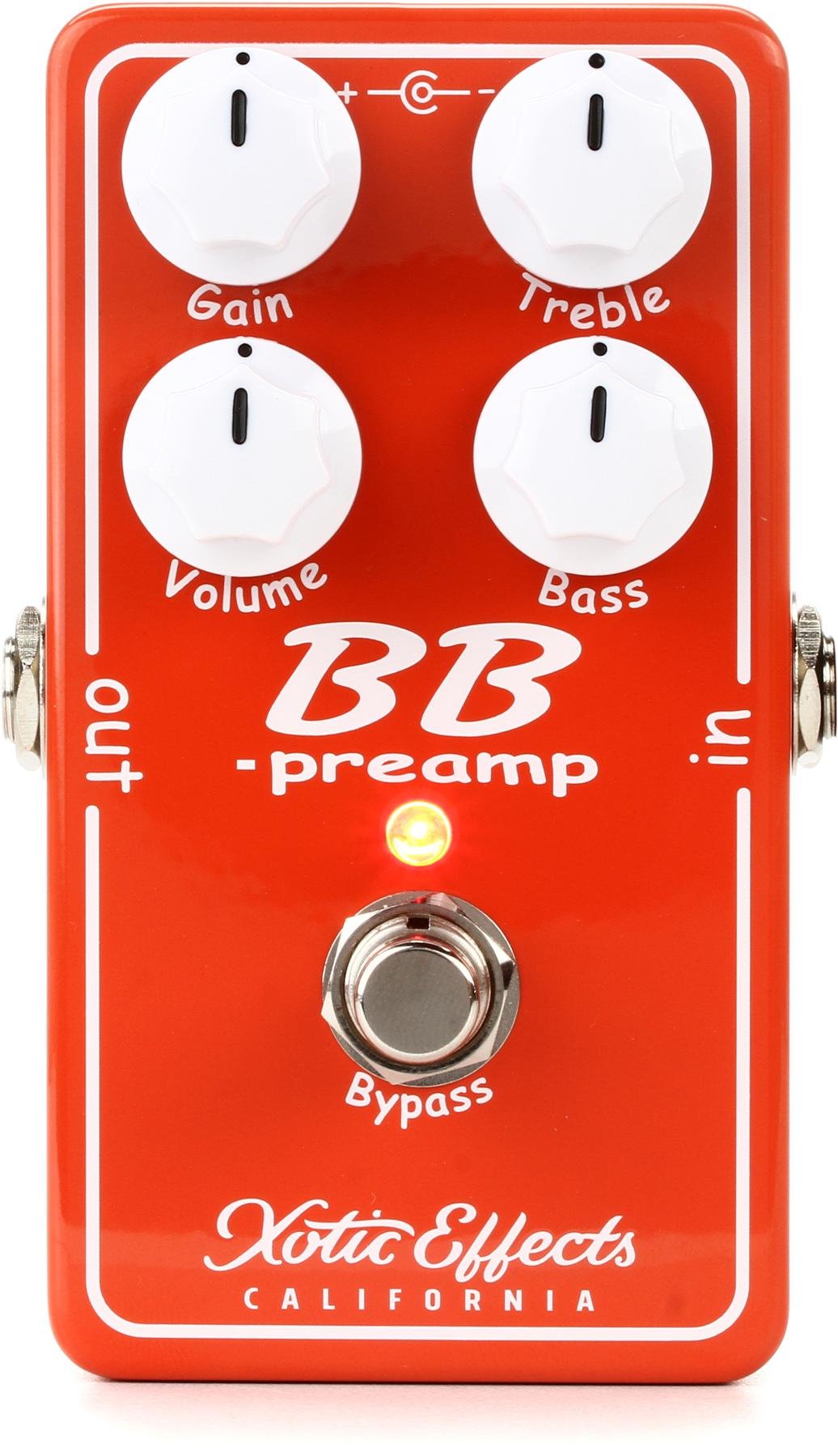 For almost 20 years, the original BB Pre pedal has been the overdrive of choice for profession and working musicians around world. The BB Pre Version 1.5 is an updated version with the exact same tone shaping components as the original. This pedal is outstanding for getting thick and creamy overdrive tones with great sustain and also excellent for pushing the clean front end of an already driven amp with up to 30+dB of boost. The BB Pre Version 1.5 adds an updated case, 9vdc located at the top of the pedal and able to run 9 to 18 volts dc.
Xotic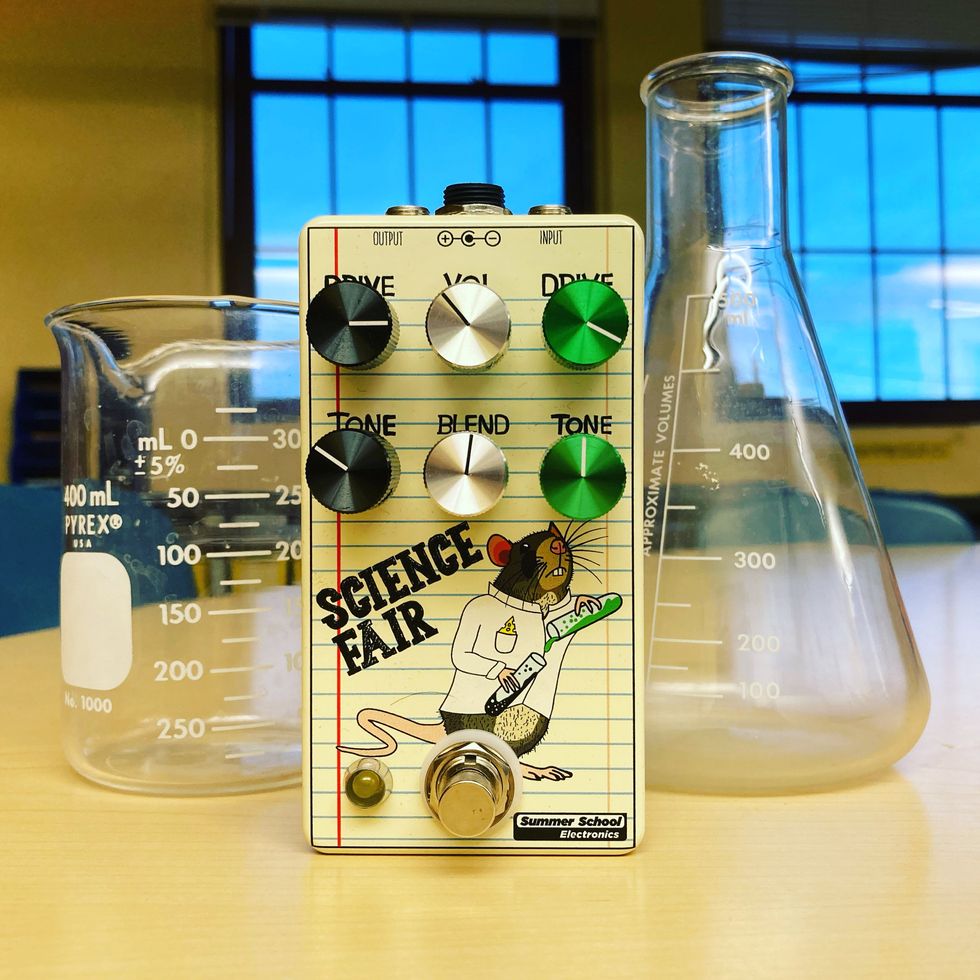 The Science Fair is a unique overdrive/distortion from Summer School Electronics that allows you to blend 2 classic overdrive flavors into a unique sound. The left side of the pedal, with black knobs, is referred to as the Lab Rat. A hard-clipping crispy distortion. The right side with the green knobs is called the Test Tube soft clipping mid-range overdrive with a mid-hump boost. The 2 sides are run in parallel with individual drive and tone knobs, and the center silver knob column features a master blend and volume.

By completely turning the blend to the left or right the user can use Summer School Electronics' versions of these classic circuits. But the Science fair really comes alive by turning blending the 2 pedals and adjusting the individual drive and tone knobs. This allows the Science Fair to give aggressive distortion while maintaining the clarity of the notes, or a softer attack with a hint of grit to pop through the mix. The Science Fair allows the user to find their signature sound, while also being a unique pedal that can provide a variety of options in recording and live applications. The Science Fair runs on a standard 9-volt, neg. center power supply, and has a lifetime warranty. Hand built in Syracuse, NY by working musicians with attention to detail.

Learn More
Summer School Electronics
This compact reverb pedal crams seven distinct digital reverb effects in to a sturdy, metal shell and several control features. The various reverb effects aim to simulate different environments from a small room to large, open cave. More niche effects are also included such as studio-style plate reverb, classic spring reverb effect, and the more far-out modulation reverb effect. Each effect can be modified with the Hi-Cut, Lo-Cut, Decay, and Pre-Delay knobs and then saved to their own save slot. An effect trail feature can be toggled on and off to have each effect fade out naturally after being switched off.
FLAMMA Innovation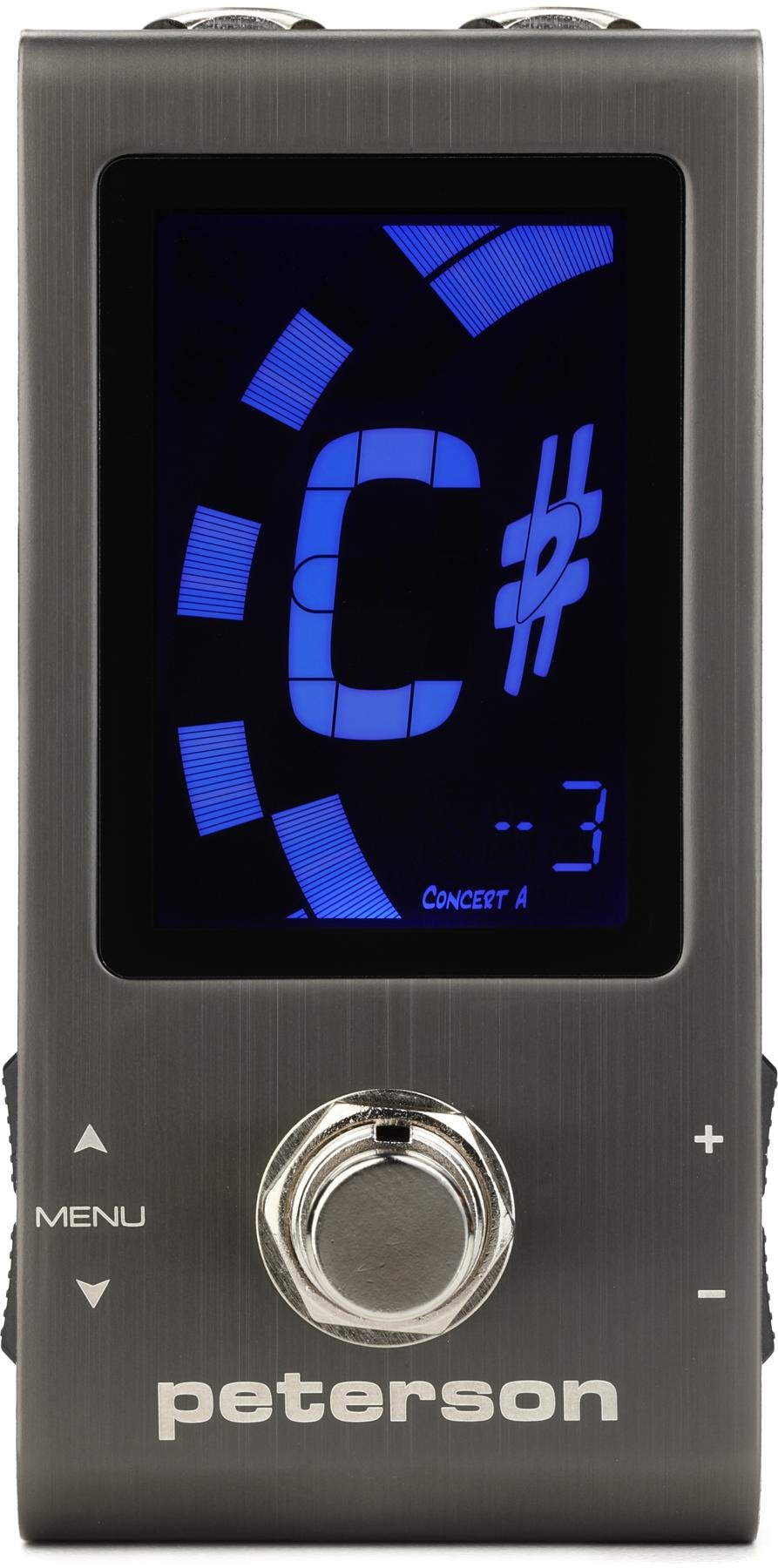 The StroboStomp Mini™ delivers the unmatched 0.1 cent tuning accuracy of all authentic Peterson Strobe Tuners in a mini pedal tuner format. We designed StroboStomp Mini around the most requested features from our customers: a mini form factor, and top-mounted jacks.
Peterson
The updated LCD technology provides nearly twice the screen pixel resolution over its predecessor.
Alsip, IL (June 14, 2017) -- Peterson Strobe Tuners, a leader in professional tuning equipment, has released the next generation of its clip-on series tuner, the StroboClip HD. Like the previous model, the StroboClip HD will clip-on to any stringed, woodwind, or brass instrument and include Peterson's unrivaled tuning resolution of .01 cent (1/1000th of a semitone). The updated LCD technology of the StroboClip HD provides nearly twice the screen pixel resolution over its predecessor providing very smooth tuning action while still maintaining its real-time response which allows users to instantly view even the smallest changes in pitch of their instrument. The bright and informative display coupled with its high resolution is instrumental in conveying the extreme tuning accuracy of the StroboClip HD's tuning algorithms to the user.
The StroboClip has a "stealth" matte black design and is constructed of high-impact material for reliability on the road. Increased battery life on the StroboClip HD provides users with over 20 hours of consistent tuning time using a single, standard CR2032 battery. The custom designed clip allows quick attachment to a variety of locations on any instrument and the included 50 proprietary Sweetened Tuning™ presets can help correct inherent tuning issues exhibited by many instruments. The StroboClip HD will also support Peterson's exclusive Peterson Connect online utility where users can connect via USB to update the latest firmware or create a custom configuration if desired.
"We are always looking to leverage advancements in technology and production techniques to help offer our strobe tuning products at affordable prices,"" says Patrick Bovenizer, Vice President of Peterson. "The feature-rich StroboClip HD is just our latest representation of excellence through innovation and we hope the StroboClip HD's lower price point will appeal to many first-time strobe tuning users.
The street price of StroboClip HD is $59.99 and it will begin shipping in June.
Visit our website for more information or call 1-708- 388-3311.
For more information:
Peterson Tuners
Ten clip-on tuners to keep your axe sounding sweet.
Listening to an out-of-tune guitarist is like hearing fingernails on a chalkboard. Don't be that guitarist! There are many clip-on options for those who prefer their tuner off the floor and close at hand, with myriad features, easy-to-read displays, and discreet profiles.
KORG Sledgehammer Pro
This tuner features an ultra-bright 3D display, calibration controls, and pitch-detection accuracy to a tenth of a cent.
$29 street
korg.com
ONBOARD RESEARCH Intellitouch PT40
The PT40 ignores background noise through vibration-based tuning. It boasts a large, backlit display, and you can recharge its lithium-ion battery via the included USB cable.
$49 street

onboardresearch.com
D'ADDARIO PW-CT-10 NS
This headstock tuner for guitars, basses, and other stringed instruments uses a piezo sensor and features a large multi-color display for easy tuning in noisy and dimly lit situations.
$29 street

daddario.com
PETERSON StroboClip
Encased in a stainless-steel shell, this strobe tuner offers a bright HD display, 28 "Sweetener" presets, and 1/10-cent accuracy.
$79 street

petersontuners.com
BOSS TU-10
This tuner has a multicolor display and features derived from other Boss tuners, including "Accu-Pitch" technology and "Stream" mode. It allows for lowered tunings of up to five semitones.
$29 street
bossus.com
SNARK SN-8
With a display that can rotate 360 degrees, this bright, easy-to-read tuner can accommodate left-handed players and unconventional instruments. Bonus: a built-in tap-tempo metronome.
$15 street
snarktuners.com
GOGO The Mini
This ultra-compact tuner stays out of the way while providing tuning accuracy to a half of a cent. The display boasts crisp resolution, large display fonts, and bright, two-color LEDs.
$13 street

gogotuners.com
MEISEL Magmount MM-10
You can secure this tuner to your headstock—or remove its clip and attach it to metal tuning machines using Magmount's integrated magnets.
$18 street

meiselaccessories.com
SAMSON CT260V
< This tuner features a vertical LCD display for smooth, realtime tuning verification, a dual 360-degree ball-joint clip for viewing at any angle, and an auto-on/off function.
$19 street

samsontech.com
KLIQ MUSIC GEAR UberTuner
This tuner offers three points of adjustment for optimal visibility and a brightly backlit LED display.
$24 street
kliqmusicgear.com