The pedal is designed for electric and upright and uses a 5-band EQ along with a custom designed preamp.
Chesterfield, MO (January 18, 2021) -- Phil Jones Bass (PJB) has announced the release of the PE-5, a pedal designed for bass guitar and upright bass which incorporates a sophisticated 5 band EQ and also offers superior function as a Pre-Amp, Direct Box, and signal booster.
The PE-5 is engineered with a unique switchable input impedance which allows the pedal to match exactly to either a magnetic or piezo pickup. It achieves the full band spectrum for either pickup source. In addition it is a signal booster which compensates for low output pickups and will also provide ample drive for any amplifier. The input level and gain controls are designed to precisely match the pickup output to an amplifier.The line output is strong enough to use directly into a power amplifier or a powered speaker.
The 5-band EQ is a high precision equalizer which means that each boost or cut level is identical to each adjacent band. Plus the Q factor of each band is identical. This makes it far easier for the player to accomplish the tone that they are pursuing. These frequency bands were carefully chosen for the voice of a bass so that the user will be able to adjust the EQ rapidly to get the desired sound.
The DI output is of the highest audio quality obtainable providing a match to even the finest recording studio mixing consoles and live sound systems. It has extremely high signal to noise ratio and features a ground lift switch to eliminate the possibility of "Mains Hum".
The PE5 can be powered by a standard 9-volt DC pedal adaptor or run on its own internal lithium-ion battery that is charged with a standard cell phone charger via its USB socket. The two foot switches provide a mute function and a true bypass. The rugged housing is constructed of die cast aluminum alloy made to deliver years of service.
Established in 2002, PJB and AIRPULSE Guitar Amps are divisions of Phil Jones American Acoustic Development. PJB is dedicated to using the latest technology in the design of compact bass amps and loudspeakers that achieve highest in fidelity and volume. Phil Jones owns several patents for loudspeaker technology.
For more information:
Phil Jones Bass
From zombie-inspired paint jobs to mind-altering fuzz pedals, the second day of NAMM was full of surprises.
PG Editors pick their top gear from the second day of NAMM. See everything from day 2 in our photo gallery.
EarthQuaker Devices Fuzz Master General
Winter NAMM 2015 found the ever-prolific EarthQuaker Devices showcasing the Fuzz Master General, which while evoking the mighty Univox SuperFuzz, delivers a tighter-than-SuperFuzz basic fuzz tone and a super clear and acidic octave fuzz sound. The extra versatility means a ticket to Live at Leeds...and beyond.
Source Audio Vertigo
Source Audio's new One Series digital pedals are simpler, more streamlined by the standards if the company's Soundblox pedals, but they are no less potent. The Vertigo tremolo features emulations of vintage optical, harmonic, and bias trems, but parameters can also be customized via the iOS interface. Prices should be right around $149 when they hit the street this spring.
Danelectro Baby Sitar
Couldn't be more psyched about the return of the Danelectro Baby Sitar. A simpler, more streamlined cousin to the old Coral Vinnie Bell Electric sitar, the original baby sitar and this new version did away with drone strings to create an easier-to-wrangle six string version. The reissue will street at $499.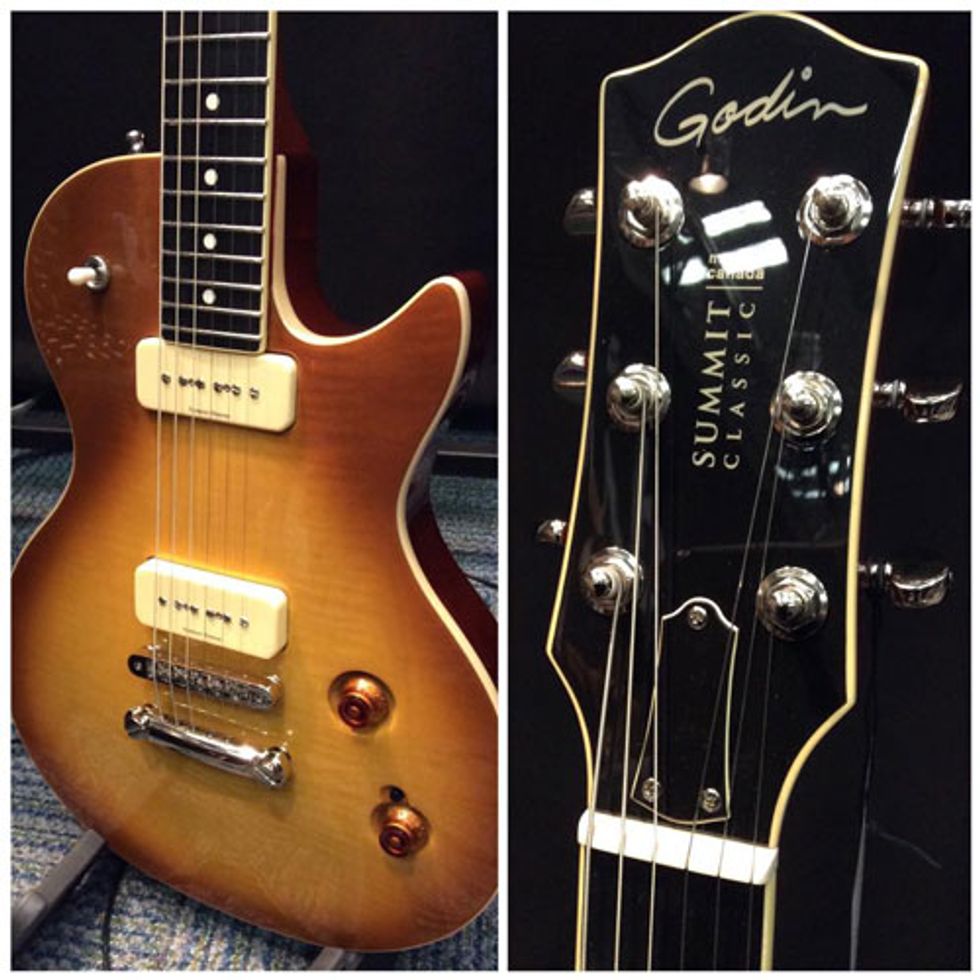 Godin Summit Classic
Godin Guitars brought some real nice-sounding, real classy-looking, real light new single-cuts to NAMM. The Summit Classic series comes in three Seymour Duncan-outfitted configurations with chambered Spanish cedar bodies and maple caps—a P-90 version (shown), a humbucker model, and a P-Rails model. Each also features Godin's unique High-Definition Revoicer circuit (activated by the black button in the recessed route), which has a pronounced and very musical effect on the EQ voicing.
ESP Mystique
Every NAMM we go out of our way to highlight the out-there designs that ESP brings to show off the capabilities of the luthiers at their Japanese custom shop. Inevitably people get snarky about the practicality of an angel guitar with a three-foot wingspan, or a guitar with medieval armor. So this time we thought we'd show this lovely Mystique model with sweeping lines, faux-tortoiseshell binding, and a crushed-seashell top. Kudos, guys!
D'Angelico EX-59
D'Angelico brought an astounding array of guitars to NAMM this year. While the model shown here—the 17", P-90-equipped EX-59 hollowbody—isn't exactly brand new, we just had to put it out there as an example of the swanky new finish work the company is doing these days.
Taylor 600 Series
Huge props to Taylor Guitars for being one of the big guys stepping up to do something about more responsible wood sourcing. The 600 series guitars they brought to NAMM feature new all-maple construction that's part of a greater consciousness of forest depletion. Master builder Andy Powers fine-tuned each body style in the series to optimize bracing and other construction elements so that they complement the tonal characteristics of the new maple parts, rather than just swapping solid mahogany or rosewood backs and sides for maple and calling it good.
Ashdown B-Social
Ashdown Engineering debuted the multi-functional B-Social at NAMM 2015. What started out as plan to create a nice looking and sounding bass amp for the home in a compact enclosure turned into much more. The B-Social features Bluetooth connectivity with an included wireless transmitter for cable-free jamming (and wireless audio streaming), a built-in USB interface, and an App-Tek socket to access the ever-growing range of amp sim and effects available. There's plenty more onboard and more importantly, it sounds really good.
Phil Jones Bass Quantum Series
Phil Jones Bass unveiled the Quantum Series line of combos with the Quantum800 and Quantum400. Boasting 350 and 75 watts, respectively, these wee but powerful combos are packed with PJB Custom 2.5" drivers.
Blueridge BR-65KCE
Blueridge Guitars showed off their new limited edition BR-65KCE single cutaway: the first offering from their Blueridge Custom Collection. Features include a solid Sitka top, solid koa back and sides, and a B-Band T-35 pickup system. The price? $995 suggested retail.
Schecter Dawn of the Dead
Schecter Guitar Research brought a bunch of cool new axes to NAMM. The rad dude on the left pays tribute to George A. Romero's classic zombie flick.
Diamond Pedals Counter Point
Diamond Guitar Pedals introduced the new Counter Point multi-tap delay at NAMM 2015. The Counter Point offers four different delay modes using carefully constructed sets of multiple delay signal taps and variable sample-rate modulation for tones flexible enough for a wide range of genres.
Hughes & Kettner TriAmp MkIII
NAMM 2015 saw the unveiling of Hughes & Kettner's TriAmp Mark 3, truly an amp to be reckoned with. Each of the Mark 3's six independent channels represents an entire era of tone, and each of the six eras can be routed to three independent tube power amps. Though the TriAmp Mark 3 leaves the factory with two pairs of 6L6s and one pair of EL34s, the amp works with other tube types as well, leaving players with options galore.
A microscopic bass amp with an unbelievably big sound.
Downsizing is a hard pill to swallow. Nobody wants to be told to make do with less. We're often taught that bigger is better, and this sentiment is echoed repeatedly in the music world, with bass rigs pushing thousands of watts through refrigerator-sized cabs.
Reversing course, Phil Jones Pure Sound has been moving things in a smaller, more scientific direction with the revolutionary 5" Piranha bass driver, the soul of the company's micro bass amp line. Jones has been making bassists do double-takes with creations that produce big, faithful bass tone from cabinets housing as many as 21 of his wee speakers. Blazing yet another trail, Jones recently introduced the 70-watt Double Four BG-75, a breadbox-sized micro combo that delivers—and delivers well.
Fours?
When I unpacked the Double Four, I held the tiny amp in my hand and gazed back into the box, as if I'd see something I missed. Nope. It was all in my hand—all (almost) 9 pounds of it. The amp is roughly the size of two stacked shoeboxes. I was more than intrigued.
The Double Four had plenty of volume for its size. It handled everything I threw at it, from fingerstyle to slap to pick. It was punchy, tight, accurate, and above all, simple.

The Double Four is a simple, straightforward combo amp with clean lines and a solid feel. The textured covering looks sprayed-on, like a pickup truck bed liner, which I like because there's no outer material to peel away over time. The rugged chassis houses simple controls suitable for practicing and small gigs, plus some helpful extras. A mute/low/high mini-switch toggles between low-gain input and a high-gain stage that brings the 70 watts to their full potential. A clip indicator light, a level control, 3-band EQ, and master volume round out the controls. There's also an 1/8" aux input jack with level control, an 1/8" headphone jack, and a 1/4" line out.
The Mighty Roar.
So how good can an amp this small sound? Is it for real? And should you consider spending $450 bucks on a practice amp?
Plugging in a Sandberg California TT passive, I was happy to hear, well, bass—and lots of it. The 4" speakers sounded full and rich. The tone was authentic and free from coloration. The Double Four had plenty of volume for its size. It handled everything I threw at it, from fingerstyle to slap to pick. It was punchy, tight, accurate, and above all, simple.
Ratings
Pros:
Authentic, uncolored tone from a deliriously small amp.
Cons:
Won't make it past a drummer on its own.
Tones:


Playability/Ease of Use:


Build/Design:


Value:


Street:
$449
Phil Jones Pure Sound Double Four BG-75
philjonespuresound.com
So how exactly does the Double Fourdo what it does? Phil Jones had already mastered delivering low end via small neo speakers, and then he notched things up with the Rectangular Auxiliary Low Frequency Radiator (RALFR) in the Double Four. It's a fancy name for a radiator that augments speaker output in 30-to-150 Hz range by redirecting air. Additionally, each speaker is powered by its own amplifier for greater efficiency. It's difficult to believe the bass response of these 4" speakers.
I field-tested the Double Four at an acoustic rehearsal with a piano player, two acoustic guitarists, and a drummer on cajón. I placed it on the floor for natural resonance and found that positioning it on its side was most convenient for EQ adjustments. Everyone was amazed by how great the amp sounded. The Double Four blazed through rehearsal with no problems, always sounding far bigger than its size.
I didn't test the amp through a P.A., but the line out has you covered for situations where the Double Four might not be quite powerful enough—a larger coffee house gig, for example. But for a small gig, rehearsal, or songwriting situation, this amp is all you need.
The Verdict.
Playing (and transporting) the Double Four is a joy. No, it won't replace your high-output stage gear, but that's not its intent. It elevates the bedroom-sized amp to the upper echelons of tone and portability, so you don't have to sacrifice tone when rehearsing. It can make acoustic and other low-volume gigs a breeze. It could also be handy backstage, on the bus, or as a personal monitor. And did I mention you can fit it in a backpack? All this makes the Double Four very much worth a test run.