Quick Hit: Phil Jones Bass Micro 7 Review
The company known for big bass sounds from small speakers delivers its smallest combo to date.
Miked with Audio Technica ATM650 into Focusrite Scarlett 2i4 interface into GarageBand.
Clip 1: '70s Epiphone Scroll bass with both pickups engaged. Level at 1:00 o'clock, bass at noon, treble at 1 o'clock, and mid at 1 o'clock.
 

Ratings

Pros:

Compact, tough, and light. Impressive tone for size.

Cons:

Probably won't satisfy players looking for more onboard goodies.

Street:

$279

Phil Jones Bass Micro 7pjbworld.com

Tones:Ease of Use:Build/Design:Value:
---
Phil Jones has built his reputation in the bass community by coaxing big tone out of the small drivers residing in his unique designs, and the new 50-watt Micro 7 continues that theme. It's a manageable 15 pounds and measures a tidy 12" x 10" x 10". Portable? Of course, but it's also mean in addition to lean. The metal brackets bookending the control panel, the stout handle, and the rigid steel grille on the solid enclosure all help with its travel-tough personality. The simple control set contains the usual suspects including a 3-band EQ, and because it's a 1x7 practice amp, there's also an aux in with level control and a headphone out.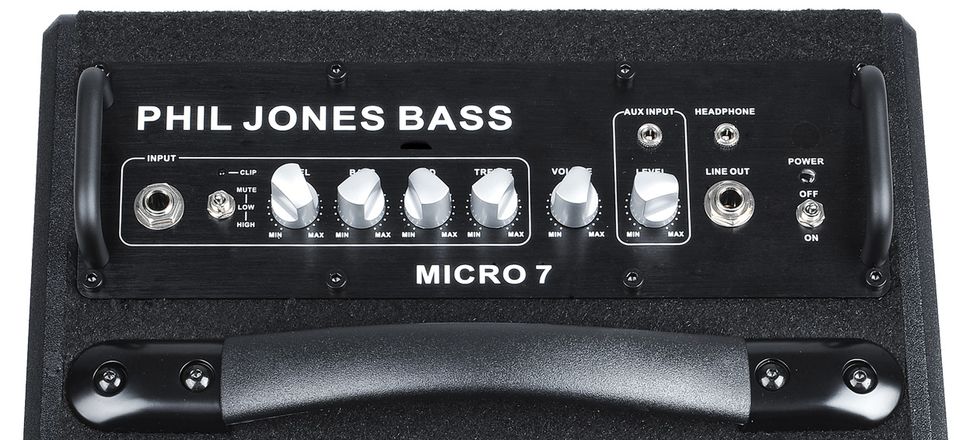 With the EQ flat, the amp has a round, clean tone that leans a little on the darker side. I found my sweet spot with a touch of mid and treble boost. The rear-ported Micro 7 pushes a respectable amount of volume for a compact combo, and it's also quite responsive to attack. With the volume maxed, the amp didn't clip until I moved the level up to 4 o'clock (while playing fingerstyle softly), though digging in more aggressively required pushing the level back to around 1 o'clock. The Micro 7 could likely pull off a variety of smaller acoustic gigs no problem, but likely not much beyond that. Still, it's a well-crafted practice amp with impressive tone and clarity, and feels priced pretty right, all things considered.
Test gear: Late-'70s Epiphone Scroll bass, Orange O Bass, Focusrite Scarlett 2i4, Audio-Technica ATM650
---