Archetype: Tom Morello is designed to precisely model the guitarist's longtime amplifier and speaker-cabinet rig, incorporating key processors that replicate his signature sounds.
Neural DSP has precisely virtualized Morello's signature sound in Archetype: Tom Morello. "As much as many of us would like to, we cannot actually be Tom Morello, but Archetype: Tom Morello will allow guitarists to inhabit his sonic soul in a way and to a degree unimaginable before." - Neural DSP

Tom Morello's trademark style — elastic slapping, atmospheric distortion, and effects that resemble turntable scratching — was a crucial component of Rage Against the Machine's rap-metal sonic attack in the late '90s, helping launch Morello and the band to Grammy-winning, multi-platinum success and leading to his recognition by Rolling Stone Magazine as one of the "100 Greatest Guitar Players of All-Time." His innovative techniques have redefined what a guitar virtuoso can be: combining guitar tones and effects with unprecedented creativity, he spearheaded a fusion of classic rock, punk, and hip-hop unlike anything else while simultaneously writing era-defining riffs for both Rage Against the Machine (newly ensconced in the Rock & Roll Hall of Fame) and Audioslave.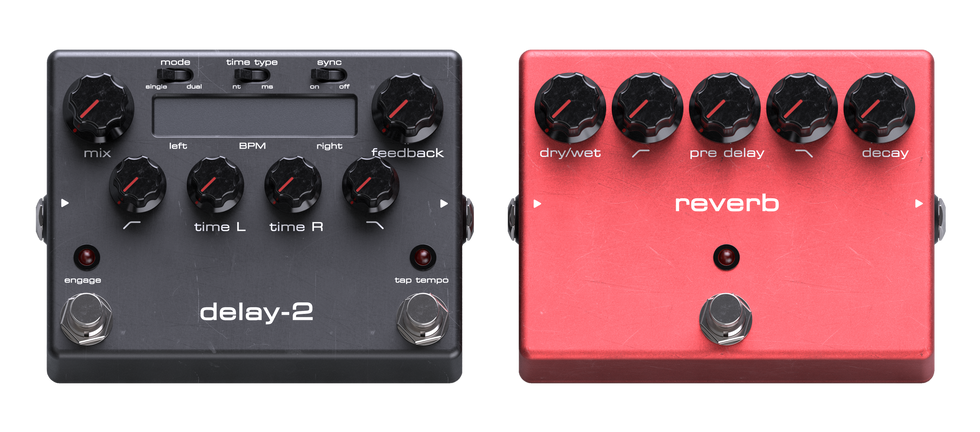 "We have worked tirelessly to perfect the Archetype: Tom Morello plugin to make sure it sounds EXACTLY like my amp and set up," says Morello. "The plugin is a testament to how amazing Neural DSP's proprietary modeling technology is and how meticulous their development process is. I told them I only want to do this if we get it just right, and we got it just right. It's really pretty incredible."
"What we share with all guitarists is a deep and abiding respect for their core sound, their sonic signatures, so to speak," observes Neural CEO Douglas Castro. "Our modeling technology has been able to precisely capture the contemporary sounds of brilliant guitar innovators like Cory Wong and John Petrucci. Now, with the release of the new Archetype: Tom Morello plugin, we've extended our lineup to include one more singular star in the universe of the guitar."

Archetype: Tom Morello is available today for €119. For more information, please visit neuraldsp.com.
Archetype: Tom Morello
One of the most iconic guitars of Morello's career—and it includes a kill switch.
Hollywood, CA (April 1, 2020) -- Fender Musical Instruments Corporation (FMIC) today released the all-new Tom Morello "Soul Power" Stratocaster. Tom Morello collaborated with Fender on his first artist signature Stratocaster which features unique customizations from the original "Soul Power," like a kill switch that helped shape his radical sound and riffs from the Audioslave era and beyond. Morello takes a creative approach to playing, infusing feedback, unconventional picking and tapping, in addition to heavy guitar effects that all inspired his new signature guitar. This past year the original "Soul Power" was recently featured at The Metropolitan Museum of Art and currently resides in the Rock & Roll Hall of Fame. The "Soul Power" Stratocaster is one of the most iconic guitars of the modern rock era and allowed for Tom to create a new sound after his time with Rage Against The Machine. Morello has pushed the boundary of guitar to new limits through his innovative style of playing and heavy metal and punk hybrid riffs.
"This Fender Soul Power signature guitar is made to my exact specifications and is an authentic replica of the instrument that forged my sound in Audioslave," said Tom Morello. "That was a period of renewed artistic freedom and limitless expression on the guitar for me and Soul Power was the sonic divining rod leading the way. Just as important as getting the specs right however is the charitable/social justice component of my collaboration with Fender. Together we are giving away hundreds of guitars to underprivileged schools and to the Jail Guitar Doors prison rehabilitation program to help unlock creative doors and create better (and louder) futures."
The Tom Morello "Soul Power" Stratocaster features a bound-top alder slab body, originally a limited run Strat, a "Deep-C" maple neck with a 9.5"-14" compound radius rosewood fingerboard with 22 medium-jumbo frets and matching painted headstock. Tom's unique, powerful sounds - from gentle rhythms to screaming feedback, chaotic stutters and more - inspired every detail of the guitar. From a Kill Switch that creates the "Stutter" effects emulating DJ scratching that he is known for, to a Seymour Duncan Hot Rails™ bridge humbucker pickup that delivers power and dynamics and a Floyd Rose Locking Tremolo System that allows for radical Tremolo effects while staying perfectly in tune - this Strat was built to rock.
"We are extremely honored to have worked with Tom on this project and embark on a long-term partnership throughout 2020," said Justin Norvell, EVP Fender Products. "Tom's iconic original "Soul Power" guitar sound created a monumental impact on rock at the time and we're looking forward to players today being able emulate those unique sounds with the Tom Morello "Soul Power" Stratocaster. Collaborations like these continue to keep Fender's legacy in rock 'n' roll alive and inspire the next future rockers of our generation."
The launch of Morello's guitar marks the start of his and Fender's 2020 collaboration in association with the Fender Play Foundation designed to equip, educate and inspire the next generation of players, alongside Tom's other charitable efforts with Jail Guitar Doors.
In true tradition, the Fender's Artist Signature Series honors iconic musicians through product progression and storytelling, creating instruments inspired by the unique specifications of the world's greatest guitarists and bassists.
Tom Morello "Soul Power" Stratocaster – $1,399.99 is based on the modified Designer Series Strat used during his time in Audioslave and features an alder slab body with binding and a Deep "C"-shape maple neck with 9.5"-14" compound radius rosewood fingerboard and 22 medium-jumbo frets. Other features include: a recessed Floyd Rose locking tremolo system, Seymour Duncan Hot Rails bridge humbucker, two Fender Noiseless pickups in the neck and middle positions, a chrome pickguard, kill-switch toggle, locking tuners, matching painted headcap and iconic "Soul Power" body decal and a black Fender case.
Watch the company's video demo:

For more information:
Fender
One of Tom Morello's most iconic guitars becomes available to the masses, while the company reissues a cult classic.