Enter for your chance to WIN one of SIX Pedals during Pedalmania 2022! This giveaway runs September 5 - 19, 2022.
Ready to enter? Click here to jump to the bottom.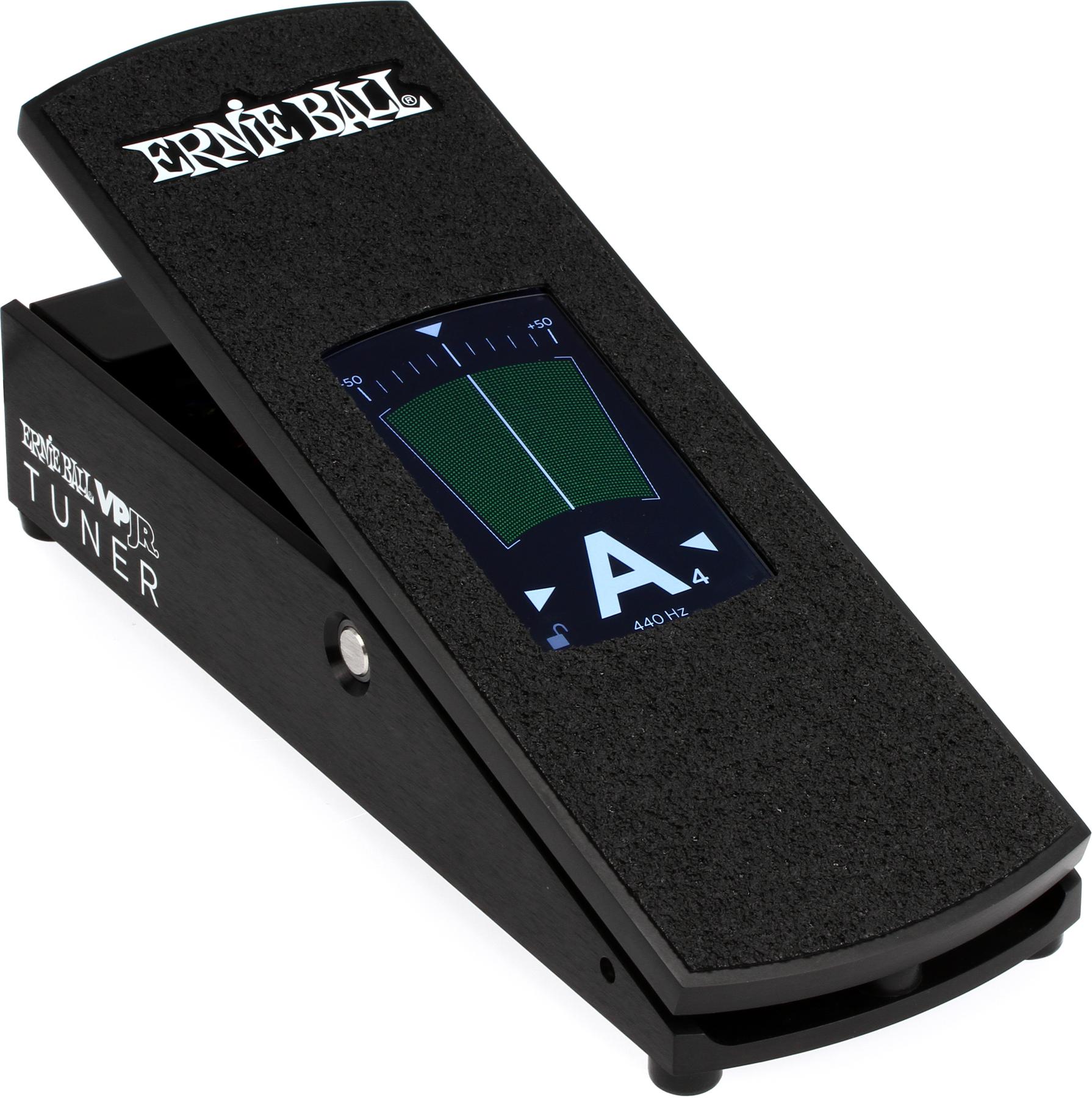 The VPJR Tuner pedal combines Ernie Ball's world-renowned volume pedal with an enhanced definition digital guitar tuner. In the heel-down position, the pedal's vibrant touchscreen automatically enters tuner mode, allowing for silent tuning. As the foot sweeps forward, the screen switches to volume mode, providing a graphic display of your volume level. Alternatively, the screen can remain in volume mode or tuner mode, regardless of the pedal's position in the sweep. Simply double-tap on the touchscreen to toggle between modes. The VPJR Tuner provides the same rugged construction and time-tested performance as Ernie Ball's traditional volume pedal, resulting in the most useful guitar tuner pedal on the market.
Ernie Ball
The Fulltone Custom Shop SUPA-WAH, with its gorgeous Metallic-White finish, takes our legendary CLYDE Wah concept to the next level by offering two additional Modes, for a total of Five unique voices. Like having five totally different Wah pedals at your disposal, the modes are accessible via a large rotary switch located on the right side of the pedal! PHAT mode is the throatiest, most vocal Wah sound and my personal favorite. SUB is deep, grunty, and unbelievably expressive...works great on Bass, but certainly not just for Bass players! The SUPA-WAH is powered by a matched-pair of rare BC109B transistors (subject to availability) which were the same ones used in 1960s Vox Clyde McCoys. There's an adjustable input LEVEL Knob allowing the signal to hit the wah circuit cleanly (when turned down) or to overdrive it for grit and more overtones (when turned up).
Fulltone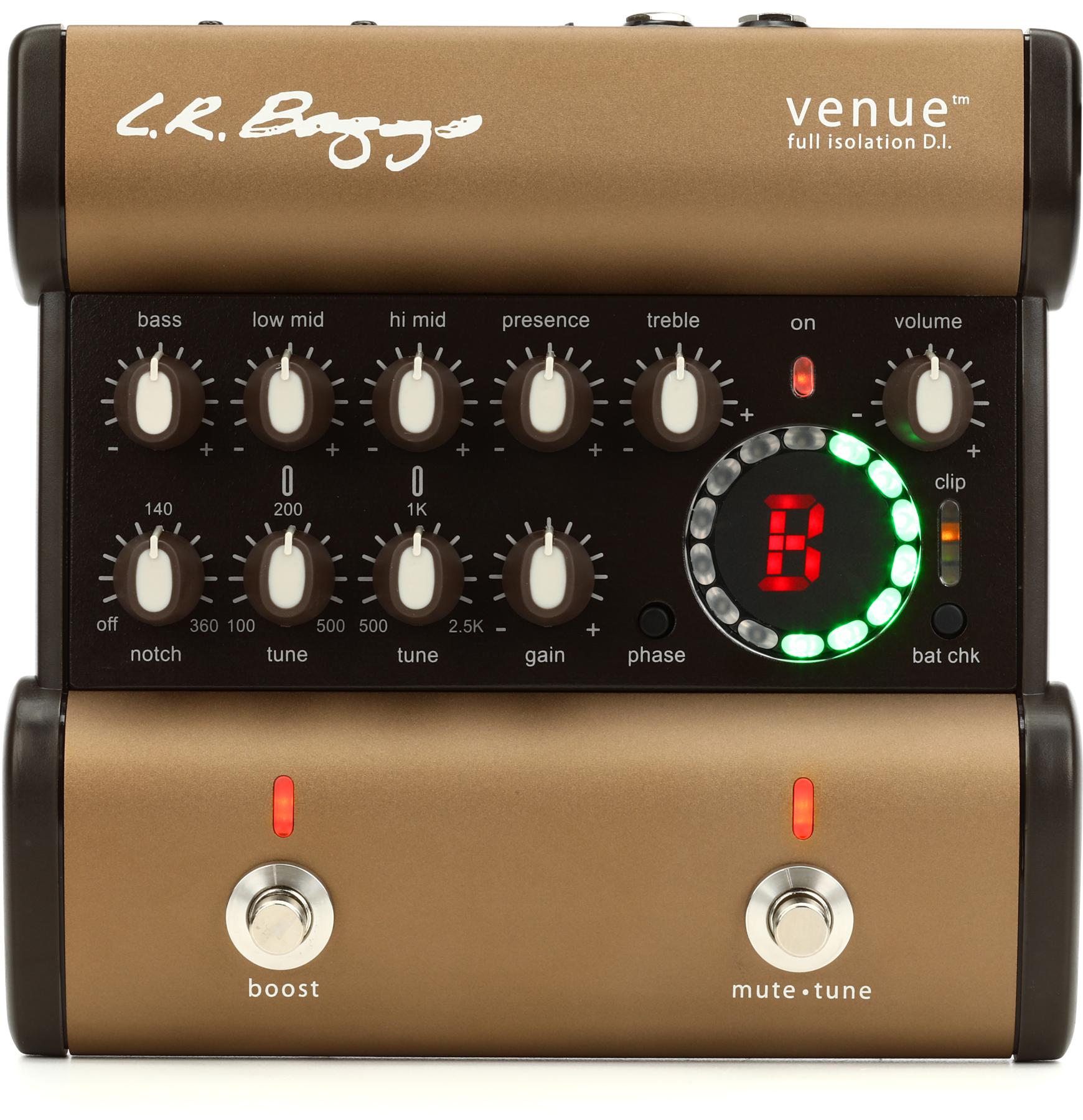 Full Isolation DI/Floor Box
LR Baggs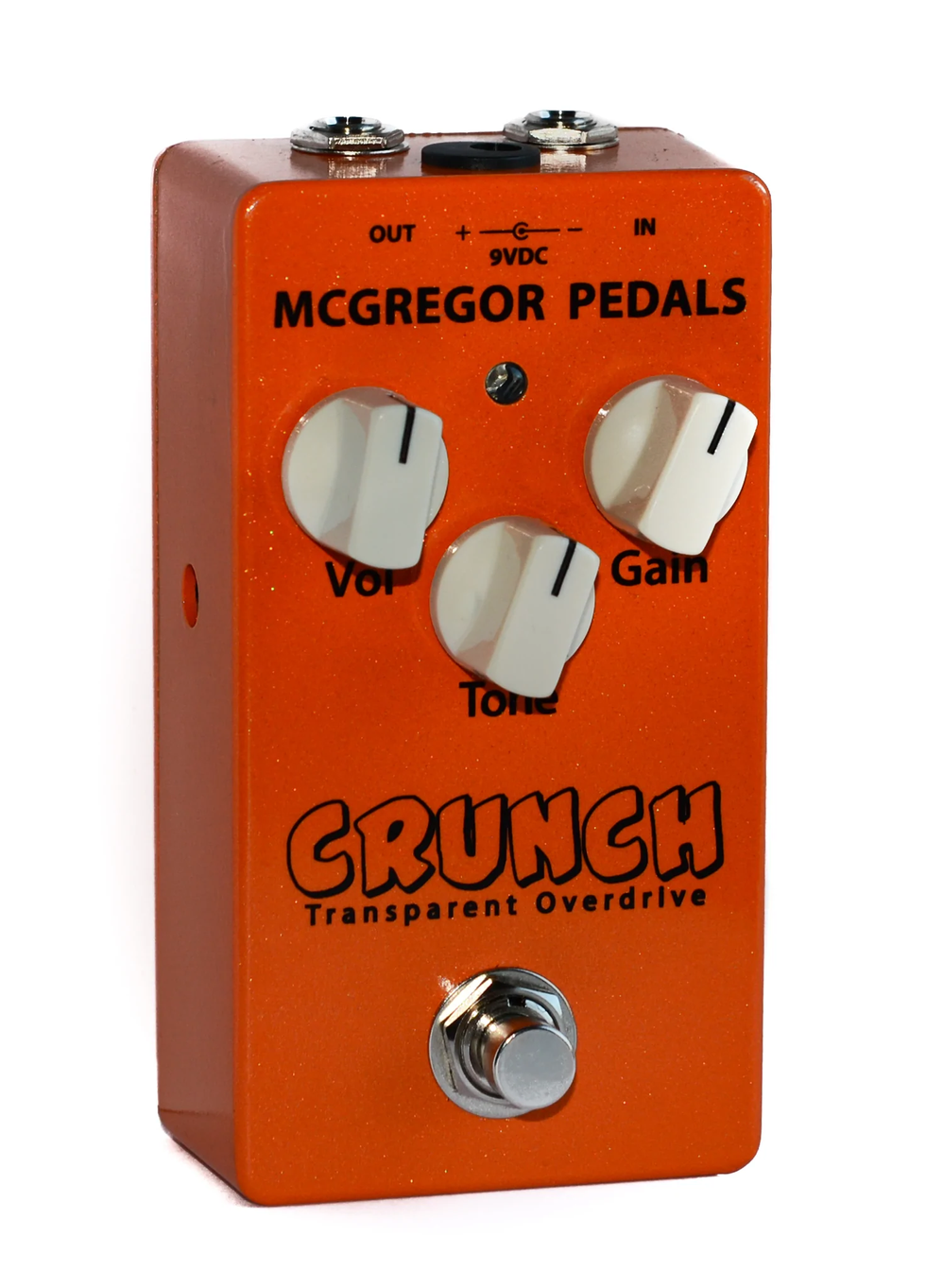 The Crunch Transparent Overdrive pedal started one afternoon when Michael Schau, the best guitar player I know, told me that he could never find a low-gain overdrive pedal that was truly transparent. I figured it was time to use my physics background; I started researching and came up with a proof of concept as well as a long list of modifications/improvements. Mike heard the proof of concept and told me to "...not change a f***ing thing." I ignored him and spent a year making mods, only to end up pretty close to where I started. Mike's been playing it live and in recordings ever since.
McGregor Pedals
TWA is very excited to announce our first signature model, as well as our first collaboration with Tube Screamer creator Susumu Tamura – the Scott Henderson SH9 signature distortion.

With the SH9, Mr. Tamura has taken the classic Sonic Distortion circuit that he invented in 1981 and re-worked it to meet Scott Henderson's exacting performance standards.

The primary improvement was a re-design of the pedal's tone stack, shifting the center frequency for more focus in the lows and lower-mids. Even as the SH9's Tone control is turned up, there is no loss of the bass frequencies that Scott considers essential for playing in the higher registers on the guitar.

This increased note girth combined with the SH9's inherently compressed sound allows Scott to effortlessly articulate the fluid, horn-like lead tones that he is famous for.

Other useful improvements include an increased output level that helps the pedal to be heard clearly in a full band context, as well as 9- or 18-volt operation for increased headroom with less compression and a slightly different character to the distortion.

The SH9 Scott Henderson signature distortion features the following –

• Signature distortion pedal inspired by classic SD-9 circuit
• Thick, compressed, amp-like tone
• Improved Bass and lower Midrange response
• Increased "girth" on high-register notes
• Allows notes to "speak" properly
• Increased output level
• JRC4558 OpAmp
• Optional 18-VDC operation for increased headroom, less compression and alternate drive signature
• True Bypass switching
• Die cast zinc enclosure with custom powder coat
• Made in USA
Totally Wycked Audio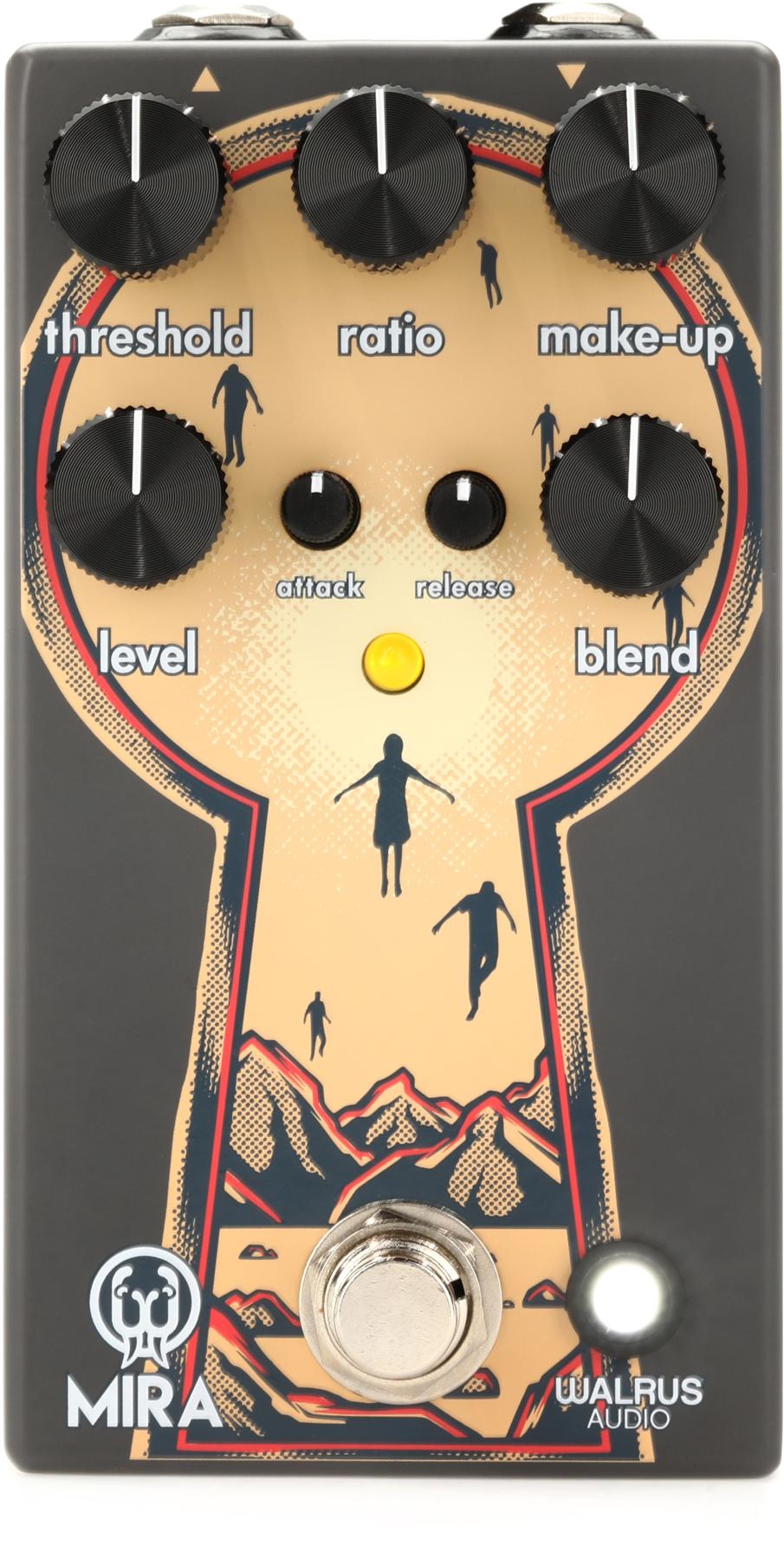 The Mira is a true bypass optical compressor offering studio-grade sound sculpting and sustain packed with controls you'd normally only find on studio units. Use the Blend knob to mix in your compressed sound with your clean tone to maintain note clarity while offering increased sustain. Mira also offers in-depth control over Attack, Release, Ratio, and a Make-Up knob to help maintain unity levels after your signal has been compressed. For higher headroom, Mira runs internally at ±15VDC.
Walrus Audio
The circuit is based on the original Guyatone WR-3, but with a few key updates.
Clifton, NJ (March 25, 2016) -- Godlyke, Inc. is proud to announce the release of the TWA WR-3 Wah Rocker.
Based on the original Guyatone WR-3 circuit, the TWA Wah Rocker nails the squawky, slippery, super-funked-up filtering of the vintage version. It also features several updates that greatly improve on its functionality and performance compared to the original.
Hand-assembled in the USA, the WR-3 Wah Rocker features the same quality and attention to detail as TWA's other award-winning pedals, yet in a more compact and affordable package.
Features:
Threshold Control – Adjusts the sensitivity of the filter
Decay Control – Adjusts the speed at which the filter comes off the Peak frequency
Range Control –Adjusts frequency band in which the filter sweeps
Gain Control – Adjusts the output level of the pedal from unity gain to a healthy boost
Blend Control –Blends dry & effected signals for a wider variety of tones
Guitar/Bass Switch –Switches internal circuitry to the achieve the massive low-end filtering of the vintage Bottom Wah Rocker
Proprietary S3 "Shortest Send Switching" relay-based True Bypass switching
External 9 VDC or on-board 9-Volt Battery power options
3-year warranty
Made in USA
$189 street
For more information:
Godlyke
The circuit is based on the uber-rare Systech Harmonic Energizer.
Clifton, NJ (November 6, 2015) -- Godlyke, Inc. is proud to announce the release of the TWA TK-02 Triskelion Mk II. The Triskelion is a variable-state bandpass filter with adjustable Gain. The filter's Q can also be adjusted from very wide to extremely steep to create harmonic focus in a narrow frequency band.
The Triskelion's specially designed filter can create glassy clean tones, boost midrange for throaty solos, or tune your rig to any room for a wall of singing, resonant feedback. Massive amp sounds, explosive lead-breaks, infinite sustain, and downright nasty, energy-intense tones are just a few of the uses for the Triskelion – the possibilities are limitless.
The Triskelion circuit is based on the uber-rare Systech Harmonic Energizer which was used by several well-known artists including Jim Walsh, Greg Lake and Frank Zappa. Frank's son Dweezil has been known to use as many as three TWA Triskelion's in his touring rig.
Features:
Amplitude adjusts the Gain & output level of the pedal
Variant Mass adjusts the frequency of the filter
Energy adjusts the Peak or "Q" of the selected frequency
Energize footswitch turns Amplitude control on/off
Internal Classic/Modern DIP switch selects between two filter frequency ranges
Internal Gain DIP switch reduces Gain for additional headroom
Expression pedal input for outboard control of filter frequency
External 9 VDC power required (no battery option)
Proprietary S3 "Shortest Send Switching" relay-based True Bypass switching
3-year warranty
Made in USA
$229 street
For more information:
Godlyke