Tuning Up: Pick a Platform—Any Platform (Plus! Ratings Revised)
When it comes to the types, quality, and depth of guitar-freak content on the market, we're pretty confident no other media outlet matches Premier Guitar.
When it comes to the types, quality, and depth of guitar-freak content on the market, we're pretty confident no other media outlet matches Premier Guitar. This isn't to brag, it's to urge you to explore outside your usual PG consumption zone. Sure, if you grew up ogling glossy mags at your local guitar shop or bookstore, you may be perfectly content to simply devour our monthly print offering. It is, after all, the biggest guitar mag on newsstands each month. But if you're that much of a glutton, why stop there? It's not like you've had some sort of retinal-bypass surgery that limits how much 6- and 4-string goodness you can ingest. So let me tell you about our daily specials.
Just to get it out of the way, let's discuss the content platform that's most controversial for some of you print lovers: Facebook. I know, I know … I can practically hear the eyeballs of skeptics and nonconformists rolling around in their heads at the mention of the vile F word. I laud your stand against The Man, personal-data mining, and voyeuristic time-wasting that saps away precious hours that would be better spent with your guitar, your family, or a good book. And if you choose to remain unyielding in giving FB founder Mark Zuckerberg the cyber birdie even after I call out some of the benefits of "Liking" us on his out-of-control brainchild, I'll applaud your principled stand—but I'll also ask you to please not moan about our multi-platform approach.
Here's why we think you principled rejecters could probably dine with us on Facebook without becoming Zuckerberg's zombie slaves or feeling all icky about yourselves: At present, Facebook is our most convenient, diverse, interactive, and up-to-date platform. Besides notifying you of new PG articles and videos, breaking news updates, and killer gear giveaways (including our famous Stompboxtober and new Pro Pedalboard drawings)—which are now open to international residents—our Facebook page also brings you extra photos of gear and artists that won't fit in the print edition. And, yes, we even have some Facebook-only gear giveaways. Like it or not, Facebook is one of the most popular websites on earth, and if we're going to continue to bring you veritable boatloads of coverage for next to nothing, you've got to be cool with the things we do there to remain competitive. Seriously, just try it out. Hell, you don't even have to use your Facebook account for anything else: Create an account, don't post anything, and simply indulge in all the aforementioned coolness.
Who doesn't love YouTube? We've got 20 million views and counting there. If you need your guitar fix in small doses throughout each day, premierguitar.com is the stealthiest route to ease the workaday blues. Love the look of our print mag but miss the ads and the idea of flipping pages, try our digital versions (digital.premierguitar.com)—which also include bonus sections stocked with all the web-exclusive gear reviews from that month. Need something to keep you occupied in the dentist's waiting room? Our iPhone and Android apps put entire PG issues in the palm of your hand. Into Twitter? We're there, too. We're also serving up choice archival tidbits on Tumblr. In sum, we work hard to make our multi-platform smorgasbord pretty damn tempting, so go ahead and pig out—no shame here.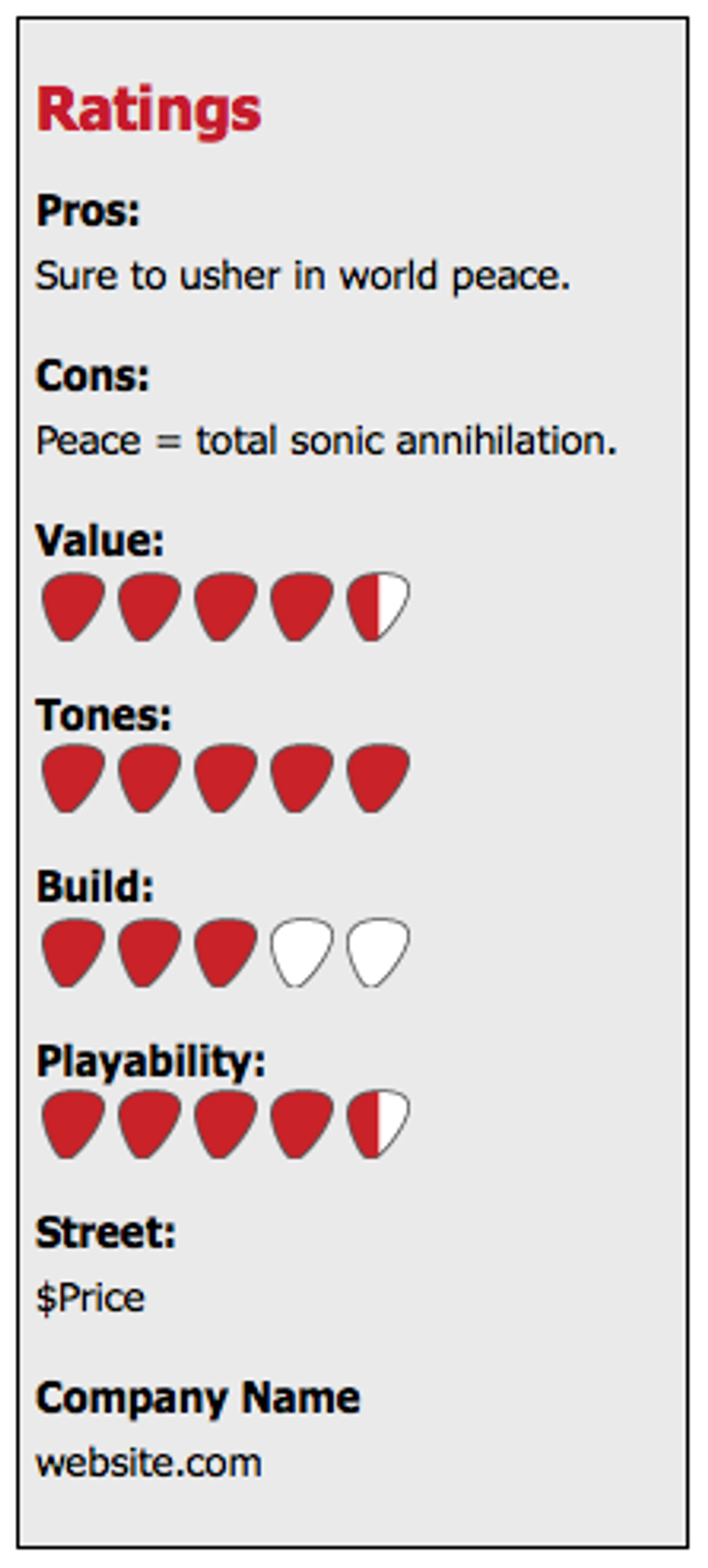 Ratings revised.
Okay, let's move on. Many of you base buying decisions on our reviews, so we've revised our ratings system to be more practical. Many products received 3.5–4.5 picks (out of 5) under our previous single-score system, which was useful for ata- glance summations but also obscured some nuance.
For instance, how should a reviewer rate an affordable guitar that has a few minor cosmetic flaws but sends everyone who plays it to tonal heaven? You guessed it—they average what might've been a 3-pick rating for build quality with a 5-pick rating for tones, and end up with a 4 or 4.5. And when you average assessments of playability, innovation, feel, build quality, and bang for the buck, you inevitably end up with a score that can seem like we're treating manufacturers with kid gloves. We're not. But while some people want to see us ruthlessly bash a product in a cathartic rant that they must believe will somehow rain vicarious vengeance down upon companies that put out crap 20 or 30 years ago, the truth is that these days CNC construction and the ease of internet research—for both builders and consumers—has exponentially improved the overall quality of products on the market today.
So, while you or I may pick up a guitar or plug into an amp or pedal and immediately know it's not for us, these days that's usually due more to whether it fits our style and level of pickiness than whether it truly sucks. We also go to great effort to make sure each product is reviewed by a player who's part of the target audience. We don't send jazz archtops to metalheads, and we don't send high-gain amps to blues dudes.
Anyway, our new rating system includes brief summations of a product's pros and cons, as well as pick ratings (0–5) in four categories—Tones, Build, Value, and Playability (for instruments) or Ease of Use (amps, effects, and other devices) or Versatility (pickups). Items with a total of 18 or more picks (out of 20) win our coveted Premier Gear Award. We think you'll get more out of this, and we welcome your feedback. Pick a platform—any platform—and write us!