Tuning Up: The Soul of Laura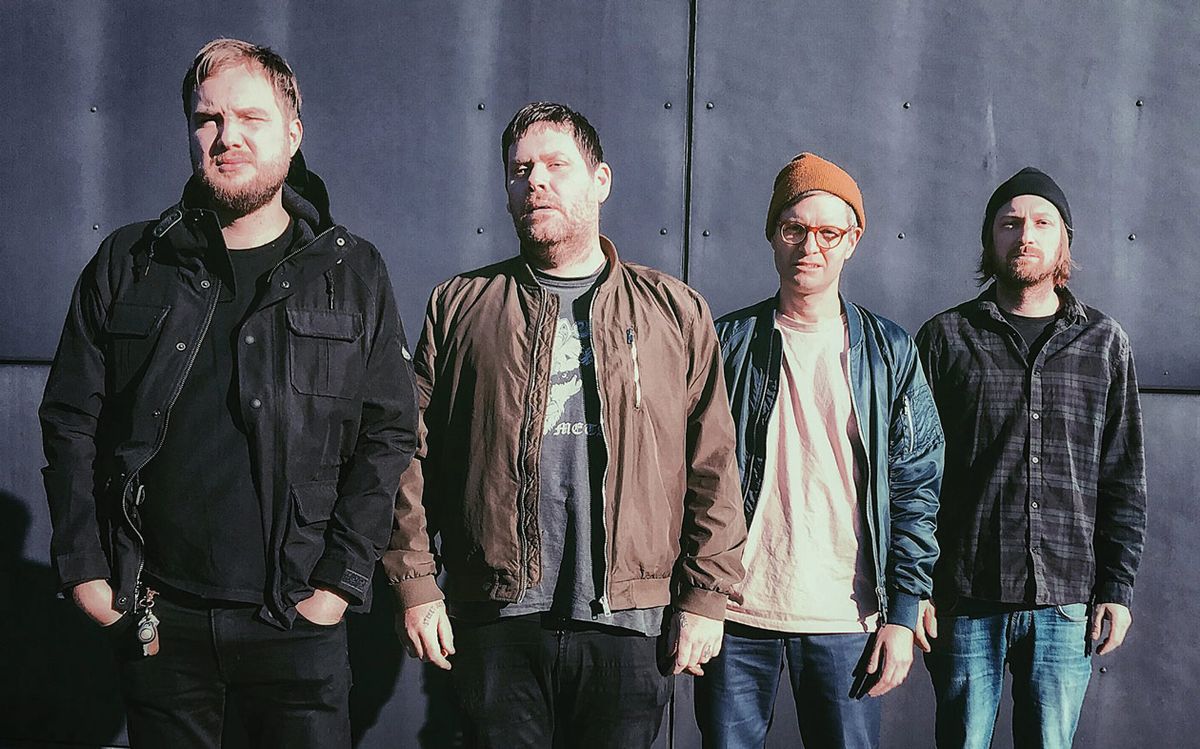 Why Swedish post-punk outfit Division of Laura Lee claims a special spot on PG editorial director Shawn Hammond's list of killer two-guitar bands.
When guitarists herald the playing of two-guitar bands, it's often for dexterous feats of harmonized glory à la Maiden's Dave Murray and Adrian Smith, the Allman Brothers' Duane Allman and Dickey Betts, Skynyrd's Gary Rossington and Allen Collins, or, say, Animals As Leaders' Tosin Abasi and Javier Reyes. Either that or iconic duos like Keith and Brian (or Ronnie, or Mick), George and John, Angus and Malcolm, Thurston and Lee, James and Kirk, Kim and Kelley, Corin and Carrie, etc.
All of these are, of course, eminently qualified players well deserving of accolades. But there are tons of other lesser-known 6-string duos whose unique interplay is also worth close analysis. One of my personal favorites is Per Stålberg and the various players who've been his guitar-playing foil over the years in Swedish post-punk outfit Division of Laura Lee.
There's nothing flashy about Division's guitar playing. It's all about attitude, atmosphere, and a deceptively simple-sounding tapestry of textures.
I'd never heard of DOLL until 14 years ago, when I got a press-advance copy of the quartet's 2004 LP, Das Not Compute—their second for Bad Religion guitarist Brett Gurewitz's U.S.-based Epitaph imprint. Sadly, the album failed to generate enough buzz to keep the band touring stateside, but its mix of melancholy, raucous discord, and catchy melodies quickly burrowed into my heart and head. Since then, Fransson, Stålberg, bassist Jonas Gustafsson, and drummer Håkan Johansson have put out two more long-players—2008's Violence Is Timelessand 2013's Tree (the latter of which also saw the addition of third guitarist Viktor Lager). Fransson left the fold in 2017, but that didn't spell the end for DOLL: Last spring they teased their upcoming LP with the release of the righteously indignant, punk-spirited anthem "Hollow Pricks."
There's nothing flashy about Division's guitar playing. It's all about attitude, atmosphere, and a deceptively simple-sounding tapestry of textures generated by Fransson, Stålberg, and now Lager's array of Hagströms, Jazzmasters, and Telecasters blasting through fuzzes, analog delays, and other moody-sounding effects. But it wasn't always that way: As revealed on the 12-track 2003 compendium, 97–99, DOLL began in the late '90s as a Fugazi-esque hardcore outfit, with original guitarist Henrik Röstberg occupying the spot Fransson would later take in 2000.
The latter development seems to have been key to the band's maturation into a more nuanced mélange of influences, including more melodic savvy, greater variation in instrumentation (with the inclusion of acoustic and electric piano, organ, bongos, and other percussion), and more sophisticated and adventurous tonal experimentation informed by—but by no means a copy of—noise-rock outfits like Sonic Youth and shoegaze heroes My Bloody Valentine. And yet the band's DIY hardcore roots still remain a core part of both the sonics and the lyrics.
One of the most interesting aspects of the band's 6-string dynamic is that, despite each player's guitar preferences—for the last few years Stålberg has favored WideRange-equipped Tele Customs, while Fransson and Lager have gravitated to Jazzmasters—their foundational sounds are remarkably similar.
The key to their seamless sonic splicing, especially in the studio, is the deftness with which they add dimensionality and an intoxicating, lulling sense of movement to songs by making sure each player's part has a contrasting placement in the stereo field, different track and gain levels, stark EQ niches, opposite attack intensities, different fretboard positions, rhythmic-timing contrasts (e.g., pitting double-time parts against straight-time parts), or creating a greater sense of space and depth by dialing in an almost imperceptible modulation effect on just one guitar part.
Meanwhile, the band's guitar tandem creates tension through things like having guitar parts build in unison before eventually releasing back to the former soundscape subtleties, or by having one player unselfishly drop out of the mix in order to create negative space, or by having one player fret pedal-toned parts (or simply follow the bass) while the other guitarists inject hooks, create eerie effects, or engage in more adventurous riff explorations.
If you've been looking for something new to add to your playlist, I highly recommend you check out my Spotify playlist to prep yourself for Division's next criminally overlooked gem … which I'm hoping gets here before the end of the year.
---