Two Notes Unleashes the Opus Amp Simulator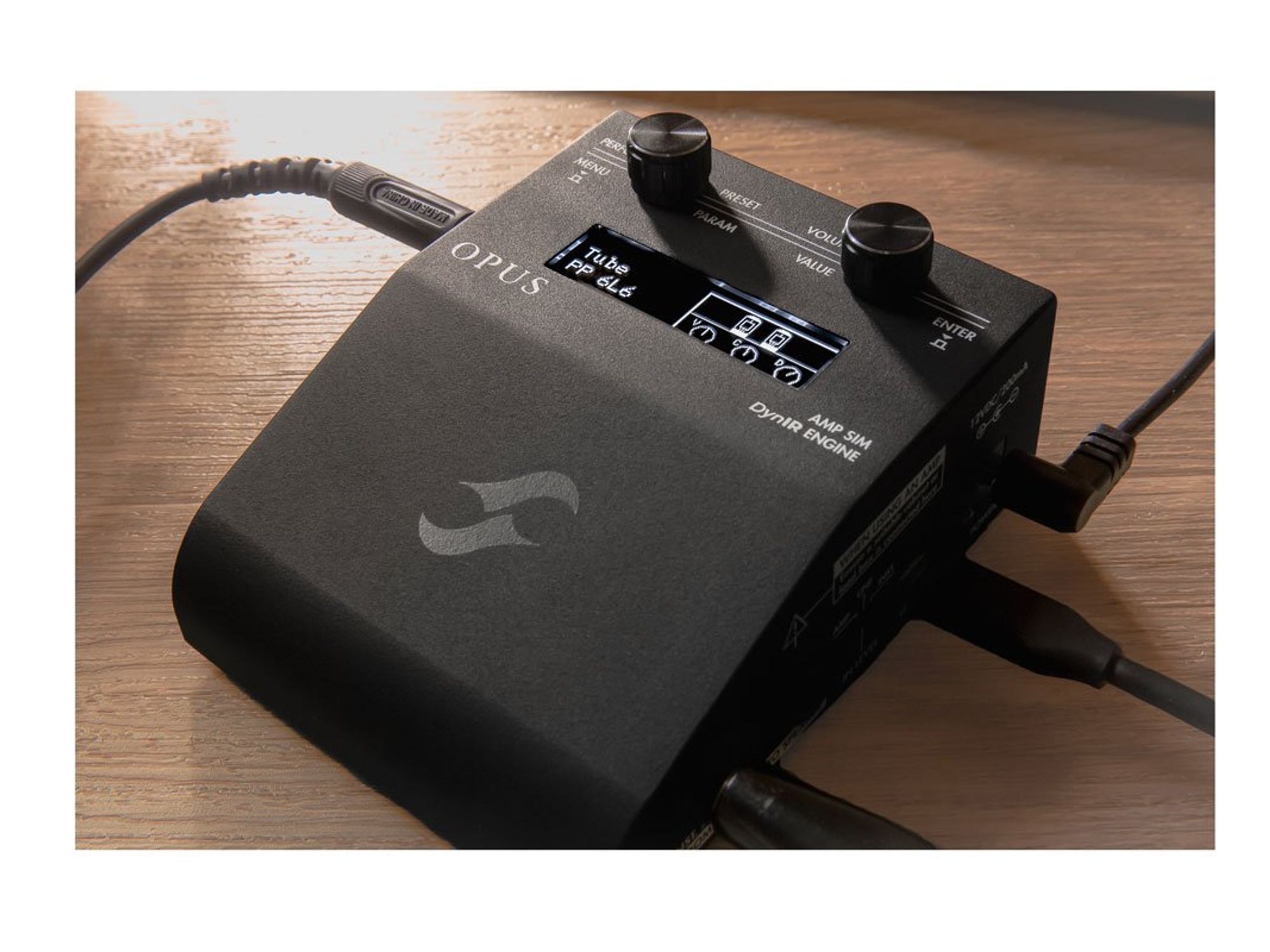 Featuring pre- & power-amp tube-stage modeling, MIDI integration, and USB-C connectivity, the Opus is designed to deliver apex-level tone in a compact, portable package.
---
For deft ease-of-use, Torpedo Remote (iOS/Android/MacOS/Windows) serves as the nexus of your tone-shaping experience; simply hookup to your Phone, Tablet, or Desktop and experience liberated1:1 integration with every editable parameter in the OPUS architecture. Tonally, everything you demand from a state-of-the-art digital Amp Sim is here; whether it's a thundering high-gain onslaught, a sublime clean primed to serve as the foundation of a pedalboard rig, or a mojo-fuelled Brit-inspired roar, each and every base is covered. OPUS, it's more than a masterpiece: it's a back-line in your gig bag and a macrocosm of next-level tonal excellence

Features
Foundry- Whether it's a pristine high-headroom clean or a primo foundation for your pedal collection, Foundry delivers. In short, it's the epitome of a classic Cali clean, brimming with warm saturation and engineered to capture every subtle nuance of your delivery.
Peggy- Bass players seeking the pinnacle in low-end theory, look no further than Peggy. Pushingcomplex harmonic overtones, a warm midrange, and oodles of rafter ratlin' thump, Peggy delivers the perfect blend of classic '60s bass sonics with expertly-tuned tweak-ability to sit your tone in any pocket!
Albion- For those times when only a legendary Brit-inspired roar will suffice, there's Albion. Complete with a rich vocal mid-range, lashings of punch, boat-loads of power, and gain-for-days, Albion is your secret weapon when diving head-first into Classic- and Hard-Rock territory.
Foxy- Seeking chime, articulation, and buttery-smooth presence? Foxy's a one-stop shop! With airy heights, impeccable breakup, and sublime mid-range bite when pushing the gain, Foxy is primed to take on everything from sultry Jazz to rauch-fuelled Rock n' Roll.
NiftyFifty- Want gain? NiftyFifty's got it on tap! It's aggression incarnate. It's punchy. It's super-versatile covering everything from a warm full-throttle onslaught to a searing lead tone that cuts through any mix. Whether it's the darker side of metal or a tone that wouldn't be amiss in 80s-inspired virtuosity, NiftyFifty is deserving of any contemporary player's sonic arsenal.
Additional OPUS Highlights
Pro-grade suite of essential DSP-powered processors and effects including an EQ, Enhancer, NoiseGate, and Reverb
99 preset locations and an exclusive collection of 40+ artist-series presets from the likes of Pete Thorn, Michael Nielsen, Jack Gardiner, Tom Quayle, Adam Steel, John Browne, Jay Leonard Jay and more (available as downloads upon product registration)
MIDI input for seamless assimilation into existing set-ups; MIDI breakout cable included
USB-C connectivity for future-proofed rapid data transfer
Dual Static IR Loader and Acoustic DI with 40+ premier Acoustic Impulse Responses included
Compact ultra-portable footprint and rugged, road-ready metal chassis
OPUS is available immediately from Two Notes stockists worldwide and ships for $299.99.

For more information, please visit two-notes.com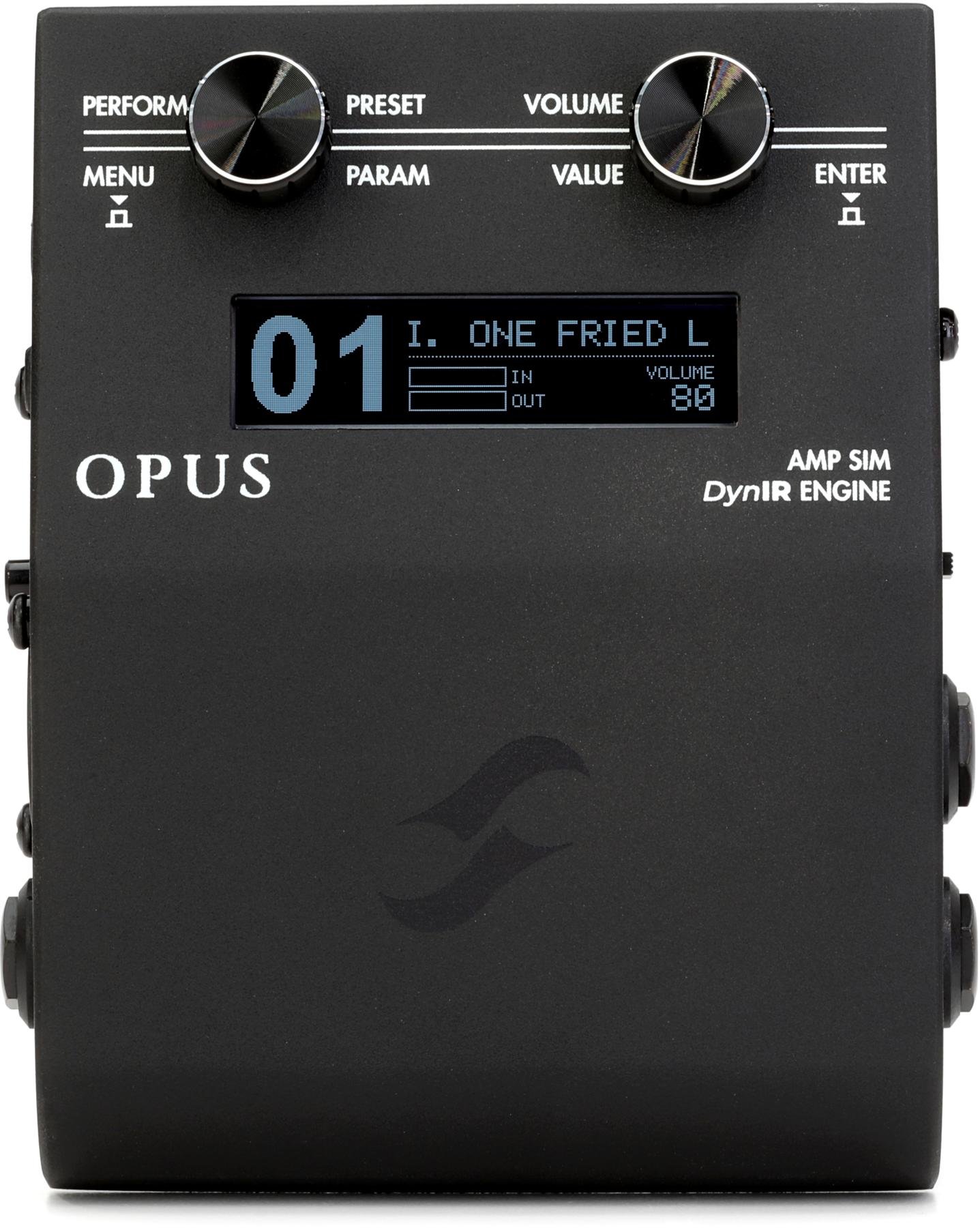 OPUS Amp Sim Speaker Sim Amp DI Pedal
Two Notes
From Your Site Articles
Related Articles Around the Web