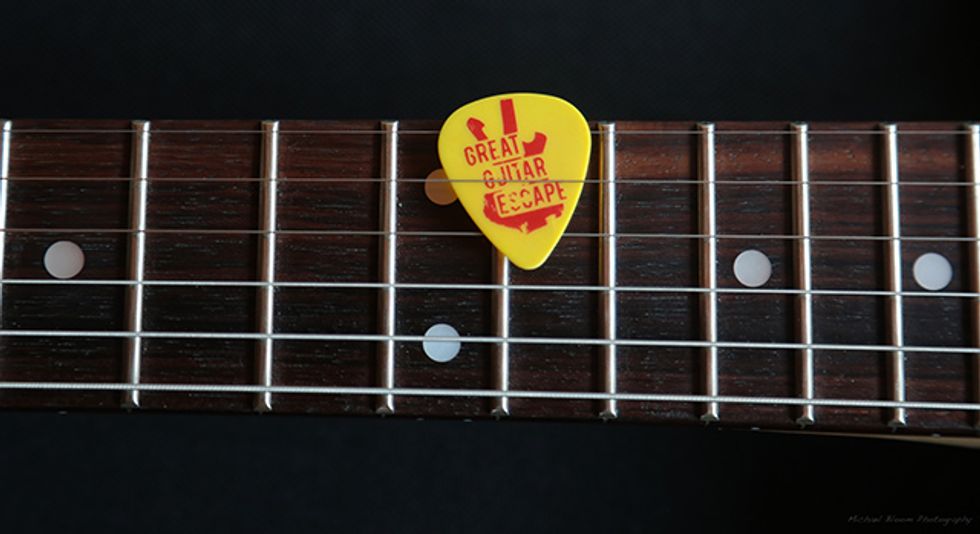 All photos by Michael Bloom Photo, michaelbloomphoto.com.
With its expansive mountain views, gourmet dining options, and rustic accommodations, the Full Moon Resort (located in upstate New York's Catskill Forest Preserve) is the picture-perfect image of calm. But it was closer to sheer terror than tranquility for the nearly 100 guitarists lined up for their chance to jam with guitar virtuoso Paul Gilbert at his 2013 Great Guitar Escape, held from July 8–14. Participant Steven Schwartz, an owner of a local music store and a ridiculously accomplished shredder himself, succinctly described on Facebook what it was like to have every lick he threw at Gilbert deflected and answered with the most lethal of sextuplet-laced blows: "Dear Diary, today I got to trade solos with Paul Gilbert for 45 seconds. Heart is still racing, hands are still shaking ... and it's been over two hours since it happened."
The few hours that Schwartz remained in shock pales in comparison to the time it took some of the participants to complete the long journey to the resort from places as distant as Germany, Amsterdam, Canada, and even Brazil, from where three friends came together for a once-in-a-lifetime trip. Although one of the Brazilian gentlemen had stern orders from his wife demanding that he not come back with any guitars, along the way to the camp, the trio made a pit stop in New York City and couldn't resist the temptation to pick up a Suhr axe and a Fender Cabronita Tele.
The Great Guitar Escape's faculty was personally chosen by Gilbert and consisted of rocker Andy Timmons and jazzer Mimi Fox (both Favored Nations artists), Berklee College of Music associate professor (and co-author/instructor of Berklee's online course, Steve Vai Guitar Techniques) Scotty Johnson, blues slide master Tony Spinner, and internet tapping/double-neck sensation Adam Fulara (who Gilbert found on YouTube and imported all the way from Poland). "The people I chose are people that I'm also interested in as a student," admitted Gilbert. "I have so much respect for them that I feel a little reluctant to be the boss. I feel like they're as good as me, if not better. But somebody's got to do it. Somebody's got to drive the bus, so okay, I'll grab the wheel."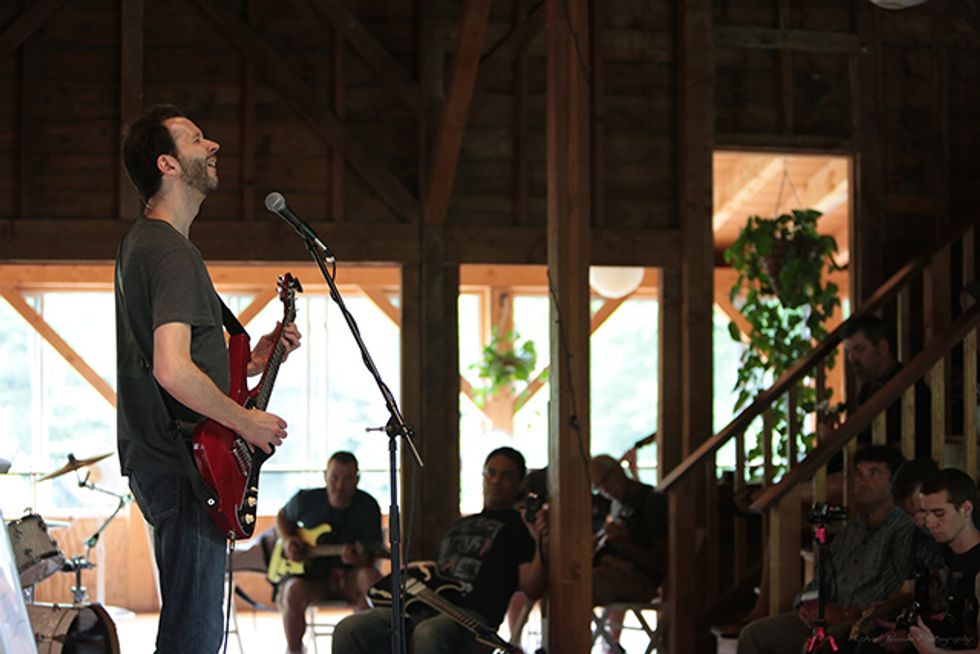 Paul Gilbert discusses his list of essential listening songs.
With Gilbert's name on the marquee it's easy to automatically assume that the Great Guitar Escape would have been a weeklong orgy of three-note-per-string scales and string-skipping arpeggios, but surprisingly the shred aspect represented only a fraction of the week's curriculum. The classes touched on all facets of guitar playing and there was a great balance of topics to choose from. The vibe of the teachers ranged from informal—Spinner's classes featured Gilbert interviewing him—to ultra-egg headed. Fulara's class was virtually a treatise on music with a dense, five-page text handout titled "Elements of Music-Overview," which featured a bizarre, low-brow-meets-ivory tower juxtaposition of the Cranberries "Zombie" as a Cantus Firmus in a counterpoint example. Such variety made the intense dawn to dusk schedule survivable.
Premier Guitar was there to participate in the festivities, sample some of the classes, and give you a firsthand glimpse at what it's like to take part in the ultimate guitar getaway—complete with a short lesson from Timmons and Gilbert at the end of this article.