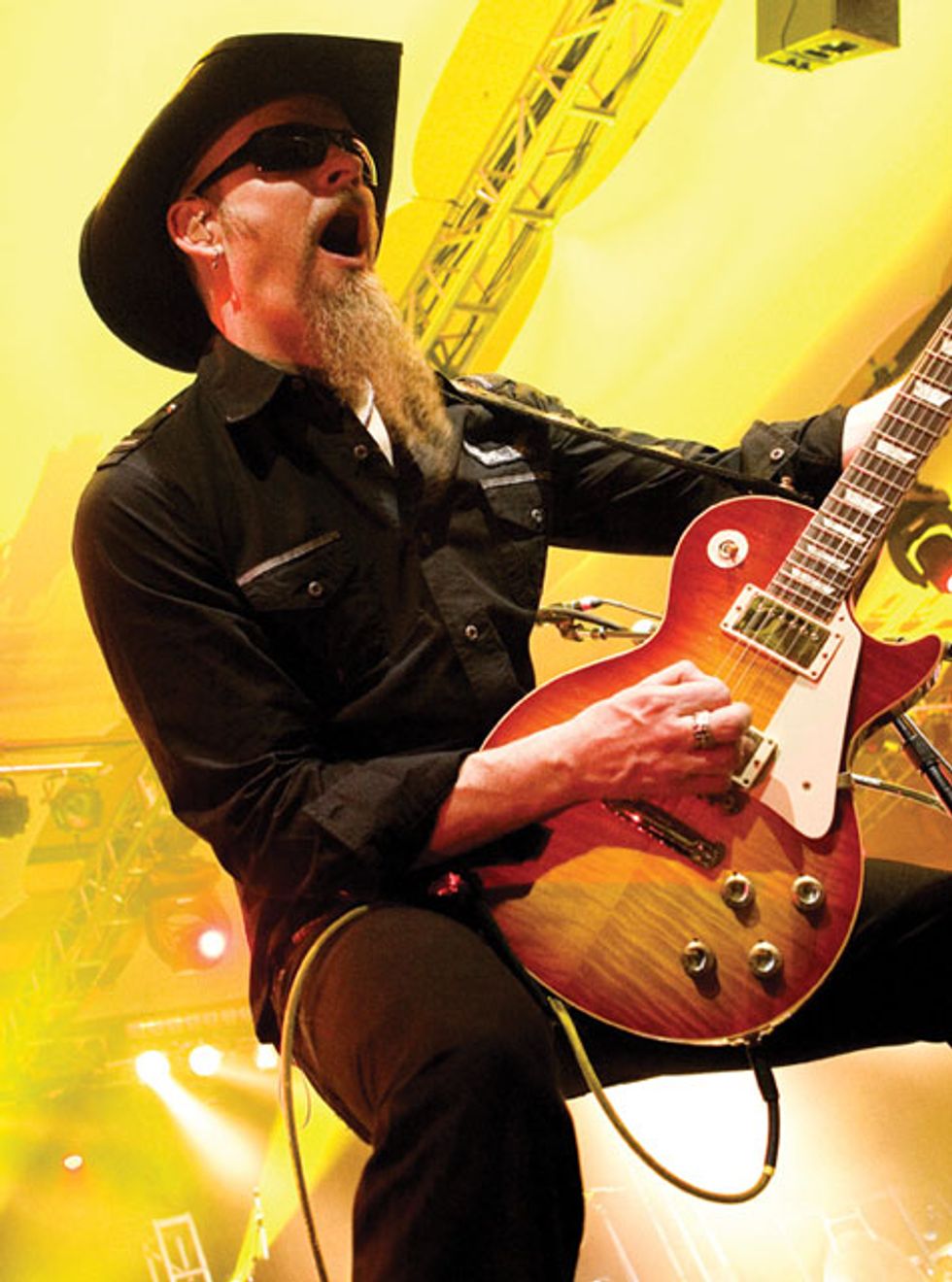 Photo by Jerry Levin
These dark influences become evident on tracks such as "Deep Deep Blue" and "Wishing Well." On the former, Taft hybrid-picks sultry, clean-toned minor chords to create a backdrop for his vocal lamentations before breaking into a delectably slow-building solo that calls to mind a moody Gary Moore. And on the latter, deft acoustic flatpicking lays the groundwork for swampy grooves and a couple of gristly bridge-pickup solos. Meanwhile, "Meet Me in the Morning" starts off sounding a bit like Billy Gibbons getting cheeky with a shuffling twist on the "Chopsticks" piano exercise, and "The Waiting" has a little more of a driving, fried-chicken boogie flavor, with tastily sustained chords expertly wiggled and wobbled with the trem bar. "Feeling Good Now" turns up the funk grit with horn-doubled riffs that call to mind Tower of Power.
"This is my second album doing blues rock," says Taft. "Once I started doing the blues-rock thing, it felt really comfortable for me—there are a lot of different shades of it that are interesting. I never enter writing an album with a specific theme or anything, though. When you talk to Joe Bonamassa, he'll say that the buzzword for an album is 'swampy' or something, but I don't work that way. My songs come out as they are and I don't think I could write a concept album like that."
Whether on the road, in the studio, or at home writing, Taft is constantly practicing and exploring new possibilities—which is evident in his "Riff a Day" campaign on his YouTube channel. "On this album, I'm using a lot of tight intervals," he explains. "The fills and the solos proper are full of double stops. If you're playing an E on the B string on the 5th fret, and then you play a G on the high E string on the 3rd fret, that's a minor third, and that's an interval that a lot of people use. But if you take it down to the next degree in the pentatonic scale and play the 3rd fret on the B string against the open E, which is a second, it sounds amazing.
"I've also been using a lot of cluster chords recently," Taft continues. "I just sort of picture a scale on the neck, and then I picture notes that you might play in succession, but I play them all at once on different strings. I work my way up the scale, and it makes me discover chords that aren't dominant or major—they're weird six, nine or two chords. I really love how those sound, and they're really fun to play."
Dudley Taft's Gear
Guitars
1994 Fender Relic Stratocaster, 1996 Gibson Les Paul, Gibson 335-S Custom
Amps
Tonehunter Clear Water head driving a Tonehunter ported 2x12 cab
Effects
Velvet Minotaur, Tonehunter Juicy Fruit, Fulltone OCD, Lovedrive, Vox V847a wah
Strings and Picks
DR Strings BTR-10 (.010–.052) sets, Dunlop 1 mm Ultex picks
Although Taft has long used a mix of Gibson Les Pauls, Fenders, and acoustics, he rediscovered one particular axe that'd been lying dormant in his closet for a while, and it quickly became his go-to instrument for Deep Deep Blue.
"I got this Relic Strat from one of the first batches at Fender—it's No. 199, and it's one-piece swamp ash with a bird's-eye maple neck," says Taft. "I bought it in 1995 and I didn't really like it, so I threw it in the closest. A decade later I realized it was my best-sounding Strat—and possibly the best-sounding guitar that I owned. It has an agreement between the neck and the body, where the harmonics boom when you hit it in the right place. It has really low-output pickups, so you just have to hammer it with overdrive."