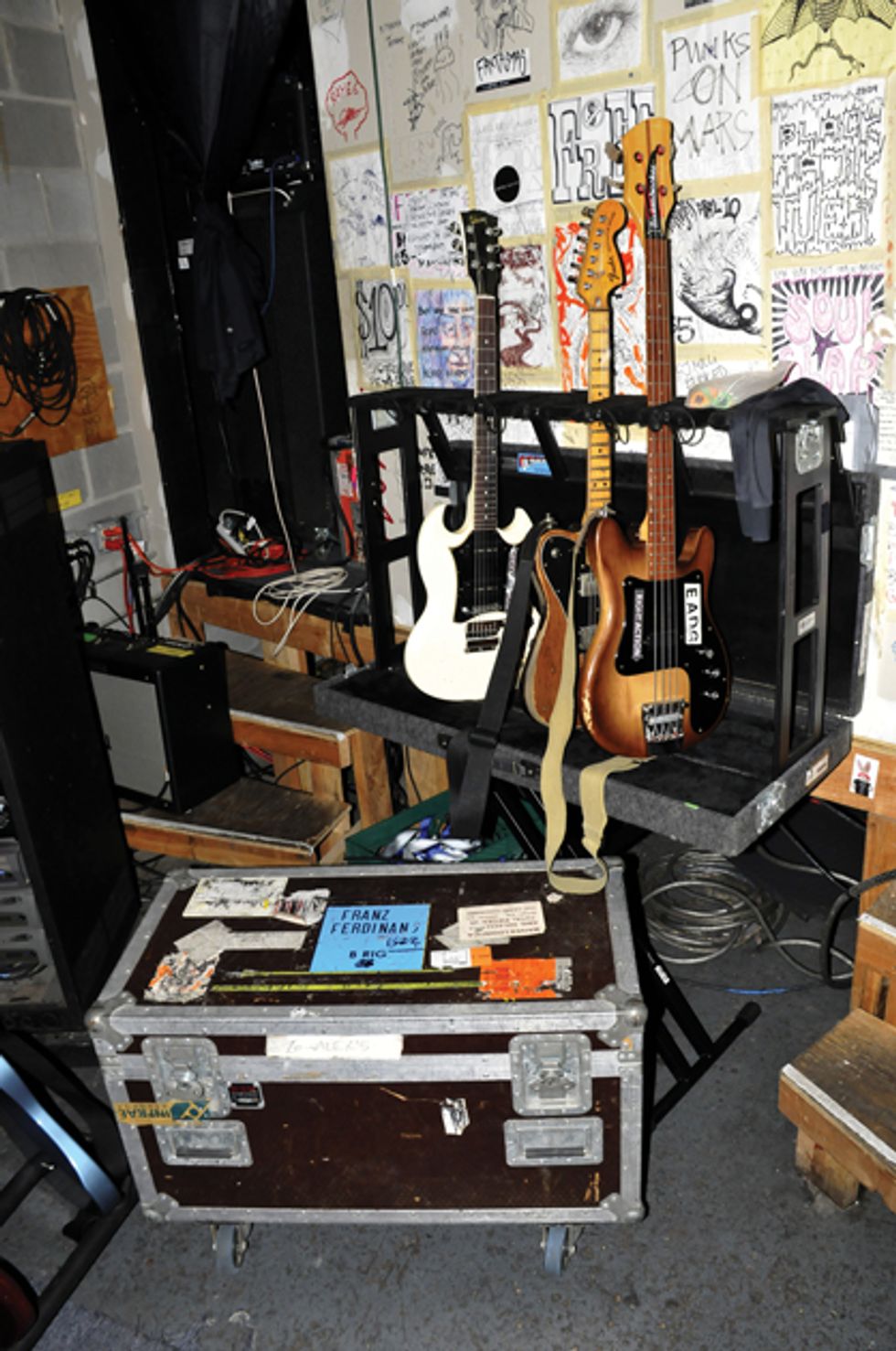 McCarthy's Gibson SG Classic, Kapranos' 1973 Fender Telecaster Delxue, and Franz Ferdinand bassist Bob Hardy's vintage Rickenbacker chilling backstage before the band's July 23rd show in New York. Photo by Frank White.
Alex Kapranos' Gear

Guitars
1973 Fender Telecaster Deluxe, 1966 Fender Telecaster
Amps
Carr Slant 6V, 1960s Traynor head driving 4x12 cab with alnico- and ceramic-magnet Weber and Harma speakers
Strings
Rotosound R11 Roto Reds (.011–.048)
Nick McCarthy's Gear

Guitars
Gibson SG Classic, 1959 Hagstrom P46 Sweetone
Amps
Carr Slant 6V, Carr The Viceroy
Strings
Rotosound R11 Roto Reds (.011–.048)
When did you both begin playing guitar?
Kapranos: I actually first started playing guitar in 2002. Nick and I had a punch up at a party, and then Bob and I had talked about starting a band. I know it sounds weird, but the next day we did it.
McCarthy: My older brother started showing me how to play when I was 11 years old. He also showed me how to write a song. I couldn't believe it—I didn't realize you were allowed to write your own songs! I thought it was someone else who did that. I guess I've been doing it ever since.
Who are your biggest influences on guitar?
Kapranos: Andrew Conway. I know it sounds daft, but he was my best friend at school, and we learned at the same time. He's always been my biggest musical influence.
McCarthy: The Beatles, Jimmy Page and Led Zeppelin, Angus Young and AC/DC, David Bowie, and Run DMC would all have to be my biggest musical influences.
Did either of you ever think Franz Ferdinand would become so successful when you first began?
McCarthy: Of course not. But it felt good right from the beginning, and we knew that we had a good thing going. It's not every day you end up in a band where everyone has the same kind of ideas—there's usually always one spanner in the works.
Kapranos: You imagine that kind of thing when you're a kid in the same way you imagine a trip to the moon or climbing Everest. With this band I knew there was something good happening. I figured we'd sell at least 500 singles.

Franz Ferdinand's Alex Kapranos and Nick McCarthy debut their new song "Evil Eyes" at the 2013 Coachella festival.