In addition to penning an impressive collection of originals, Haynes has covered songs from artists as varied as U2 and Metallica. Here he delivers a rendition of Radiohead's "Creep."
The version of "Stoop So Low" with Dr. John seems to be the only song where the guest version is longer than the Gov't Mule version. Yeah, that's the only one that's longer. On "Stoop So Low" we recorded four different outro jams—one is on disc 1 and another is on disc 2 with Dr. John. There's yet another version on a vinyl edition and the fourth one will appear somewhere as an exclusive as well. They're all distinct grooves and everything's completely different.
On disc 1's "Captured," you're really going for it in the outro solo, which lasts more than four minutes and continually kicks into higher and higher gear. And just when it seems like you couldn't go any higher, you turn on the Leslie. How did you conjure up that kind of energy in the studio? It's easier to conjure up the live energy onstage than it is in the studio, but we try to capture as much of that magic as we can, starting with the fact that we always record with all of us playing together at the same time. Almost invariably, my solos are live on the tracks.
"World Boss" goes through several different tonal centers. Were you concerned that the key you originally recorded a song in might not be a good key for the guest vocalist? No. In each case, we gave a lot of thought to who would be the right singer for a particular song. That was the most important aspect of the bonus disc—marrying the right singer to the right song.
So the selection process was crucial. Absolutely. On "Whisper in Your Soul," Grace Potter voiced her part up into a higher register than I did.
But still in the same key, right? Yeah. It still works tremendously well.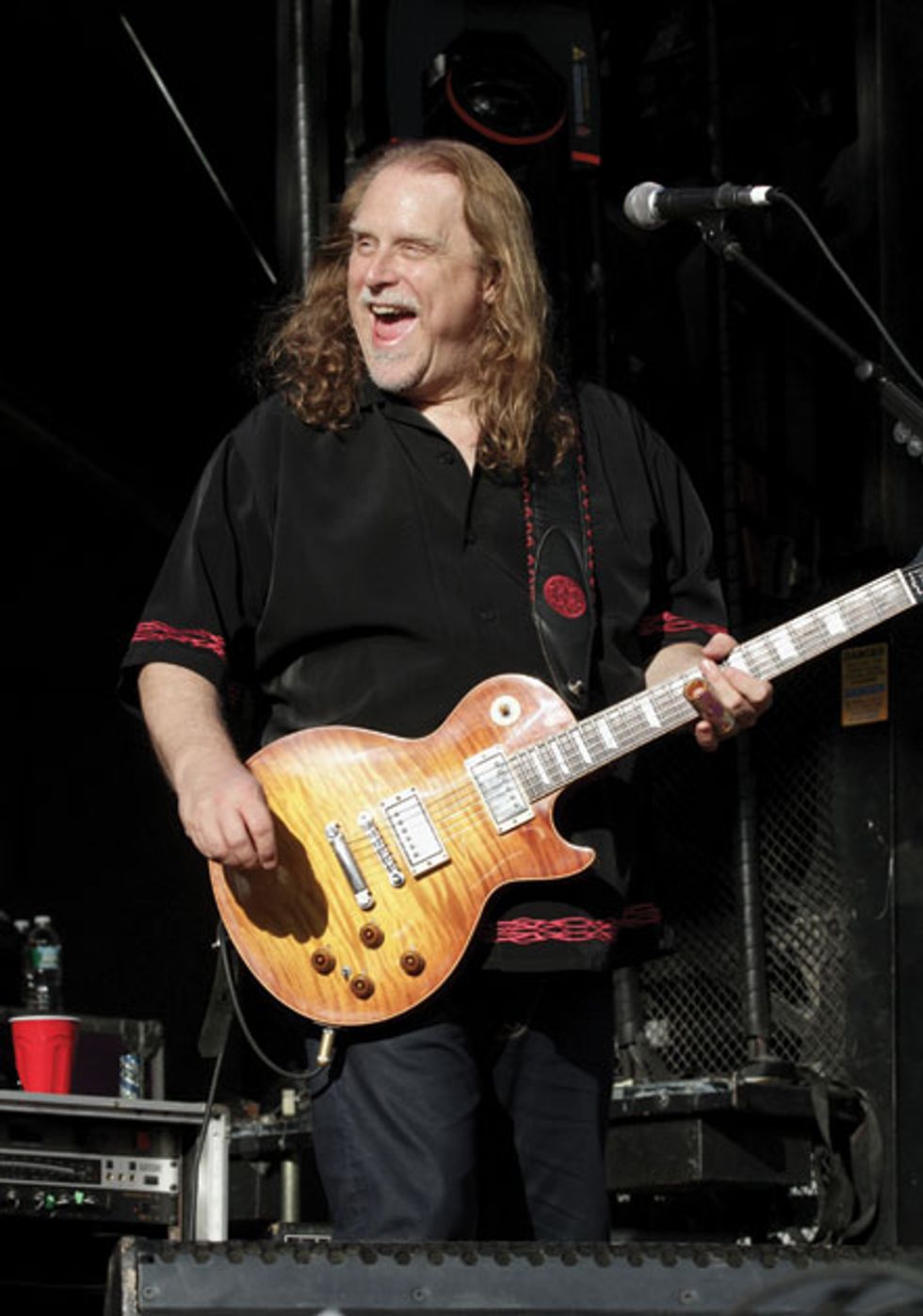 Warren Haynes enjoys himself with his signature Les Paul at the 2013 Mountain Jam Festival at Hunter Mountain in New York this summer. Haynes co-produces the annual music fest. Photo by John Atashian
You get so many guests involved in various aspects of your music, from live shows to studio recordings. Have you ever had a guest not work out? I'm sure somewhere along the line there have been some train wrecks, but I pride myself on being able to choose a song that will be the right vehicle for a certain guest, whether it's a guitarist, sax player, or singer. The song is the most important aspect of getting people together. If you pick the right song, you're usually in good shape. And you know, the musicians we work with are all amazing. For the most part, things turn out as well or even better than you expected.
This is a Blue Note release, but it doesn't sound like you had to give up any creative control. Were there any concerns that some songs were not jazzy enough, or did you ignore any expectations that the Blue Note label might imply? For example, in terms of guests, Myles Kennedy isn't the first name you'd associate with Blue Note. Well, Blue Note is not the Blue Note of old, you know. This is a whole new concept with Don Was [president, Blue Note Records] at the helm. Don and I started talking more than a year ago about the possibility of working together. Gov't Mule financed this record ourselves, and we made it exactly the way we wanted to make it. When it was done, we met with a handful of labels and decided who was most excited about the music. And this is just one release. We have another whole record with John Scofield in the can.
You just completed a run of The Jerry Garcia Symphonic Celebration featuring Warren Haynes. How did you reconcile the looseness of the jam-band approach with an orchestra, where everything is meticulously notated and structured? I did nine shows and it was great—a really fun experience. It is a challenge working with a symphony. We were able to honor the spirit of improvisation in several ways. One is where the symphony stops playing and the electric band improvises for three or four minutes at a time, and then the symphony comes back in on cue.
Then there are other times when the symphony plays written parts, and the band improvises to those orchestrations. Probably the most unique aspect was when the symphony performed written parts that came from music the Grateful Dead had originally improvised.
What's your main guitar these days? The guitar I play the most is my signature model Les Paul. I also play some non-reverse Firebirds and ES-335s. I have a 1961 dot-neck ES-335, and we might work with Gibson on a signature model based on that. My relationship with Gibson goes back decades.
Tell us about your new Washburn signature acoustic. When we first got together, I wanted to see if they could make me a guitar that would not only translate from a chordal perspective, but also for single-note stuff and slide guitar. When I'm doing the acoustic performances, I need a guitar I can feel comfortable soloing on, and not just use for playing rhythm. That was really the main concern and I think it works great for that.