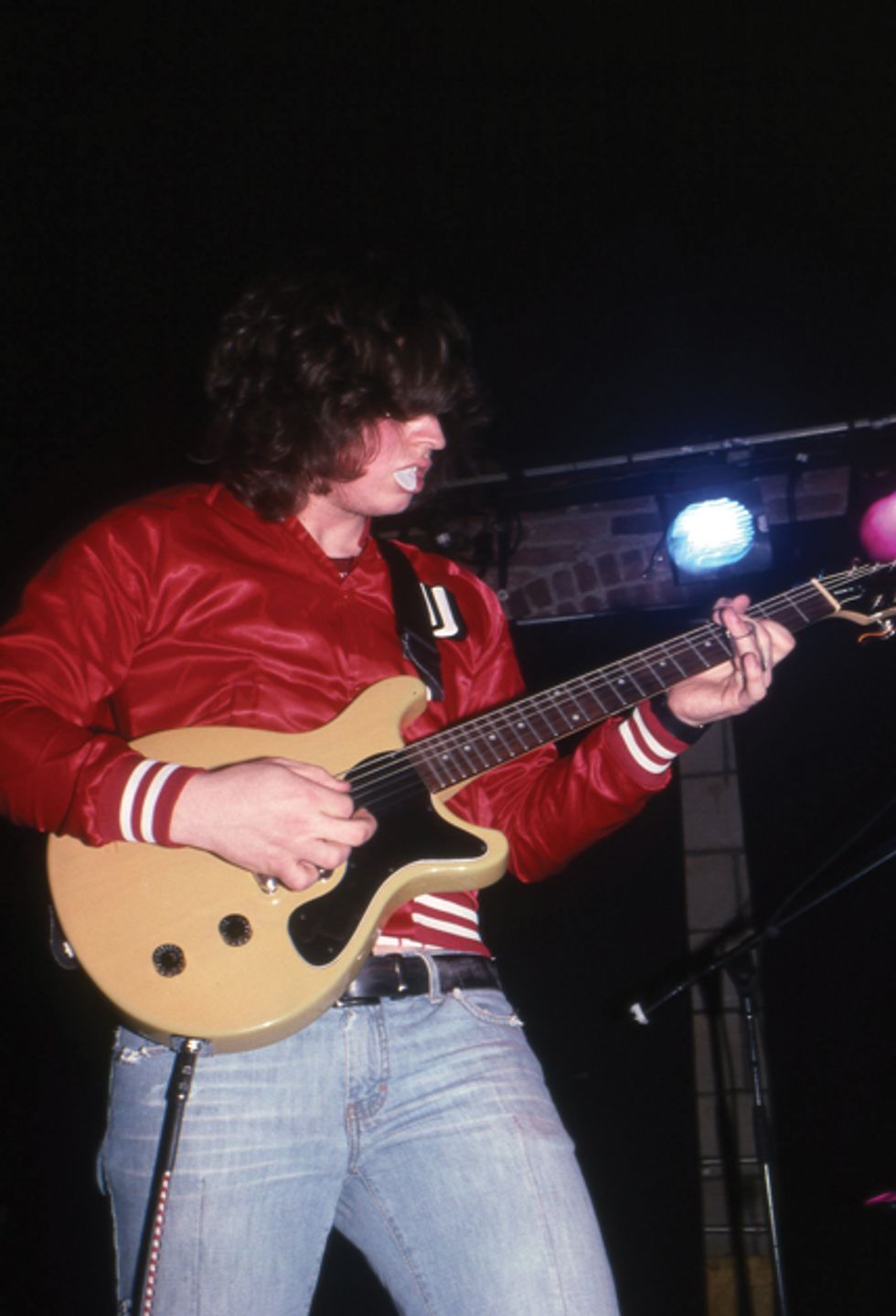 Photo by Frank White.
You have a knack for switching between tight, spare-sounding parts, like on "Beautiful War," and then really ripping in looser moments, like the roaring solo on "Don't Matter."
I think that's just from playing with the guys for so long and knowing that each song is going to be different. I have to have my chops up and be ready for them to switch on me pretty quickly. But it's just whatever fits the song. Plus, I work on opinions, you know? I've got the three guys in the band and the producer, who all have opinions. I work on a whole bunch of different stuff, and sometimes it doesn't work out. Sometimes I have to revisit songs because I just can't find anything. Then sometimes they'll say, "Yeah, that works—that should be in the song." "Beautiful War" is one of those songs we were having a tough time with, because it kind of lends itself to the big, reverb-y sound. But I was, like, "I don't want to do that, because that's what people would expect." So we tried that thing that kind of reminds me of Stevie Ray [Vaughan]. I'll hit one note and think, "That's reminiscent of 'Lenny.'"
How often do you have to push Nathan or Jared or Caleb—and how often do they push you?
It comes down to when we're actually getting the arrangement together, and we're minutes or seconds way from recording it for the first time. There is definitely a push. I always push to make the songs more versatile and to have more interesting little parts—interesting bridges that are cool breaks from verses and choruses. I think that was the toughest part on this album—trying to convince the guys to do the breakdown on "Temple," for example. It took a while in the studio for them to go, "Yeah, we should do that." They challenge me a lot, too, like when it's time for me to lay down a solo. I remember Caleb was wasted one night and screaming at me to try to get me pumped up and just making me feel really uncomfortable to the point of, like, "Dude, I'm not gonna get this done unless you leave."
"'Beautiful War' lends itself to the big, reverb-y sound, and I was, like, 'I don't want to do that,
because that's what people would expect.'"

What's the guitar interplay like between you and Caleb?
It's great. I told him at the beginning of this record that I wanted our parts to kind of marry, and "Comeback Story" is a great example of that. He's playing the bassy notes—the full chordal notes—and I'm playing the lead, which is kind of the same part, but it sounds like an orchestra guitar or something. He's definitely a different kind of rhythm player—he almost goes lead sometimes, like on "Tonight." I think it's pretty awesome.
How do you see the band going forward?
We're going to tour all next year, and we're really excited. It's going to be tough though, because we've got so many songs. We made the decision a couple of weeks back that we're going to start playing two-hour sets. It was either that or kick out songs that everybody likes, and we're not going to have people go to a show and not be able to hear the song they want to hear. After that we'll see how it goes. We're either going to go straight back in 2015 to make another album, or there's the possibility of taking another year off. It worked so well for us this last time, you know? Everything was fun and fresh, and we actually wanted to do it, as opposed to the label just telling us, "You need to make another album." We're great, man. We're ready to rock.
YouTube It
To see Kings of Leon reclaim the stage post hiatus, check out the following clip:
The Followills perform "Supersoaker," the lead single off this year's Mechanical Bull,at O2 Shepherd's Bush Empire in London.