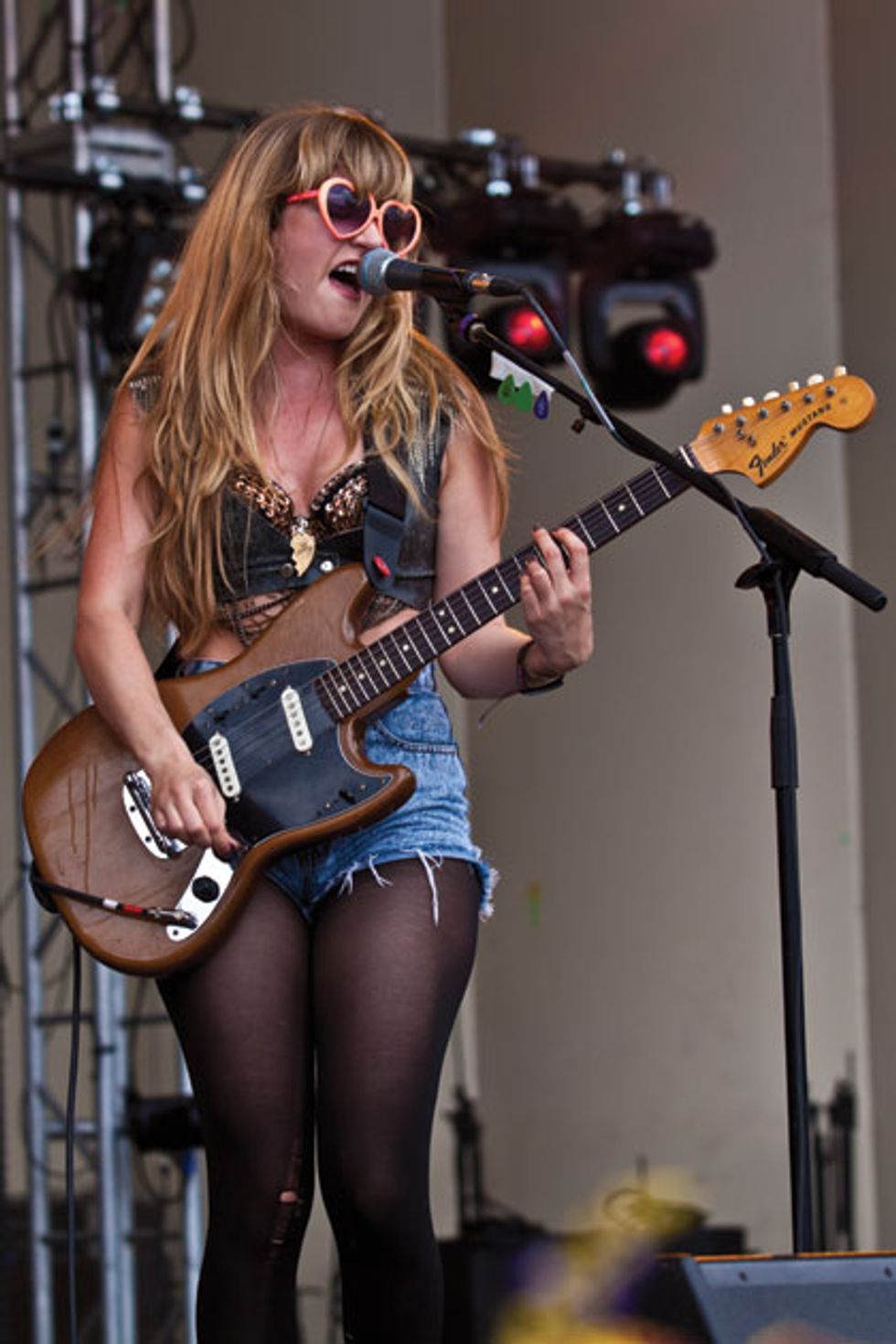 Photo by Chris Kies
Whether riffing or soloing, Troy tends to mix notes and chords. "I try to keep a chord in there every measure to ground the solo so it doesn't drift into the abyss," she says. "But who knows? Maybe I'll experiment more with the abyss on the next record."
Troy, who loves playing with sonic textures, admits she suffers from chronic pedal lust: "I bought a pedal and fell in love, then bought another pedal and fell in love. So on and so on. But I intentionally kept my pedalboard very minimal on this first album because I wanted to really hone our sound and lay the framework of what Deap Vally is."
"It's like getting in a really hot Jacuzzi after going down some crazy water slides."

Yet some not-so-simple effects did make their way on the album. "Your Love," for example, features Hendrix-flavored reverse echo. "We used a vintage analog [Roland] Space Echo for that bit," Troy divulges. "That was one of our favorite toys on this record."
But the one pedal Troy can't live without is her Electro-Harmonix Big Muff. "It's hard to imagine using any other fuzz pedal," she says. "I tend to be a believer in, 'If it ain't broke don't fix it.' I suppose something else could take my breath away. I played around with my friend's [Z. Vex] Woolly Mammoth, and that thing seemed pretty sick." To cover more ground and fill the void of not having a bassist, Troy blasts her fuzz riffs through a Fender Deluxe and a Fender 1965 Bassman reissue, running simultaneously.
Lindsey Troy's Gear

Guitars
1976 Fender Mustang
Backup modern Mustang
Amps
Fender Deluxe
Fender Bassman 1965 reissue
Effects and Strings
Electro-Harmonix Big Muff
DeltaLab DD1 Digital Delay pedal
Roland Space Echo
D'Addario .011-.049 (strings)
Troy is also branching out into slide playing, incorporating it on "Six Feet Under," the closing track of Sistrionix and her favorite song to play live on tour opening for Arctic Monkeys and Black Rebel Motorcycle Club. "It's just so drippy and swampy and aching," she says. "It adds a really nice dynamic shift to the set. It's like getting in a really hot Jacuzzi after going down some crazy water slides."
At the end of the day, Troy just wants to make noise she digs. Her no-frills attitude helps her music stand out while giving her the confidence to be truly creative. Her advice to budding guitarists is to go for it on your own at the beginning, and really spend time with your instrument. "In his biography, Keith Richards talks about how every guitar player should start on acoustic because it's muscularly much more challenging," she says. "There's a lot to be said for that, and I'm really glad to have had all those years playing acoustic to really get my chops. But when the time comes that you want to plug in, don't be afraid to make noise and try shit out. You can't really go wrong—it's about having fun."
YouTube It
Deap Vally's Lindsey Troy and Julie Edwards give an intimate performance during a live recording for Vevo (Troy's beloved Big Muff makes a cameo at 0:48).