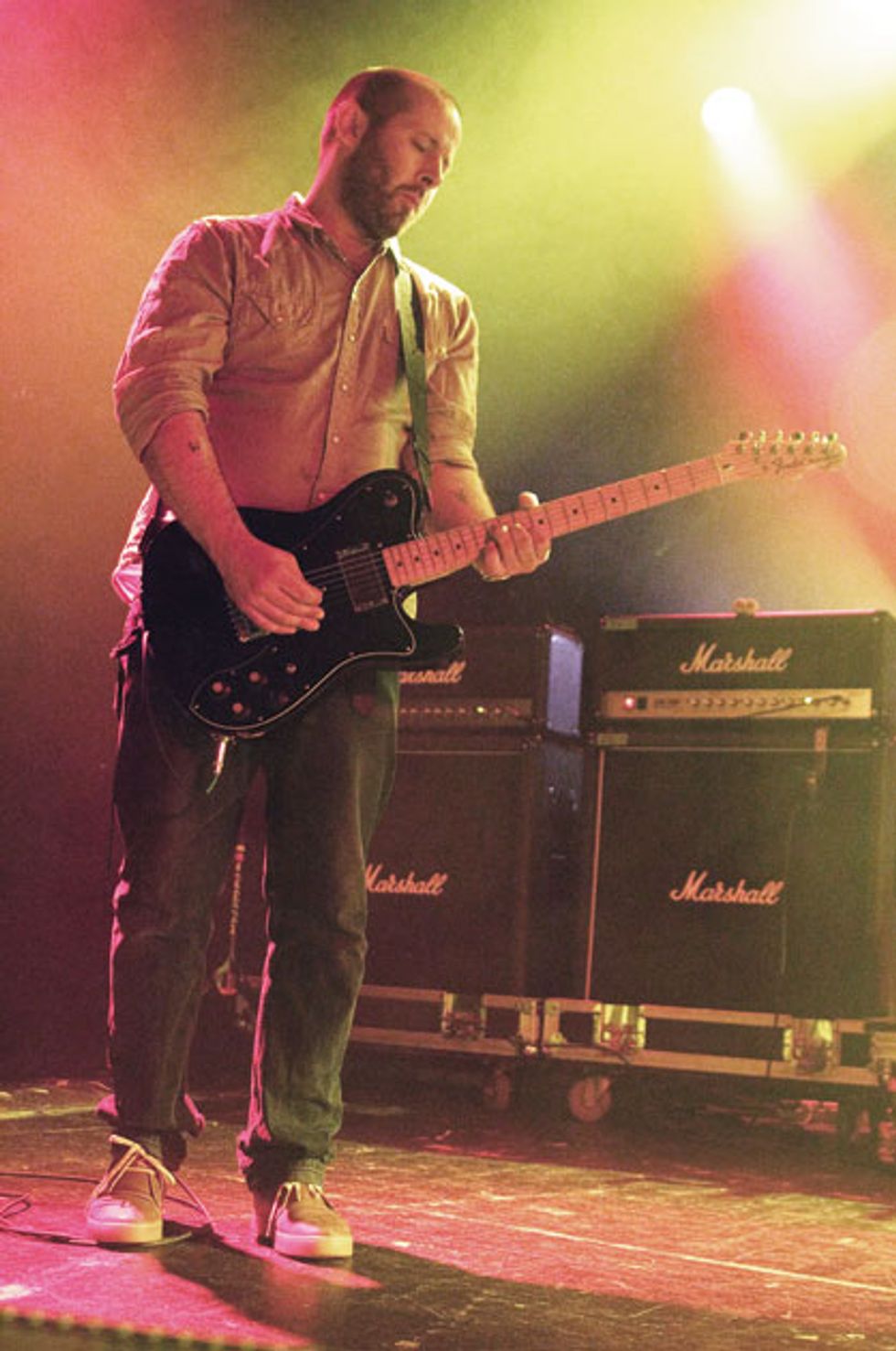 Few bands have the staying power of Mogwai, the post-rock group formed two decades ago in Glasgow, Scotland. The mostly instrumental group, which borrows its name from creatures in the movie Gremlins, came together in 1995 when three friends—guitarists Stuart Braithwaite and Dominic Aitchison (now the band's bassist), along with drummer Martin Bulloch—set out to create some intense guitar music. The trio enlisted an additional guitarist, John Cummings, and in 1996 released the self-pressed single "Tuner"/"Lower," an oddball in the Mogwai catalog on account of its prominent vocals.
Mogwai added Teenage Fanclub drummer Brendan O'Hare to its lineup and in 1997 came out with a full-length debut, Mogwai Young Team, which established the group as a serious instrumental music quintet that could be both loud and introspective. O'Hare was swapped out for keyboardist Barry Burns, who appeared on Mogwai's sophomore album, Come on Die Young (1999), and has been with the group ever since.
Mogwai's third album, Rock Action (2001), added synthesizers and other electronic elements to the mix. The group had arrived at a sound that was large and cinematic—as heard in the 2006 film Zidane: A 21st Century Portrait, for which Mogwai wrote the soundtrack. In 2012 band also contributed brooding, wordless music to Les Revenants, a French television series.
Electronic sounds have remained a Mogwai fixture, appearing on every album through Rave Tapes, the band's eighth and most recent full-length effort, and their second on Sub Pop. The album was written in the band members' home studios and recorded in their Castle of Doom studio in Glasgow with producer Paul Savage, who also worked with Mogwai on their first record and on 2011's Hardcore Will Never Die, But You Will.
"No matter the context, a guitar amp turned up loud sounds a lot better than one set at a low volume, even when playing quiet music." —Stuart Braithwaite

While electronics play a prominent role on Rave Tapes, they don't detract from the many bright guitar moments, from the improvised modal shredding on "Simon Ferocious" to the gritty arpeggios of "Hexon Bogon" to the straightforward, plaintive melodic work on "No Medicine for Regret."
Braithwaite and Cummings spoke to us about their process, their tools, and their penchant for loudness.
Your music sounds so sophisticated. What sort of formal training do you have?
Stuart Braithwaite: I did a music course at college—more rock than classical—focusing on playing guitar and recording. It's been very helpful in the fundamental things it taught me about music theory and production, as well as music business things like copyright and ownership—knowledge that has served me well in the band.
John Cummings: I don't have any formal music training, but our keyboardist, Barry [Burns], is essentially a classically trained pianist. He studied at the Royal Academy of Music [in Glasgow].
What inspired the title Rave Tapes?
SB: This probably dates us—we're in our late 30s. The title is a reference to the cassettes of rave music that people used to swap when we were teenagers.
JC: The title isn't too philosophical. We were thinking about what crazy times those were, and it seemed like a great title for a record, though the music isn't necessarily modeled on what was heard on actual rave tapes of the era.
Talk about your compositional process.
SB: Everyone in our band apart from [drummer] Martin [Bulloch] comes up with ideas on his own, and then we all have a listen together to shape the pieces. All of our approaches vary. Mine are so often quite sketchy. [Laughs.] Some of the others, like Barry's, tend to be highly detailed, with ideas that are more fully fleshed out.
JC: It's a bit difficult to describe. Often I play for five minutes to see if I can come up with a kernel of an idea that the band can work with to create a full arrangement. It's really not too methodical or formulaic.