Another eye-popping gallery of pedalboards, submitted by PG readers.
Here's how Welsh reader Andrew Phillips populates his Pedaltrain Pro board: He plugs into a TC Electronic PolyTune and a Keeley bypass pedal, with the following stompboxes in the bypass pedal's loop: Boss NS-2 Noise Suppressor, Mesa Grid Slammer and Flux Drive, and a Suhr Koko Boost. After the loop comes MXR's EVH Phaser and EVH Flanger pedals, then the signal goes to a Mesa/Boogie Quad preamp with more effects in the amp's loop: Eventide PitchFactor, four TC Electronic stompboxes (Dreamscape, Corona, Flashback, and Flashback X4), a Strymon Timeline, and TC Hall of Fame Reverb. A Voodoo Lab Pedal Power 2 beneath the board provides the juice.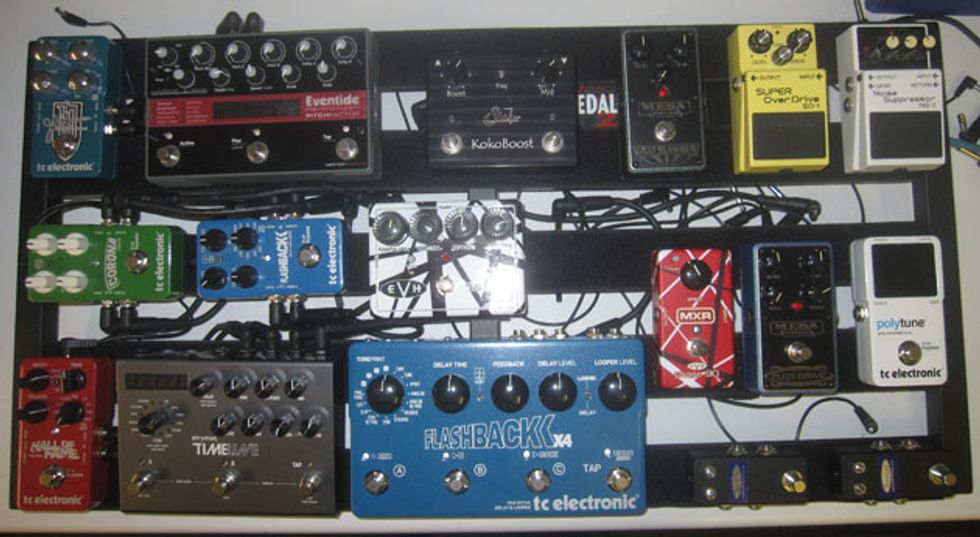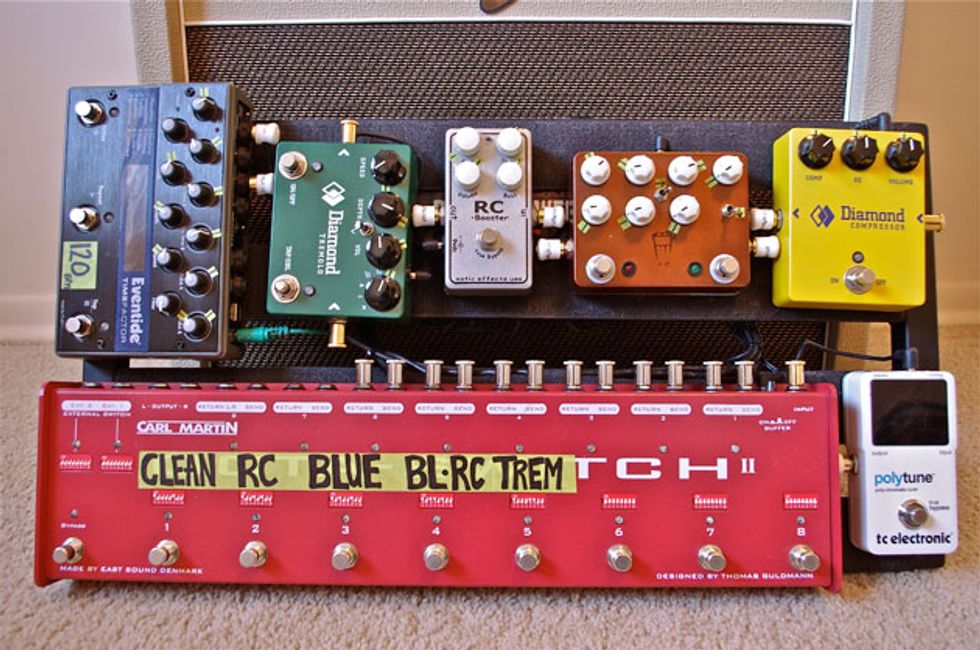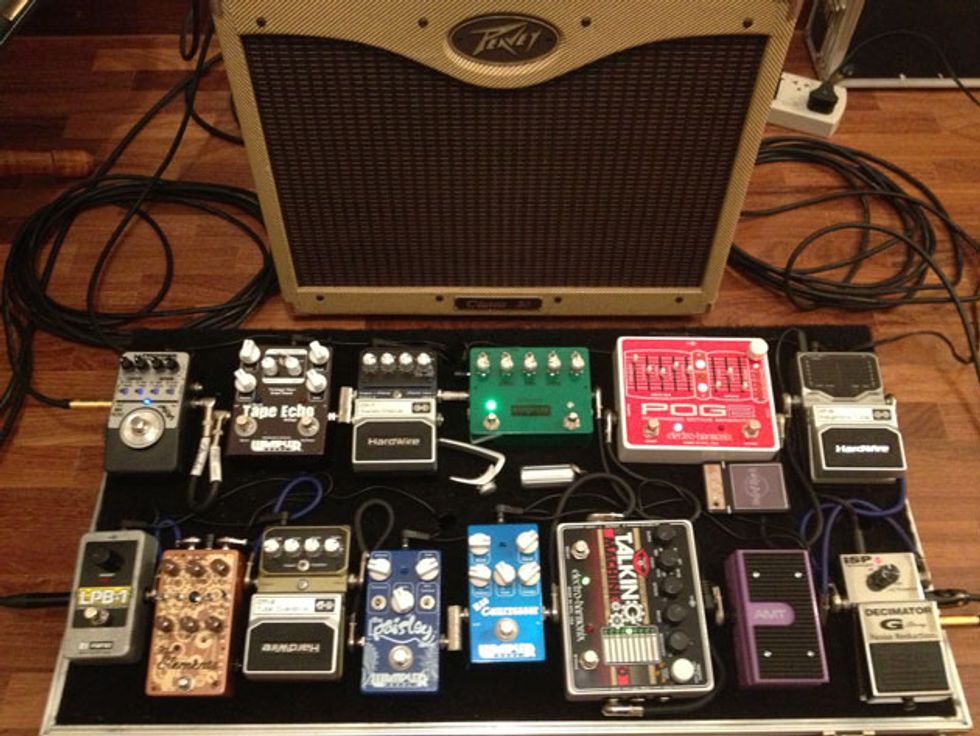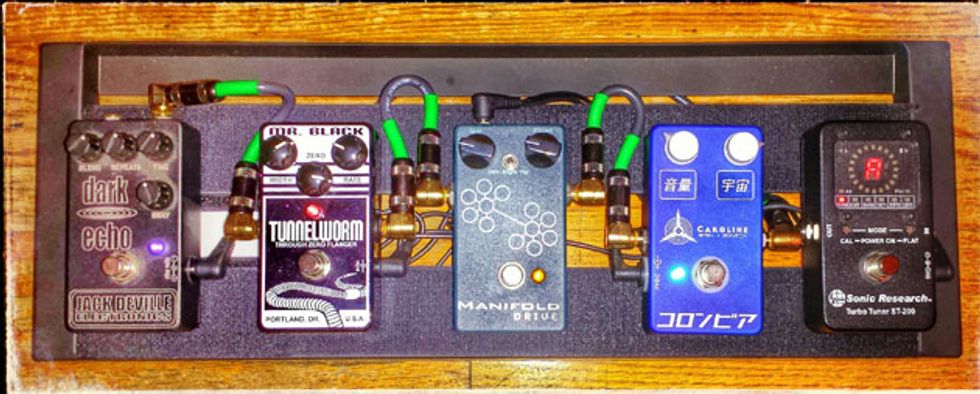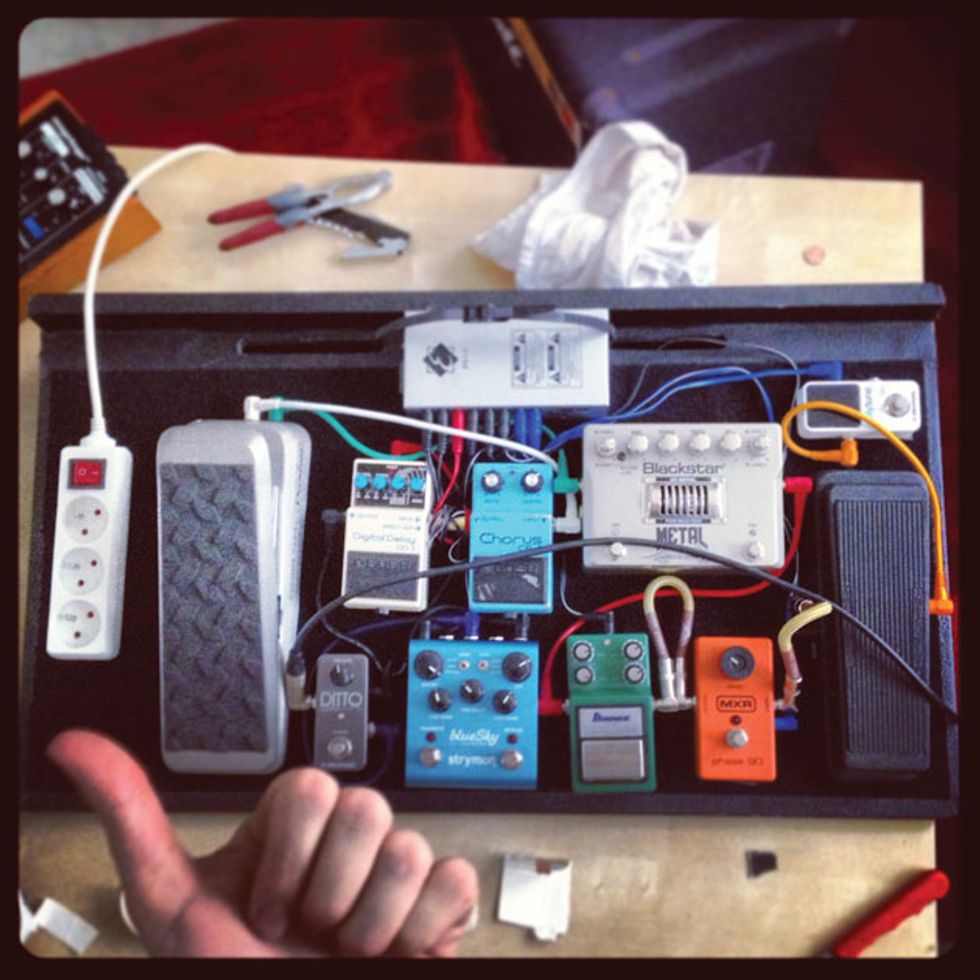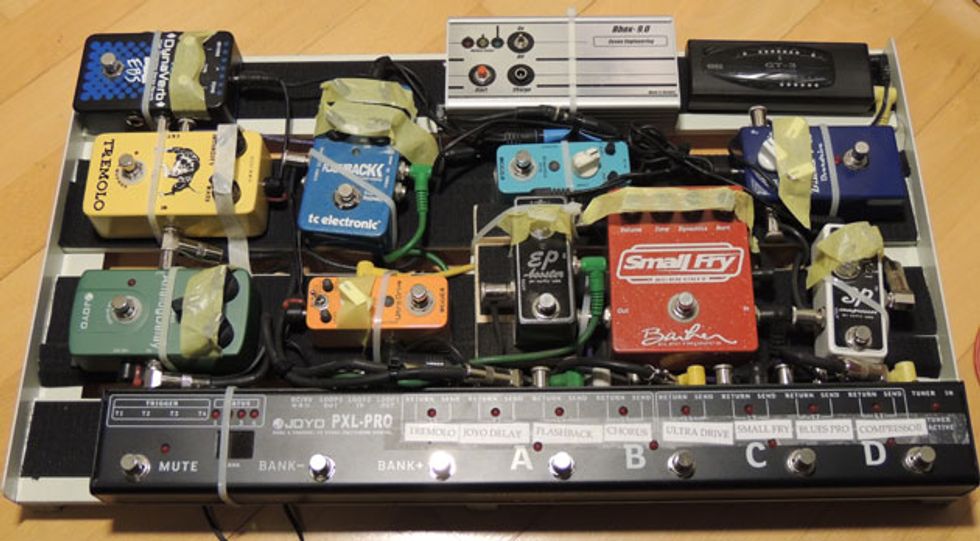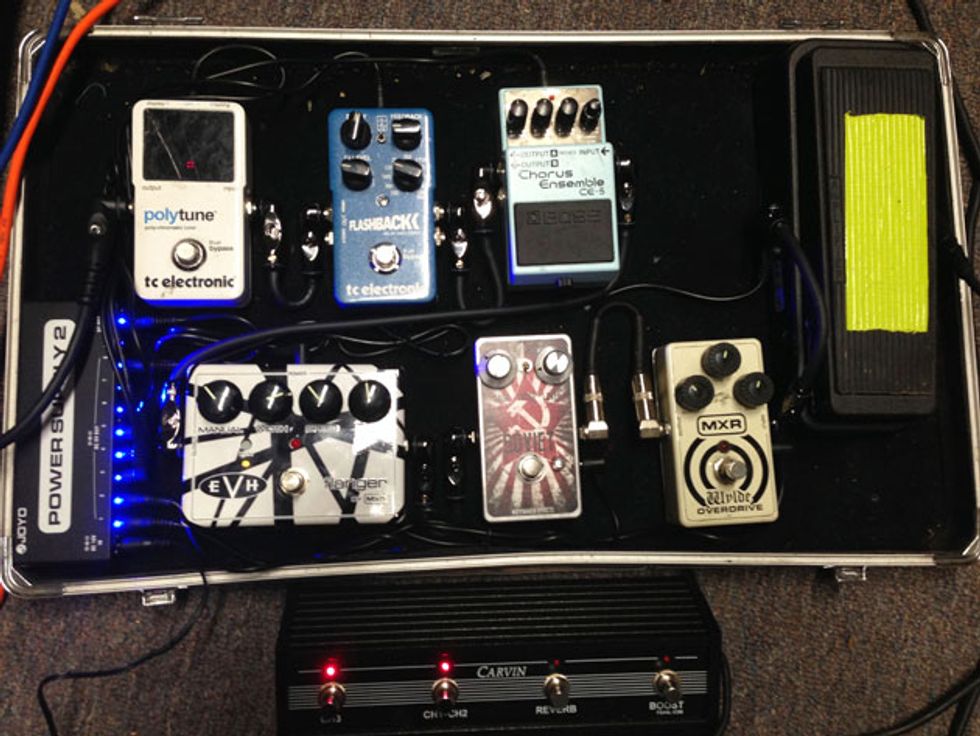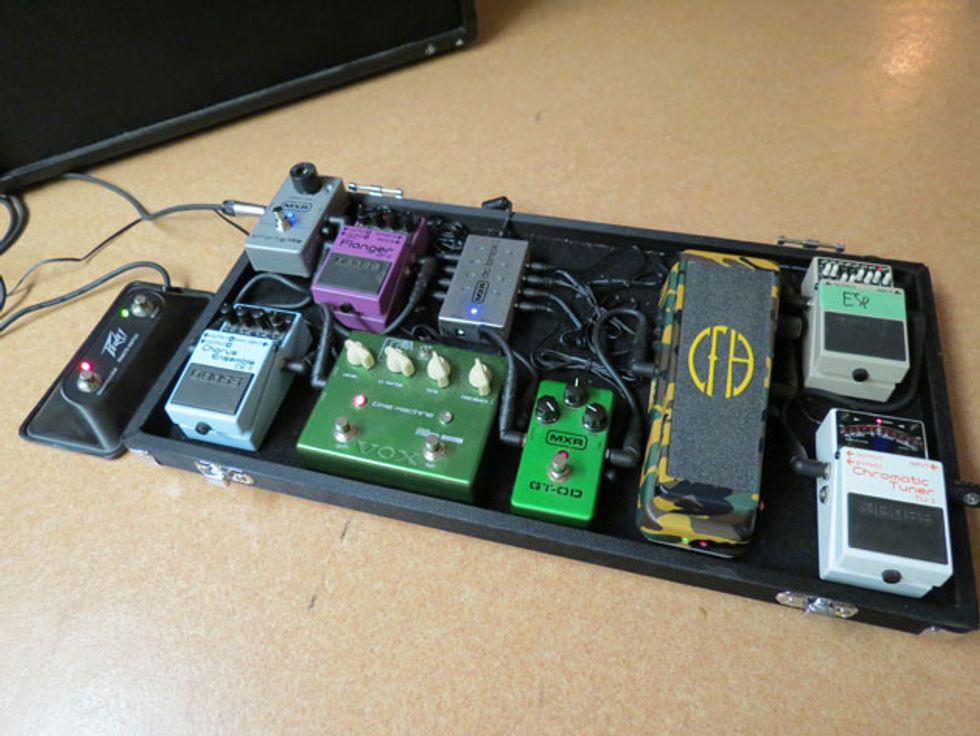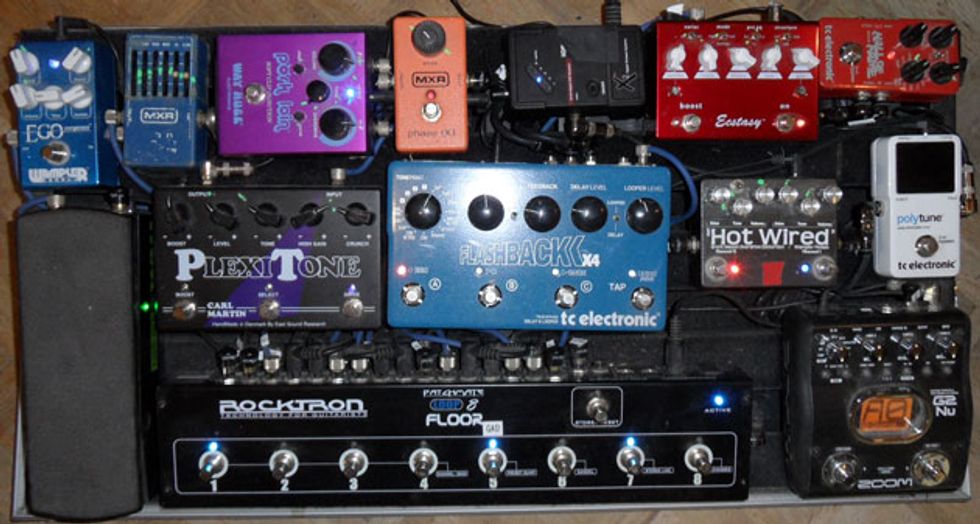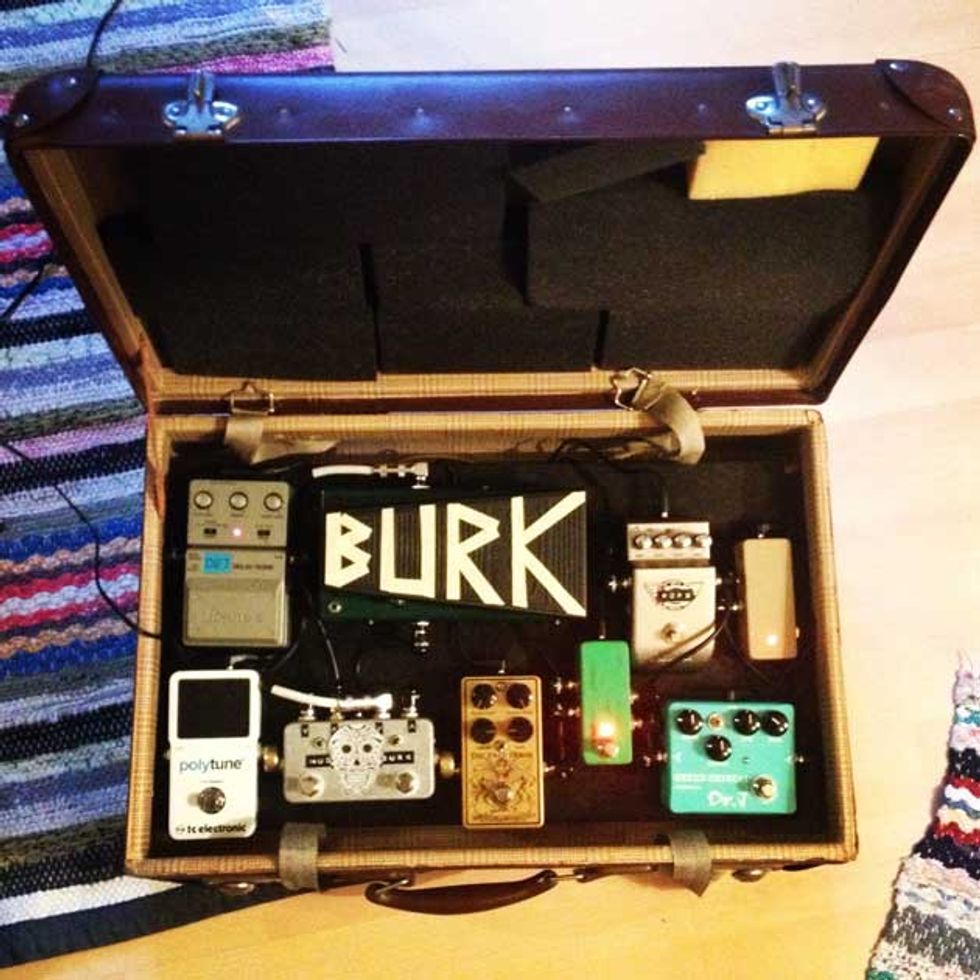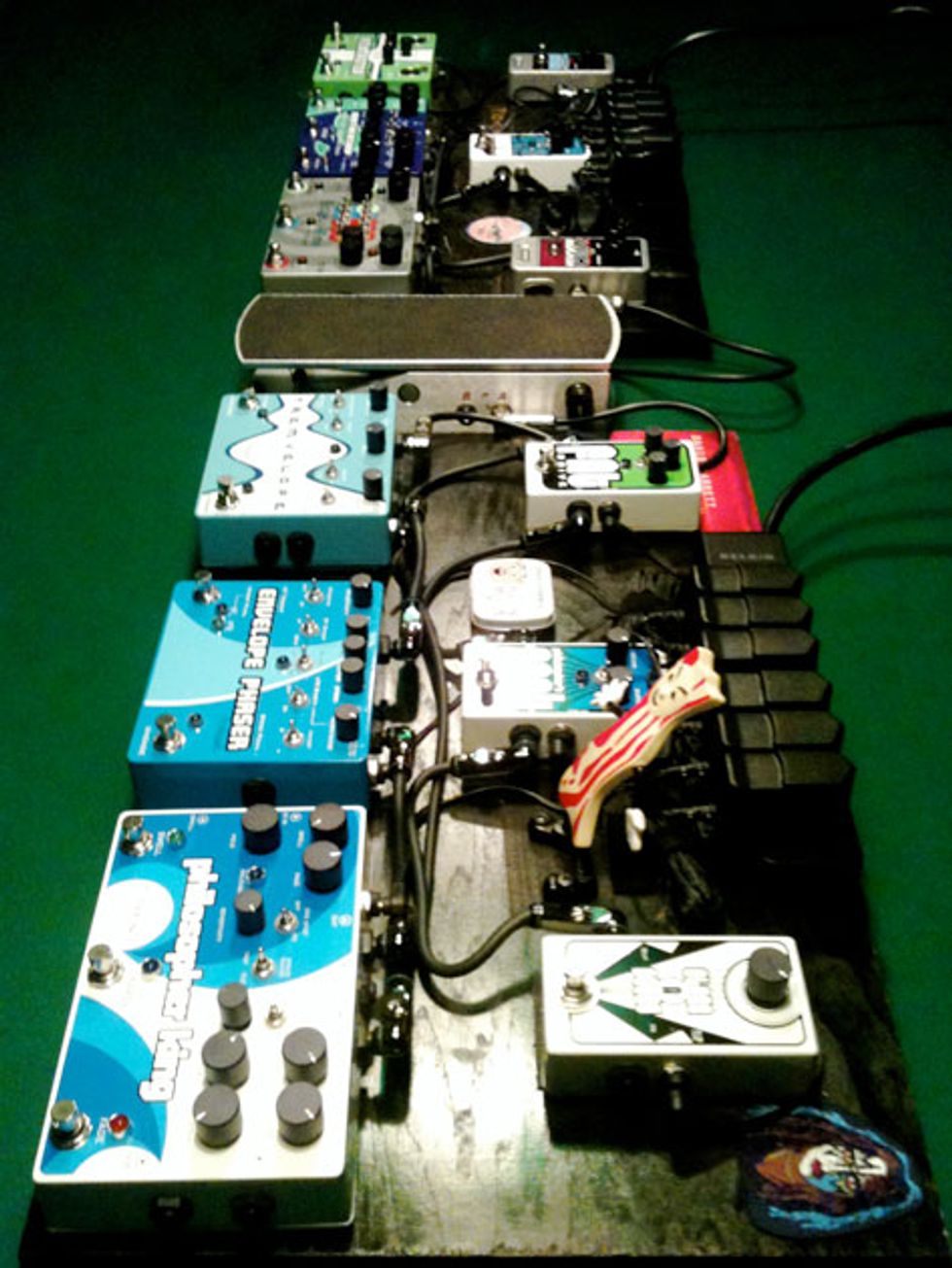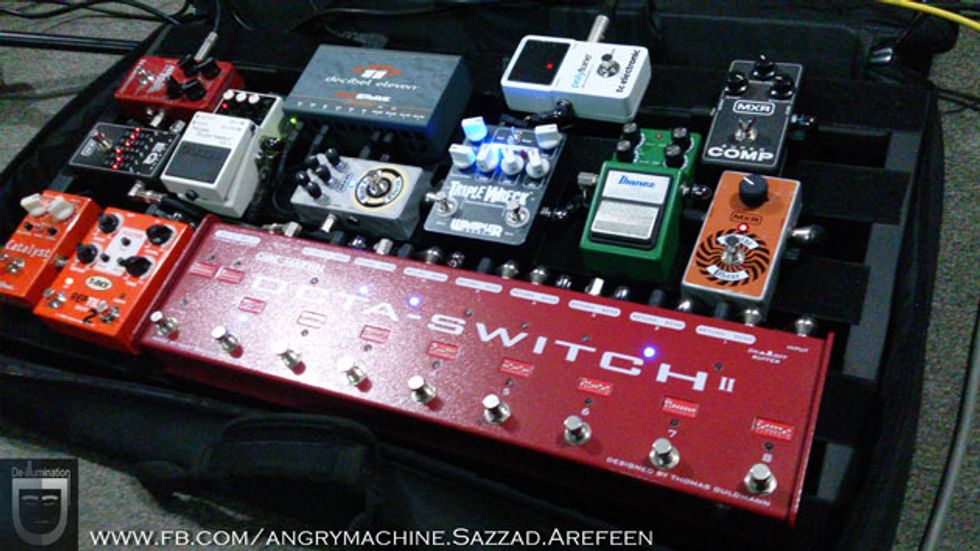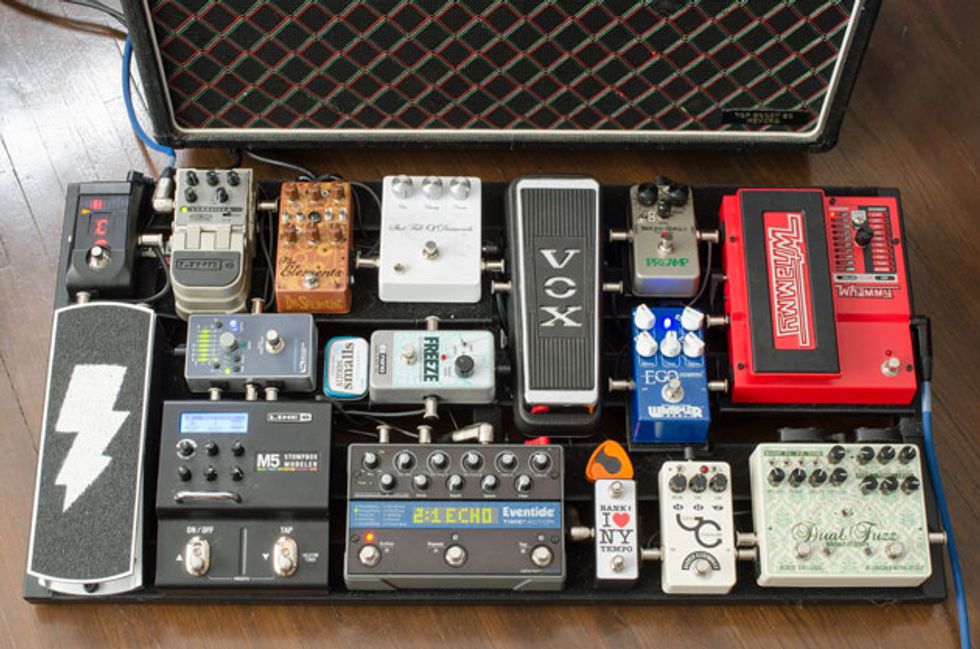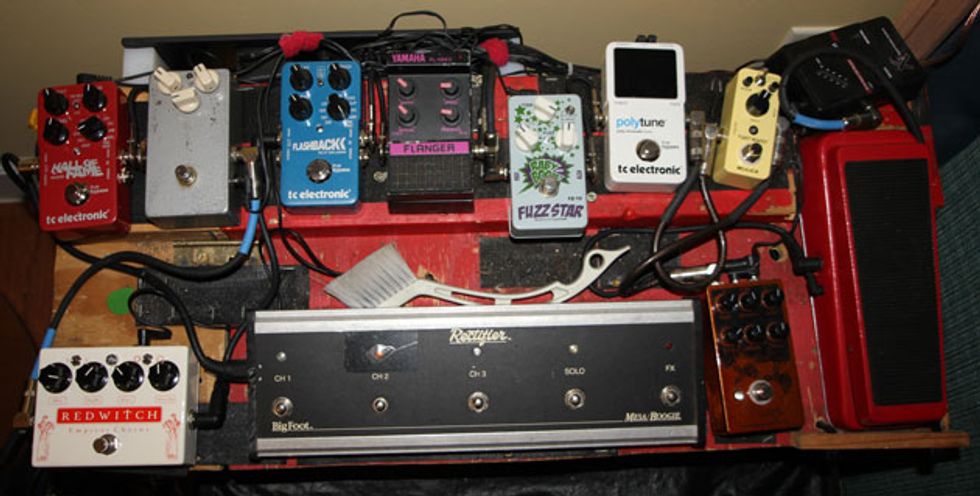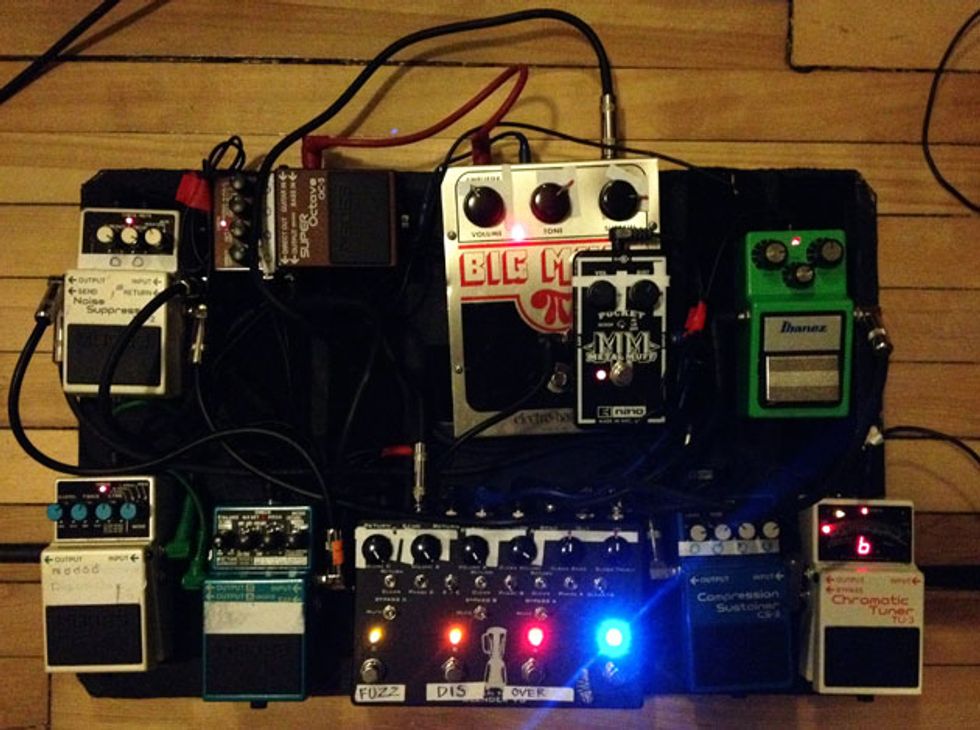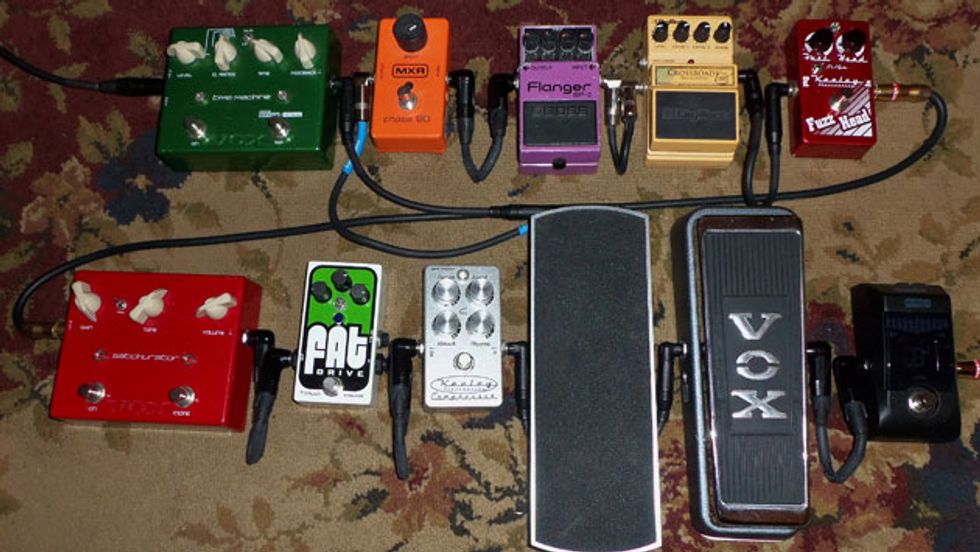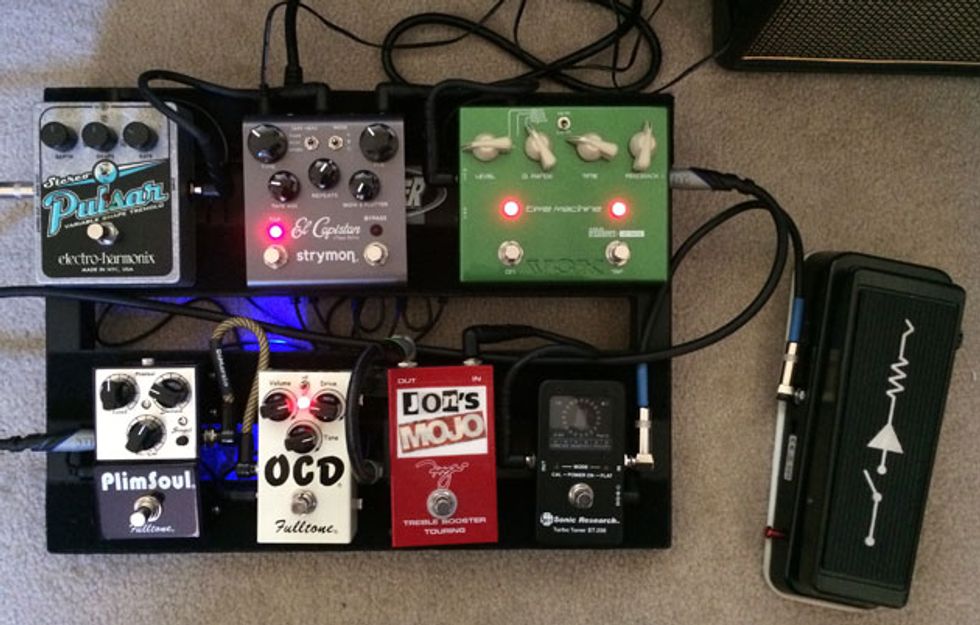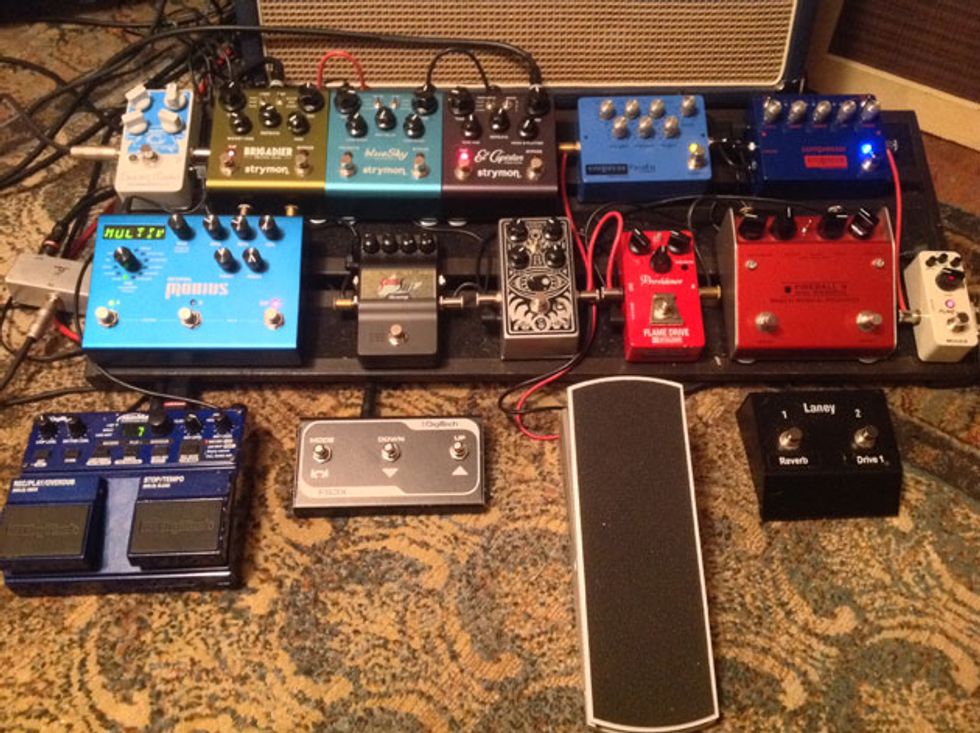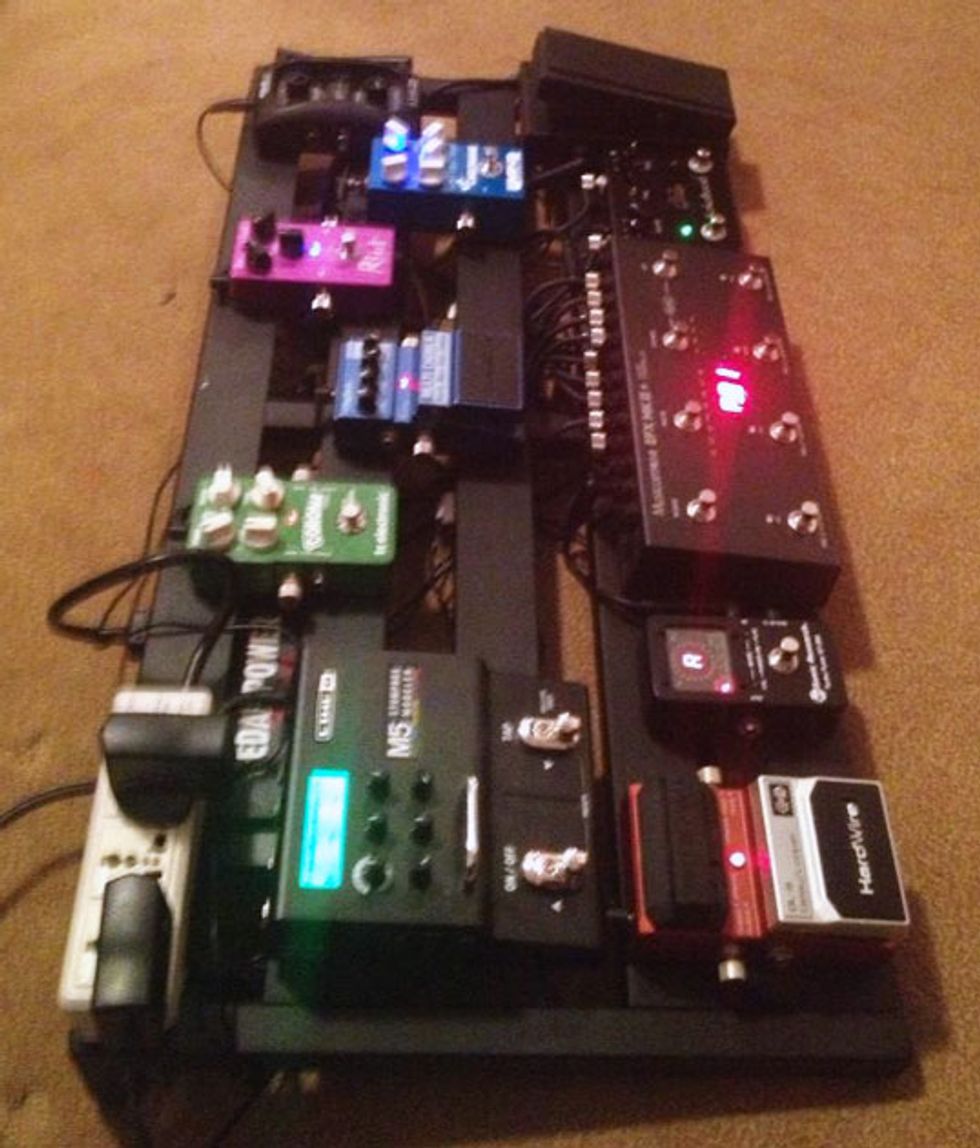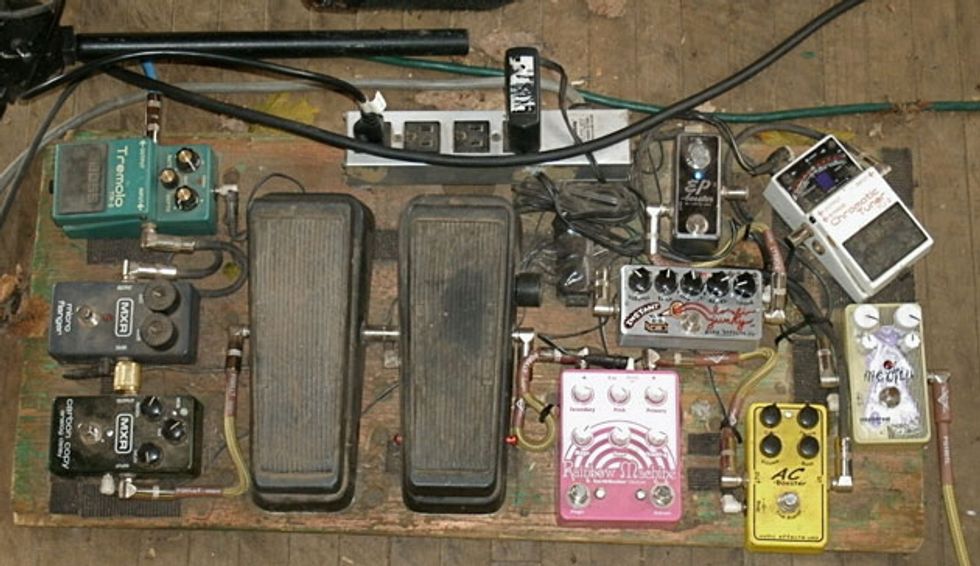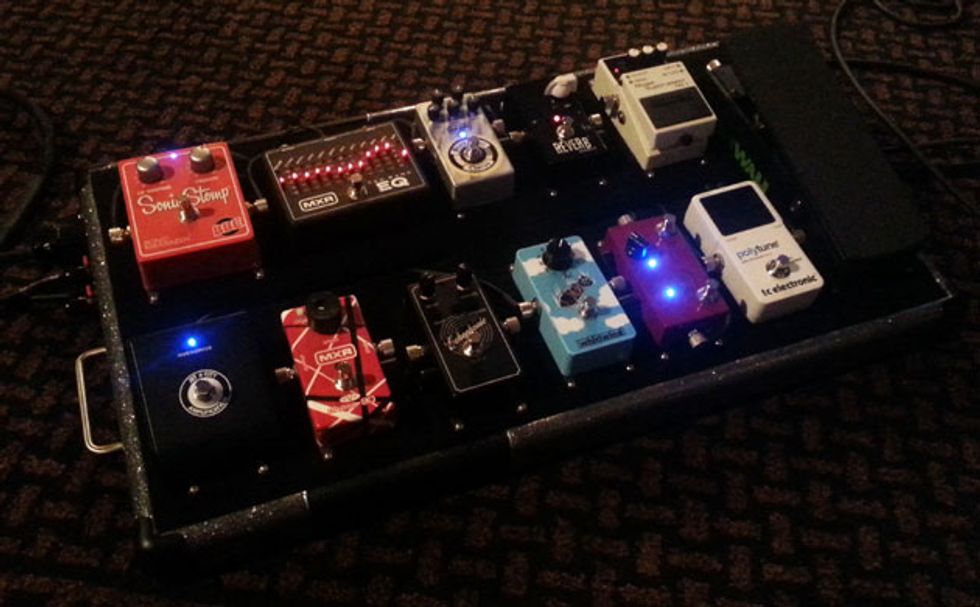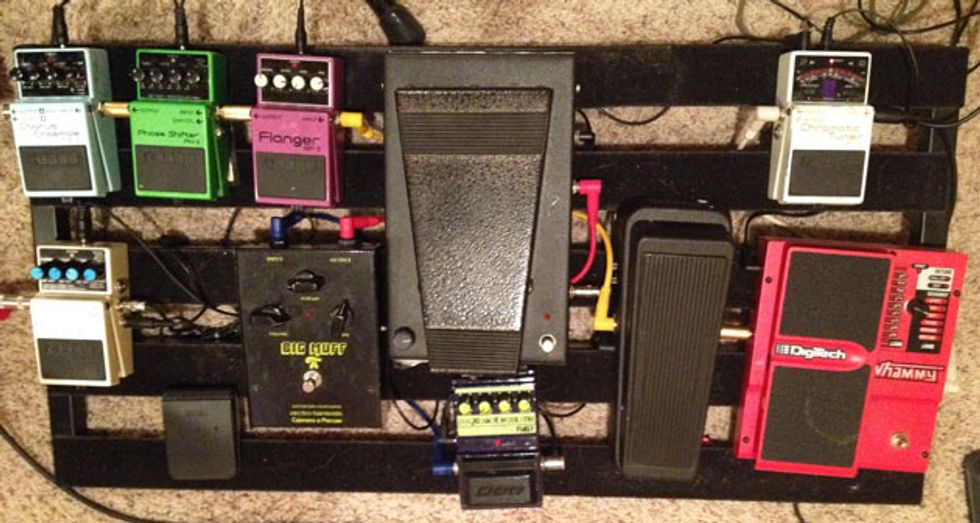 Checking out the pedalboards of our fellow players never gets old—and there's so much creativity on display in this latest batch.You'll encounter classic effects deployed in imaginative ways … ambitious switching/effect loop schemes … and a vast menagerie of hip boutique boxes. Thanks for the ongoing inspiration, readers!
It's almost impossible to be creative while learning to use complex new gear. Here's a better idea.
There's so much great musical gear out there, but with each new piece of gear comes a new time commitment. From the simplest effect pedal to the most complex recording and editing software, you often have to invest serious learning time before you can make the most of these tools. This can be frustrating when you'd rather be practicing guitar or writing a new song.
Make the Most of What You Have
First off, it's important to get the most out of the gear you already own. We're all familiar with the acronym GAS (Gear Acquisition Syndrome), and how easy it is to get caught up in the cycle of buying and selling the latest and greatest toys and tools. YouTube demos create gear lust. Guitar forums are full of folks (myself included) going on and on about some new piece of gear that floats their boat. Online shopping makes it easy to pull the trigger on the latest pedal or amp. Temptation is everywhere! But sometimes it's best to take a deep breath, look at what you already have, and ask yourself if you're maximizing your gear.
My first professional guitar-effects switching system was a modest, six-space rack affair. It had a few pedals on a pedal drawer and a Voodoo Lab GCX loop switcher. A single Rocktron Replifex rack unit provided time-based effects like reverb and delay. I did quite a few tours and sessions with that rig and knew it inside out. I could program it quickly and I felt like I was getting the most from every item in the rack. It wasn't fancy, but it worked great, and I spent more time playing and less time tweaking because my options were limited.
These days guitar pedals include more and more features. Today's multi-effects can demand an incredible amount of time just to explore the factory presets before you even think about learning to program them. New gear costs not only money, but also time.
A Time to be Creative
The time to be creative is not when you're learning a complex piece of gear or software. Does the following scenario sound familiar?
Today's multi-effects can demand an incredible amount of time simply to explore the factory presets before you even think about learning to program the units.

A guitarist decides to set up home studio. He or she gets a new computer, studio monitors, a recording interface, and the latest and greatest recording software. After a several long days of setup and software installation, our guitarist, ready to record a new masterpiece, excitedly boots everything up. But problems begin immediately: "Hmm, how do I make a new project?" "How do I arm a track for recording and bus a signal to it?" "Where's the manual?" And so on.
This story usually ends in frustration. The problem is, it's really tough for us humans to simultaneously be creative and master new skills. I believe creativity requires us to be in a certain headspace, one where you're not thinking too much. There's no getting around the fact that something as complex as a software recording program demands serious learning. The same goes for rack gear, like the incredibly powerful Axe-Fx II or Kemper Profiler.
My Suggestion
When learning recording software, allot time to consume the manual and other tutorial material before diving in headfirst. Make good use of any demo songs that come with the program. Using a piece of music you have no connection to allows you to be in a learning, analytical headspace. Consider getting a third-party book on your software. Also, online courses like the ones at protoolstraining.com can supercharge your knowledge. If you allow yourself time to learn before attempting to get creative, you'll be ready to track your ideas quickly and effortlessly when inspiration strikes.
The same goes for complex guitar effects units like the Axe-Fx II, which can have steep learning curves. I recommend getting in deep with the manual and learning as much as possible before taking the unit to a rehearsal or gig. Learning to program, tweak presets, and assign foot controllers should be done at home, not at band practice or shows. Your band and audience will appreciate you more if you aren't paging through menu screens when you're supposed to be playing inspiring licks!
Instead, compartmentalize your time. Set aside times to practice, write, or play, times to tweak your gear, and times to learn complex new gear or software. Attempting all those things at once just doesn't work. Until next month, happy rocking!
When no one was willing to build him an acoustic with a scalloped fretboard for microtonal string bends, James Russell took on the project himself and became a full-time luthier.
Filmore
The Filmore boasts a tempting blend of a Tele-shaped body with a Les Paul wood-and-electronics recipe. It features Honduran mahogany for both the body and set neck, flamed maple for the top, and Brazilian rosewood for the fretboard. For electronics, Russell went with a pair of Peter Florance's Voodoo '59 humbuckers.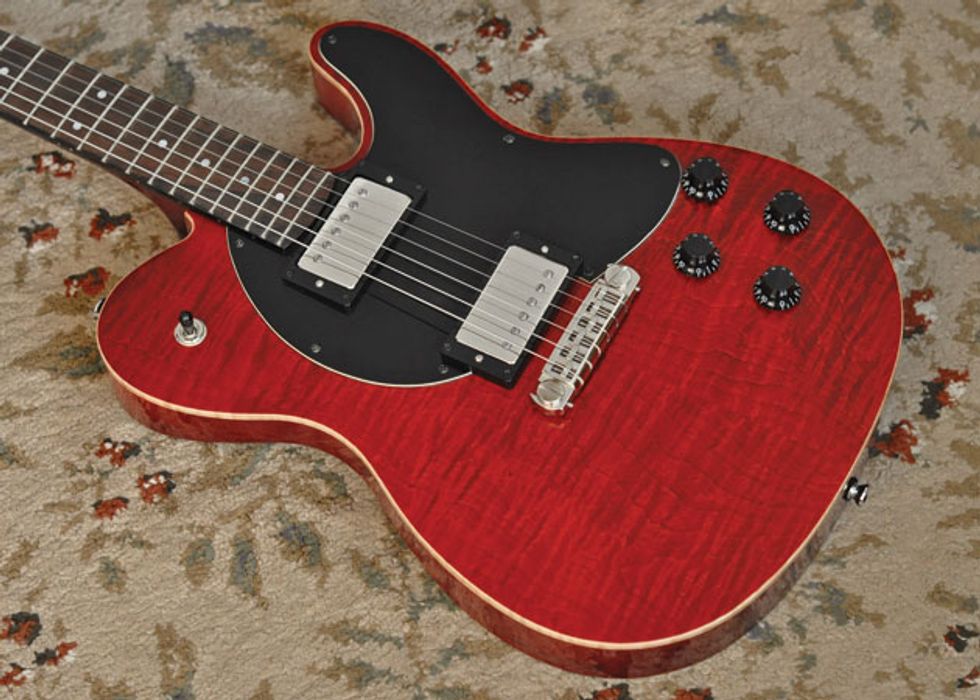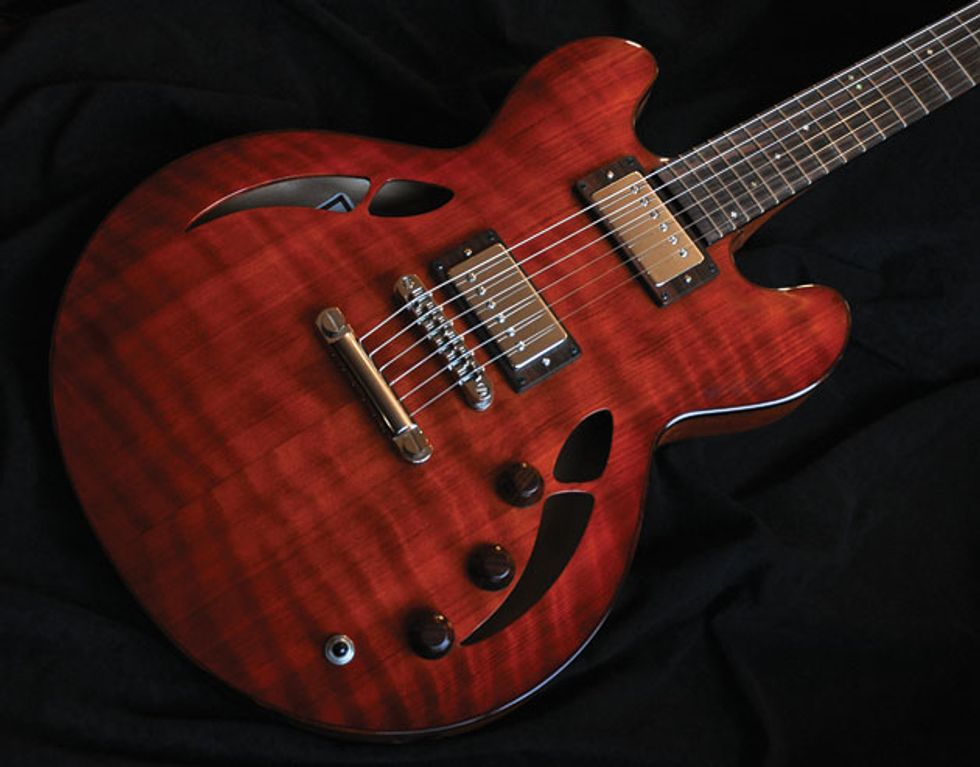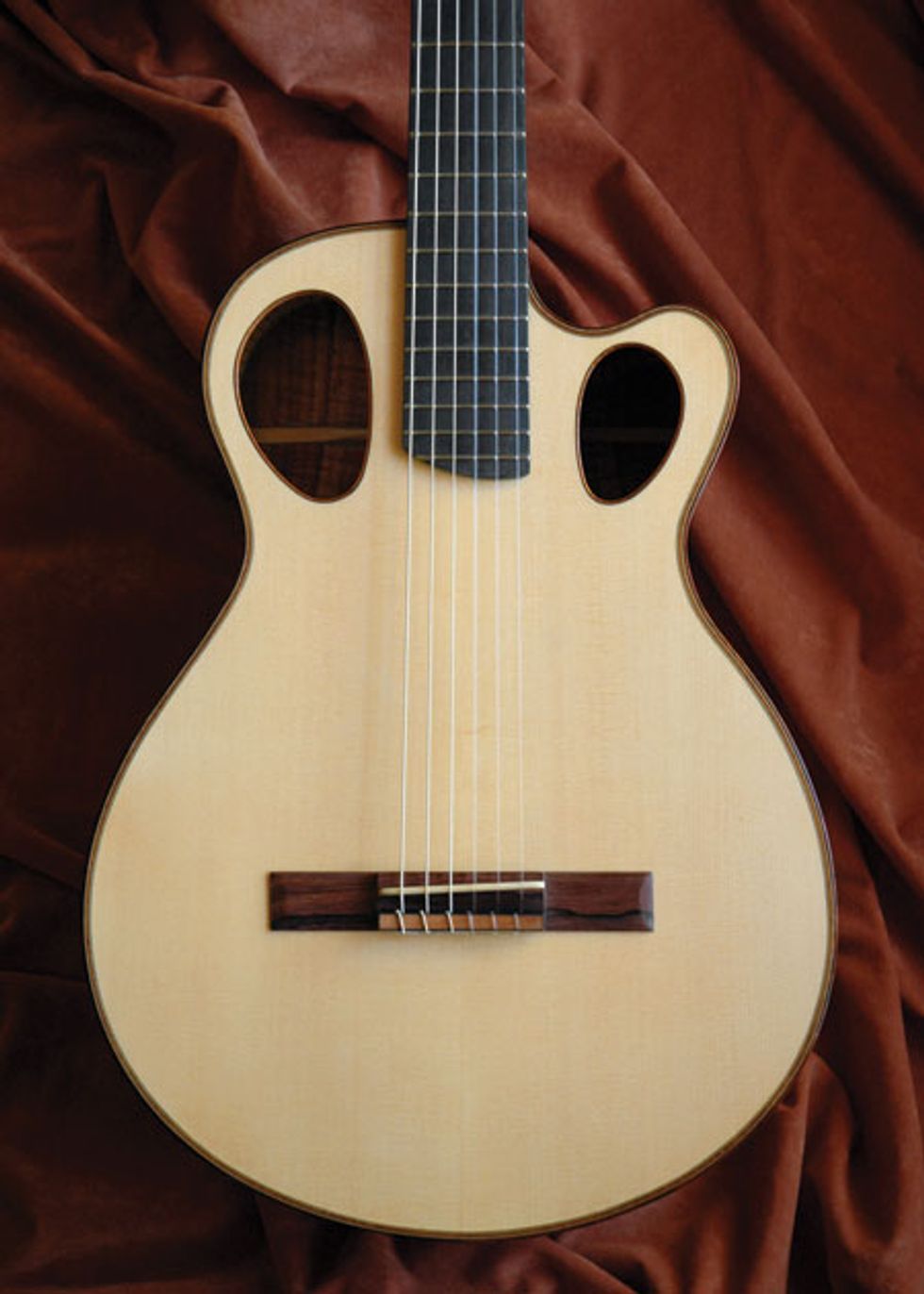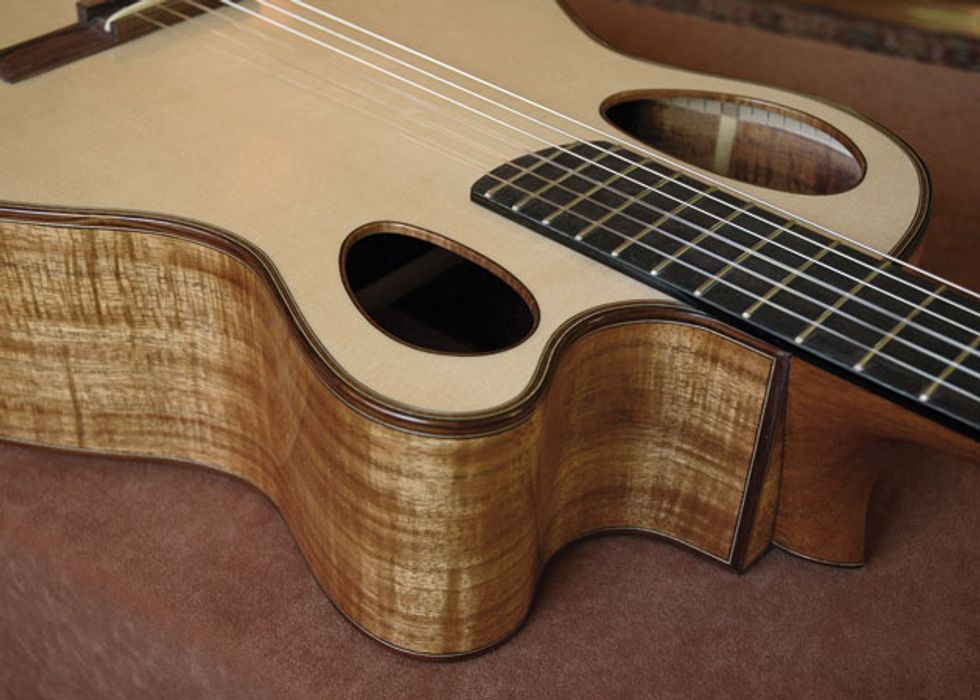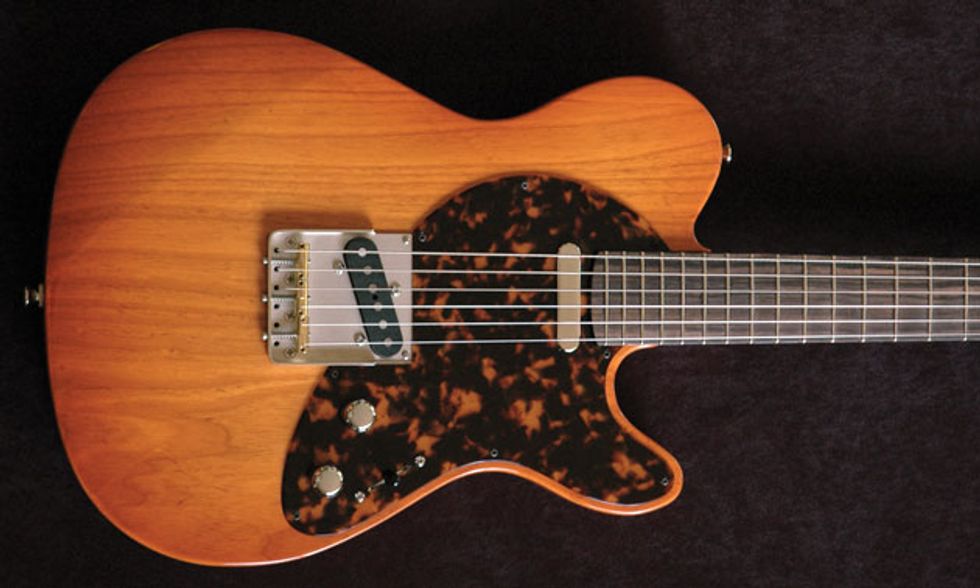 James Russell got his start building guitars in 1979 out of necessity. As a huge fan of John McLaughlin's acoustic band Shakti, he wanted a guitar similar to McLaughlin's Abe Wechter acoustic with a scalloped fretboard that would enable microtonal string bends. But after asking several Southern California luthiers to build the guitar he had in mind, Russell was turned down by all of them. That's when he decided to build it himself and quickly found himself hooked on lutherie. And that first instrument is still going strong today.
Russell truly lives and breathes all things guitar. Not only is he a full-time builder out of his one-man shop, he still finds time to regularly teach guitar and perform. Oh, and he's also one of Eric Schoenberg's builders, producing handcrafted guitars inspired by prewar Martin flattops under the highly respected Schoenberg brand.
Checking out Russell's website reveals that he doesn't limit himself to one particular genre of guitar. Whether it's an archtop, semi-hollow, upright electric bass, flattop acoustic, or something else, "the wide range of my guitar models is due to my love of so many styles of music and my love of great instruments," says Russell. "I've been an active performing guitarist for over 40 years and I love and play both acoustic and electric music. Most of my models came about from real-world experiences of desiring changes and improvements in classic instruments."
"Understanding how to make a guitar is relatively easy, but understanding the interaction of all the materials that make up a guitar requires years and years of working with those materials. It's easy to make a guitar-shaped object, but it is very difficult to make good guitars that sing."

With that, Russell says his biggest challenge is just having enough hours in the day to build all the designs he wants to build. "I still have around 20 designs on paper that haven't become instruments yet, and I have several models that are in process and on the back burner."
Asked what nuggets of advice he'd offer to someone wanting to take the plunge into lutherie, Russell says, "Understanding how to make a guitar is relatively easy, but understanding the interaction of all the materials that make up a guitar requires years and years of working with those materials. It's easy to make a guitar-shaped object, but it is very difficult to make good guitars that sing."
Russell also contends it really helps to be a player in order to be able to hear and feel what makes a guitar great. "Another aspect I feel is critical is having the patience and ability to do intricate, long-term projects. A guitar maker has to be driven or the challenges will be insurmountable."
"I put my heart and soul into every instrument I make," says the luthier. "My slogan is 'Voice, Feel, Beauty.' All three aspects are essential for a guitar to be great and I strive for excellence in all three. This is what is distinctive about all Russell Guitars."
Pricing and Availability
James Russell's guitars are available through direct order with the luthier, though he will occasionally have guitars available through Tradarama Guitars and Mighty Fine Guitars. Russell-made Schoenbergs are available through Schoenberg Guitars in Tiburon, California. The luthier produces about 10 Russell-branded guitars a year and the wait time for custom orders is typically 12 to 18 months. For each of his models, clients can request custom appointments such as wood options, neck carve, scale length, electronics, and so on. The price range for Russell Guitars varies anywhere from $3,500 to $10,000, depending on the model, woods, features, and options.
For more info, visit Russell Guitars.