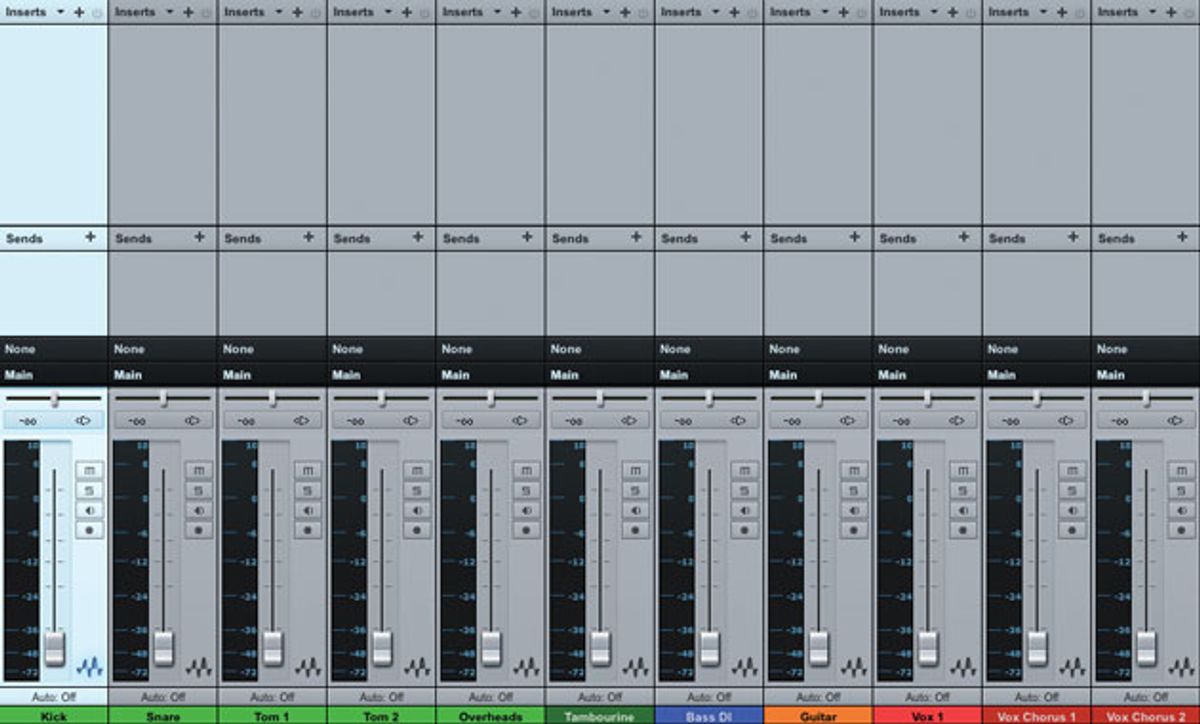 A proven mixing method.
Over the past few installments of "Guitar Tracks" we've cleaned up our tracks, organized them, and prepared them for mixing. Now it's time to get started making those tracks into a finished mix.
I like to begin my mixes by pulling all of the faders in the song down to silence, except for the master output fader and any submix buses, which are set to "0 dB." All pan controls are centered. No plug-ins are inserted. Any EQs or compressors built into the DAW mixer are set to a neutral setting and bypassed. We'll call this Ground Zero.
I save the mix file at this point. My naming convention is usually something like "name of the song, followed by the day's date." As I mix, I save regularly. Whenever I make a significant change to the mix or I've done work that I don't want to lose if the computer loses power or something, I save again, adding a letter to the name: "Song Mix 3-12-13a," "Song Mix 3-12-13b," and so on. This leaves a trail I can work back through if necessary. If there's ever a problem with a file, I can recover quickly.

Fig. 2. Balance the kick drum and the bass.
Starting the Mix
That last bit of housekeeping out of the way, I start mixing. Different engineers have different mixing processes, so I recommend experimenting with various approaches. Here's one that's worked for me:
• Raise the kick drum fader to a comfortable level. I look for the master meter to read somewhere around -15 dB.
• Raise the bass guitar (or other primary bass instrument) to where it meshes well with the kick drum.
• I may do minor EQ work to get the kick and bass to thump well together.
At this point, some engineers would build the rest of the drum kit around the kick and bass, and then mix the rest of the rhythm instruments (guitars, keyboards, and so on) to create a pumping rhythm track. After that they drop in the lead vocal, fills, solos, and ear candy.
Different engineers each have different mixing processes, so I recommend experimenting with various approaches. Here's one that's worked for me.

Sometimes this approach works great. However, I often use a different one: After the kick and the bass, I bring up the lead vocal (if it's a vocal song) or the lead melody instrument (if it's an instrumental). The vocal or melody instrument is the focus, so I want to ensure it's heard clearly, and is balanced and supported by the low-end foundation of the kick and bass.
Filling Out the Mix
Next, I begin to fill in the rest of the drums and rhythm section around the kick, bass, and vocal. I may do some broad EQ sculpting as I go, ensuring that those three tracks remain focused. I also begin panning tracks to leave a nice hole in the center for the three focus tracks to live in. With this process, I find that I approach EQ differently.

Fig. 3. Balance the lead vocal or melody instrument against the kick drum and bass.
Yes, I use EQ to enhance tracks, but I also use EQ to create an opening through which the vocal can work, and to prevent various rhythm section tracks from fighting with the kick and bass.
I also begin using ambience (reverbs) and delays to create depth. A wetter track drops back, while a drier one comes forward. You can use EQ similarly: Brighter tracks comes forward, while reducing a track's high end makes it sit back into the mix.
Once things are blending and working together, I bring in the ear candy and solos, again creating openings where those featured items can "speak." As I add these parts, I tweak levels, adjust EQ, apply compression to get dynamics under control, add effects, and generally dial things in. Finally, I start working with automation as necessary to bring tracks in and out of the spotlight.

Fig. 4. Build the remainder of the rhythm section around the three focus tracks, and then start adding the solos and ear candy.
Next time you're making a mix, try this approach. It's certainly not the only one that works, but it does the job for me.
Another Ending
With this month's column we also reach another endpoint—this is my final "Guitar Tracks" column for now. For nearly four years it's been my pleasure to work with the great people at Premier Guitar to bring you these columns. I hope you've picked up a few useful tips on making better recordings and mixes. I can tell you that it's been a blast to write them, and to hear from so many of you! Thank you very much for your interest and support. "Guitar Tracks" may be taking a breather, but you'll still see my work in the pages of PG. Until next time, I wish you great recordings!
Looking for more great gear for the guitar player in your life (yourself included!)? Check out this year's Holiday Gear Finds!
Flare is a dual-function pedal with a tube-like booster and a 1970s-style ring modulator effect that can be played separately or together.
Flare's ring modulator is based on the iconic tone of the original Dan Armstrong Green Ringer. This vintage classic was made famous by Frank Zappa who loved the unusual modulations created by generating a harmonic octave over notes. Messiah's version offers two control knobs: a "Sparkle" tone attenuator and output Level control. Its taupe-gold body, purple and green knobs and stick-figure rock 'n' roller holding up a flame convey an appropriately rockin'70s vibe.

​In a unique twist, Messiah's Flare pairs the ringer with a warm tube-style boost instead of a fuzz. Flare feeds the booster into the ringer for an extra punch, while preserving the Green Ringerspirit. The ringer side also turns any fuzz into an octafuzz, and it has the ability to quiet signal background noise fed through it.
The booster side features a single Boost knob to control the MOSFET circuit, making it very tube-amp-friendly with a warm, organic boost and gain of up to 32dB.
​The pedal is a distinct improvement over the 1970s pedal that inspired it. "Most ringer pedals don't track well," Tom Hejda, owner of Messiah Guitars. "The player can't rely on repeating the same effect even with the most consistently played notes. We carefully matched the components, so our ringer follows your every move, producing that slightly dirty octave you expect on demand."
Messiah developed this vintage octave pedal with flexible features so that people who love that messy, dirty Zappa-esque sound can get there with ease but there's also something for those who have not fallen in love with fuzz or the Green Ringer alone. Flare offers an array of sonic options while retaining simplicity in the controls.
Each Flair Pedal Includes:
3 control knobs: Boost, Sparkle, and Level
Two effects – Ring Modulator and Boost – can be used together or separately
Space-saving top side jacks
Durable, cast aluminum alloy 125B enclosure with fun artwork
Easy to see, illuminated True-bypass foot switch
Standard 9V pedal power input​
Flare Pedal Demo
Messiah Guitars pedals are designed with an explorative player in mind. Like their custom guitars and amplifiers, Messiah's pedals are hand-crafted in Los Angeles for a long life with guaranteed quality.
Flare retails for $199.00 and can be purchased directly at Messiah Guitars or you can hear it in person at Impulse Music Co. in Canyon Country, CA.
For more information, please visit messiahguitars.com.
This feathery little guy is a joy to play because of its incredibly quick response to your right hand - much faster and more expressive than your typical auto-wah pedal.
​If it looks like a duck, acts like a duck, and QUACKS like a duck, then it must be a duck. That's how we came up with the name for our new envelope filter. This feathery little guy is a joy to play because of its incredibly quick response to your right hand - much faster and more expressive than your typical auto-wah pedal. Trevor explains how this is possible in the launch video, as well as gives a demo on Le Canard's operation.
​The attack control determines how quickly the filter responds to the envelope, and the decay sets how quickly the filter releases afterward. The range controls which frequency spectrum the filter does its magic on. Add to this relay-based full-bypass switching with failsafe, and you've got one crazy little quacky beast. It is so expressive that you'll want to give up on your rocker-wah forever.
The MayFly Le Canard envelope filter features:
Super fast responding envelope follower. Touch it and it jumps!
Range control to dial in the character of the filter
Attack control to control how fast the filter moves on that first touch
Release control to control how slowly the filter slides back to baseline
Full bypass using relays with Fail SafeTM (automatically switches to bypass if the pedal loses power)
Cast aluminum enclosure with groovy artwork
MSRP $149 USD ($199 CAD)​
Introducing the MayFly Le Canard Envelope Filter
All MayFly pedals are hand-made in Canada.
For more information, please visit mayflyaudio.com.