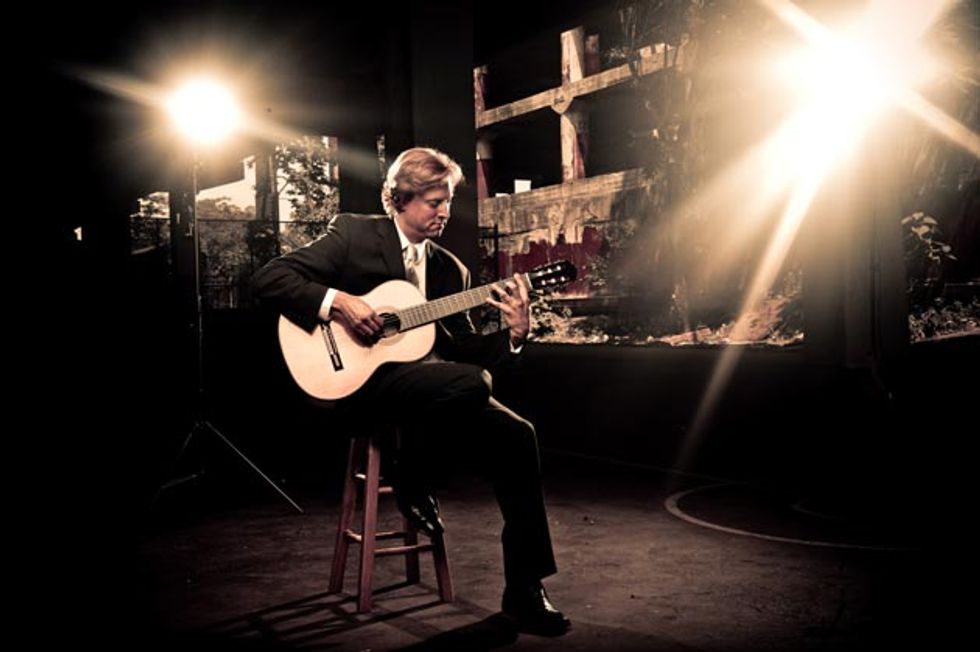 Vieaux's main guitar is a 2005 Gernot Wagner, built with Brazilian rosewood back and sides and a double top of spruce (on the outside) and cedar (on the inside). Vieaux is currently awaiting delivery of another Wagner, built from woods that adhere to CITES regulations for the trade of endangered species, which will allow him to travel internationally without worrying about the customs issues associated with Brazilian rosewood. Photo by Tyler Boye.
Jason Vieaux is a busy guy. He's released more than a dozen albums since 1993, he heads the guitar department at Ohio's Cleveland Institute of Music, and serves on the faculty of the Curtis Institute of Music in Philadelphia. He's a member of the advisory board for the Guitar Foundation of America (GFA), and he runs an online classical guitar school through ArtistWorks. Meanwhile, Vieaux crisscrosses North America several times per year, performing solo concerts and collaborating with such artists as flutist Gary Schocker, harpist Yolanda Kondonassis, mezzo-soprano Sasha Cooke, and bandoneon/accordion player Julien Labro.

Vieaux has followed a picture-book path for a classical guitarist: Growing up in Buffalo, New York, he began playing at age 7, working with private teachers until attending the Cleveland Institute of Music as a college student. In 1992 he became the youngest-ever winner of the annual GFA competition, launching a professional career that's been in high gear ever since.
Vieaux's albums include titles dedicated to works by Johann Sebastian Bach, Manuel Ponce, Astor Piazzolla, and—perhaps surprisingly for a player strongly rooted in the classical tradition—Pat Metheny. But on his just-released album Play (Azica Records), Vieaux takes a sort of a "greatest hits" approach to his repertoire, featuring pieces ranging from Andrés Segovia's "Estudio Sin Luz" and Francisco Tárrega's evergreen "Recuerdos de la Alhambra" to contemporary gems such as Roland Dyens' "Tango en Skai," and Andrew York's "Sunburst." Vieaux doesn't reinvent any of these, but you'd be hard pressed to find versions performed with more confidence, better tone, and a more complete understanding of the material. If you're new to classical guitar, Play serves as an excellent introduction to some of the genre's most popular pieces, and even if you're familiar with the material, Vieaux's virtuoso playing will keep you engaged.
"Classical guitarists produce sound entirely from their own fingertips and their nails. There is no signal. There's nothing between them and the listener."

Premier Guitar caught up with the 41-year old guitarist by phone just after he'd returned from performing with the North Mississippi Symphony Orchestra and just before he headed back out for a solo gig in Massachusetts. Did I mention the guy is busy?
How did Play came about?
I try to alternate solo CDs with collaborative projects. It became that time to make another solo CD, and although I'd eventually like to do another Bach CD, I realized that I was coming up on my 20th anniversary as a professional player, and it just felt right to put together more of a fun project, where I would just play crowd-pleasers, things that the audiences know really well. I've done so many concerto gigs with orchestras where I would play an encore like "Recuerdos de la Alhambra," or "Capricho Arabe," and the audiences would always ask, "Do you have that on a CD?" And so all those encore pieces, the ones people really respond to, are on the CD.
How did you choose the pieces?
Half are things that I've played, either as encores or in all-Spanish or all-Latin American recitals, and half are pieces that I've always loved but never gotten around to playing, like [Paulo Bellinati's] "Jongo" or the theme from The Deer Hunter, "Cavatina." I've always loved that piece. I used to play this as a duo with my first teacher, growing up in Buffalo, and I used to love just playing the melody. So it's a lot of pieces that I've played since I was a kid—again, sort of in celebration of 20 years on the road.
One challenge with playing popular repertoire is to make it your own. How did you approach that?
That part of it is actually not a challenge. I don't really struggle with how to make something my own. My process is to look at the score. It sounds like I'm being flip, but actually, my approach this whole time is to play the rhythm correctly—which I don't think happens all the time, even in classical guitar—and not to try to put a new, personal, spin on it, but just play the piece the way I hear it through my musical understanding. So that part is actually pretty easy.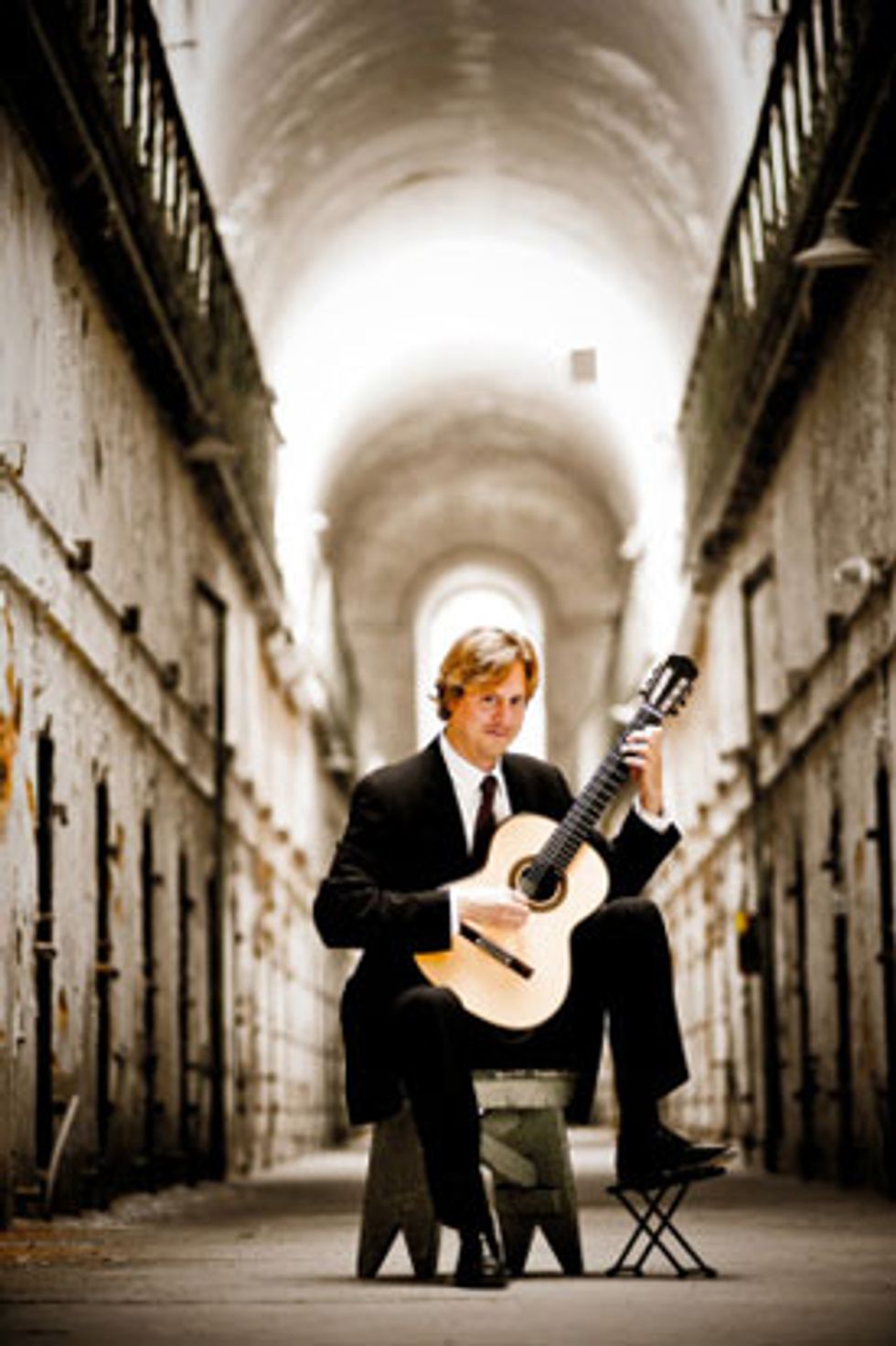 On his latest solo album, Play, classical guitarist Jason Vieaux wanted to include classical arrangements that his listeners had enjoyed live but hadn't heard on record yet. Photo by Tyler Boye.
Whether I'm playing Bach or Albéniz, or even just shorter pieces like these, I try to play them the way I think the composer would like them to be heard, rather than the current approach, which is very fashionable right now in classical guitar, of changing rhythm or heavily distorting things. To me, that's almost a desperate move, because it suggests that these pieces need to have something done with them, and I, the performer, have to apply a personal signature. My whole thing—and what I also teach my students—is that you have to have faith in the composer, in what they wrote.
Do you have a favorite piece on the album?
It will probably change, but playing "A Felicidade" by [Antonio Carlos] Jobim, who I just think is one of the greatest songwriters of the last 100 years, is just super fun, because you can apply ghost notes and stuff like that. On the recording I try to be pretty faithful to Roland Dyens' arrangement.
Why did you chose Dyens' arrangement?
Because it's awesome! He makes a really wonderful concert guitar piece out of it. I was just knocked out by that arrangement the first time I heard Roland play it 15 years ago. But in concert I inevitably start adding more ghost notes and little subtle things, like I also do with my own Metheny arrangements. Especially in Brazilian music, you don't always have to play the same bossa nova or samba rhythm exactly the same way over and over—you can alter it like a percussionist while still keeping the beat. That's a fun thing, because you can change it every time you play it. The other one that really resonates with me is my arrangement of Duke Ellington's "In a Sentimental Mood," because it's just such a soulful tune, and I try to play it as much as I can now.