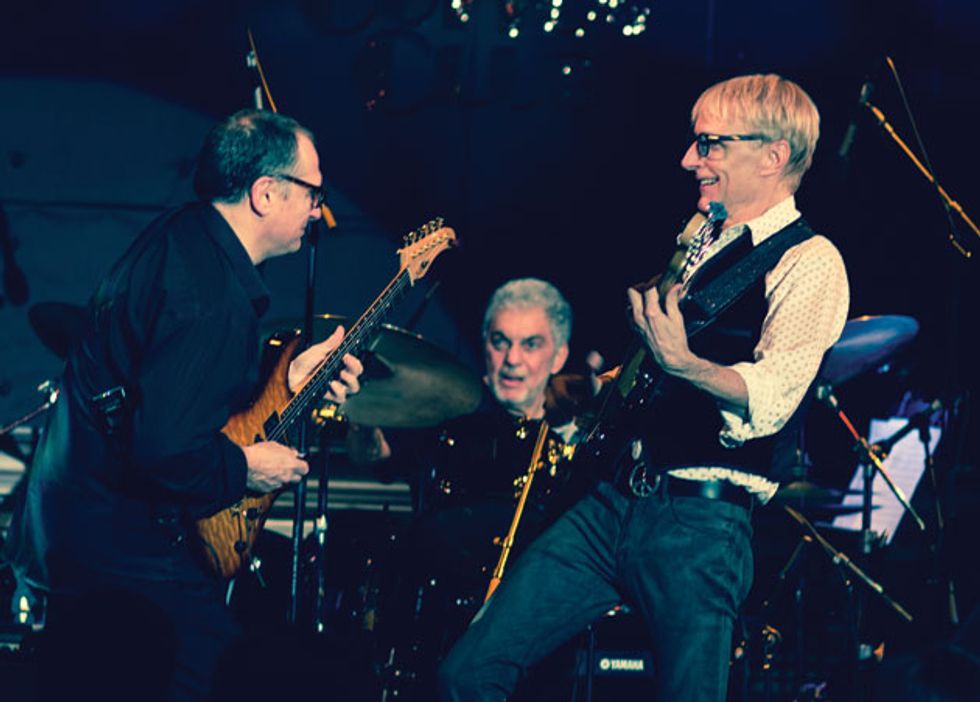 Playing his signature Sadwosky 4-string, Lee digs in during one of his Will Lee Family Band shows with guitarist Chuck Loeb. Photo by Sandrine Lee
East: It really worked out. What was that first song that came together?
Lee: I put together an autobiographical song called "Miss Understanding." The tune kind of wrote itself because it was just so honest from my life. I was at one of those songwriter circles up at a church in Massachusetts, where people sit around with guitars and play their own tunes and back each other up. Someone gave us a recording of it. Then there's this kindred spirit-type guy, a drummer who had been through the same scenario as the person in this song—with the same person! So I told him, "You got to hear this, because it's your story too." He liked it so much that he put a drum track to it, and it really held together. At that point you could see the potential for a completed song, so I just wiped all the tracks except the drums and recording new instruments onto his track. I thought, since we live in the age of iTunes, nobody cares about an album, and maybe I'll just put this out. But there was this other song I wanted to record with Chuck Loeb, an instrumental version of "Smile." That was the point when I realized that these songs have nothing whatsoever to do with each other. So maybe I should do an album. [Laughs].
East: I'm shedding "Smile" because of that recording.
Lee: It's something I've been working on for a while. I was forced to finish it onstage in Japan, and you know what fertile ground for creativity that can be. I was with Hiram Bullock, the most fertile of fertile grounds, and he had some gear problem, so we had to stop the show. So I went up front and started to play this little bit of "Smile" that I had figured out on bass, and because I'm in the middle of it and Hiram's not ready yet, I had to keep going. At that point I was forced to finish the arrangement right there onstage. I've been carrying that around for a while, and it took someone like Chuck Loeb—not like there's anyone like him—to turn it into a real arrangement with his beautiful soundscape of colors.
East: That's a great memory to have of Hiram.
"Jaco is still kicking everyone's ass,
and he's been dead for a million years."—Will Lee

Lee: Absolutely. Hiram's with me every day, man. He taught me what to do onstage. There are certain people who are so strong—Jaco for example. Jaco is still kicking everyone's ass, and he's been dead for a million years.
East: He's always on your shoulder, haunting you. Saying, "Take it up a couple of notches."
Lee: Tell me how you picked the covers for your album.
East: It's usually stuff you've been digging forever. I guess the funniest, or most recent story, happened when I was in Norway. There was an 18-piece big band playing for a wedding at my hotel, and when we got back from the gig I heard them playing "Sir Duke." I just peeked my head in, and the bass player sees me and hands me his bass. The next thing I know, I'm playing with this band somewhere in Norway. I looked around and saw a room full of people I didn't know. I'm 6,000 miles away from home, and everybody's smiling. That tune is just infectious. But similarly to your story, I was in rehearsal at Carnegie Hall for one of Sting's rainforest benefits. There's some downtime, and I'm up there trying to figure out the chords to "Overjoyed," when I hear a harmonica come in, and the next thing I know Stevie Wonder is actually playing it with me. Then James Taylor, Bonnie Raitt, Elton John, and George Harrison are all standing there watching the whole thing go down. Again, I was painted into a corner and had to come up with an arrangement on the spot. When we finished, he said, "If I ever record that, call me." That's how I got him on the album.
Lee: Tell me about "Daft Funk."
Nathan East's Gear
Basses
Yamaha BBNE-2 Signature 5-string bass
Yamaha TRB 6-string bass
Yamaha SLB-200 Silent bass
Amps
TC Electronic Blacksmith
Effects
None
Strings and Accessories
Radial Engineering Firefly tube DI
Dunlop Strings
j-phonic earphones
Yamaha HPH-MT220 Headphones
Phil Jones Bass Headphones
East: It's a tongue-in-cheek ode to the guys in Daft Punk. Daft Punk made it cool to play again. Here's a record that went number one that didn't just have a programmed sound. It's only four chords, but it's actual playing.
Lee: As a session guy, you never really know what's going to hit.
East: I've played on records, and I'm sure you have too, where you think, "This is the greatest thing ever—wait until everyone hears it!" and it never does a thing. Then one day you go to work and play on something, not giving it a thought, and the next thing you know, it's a big hit. But I had a feeling "Get Lucky" was going to be something because it was Nile Rodgers and Paul Jackson, Jr., on the same song. I don't think there's room for any more funk on a two-inch piece of tape. [Laughs].
Lee: That's pretty scary!
East: That in and of itself was pretty monumental. I knew that was going to make some noise. We cut some live tracks in L.A., and then I think they took it to New York and put Nile on the songs, and then they came back, and we tweaked the bass to make it even funkier.
Lee: There was some room left? Like, "Here's a space right there!"
YouTube It
Drummer Takanori Niida leads a funky quartet that features Will plus one of his longtime collborators, guitarist Oz Noy. Check out the finger-busting groove of "Confidence Cat" at 2:55.