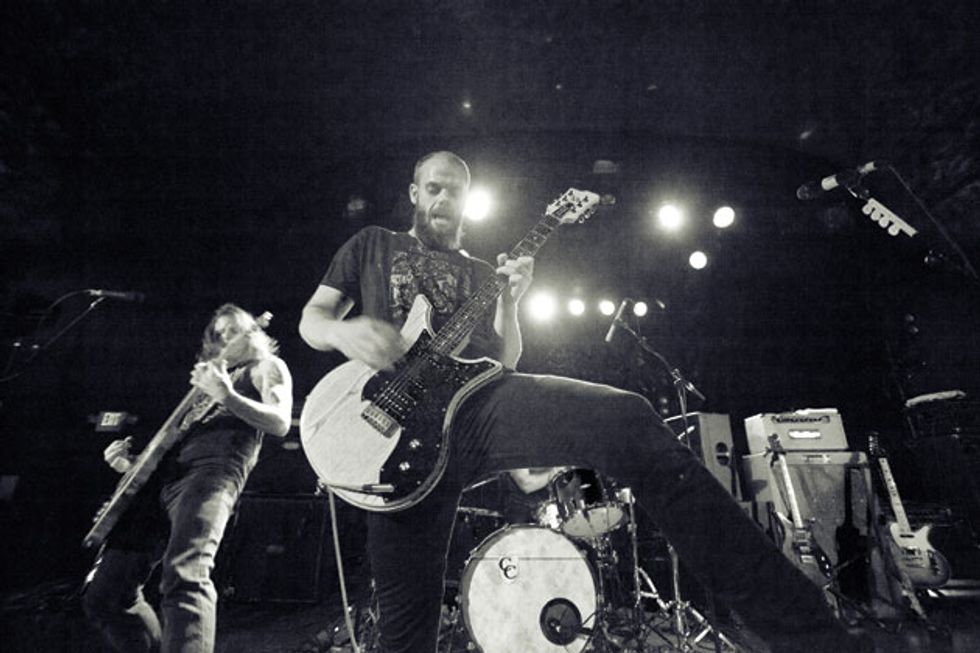 Baroness guitarist/vocalist John Baizley. Photo by Jimmy Hubbard.
Baroness' John Baizley
Alt-metal band Baroness formed in Savannah, Georgia, in 2003, and its debut EP followed the next year. Two EPs later, vocalist/guitarist John Baizley's quartet signed with Relapse in 2005 on the strength of their eclectic blend of melodic, old-school metal vibes mixed with post-punk, indie-rock, and occasional psych-rock elements. Their last release, 2012's Yellow & Green—which saw Baizley and company branching even further into art-rock territory—had been out less than a month when, in August of that year, the band's tour bus took a 30-foot plunge off a viaduct in England. Baizley went through intense physical therapy to recover from a broken arm and leg, and bassist Matt Maggioni and drummer Allen Bickle—who suffered fractured vertebrae—left the band in March of 2013. Baroness resumed touring in April.
Thoughts on the State of Metal/Hardcore in 2014: We're in a bit of a recession. The first 10 years of the millennium were fertile for intelligent, thought-provoking music from bands like Mastodon, Botch, and Converge. But then the copycat bands got bigger and found a way to blend that with a more commercial sound and make money off it. Also, everybody is a well-trained guitar player—everybody can play circles around me. But what impressed me when I was young were bands that didn't focus on schooling or theory. I liked the bands that experimented and just ripped up stuff. People have tons of chops, but no songwriting ability.
"People have tons of chops, but no songwriting ability … I don't want to watch dudes masturbate. I want music to convey emotions." —Baroness' John Baizley

It's all about how fast you can play, how far you can tweak your time signatures. When you've got that mindset, the rabbit hole you can fall down is very deep and very difficult to get out of. I don't want to watch dudes masturbate. I want music to convey emotions. Watching somebody shred is kind of awesome for a minute, but then it's tedious and boring. I've seen enough of that with young bands. It's out of control. Nuance is dying in our genre, but not in others. That's why I pay attention to the larger music world when I'm looking for something new to inspire me to write.
Best Album of the Last Year: I don't know that I could say, "Here's the best album of the past year," but [Australian extreme metal band] Portal's Vexovoid was totally amazing and intense and unique—beyond insane. It had this beautiful bark and was disgusting all at the same time. I also liked [English psych-doom band] Uncle Acid & the Deadbeats' Mind Control.
Best Metal or Hardcore Album of All Time: I'll just say my most-often-listened-to metal record of all time—Neurosis' Through Silver in Blood.
John Baizley's Gear
Guitars
G&L ASAT Special
G&L Legacy HB
Custom God City Instruments 6-string
Framus Mayfield
Custom First Act
Rockbridge acoustics
Amps
Two Budda Superdrive 45 combos
Fender 1965 Twin Reverb reissue
Effects
Loop-Master switcher
Retro-Sonic Compressor
Fulltone OCD
Tym Guitars Big Mudd Ramhead
Ernie Ball passive volume pedal
Maxon AD-999 analog delay
DigiTech Whammy
Strymon Mobius and TimeLine
Mu-Tron Phasor II
Strings and Picks
D'Addario strings (.010–.049, .012–.052 for low tunings)
Dunlop Tortex .60 mm picks
Planet Waves American Stage cables
Shure KSM 313 and KSM 32 mics
Most Underrated Metal or Hardcore Guitarist: Oh man, that's so tough! But I'll go on record and say Kurt Ballou from Converge. He's a total master of the instrument.
Metal or Hardcore Cliché That Must Die: This tendency towards idiocy in lyrics. Metal has become watered down. Simple tricks, simple lyrics, no focus on originality. The bands in power positions, the bands who sway peoples' opinions on a mass scale, aren't speaking intelligently enough. When metal was a much newer thing, the big metal bands of the '70s and '80s felt that the burden was on them to do something unique. Bands that were selling bundles of tickets and bundles of records had albums with content and structure and, dare I say it, thought-provoking lyrics. That has gone by the wayside in the upper echelons of metal, and it needs to come back.
Metal or Hardcore Tradition That Must Not Die: Innovation. That's why metal has stayed a viable music form for so long, whereas other guitar-based styles have come and gone. We need to continue to treat what we do as a legitimate art form, because it is. There's room for metal—especially on the underground side of things—to pose questions, to challenge things, to fly in the face of the status quo, to be anti-pop, but also be listenable and powerful and emotive.
People Who Don't "Get" Metal and Hardcore These Days Should …:
If you don't get it, it's not for you. Heavy metal did not happen because it wanted to be music for everyone. It is not meant to be easy to digest. It is meant to offer a challenge to those who want the challenge. My advice for people who are on the cusp or are seeking to be re-inspired is to go out and support local music. That's where it's happening in the most hungry and heartfelt way. Somewhere in your town there's a club that young bands play at. Go see a show.