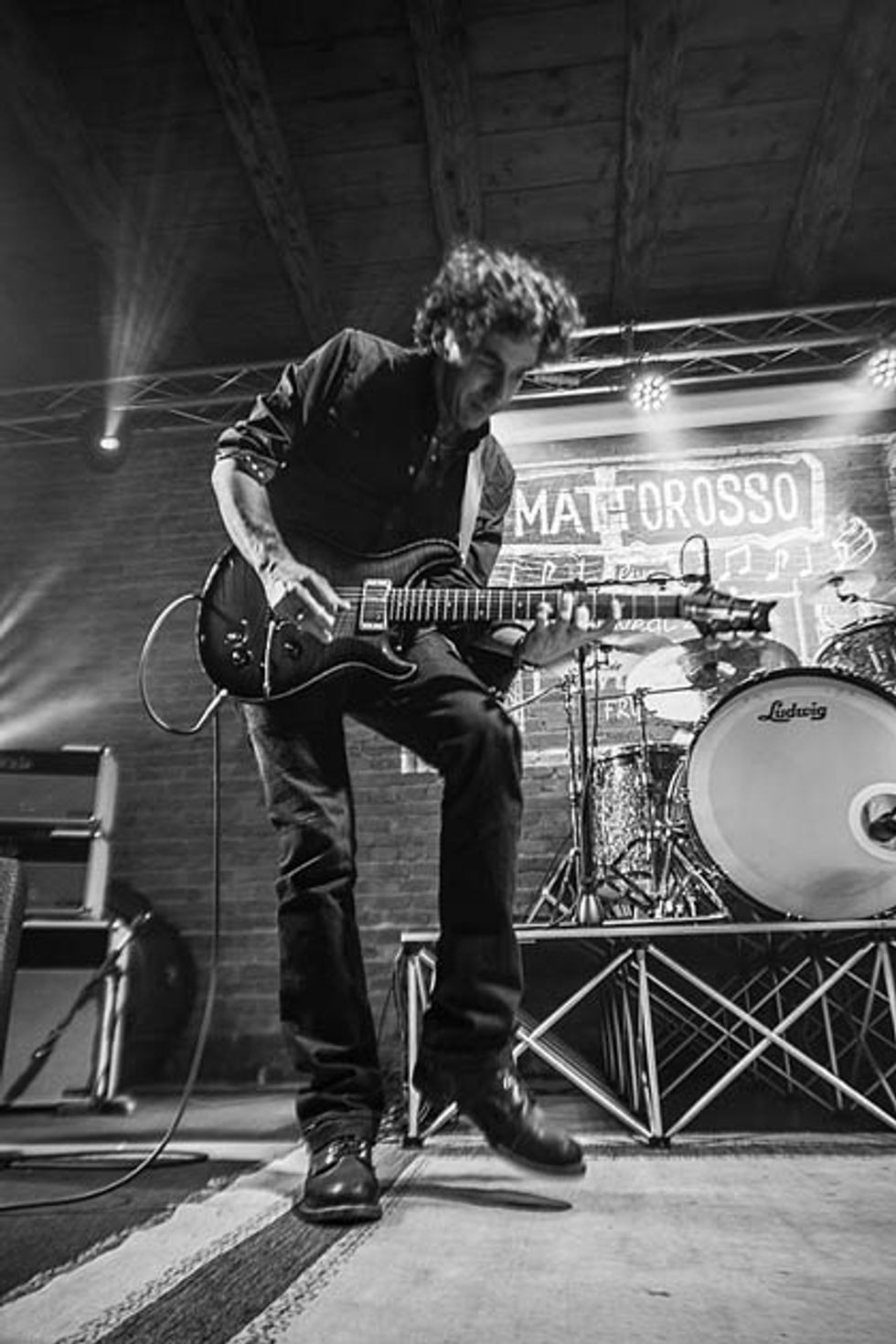 "The biggest thing that helped my direction was my lack of direction. YouTube didn't exist. There were no video courses you could buy. I would fall asleep with the radio on at night trying to find some magic." Photo by Denis Ulliana.
David Grissom hit the roots-rock scene at gale force in 1985, catching the ears and dropping the jaws of guitarists and laymen alike as the secret weapon in revered Austin songwriter Joe Ely's band. Grissom had moved to the self-proclaimed "Live Music Capitol of the World" just two years earlier in pursuit of his free-ranging muse. Unleashed by Ely, the Kentucky native hunted it with a killer blend of raw-edged tone, hybrid chops, and adopted Texas swagger.
Those qualities—plus ever-evolving guitar and songwriting vocabularies—have propelled Grissom on a creative trajectory that has yet to crest. In 1991 he joined John Mellencamp's band for a three-year stint that concluded after an inspiring three-week tour with the Allman Brothers, filling in for troubled genius Dickey Betts. Then he returned to Austin, where he united with Stevie Ray Vaughan's Double Trouble rhythm section and singer Malford Milligan to form Storyville, a blues/rock/soul combo that cut two major-label albums, won nine Austin music awards including Best Band, and shimmied into the arena and shed circuit thanks to widespread rock radio airplay.
Meanwhile Grissom worked as a session and stage hired gun, touring and recording with the Dixie Chicks, Ringo Starr, Chris Isaak, Robben Ford, and Buddy Guy. He also became part of Nashville's songwriting firmament, penning tunes for Trisha Yearwood, Lee Ann Womack, and others. The icing on those accomplishments was the launch of his solo career with 2007's Loud Music on Grissom's own Wide Lode Records label, which found him plowing a creative furrow similar to Ely's.
"I'm really adamant about not making the same record twice. If I just start writing songs, the picture will emerge."

Over the past seven years—and the release of two more solo albums, 2009's country vibed 10,000 Feet and 2011's blues-rock Way Down Deep—the icing has become the cake. While Grissom still gigs as a sideman (Buddy Guy's Grammy-winning Living Proof is one example), he sounds fully at home in his own musical skin on the new How It Feels To Fly. The disc blends Grissom's best and most personal songwriting with instrumental performances that duck down all kinds of stylistic alleys, including jazz and hypno-sonics, and strikes a balance between eight studio cuts and four live tracks.
The title number and "Bringin' Sunday Mornin' To Saturday Night" are testimonials to music's elevating power, and the stage recordings of "Jessica" and "Nasty Dogs and Funky Kings" from Austin's Saxon Pub—Grissom's home base—offer tribute to a pair of his early influences, the Allman Brothers and Billy Gibbons.
"The album reflects the last two years of playing live with my own band and being at a point where I'm more focused as a musician and more content as a person," Grissom explains by phone from his Austin home. "I'm taking more chances, and I've never been more satisfied than playing my tunes with this band. I've been lucky to have a lot of studio work in Austin with other artists, so I don't have to get on a bus as somebody else's guitar player."
David Grissom's Gear
Guitars
Paul Reed Smith DGT signature model
Hamer Monaco SubTone baritone with single-coil pickups
1952 Fender Telecaster
1969 Gretsch Double Anniversary with TV Jones soap bar pickups and Bigsby whammy bar
Collings D2H acoustic
Amps
Paul Reed Smith DG Custom 30
Paul Reed Smith DG Custom 50
Effects
Psionic Audio Telos buffer and boost pedal
Xotic Effects EP Booster
Ernie Ball 6180 VP JR volume pedal
Arion Stereo Chorus
Line 6 M9 Stompbox Modeler
Strymon El Capistan dTape Echo
Strings and Picks
D'Addario EXL115 medium electric sets (.011–.049)
EXP17 coated phosphor medium acoustic sets (.013–.056)
Fender 1 mm picks
How It Feels To Fly also offers Grissom's most bristling recorded guitar tones, generated by the union of his Paul Reed Smith signature model guitar and amps: a whammy-equipped DGT 6-string, and brand-new ultra-responsive DG Custom 30- and 50-watt tube barkers. Grissom's also a wiz at overdubbing acoustic and electric guitar textures in support of his voice, which carries the right blend of dust and sugar to make his lyrics ring with pleasing conviction. The album favors the copacetic communication he's achieved with keyboardist Stefano Intelisano, bassist Scott Nelson, and drummer Bryan Austin.
When we spoke, Grissom was suffering from a minor bout with pneumonia, but his spirits were high thanks to the impending March 20 start of his first major European tour under his own banner.
How It Feels To Fly is quite eclectic. What was your game plan going into the album?
I didn't have a game plan, other than to start writing songs and see where they'd lead me. I'm really adamant about not making the same record twice. If I just start writing songs, the picture will emerge. It became apparent that I wasn't writing a lot of instrumentals. My drummer asked a soundman at the Saxon to record one of our shows. Those performances really captured the band identity, so I felt they were a good way to balance out the studio tracks for those people that want to hear a lot of guitar playing. I love making records with other artists, but what gives me the most satisfaction is working on my own projects, and having this band together for the past couple years has so much to do with that. It seems like a long time since Way Down Deep, but so many things vie for your time—especially when you're a one-man record company and you're playing gigs and sessions.
You've toured and recorded with so many great artists. What was the most challenging or interesting gig?
The most pivotal one was playing with Joe Ely for six years when I got to Austin. He gave me freedom to step out and do my thing. He's such a true artist with an amazing amount of integrity. I worked with Mellencamp after that. The key thing for me about working with him was watching how he arranged these folk songs into great sounding records in the studio. Then Storyville—I learned a lot playing sold-out arena shows and national TV. After I got the call to go out and play with the Allman Brothers to fill in for Dickey Betts, a lightbulb went on, and I remembered why I do this. I left John right after that—going from a private jet and having my laundry done to jumping in the van and driving across the country slugging it out. But I got a chance to hone my songwriting skills, so I wouldn't trade that for anything.
What is your songwriting process like?
I have musical ideas for days on end. That is like breathing. The challenge is writing lyrics about something I care about. A song means so much more if it resonates through my experience. I had a publishing deal in Nashville for years and co-wrote hundreds of songs. Some were cut by big artists, but I would have put only a handful on my own records. It was an invaluable education.
Writing songs is similar to how I've developed my guitar style. I just sit and play. The techniques that make me recognizable all come naturally from that. I might write a hundred pages of nonsense, but the 101st page is an entire song fleshed out. I spent a week trying to write "How It Feels to Fly" and threw away 100 pages—and then 70 percent of that song came in 15 minutes.