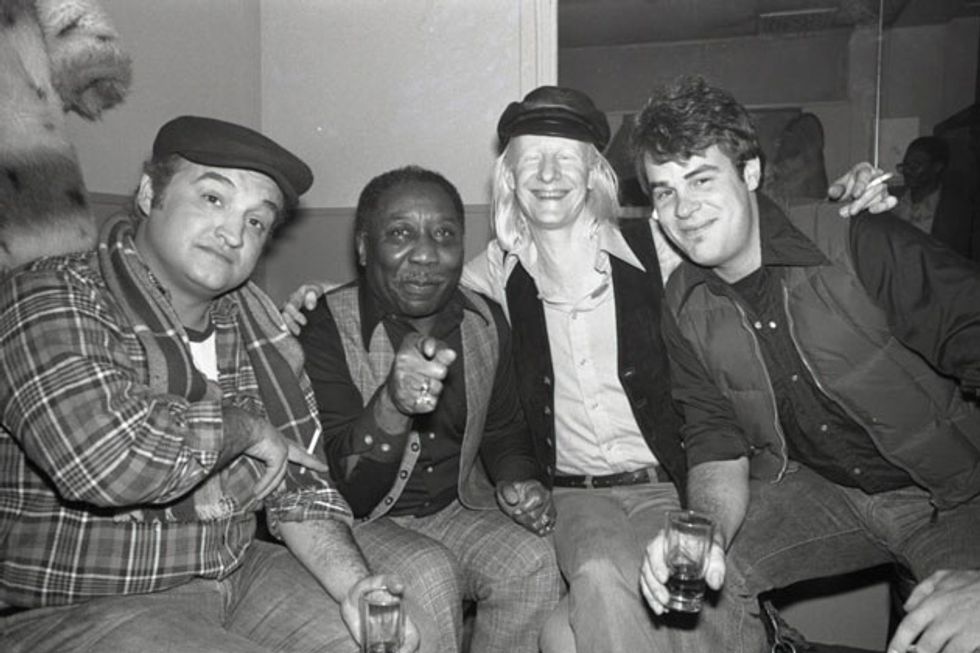 Johnny Winter's favorite blues musician of all time is Muddy Waters. Winter and Waters, friends and longtime collaborators, are pictured here with Blue Brothers John Belushi and Dan Aykroyd.
Sun Records chieftain Sam Phillips described the voice of his pre-Elvis discovery Howlin' Wolf as a sound from "where the soul of man never dies." For young John Dawson Winter III, the blend of gravel, whiskey, mud, and madness in Wolf's singing unearthed a well he still draws from 60 years later.
"'Somebody Walking in My Home' by Howlin' Wolf is the first blues song I remember hearing," Johnny Winter recalls. "I was in my bedroom listening to the transistor radio, and right from the beginning I knew blues was it for me. It had so much feeling. I just loved it. And I could really relate to the black experience. Most people in Texas didn't like black people because they were too dark, and they didn't like me because I was too white. I got that even when I was 12 and started playing guitar. By then I knew blues was what I wanted to play, and I still come at it from an emotional perspective—not technical."
"Most people in Texas didn't like black people because they were too dark, and they didn't like me because I was too white."

Nonetheless, it was the conflagrant intensity of Winter's two-fingered picking, the bared-fang snarl of his tone, and the mix of sand and kerosene in his own voice that skyrocketed him from the Texas psychedelic club scene into the international music spotlight less than a year after he recorded his debut, The Progressive Blues Experiment, on the stage of Austin's Vulcan Gas Company in 1968. By the end of 1969 he'd released his major-label debut, Johnny Winter, and the follow-up, Second Winter, and played Woodstock, laying out blueprints for the future of American blues-rock and even Southern rock.
Although Winter is currently enjoying a surprising late-career renaissance thanks to his recharged stage presence, a documentary film, and a spate of releases, it's the images of him from 1969 to 1974 that are burned into the retina of rock history: rail thin and wrapped like a spider around the 1963 Gibson Firebird that still accompanies him onstage, wraith-like thanks to his albinism and long hair, literally attacking the strings.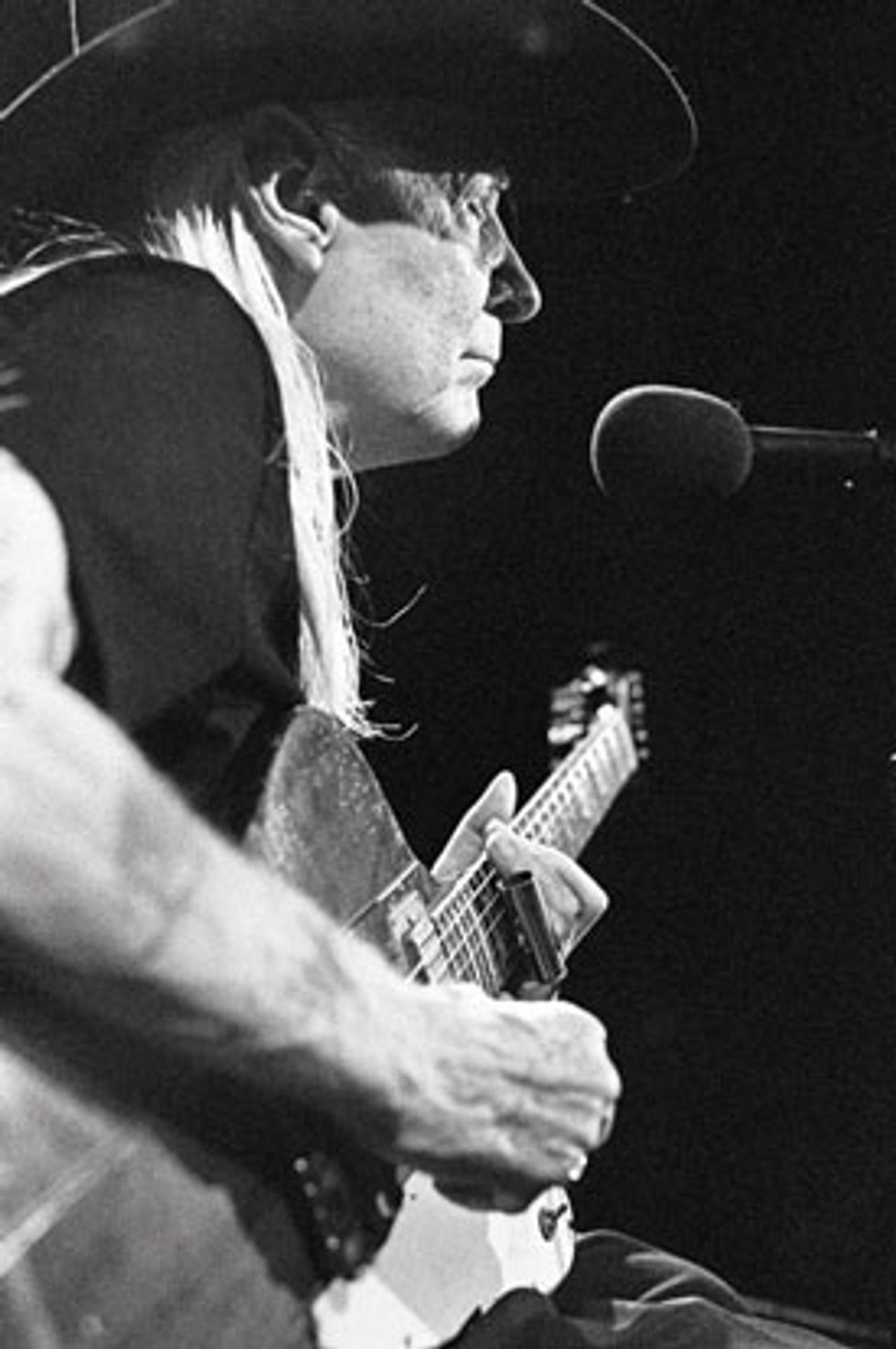 "I use a Dunlop slide that's snug on my finger, so I can fret with the slide and move faster and more exactly," says Winter. He favors open D and G tunings, and sometimes A. "It all depends on where
my voice is," he says.
Winter's star continued to rise during those years, after Columbia Records persuaded him to form a new band with co-guitarist Rick Derringer that cut the influential Johnny Winter And and Still Alive and Well sets. Those albums along with the Allman Brothers first titles cast the die for two-guitar blues-rock ensemble playing. Many think the four LPs Winter made with Derringer define his golden era, but Winter still complains that Derringer played too much and too loud. "All I need to play well is a good strong snare beat and other musicians who don't get in the way," he says.
Winter prefers the string of discs he made in the late 1970s with blues groundbreaker Muddy Waters and Waters' band, his own Nothin' But the Blues, and the Grammy-winning trio Hard Again, I'm Ready, and King Bee that he produced for Waters.
But something was amiss in those glory days. By the early '70s Winter had become a heroin addict. And while he was able to kick that drug, he got hooked on methadone, which, along with alcohol abuse, put Winter on a long spiral that brought him to the bottom roughly a decade ago. Sure, there were some high-notch concerts and recordings along the way, like 1984's Guitar Slinger and 1992's Hey, Where's Your Brother?—a nod to his pop-hit instrumentalist sibling Edgar Winter. But by the time Johnny met his current manager, co-guitarist, producer and, in practical terms, savior Paul Nelson in 2004, Winter seemed like a shell of himself, appearing exhausted and occasionally out of tune onstage, revived only by the spirit of the blues that seemingly inhabits his bloodstream.
"I had a good time and enjoyed drugs and drinking," he says by phone from his Connecticut home, "but I overdid it. It was great in my 20s. The older I got the worse it was for me. It took me a long time to figure out that takin' dope is not good for you." He chuckles. "Now, I feel great. Physical therapy helps, but so does not taking drugs or drinking. A lot of people I know are dead. I could have died a bunch of times. Maybe I died years ago, but God was on my side."
Perhaps that accounts for Winter's ongoing resurrection. In 2011 he broke a seven-year recording hiatus with the album Roots, revisiting some of his favorite blues classics with the help of such guests as Warren Haynes, Derek Trucks, Susan Tedeschi, Vince Gill, Edgar Winter, and others. The disc was heralded as a partial return to form.
This February the four-disc retrospective True To the Blues: The Johnny Winter Story was released. His upcoming Step Back,due in September, amps up his previous studio recording's strategy with an edgier, more rocking approach and appearances by Eric Clapton, Leslie West, and Billy Gibbons, to name a few. And the documentary Johnny Winter: Down and Dirty debuted at the South By Southwest Film Festival in March. The movie frankly chronicles both Winter's storied history and the past two years of his life, which meant that director Greg Olliver was a regular aboard the Winnebago the guitarist uses to travel to about 120 dates annually.