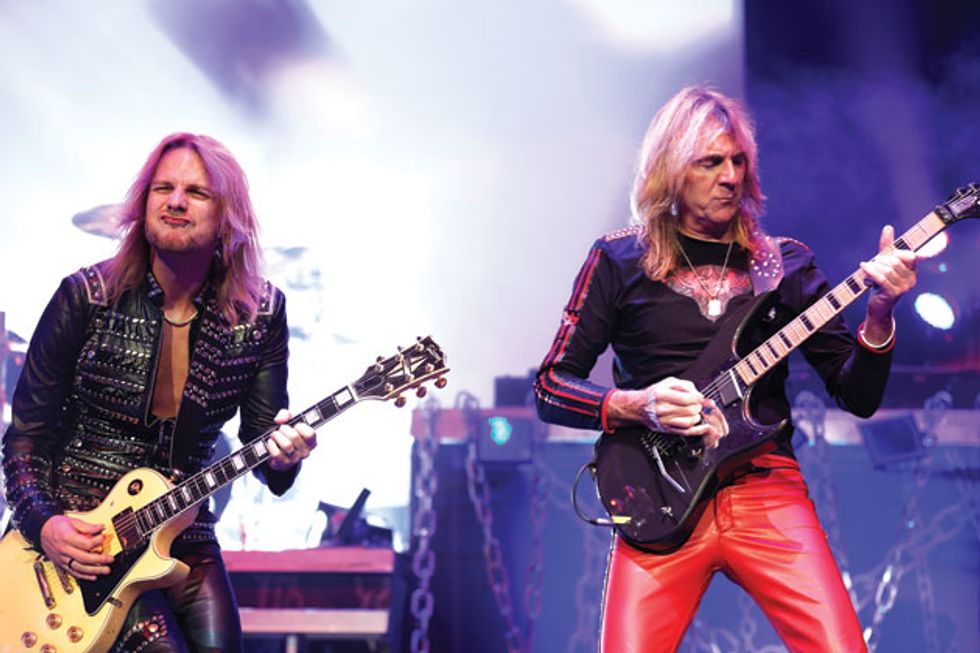 Richie Faulkner and Glenn Tipton swear by their active EMG pickups. Faulkner loads his Les Paul with an 81/85 set, while Tipton's Hamer Phantom houses a custom-wound pair. Photo by Ken Settle.
What about you, Richie?
Faulkner: I use the 81/85 combination, which was the Zakk Wylde set back in the day. I got them because he used them, and James Hetfield and all those guys were using them as well. Then I started using the 57/66 set—the 57 is in the bridge, and the 66 is in the neck.
That set is relatively new and not as common as the 81/85. What qualities does it bring out in your guitars?
Faulkner: It's based on a PAF-type sound while still retaining the active circuitry for punch and definition. I was looking for something like that, so I emailed the guys, and they sent a couple out. I didn't even try them out first—I just put them in the Flying V and went out on the road with it. It was like a baptism by fire. Onstage, they're either going to sink or swim—and they swam. It's that feel thing. You just know in three seconds, and you don't have to think about it.
How do you guys differ in what you look for in tone?
Tipton: I'm on the side with the bass, so I have to contend with the bass and drums. My sound tends to be a bit more trebly, so I can hear it and it cuts through. But that works because Richie's tone is a little bassier.
Faulkner: Definitely.
Tipton: And the two tones really work together.
Faulkner: Coming in, my sound was like a jazz or rhythm and blues tone. I grew up in a band and played that sort of sound anyway so it was in the ballpark.
YouTube It
To see and hear metal gods Judas Priest in action, check out these clips.
A live version of Judas Priest's classic anthem "Breaking the Law" from a 2012 London concert featuring new guitarist Richie Faulkner.
A full-concert video of vintage Priest rocking the massive US Festival in 1983.
Judas Priest performs "You've Got Another Thing Coming" at the 2011 High Voltage Festival in Victoria Park, London.
What about amps?
Tipton: On the album we used Engl amps and Engl cabs with Celestions. They miked up really well, and that's not always easy to do. You can get a great sound in the studio, then you go and listen to it in the guitar room, and it sounds terrible—it sounds fizzy, or distant, or too close, or you haven't got the spectrum of the sound there. We went for a live-sounding album, something with balls and a bit of true grit, and we achieved it. I use those amps onstage too, and they've worked out really well. And we tried Engl's Ironball, the little one. It's a fun little amp that sounds great.
Faulkner: In the studio we used 15-watt combos, 30-watt combos, heads with big cabs, the Ironball. They all had something unique. I've got the Powerball II, and yours is a modded Invader, isn't it?
Tipton: Yeah.
Touring and playing your hits for so many decades, how do you keep things fresh?
Tipton: People often ask, "Do you get sick of playing 'Breaking the Law?'" But when you hear the roar of the crowd, they sound just as good every single night. It's just as exciting to play.
Faulkner: Before we collaborated on the new record, I was kind of earning my stripes in the live scenario. It was like playing the best songs in the world with the best cover band ever, you know? That feeling. The fans in the front row are there, they have their hands up, they're singing with you and looking you in the eyes, and for them it's an experience. And for us it's an experience as well. When you connect to people like that, it's different every night. It never gets boring, and the passion from the fans is just overwhelming, really. Twenty or thirty thousand people in the room, all with you. That can never get boring! PG