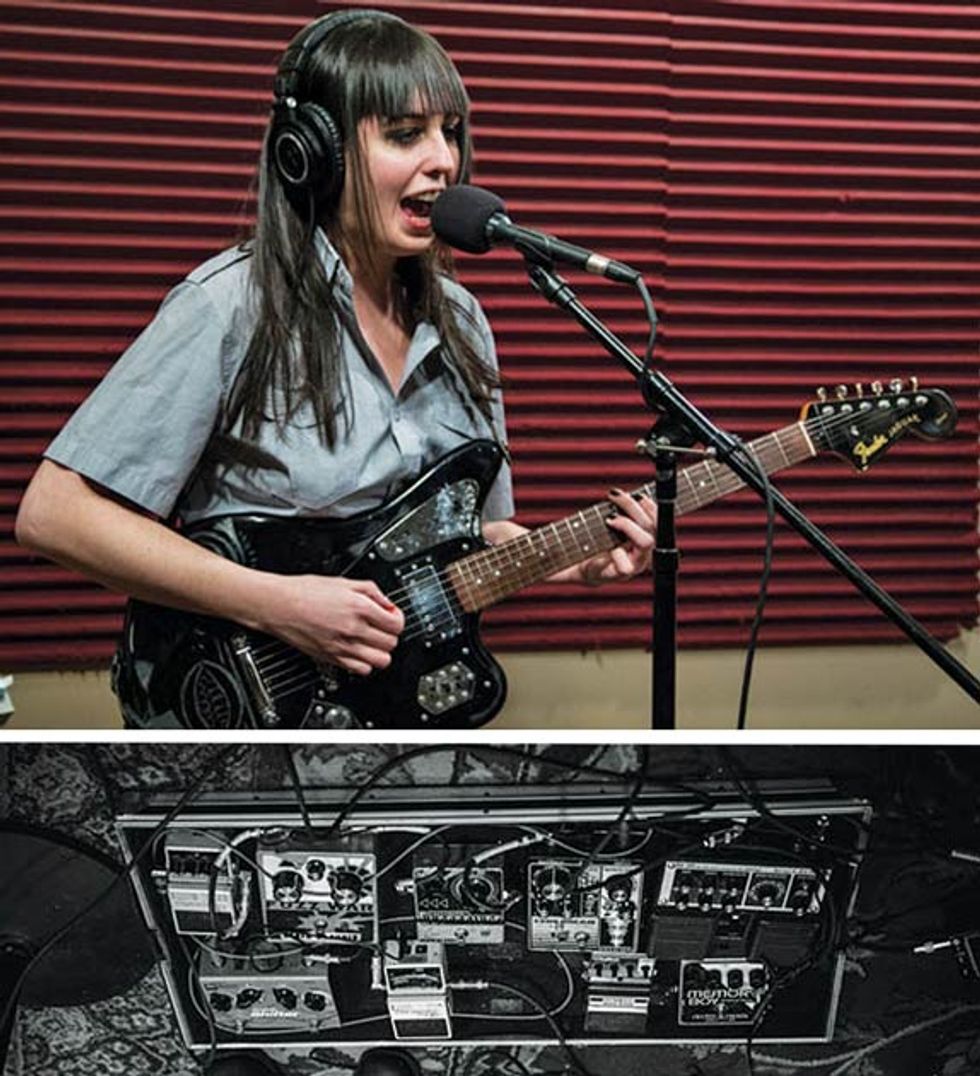 While recording Sharkmuffin's latest EP, 1097, at Audio Parlour in Brooklyn with engineer Kevin Andreas, Tarra Thiessen played a Fender Jaguar HH through her 1966 Fender Pro Reverb. Thiessen gets her noise fix from Death by Audio pedals. Photos by Jaime Schultz.
How long have you been writing songs?
I tried writing songs when I first started playing guitar in middle school, but I could never get myself to finish them. I always had really bad anxiety about finishing songs until I was about 19 and I started singing—then I started writing and finishing them. But I've had a journal since I was 11 and have always written things down, sort of as a release. I was always depressed when I wasn't writing.
Interesting that you're drawing from something as personal as a journal and then cranking it up to be loud and in your face.
There's a lot of rage—controlled rage—in it. I guess it's my ex-boyfriends pissing me off [laughs]. I'm really into storytelling. A song like "Mermaid Sex Slave" [from She-Gods of Champagne Valley]is kind of mythical and a bit jokey—just a stupid story that I made up. It's more interesting to take my actual autobiographical experiences and make those into stories and songs.
Is there an essential piece of gear in your arsenal?
I use lots of Death By Audio pedals. During college, I had this band and the bass player lived in the loft behind Death By Audio [in Brooklyn, New York], and they built all the pedals there. So that's how I first started playing with them—being in my practice space alone and playing around with the pedals. I've become friends with the guys who make them.
Do you work out parts and sounds ahead of time?
It depends on the song. On "Ten Ten," that noise thing was such a spur of the moment idea. I asked Natalie what time it was, and she just screamed "10:10!" And our drummer just did this hardcore beat. It was a joke, an in-the-moment kind of thing. We ended up turning it into something because we thought it was so funny. I also played a theremin on that—I have a bunch of guitar pedals that I don't use in my setup, so I use my theremin with them.
Other songs, like "Foul Play," are more controlled. If you see me play live, I have three different pedals that I use to control dynamics. I don't really know where that comes from. I guess for different parts I want to be louder and more in your face, as opposed to other parts where you just want to communicate your words.
Tarra Thiessen's Gear
Guitars
2009 Fender Jaguar Special HH Version
Amps
1966 Fender Pro Reverb
Effects
Death by Audio Fuzz War
Death by Audio Interstellar Overdriver
Death by Audio Echo Dream
Seymour Duncan SFX-07 Shape Shifter Tremolo
Boss DD-6 Digital Delay
Boss RE-20 Space Echo (for vocals)
Strings and Picks
Augustine Spectra Light Electric strings (.010–.046)
Dunlop Gator Grip 1.14 mm picks
How did you approach the production of 1097?
We recorded at Audio Parlour in Bushwick [Brooklyn] with Kevin Andreas, and tracked the bass and drums to 2" tape, which sounded great. I played my Fender Jaguar HH through my 1966 Fender Pro Reverb. "Quarter Machine" and "Soft Landing" were pretty basic—mainly just the Jaguar through my Death By Audio Interstellar Overdriver and the Pro Reverb. "Ten Ten" has three different guitar tracks laid over each other, where I was just sort of improvising along with two theremin tracks.
Do you play any other instruments?
I play bass and I can sort of play keyboard. I have a Bachelor's of Music degree in Music Business [from NYU]. I took four years of music theory, oral comprehension, and music history, so I know a lot of boring classical stuff—and some really interesting classical stuff, too. We also had to take recording classes and there was an option to take lessons, so I did voice lessons and guitar lessons towards the end.
Do you have a set writing or practice regimen?
I definitely try to write a song every day, or try to work out parts for songs. I have to go through a lot of crappy ideas to get to the decent ones. Last winter, I learned a lot of Van Halen solos—so I go through phases where I want to learn new licks and try different stuff because I get bored with my soloing. When I don't have a boyfriend, I always sleep next to my guitar, so it's always there.
Sharkmuffin is often compared to "riot grrl" bands. Do you think those gender labels are still relevant for rock musicians?

It seems like the only difference in being a female is that we always need to specify that we're female—that's the only problem. It's kind of annoying, because I'll never be on a "Best Guitar Players" list ... I'll be on a "Best Female Guitar Players" list. Women have been playing rock music for a long time now, so it really shouldn't have to be differentiated anymore: It's not new.