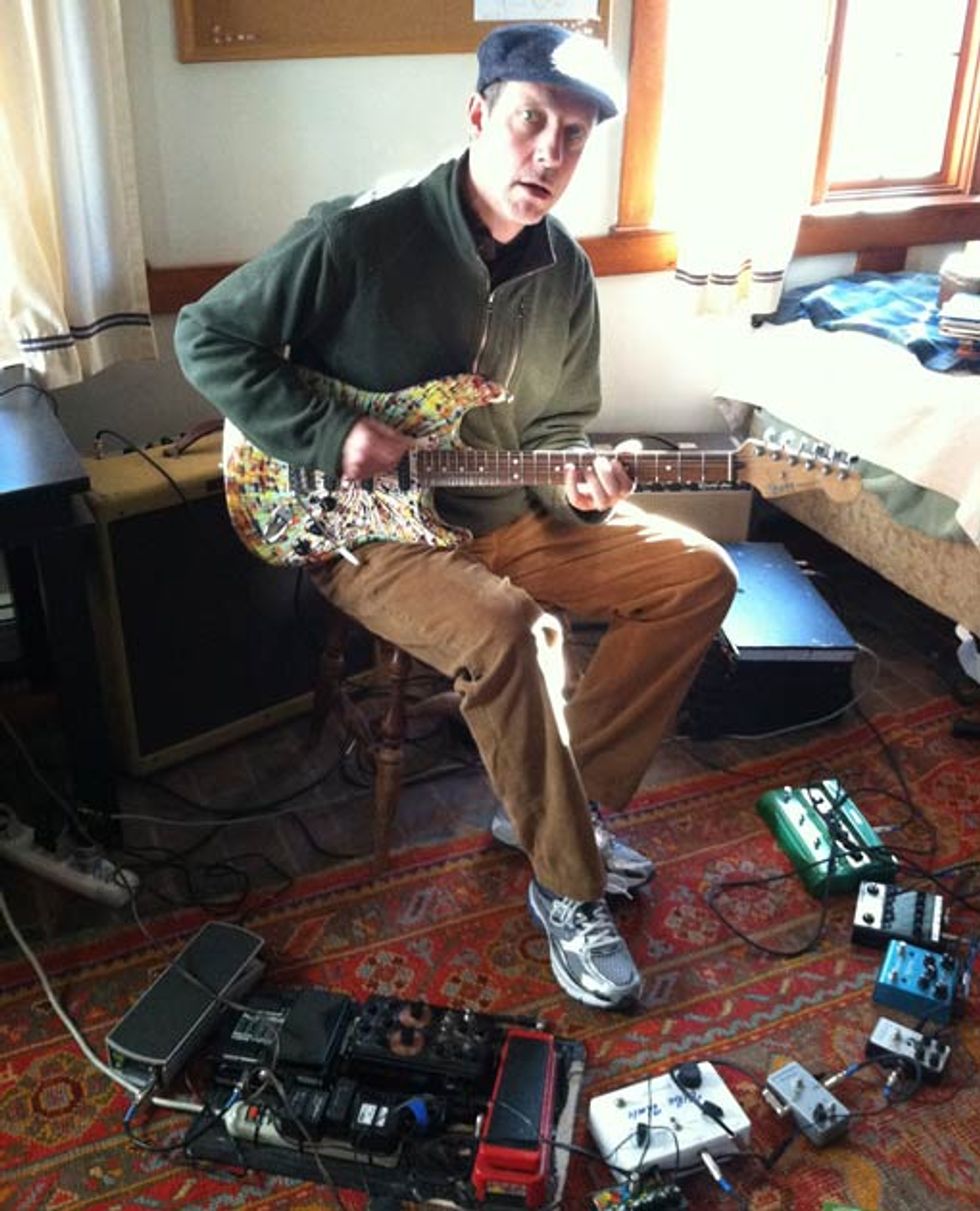 Joel Harrison's recent guitar experimenting includes playing with volume extremes,
alternating between playing really loud or really soft.
What do you love about the guitar?
The instrument is the primary vehicle for a lot of American music: country, blues, rock, all of the corollaries to those styles, all of which I love. I feel that the guitar, especially the electric, is one of the most versatile of instruments. It can be a rhythm machine or a tool for creating freaky soundscapes. It can sound like a violin or a machine. Acoustic guitars—nylon-string, steel-string, and steel—offer so many other sounds. I'm not sure if any other instrument can do so much.
And, at least for a period of time when I was coming up, it really seemed like everything good that was happening involved guitar. Even in jazz, which wasn't necessarily guitar-centric, you had players like Metheny, Frisell, and Scofield starting to push the boundaries of what the instrument could do.
Your annual Alternative Guitar Festival shows that these are also very good times for the guitar.
That's true—there are so many new and unusual approaches to guitar, largely improvisatory. The Alternative Guitar Festival is the only one of its type that I know about in this country. I'm lucky to be able to curate some of the most exciting players and use them, to, say, approach the music of Curtis Mayfield or Jimi Hendrix in all new ways.
"For a period of time when I was coming up, it really seemed like everything good that was happening involved guitar."

What was your guitar approach on Mother Stump?
Unlike most of my other records, where the guitar takes a back seat to the ensemble, I really worked on my sound, and wrote arrangements that would be a showcase for it. The project gelled for over a month: I just played melodies and variations, and tried to emulate the sound of the human voice on guitar.
How'd you go about trying to sound like the voice?
For "Suzanne" and "I Love You More than You'll Ever Know," I listened to a lot of Donny Hathaway, trying to channel the pathos he brought to the music, and really just going for all of the vocal mannerisms on the guitar. But in other instances, I thought about how Jeff Beck might approach a melody, making the simplest tune sound so dramatic. And I would also turn to one of Beck's influences, Roy Buchanan, and go after his sound a bit, too.
Speaking of Buchanan, did you play a Telecaster on the record?
Yes, as well as a handful of other guitars, each of which does something different. One of the most fun things in making this record is that I got to pull out all my gear. As a guitarist I'm often helmsman of the ship in terms of composing, but not much of a featured soloist, so this time I got to trot out a bunch of pieces and showcase them to the best effect. I divided my time between a 1960 slab-board Telecaster, a '67 ES-345, and a 1999 40th Anniversary '59 Reissue Les Paul—a monster of a guitar. Gibson has really made some beautiful reissues throughout the years.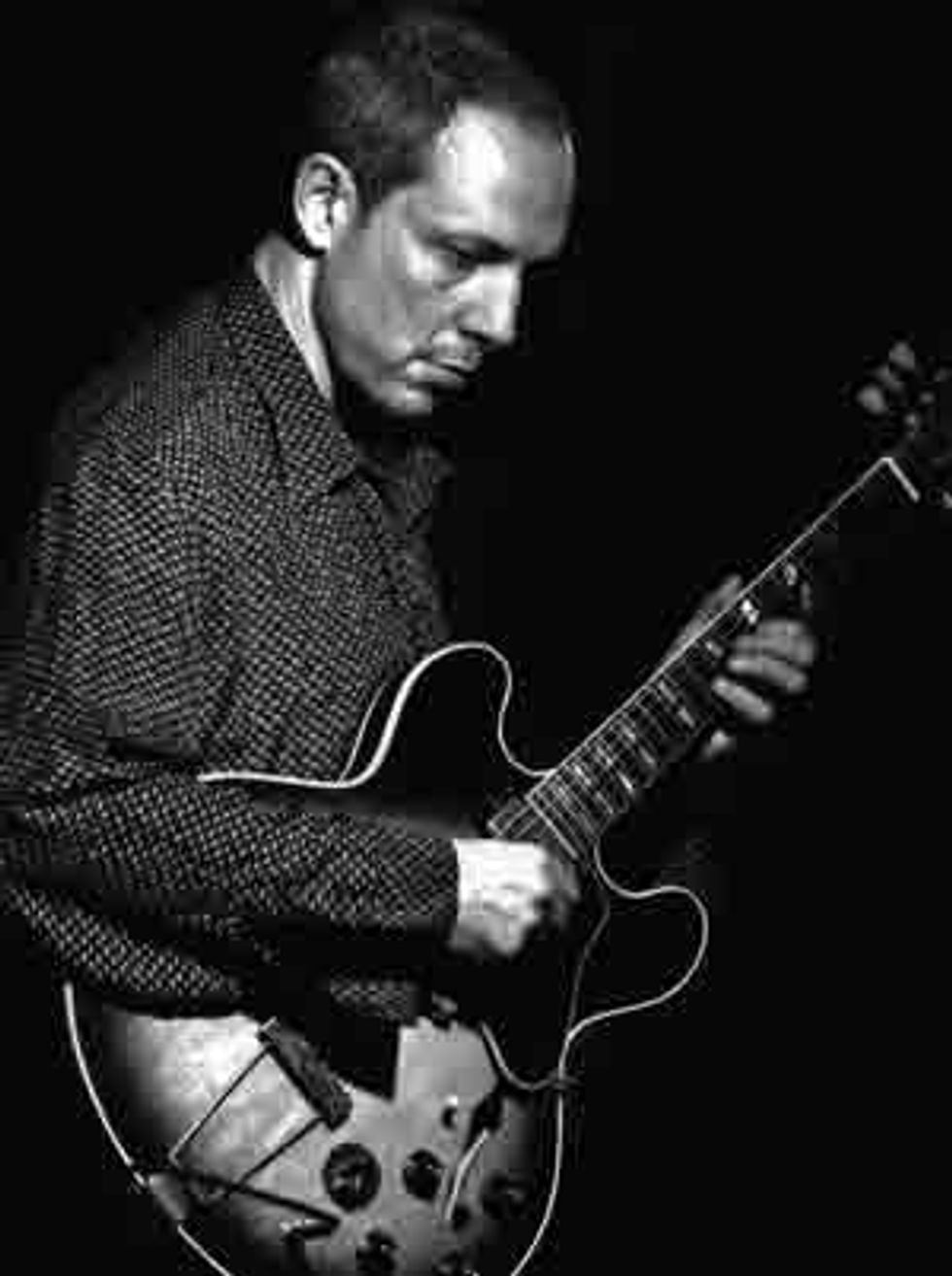 I also played some oddities I've collected over the years—cheaper guitars with idiosyncratic sounds. On "Wide River to Cross," I played slide on a 1960 Epiphone Sorrento. With the right amp settings, it's got the most beautiful sound with those mini PAFs, some of the most respected pickups of all time. On "Suzanne," I played a Jerry Jones baritone, which just sounds fantastic. And I used a 1930 National steel—a scary-beautiful-sounding guitar that was rebuilt by Flip Scipio after a previous repairman all but destroyed it—for the second version of "Folk Song for Rosie."
Which amps and effects did you use?
The Fender Super, as well as a 1957 Bassman, which is similarly wonderful. As for effects, I played through an Electro-Harmonix Holy Grail Nano Reverb and an older TC Electronic Nova System that I really love for its reverse delay, which I used on pretty much every tune. There's a Boss Super Overdrive SD-1 I've had since 1982—it keeps on working and working, and somehow sounds warmer and richer than a lot of other overdrives. I also used a Menatone Red Snapper, which I put on if I just wanted a little bluesy grit. Adding the Boss on top of that gets a roaring sound. I also used an Electro-Harmonix Ring Thing and a volume pedal—a metal Ernie Ball model.
Speaking of volume, I got into playing with extremes on the record. I've always thought that the guitar has two very good volumes: either really loud or really soft, in between being kind of a problem.
It might seem obvious, but can you explain what it's like to play with extremes of volume?
Volume gets abused in general in our society, so you've got to do it properly. Amazing things happen in the sound loop when it's really loud—if you have the right gear and know a little about how to control the sound. All these overtones start flowing around, you get all of these really interesting artifacts. Sustain allows you to conjure up the sound of the human voice crying or wailing.
When you're playing soft, it's like playing a whole different instrument. You have to use another bag of tricks and be very attuned to nuances. Listen to Jim Hall, with his delicacy of touch and his chord voicings. You just want to lean in and hear more, just as you do with steel-string players like Doc Watson and nylon-string players like Julian Bream.
How did the session go?

It was really simple and informal. I'd never even rehearsed with Glenn Patscha, the keyboard player on the record. We just went into Tedesco Studios, a pretty small space in New Jersey, and blasted through some tunes. I've often spent so much time preparing for an exhausting session that it was a welcome change just to let people cut loose and be themselves. We basically did the whole thing in six hours. That might seem like very little—bands can take so many months to make a record. But you've got to remember it took four hours to make many of the classic jazz albums—some of the best music ever recorded.