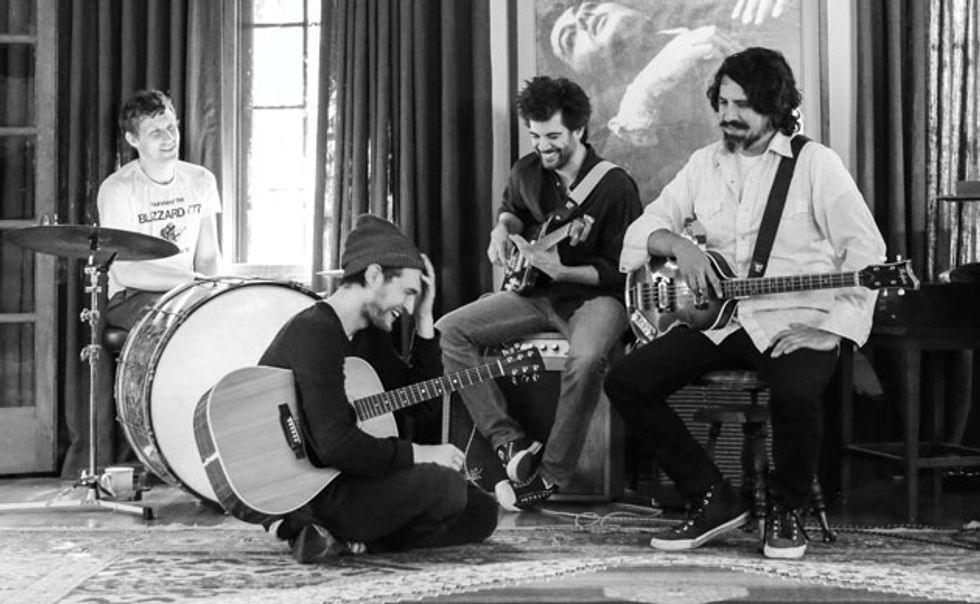 What do you do in your downtime when you play guitar in one of the most popular and influential bands of the last 30 years—a band that fills stadiums and plays the friggin' Super Bowl? If you're Josh Klinghoffer—pal of the Red Hot Chili Peppers since the late '90s, touring member since 2007, and full-timer since 2009—you form another band so you can exorcise your prog-y shoegaze demons, of course.
Only in his Dot Hacker quartet, Klinghoffer doesn't have to worry about comparisons to Strat-master John Frusciante. On 2012's Inhibition and this year's two Hacker LPs, How's Your Process (Work) and How's Your Process (Play), he's not just the guitar guy: He takes center stage as bandleader, singer, guitarist, and synth player.
Not that the 34-year-old L.A. native spends much time thinking about the big shoes he filled in the Peppers. He's a close friend and frequent collaborator with the 6-string genius behind RHCP hits like "Under the Bridge," the Grammy-winning "Give It Away," and "The Zephyr Song." And, in general, one of Klinghoffer's key strengths seems to be his mature ability to chill with musicians from across the creative spectrum—often musicians many years his senior.
In fact, this is a recurring theme in Klinghoffer's musical story. The bonds he forges with players he falls in with through luck, fate, or brains, all seem to lead to something bigger, better, or at least refreshingly different. His path to the Peppers wouldn't have materialized had it not been for the friendship he struck with Bob Forrest (frontman for cult post-punk outfit Thelonious Monster) when he was recruited to Forrest's Bicycle Thief project at the age of 17. Forrest, in turn, happened to be tight with Frusciante, Flea, and Chili singer Anthony Kiedis, so being in that circle eventually paved the way to taking over when Frusciante departed to resume his solo career.
Josh Klinghoffer's Gear
Guitars
Circa-'64/'65 Fender Jazzmaster
Circa-'61 Harmony prototype
Fender rosewood Telecaster
'60s Yamaha 12-string acoustic
Martin D-12
'40s Martin mahogany acoustic
Amps
1960s Danelectro DS-100
Late-'50s Fender Super
Watkins Dominator
Watkins Scout
1960s Marshall Super Lead 100 with matching 4x15 cab
Effects
Ibanez TS808 Tube Screamer
Univox Super-Fuzz
ZVEX Fuzz Factory units
Electro-Harmonix Big Muffs
Boss CE-2 Chorus
Boss VB-2 Vibrato
Boss DM-2 Analog Delay
Strings and Picks
D'Addario .010 and 011 electric sets
D'Addario light and medium acoustic sets
Dunlop .60 mm Tortex picks
But Klinghoffer's abilities and amiabilities led him onward even after he'd landed that coveted gig. In 2006, between Chili engagements, he went on the road with yet more friends—Danger Mouse and CeeLo Green from neo-soul outfit Gnarls Barkley. Just for fun. That's where he met guitarist Clint Walsh and the seeds of Dot Hacker were sown.
"We became friends pretty instantly," Klinghoffer says. Walsh adds, "The next thing I knew, we were moving forward with our plans: Josh introduced me to Jonathan [Hischke], our bass player, and I introduced him to Eric [Gardner,
also from a Gnarls Barkley touring lineup]. We had a space, we were writing songs, and it just went really smoothly. Everything felt right about it."
A cynic might look at all these connections and call it simple networking, but Dot Hacker seems like more than just a band: The four mates are so close they've instituted a daily song-sharing regimen to draw closer and understand each other better. The day of our interview, Gardner had suggested Ornette Coleman's "Humpty Dumpty," featuring late bass great Charlie Haden. "We sent texts around saying, 'Let's learn that and play it tomorrow,'" says Klinghoffer. "The way Clint and I turned up having learned it was totally different—he could play it far better than I could."
It goes without saying that Klinghoffer's musical interests are all over the map: He plays in the punk-funkiest band on the planet, yet when asked about formative influences he mentions Depeche Mode and Morrissey in the same breath as Guns N' Roses, Mötley Crüe, and, yes, the Peppers. And then there's the Dot Hacker sound itself: Falsetto lithium-dream vocals float over soundscapes smeared in manically droning vintage guitars, amps, and synthesizers, each awash in reverb, echo, and tremolo, and each ricocheting off the others one minute, then slithering around and through them the next—all in a way that's somehow loose, organic, and unpredictable, yet prevented from disintegrating into ambient oblivion by the confines of Hischke and Gardner's hypnotically pulsating and remarkably dynamic rhythm section.
To get insight into the "process" behind Klinghoffer and Walsh's work and play—as well as their toys/tools—we spoke to them just after the midsummer release of How's Your Process (Work), which preceded the (Play) album by three months.
Josh, you've been kicking around the phrase "How's your process?" for quite some time—there are YouTube videos from more than a year ago where you're wearing a t-shirt that says it. What's the story there?
Josh Klinghoffer: I heard someone say it one time. Just out of the corner of my ear, I heard someone ask that question, and I thought it was the most amazing thing I'd ever heard. There were all sorts of things going on in that room that made it a 50-sided question. I love things that have multiple meanings—or could have multiple meanings—and make you look at a thing in a thousand different ways. That name really applies to this band—asking ourselves how our process is and thinking about how we work and want to continue to work. I was so compelled by it when I heard it that I made that shirt and wore it around on the tour. I'm always asking myself if I could be doing what I'm doing better, or whether the term "better" is bullshit. Like, if you're doing it at all, it might be as good as you could be doing it at the moment. I don't know … you're just always looking at yourself and wondering if you're doing everything you're doing as well as you can be doing it for yourself, other people, your bandmates, your family, or your friends. I just think it's a good question to ask yourself all the time.