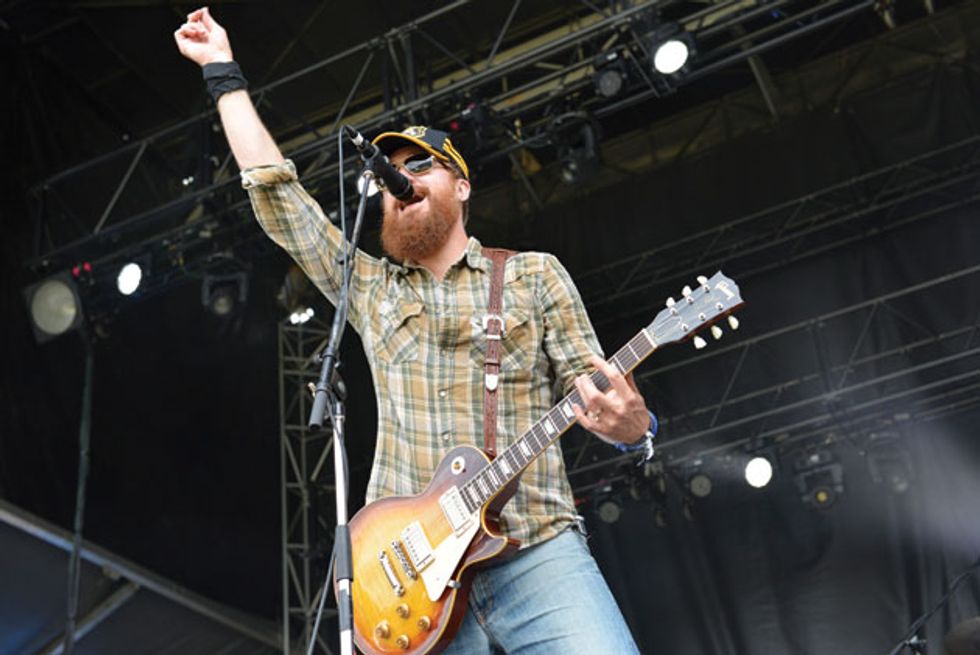 Photo by Rob Porter.
Darren Glover may be the luckiest guitarist currently stalking the dream of rock supremacy. Propelled by Glover's cutthroat approach to blues-rock guitar, his band, Flash Lightnin', was seemingly hand-delivered by the music industry from humble beginnings playing boogie-rock covers at a Toronto dive bar. The band has graduated to opening for major acts touring the Great White North, including ZZ Top, whose songs the group used to cover. Flash Lightnin' has released a pair of albums, including the recent For the Sinners, which was written in the rarefied air of Rancho De La Luna, the Joshua Tree, California, recording studio that spawned some of the best rock albums of the past 20 years.
A consummate student of anything great bled from the combination of a 'burst and a Marshall, Glover has successfully melded vintage tradition and modern style. While the band has yet to break stateside, Glover may well be your next favorite player.
"The P-90 is a flamethrower of tone. It's just the devil! It's like a PAF on steroids that's grabbing the entire signal and cramming it down the cable into the amp."

How did Flash Lightnin' come to be?
We were essentially born out of a bar up in Toronto. We formed because I wanted to play old ZZ Top, Fleetwood Mac, and Humble Pie. It started as a weekly gig, and it wasn't long before the place was full of people into what we did. The funny thing is, not a lot of people knew that we were actually playing ZZ Top covers. They thought we wrote the music, which was kind of awesome. The business gravitated towards us, and we eventually made an EP of originals and hit the road. But we never set out to do that. We just wanted a place to go once a week to drink tequila and play boogie music.
Anything can happen in this industry.
True! Really, you gotta play what you love—that's what it comes down to. Whatever you want the guitar to do, you just have to do a lot of it and not stop. Obviously, we didn't totally stick with the original idea of "let's just play boogie music," but it's a massive part of our sound. We've written so many genres and styles into our music, but still, the format always seems to stay rooted in that boogie-rock lineage.
Darren Glover's Gear
Guitars
Custom 1959 Les Paul Standard replica (live) Bartlett Retrospec (live)
1955 Les Paul Jr. (studio)
Amps
Vintage Bernie 20-watt combo
Tex Amps Bernie reproduction
Effects
None (live)
Strings and Picks
Dunlop Reverend Willy's Mexican Lottery (.07–.038)
You wrote a lot of the new album at Rancho
De La Luna.
We toured with the Eagles of Death Metal across Canada. On the first day, Dave Catching heard our soundcheck and showed up in our dressing room to introduce himself. We had all vintage gear: my '70 100-watt Marshall and my Les Paul, old Ludwigs, and an old P-bass—the classic setup. He was like "Holy shit! What are you guys playing?" We became friends, reinforced by our mutual love of ZZ Top. At the end of the tour he was like, "Come down to Rancho De La Luna and record any time you want!"
What is it about that place that people find so inspirational?
It feels like you're in an apocalyptic movie at the end of civilization, and you're on the outskirts—it looks like you're on the moon! The way those guys on the compound live and the what they do there is just so undeniably badass! You walk along the grounds and you're like, "I've seen that in a photo. I know that truck from a video. I've seen this guitar on an album." You just already know the history of the place from Queens [of the Stone Age], Kyuss, Earthlings, and Dave's work. The experience changed me as a musician. It left me with my tail between my legs. I realized how many more possibilities there are and how much you really have to tread new ground. I went there with so much of the past on my sleeve, and I left there understanding that you have to be yourself. You have to find your own thing, which is very difficult, especially when you're so wrapped up in vintage albums and stories and the lineage of rock 'n' roll. Dave really woke me up to different guitar sounds. As soon as you work with Dave, you see where all of those sounds come from and why all of those records sound so incredible.