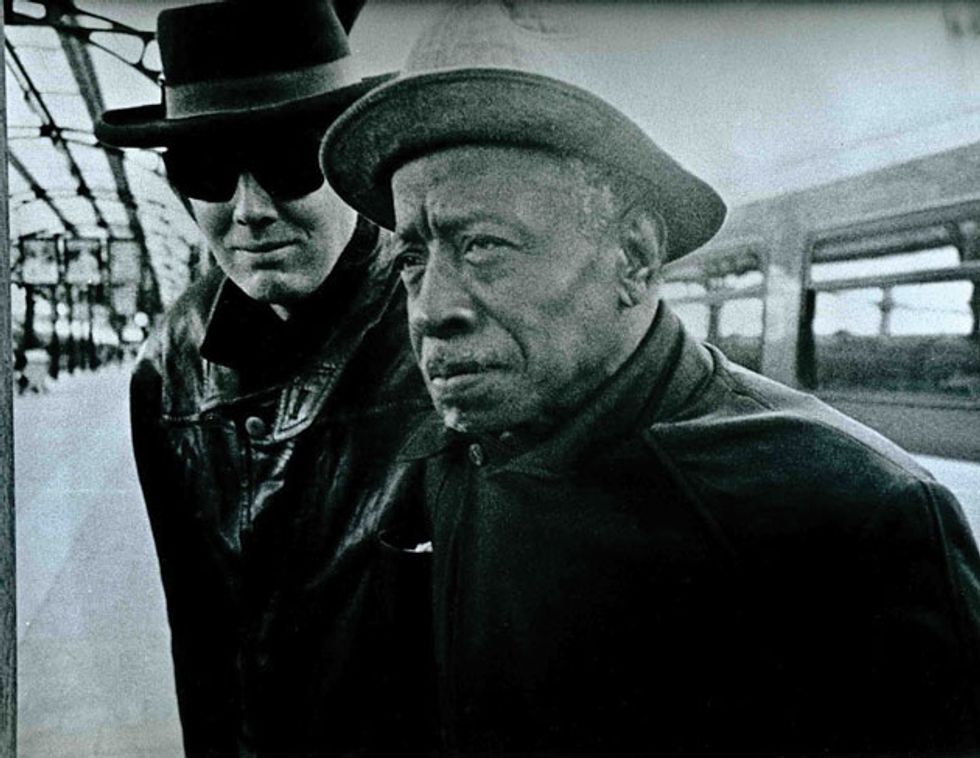 Music Maker Relief Foundation founder Tim Duffy (left) with Guitar Gabriel in Utrecht, Holland, 1991. Photo by Kevin Hoppe.
Guitar Gabriel was buried with his guitar in a specially built coffin, large enough to contain the man and his Yamaha acoustic, in Evergreen Cemetery in April 1996. Tim Duffy, who was Gabe's friend and champion for the last five years of his life, did not let the things he learned from the eclectic blues and gospel guitarist die with him. Instead, Duffy wanted to elevate Gabe's profile from the underground juke joints they call drink houses around Winston-Salem, North Carolina, to the stage in Carnegie Hall.
Through the Music Maker Relief Foundation he established, Duffy has continued to champion the aging and, in a few cases, emerging performers of great American traditional music. For Duffy, that's an inclusive term that extends from Carolina Sea Island spirituals to Appalachian miners' ballads to gutbucket blues to psychedelic rock.
This year Music Maker is celebrating its 20th anniversary with a gorgeous book of photos called We Are the Music Makers! by Duffy and his wife, Denise, that literally puts a close-up lens on many of the 300-plus artists the organization has helped. There's also a 44-song, double-CD set of the same title, compiled by Dom Flemons of Grammy-winning roots revivalists the Carolina Chocolate Drops. This release offers a scope-spanning earful of the Music Maker album catalog, which is an amazing 166 titles deep and growing.
"Gabe used to say, 'I play so much guitar it'll make your ass hurt'."
—Tim Duffy

A book tour with accompanying Music Maker performers, a museum show that debuted at the New York Public Library, and live revue performances featuring Music Maker artists at Lincoln Center and in a Homecoming Weekend in Carrboro, North Carolina—12 miles from the 501(c)(3) non-profit's Hillsborough offices—are all designed to create a buzz for the organization, which is itself a testament to both the diversity and endurance of American roots music and Duffy's unflappable faith in his mission.
Keeping that faith alive is challenging. After the financial crisis of 2008, Duffy had to let his staff go, leaving himself and Denise, Music Maker's co-founders, once again at the helm. Now he's regrown the office to seven staffers and holding.
"Raising money is hard," he says. "There's very little money available through grants, which are difficult to get. We're on our third NEA (National Endowment for the Arts) grant. A changing cast of major donors has helped us keep going, but more important are the guys and gals who give $20 to $500. And with the demise of Tower Records and CD sales in general, it's getting harder and harder to reach them. The music we put out is not commercially viable. If we sell 10 copies of certain artists, it's incredible! How do you attract investors that way? This is not a viable business model."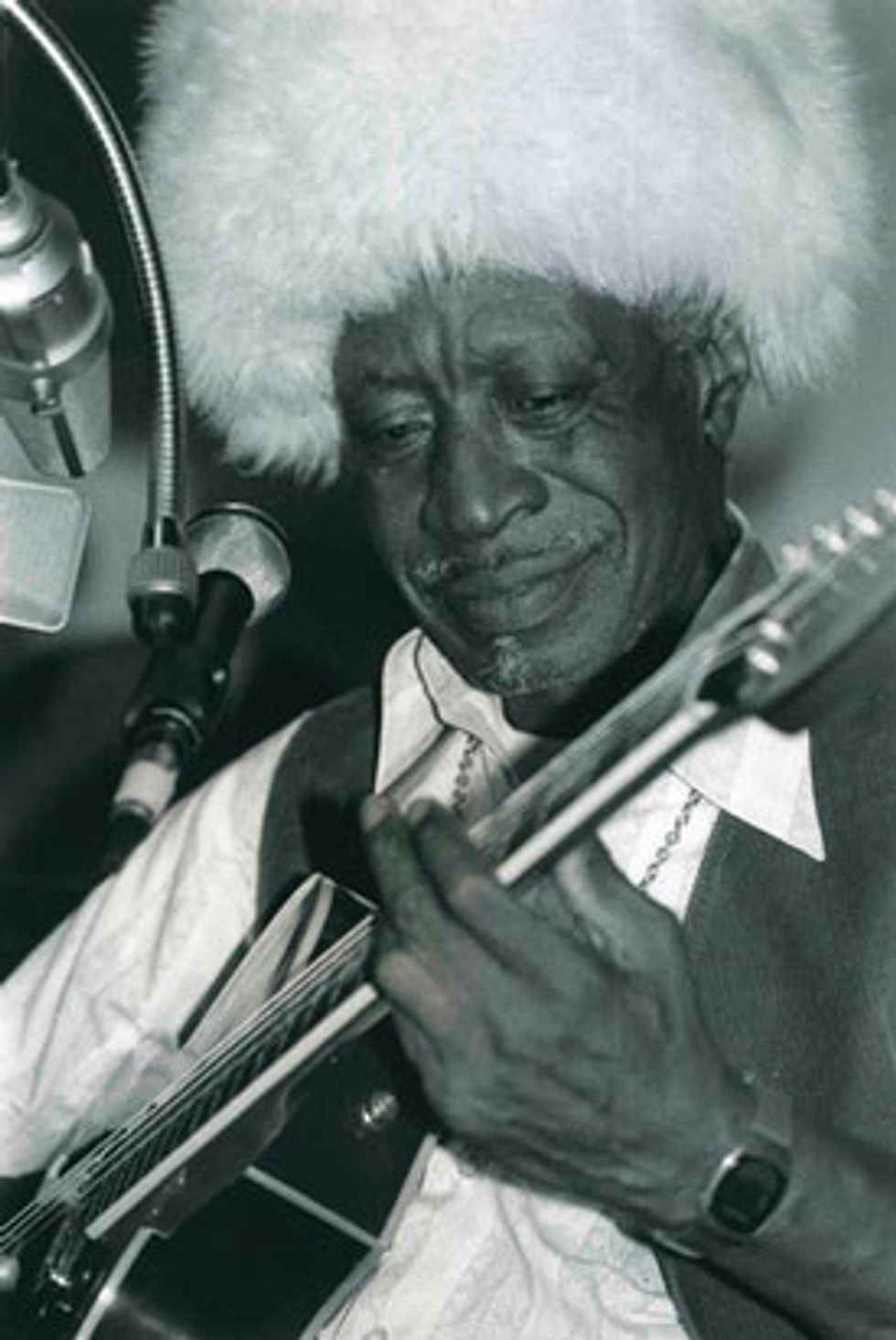 Guitar Gabriel performing with his signature sheepskin hat that was a souvenir of his days in medicine shows. Photo by Tim Duffy.
Nonetheless, the Music Maker Relief Foundation has persevered in its mission, which often includes helping older artists—typically at least in their mid 60s and frequently in their 80s and beyond—with food, medical, utility, and housing costs. The organization also provides them with instruments and, most visibly, produces albums that are designed to springboard them back to work as musicians.
"Our collaborators don't want a handout; they want a hand up," Duffy explains. "They want to spend the rest of their lives making music."
Duffy's life in traditional music began when he was 16 and "running around with a tape recorder, a camera, and a guitar learning mostly from old master musicians in North Carolina." In college, he moved to Mombasa, Kenya, to study the indigenous music. While there, he also learned about the hope-killing power of poverty, which was in abundance.
After he returned to North Carolina to study folklore at UNC Chapel Hill, he met James "Guitar Slim" Stephens and learned to play blues at his side. Slim also introduced him to his friend Guitar Gabriel, an extremely capable and colorful character who performed Piedmont, Chicago, and Texas blues and gospel, often while wearing a white, fuzzy sheepskin hat that was a souvenir of his days in medicine shows. Gabriel, whose given name was Robert Lewis Jones, called his music "toot blues" and cut four excellent albums for the Music Maker imprint before he died.
"Gabe used to say, 'I play so much guitar it'll make your ass hurt,'" Duffy recounts. "He played in so many different styles and understood the idea that folk music is inclusive. If you feel it—have the heart for it—and can make your audience feel it, it doesn't matter how you play. It's going to be great and people will have a good time.
"Gabe was like a modern-day Lightnin' Hopkins," he continues. "He was a great philosopher and, since my father had died, a father figure to me. As he introduced me to the world of drink houses around Winston-Salem, I started to be his driver and backing guitarist. We busked at the bus station. We busked everywhere. One day we just took off for a gig in Pittsburgh with $5 in our pockets. We busked and made it all the way there and back. Gabe taught me a lot about road life.
"He wanted to work more, so I got the idea to book him into bars. We made a cassette recording, and with that I got him a gig at an international festival and then we went on to Lincoln Center and Carnegie Hall."
Thus a major part of the Music Maker modus operandi was born. "In the folklore business, there are a lot of field recordings where the folklorist makes a tape and goes away, and the tape never surfaces again," Duffy explains. "I wanted to start a model where we had a longer relationship with each artist and try to do social justice by changing the lives of one artist at a time."