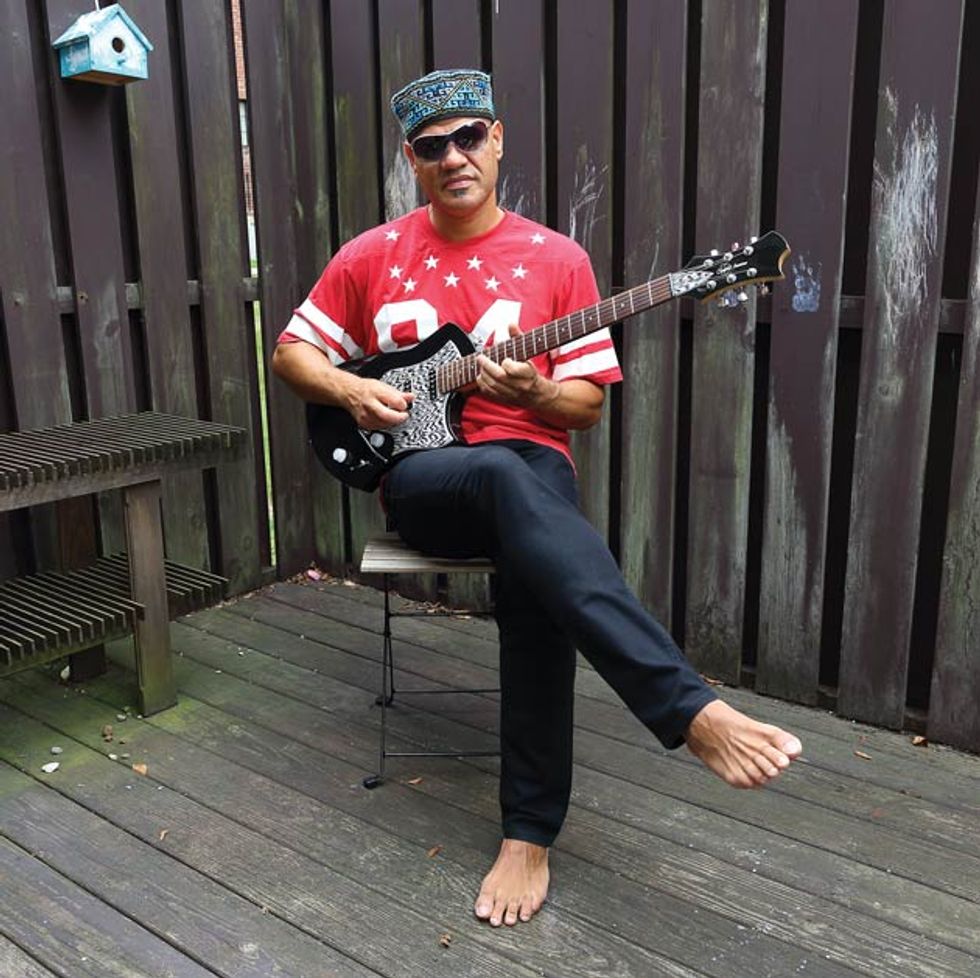 Fuze shows off his Campbell American Transitone in his backyard while at home in Boston. Photo by Rich Gastwirt.
Twenty years ago, David Fiuczynski was at a level most people only dream of attaining. He boasted blistering speed, superior funk chops, advanced chord knowledge, and a fluency in multiple idioms and styles. His 1994 album Lunar Crush—which he co-led with John Medeski of Medeski Martin & Wood—is what first made jazz fans and guitarists sit up and take notice. Even more paid attention when his band, the Screaming Headless Torsos, began recording, touring, and performing in and around New York.
Besides focusing on his sophisticated-yet-visceral approach, the attention garnered by Fiuczynski (aka "Fuze") over the years has often centered on his incorporation of non-Western tonalities in genres with a Western foundation. And much of thathas to do with his gear. For a period he was an unapologetic abuser of his guitar's vibrato bridges. And when the world music he studied in college inspired him to really dive in and experiment with microtones—the notes between notes of typical 12-notes-per-octave Western music like rock and blues—things changed even more. A 1992 gig in Morocco further opened his eyes—Fiuczynski realized some notes sounded better when you played them out of tune on purpose. He then experimented with fretless and quarter-tone guitars (instruments with frets added betweenthe frets), and transcribed indigenous music using tuning systems germane to those cultures.
In 2006, Fiuczynski returned to his alma mater, the New England Conservatory, to earn his masters degree and study the music of Turkey, India, and China, as well as an entire system of microtonal composition. Five years later, he was named a Guggenheim Fellow, and his commissioned composition drew on influences as disparate as French composer Olivier Messiaen and hip-hop producer J Dilla (A Tribe Called Quest, De La Soul, the Roots).
"I was a jazz snob at first, at 13 or 14. But luckily—unlike other people—I outgrew that by the time I was 15."

In 2012, he launched Planet Micro Jam, an institute that explores use of microtones in jazz, ethnic folk, and other contexts. And this year, the latest incarnation of the Torsos also released a new album, Code Red.
That only tells a fraction of Fuze's story, though. Because many of the world's greatest musicians want a measure of what Fiuczynski has to offer, his resume includes albums and tours with the likes of legendary jazz drummer Jack DeJohnette, founding Parliament-Funkadelic keyboardist Bernie Worrell, Meshell Ndegeocello, Stewart Copeland, Ronald Shannon Jackson, and many others. To date, he is credited on almost 100 albums—andhe's a full-time professor at the Berklee College of Music.
Premier Guitar recently spoke to Fiuczynski about everything from punk rock to odd time signatures, the Lydian Chromatic Concept, microtones, and his ripping work on the Torsos' latest effort.
Considering how heady so much of your work is, it's interesting to note that, in the early Torsos days, you were interested in punk rock and Nina Hagen.
Yeah, the earliest days—the first demo I did was in 1984. I was a big Nina Hagen fan and a big Bad Brains fan. Bad Brains, to me, were one of the most happening hardcore bands ever. But they also did some reggae stuff. I've been to reggae festivals where everyone is chill—you just inhale and you're chill—but I've never seen a band completely mess people up: Bad Brains played three tunes and then a roots-reggae tune. The mosh pit was like a sea—a brotherhood sea—and then they played more hardcore and it was up and down, up and down.
David Fiuczynski's Gear
Guitars
Custom Campbell American FuZix doubleneck
Campbell American Precix modified quarter-tone guitar
Campbell American UK-1
Campbell American Transitone

Amps
Fryette Pittbull Ultra-Lead head
Carvin VL100 Legacy head
Two Carvin 1x12 cabs with Celestion Greenbacks
Effects
Ernie Ball Volume Pedal
Seymour Duncan Twin Tube Classic
Seymour Duncan Pickup Booster
Boss DD-6 Digital Delay
Vox ToneLab multi-effector
Strings and Picks
Ernie Ball custom-gauge strings (.011, .015, .018, .028, .038, .050)
Heavy teardrop-shaped picks
I saw ['70s San Francisco punk outfit] Flipper live, too. That was my first punk show. I was nervous, as an African American—there was something of a skinhead scene—but I went. I showed up and the bass player was wearing leather cutoff gloves and he had three distortion boxes in a row. I saw the LED lights—they were all on, and he was tuning—BANG BANG BANG—and I thought, "Oh no." But then the show started and it was such a great experience.
The first Torsos was punk rock/reggae with an opera singer. I've got some recordings lying around. I talked with the former drummer [Al Pahanish, also formerly of Powerman 5000], and we have to find some funds to bake the tapes.
Code Red's title track has a metal edge to it. Were you into metal as well?
I was a jazz snob at first, at 13 or 14. But luckily—unlike other people—I outgrew that by the time I was 15 [laughs]. I got into the Mahavishnu Orchestra, but then I wanted harder stuff. I got into Van Halen—that was in the late '70s, early '80s—and then I got into punk. Punk and free jazz. That was my progression.
Meanwhile, "Wizard of Woo" has a real funk feel….
Yeah, I played with Bernie [Worrell] for a year in the mid '90s.
You once said Bernie was one of the greatest musicians you ever worked with.
I've worked with some very happening people. I would obviously include Jack DeJohnette now that I have played with him. But Bernie, his pocket is just so unbelievable. I don't know if I used those words—that he was "one of the greatest musicians I ever worked with"—but I mentioned an experience: I was on a gig and Bernie took a clavinet solo and it was so funky. I mean, he just ruined the audience. He ruined the stage, ruined the joint—it was just amazing. For a minute I forgot I was on a gig. I was onstage, but I was a bystander. I became part of the audience.