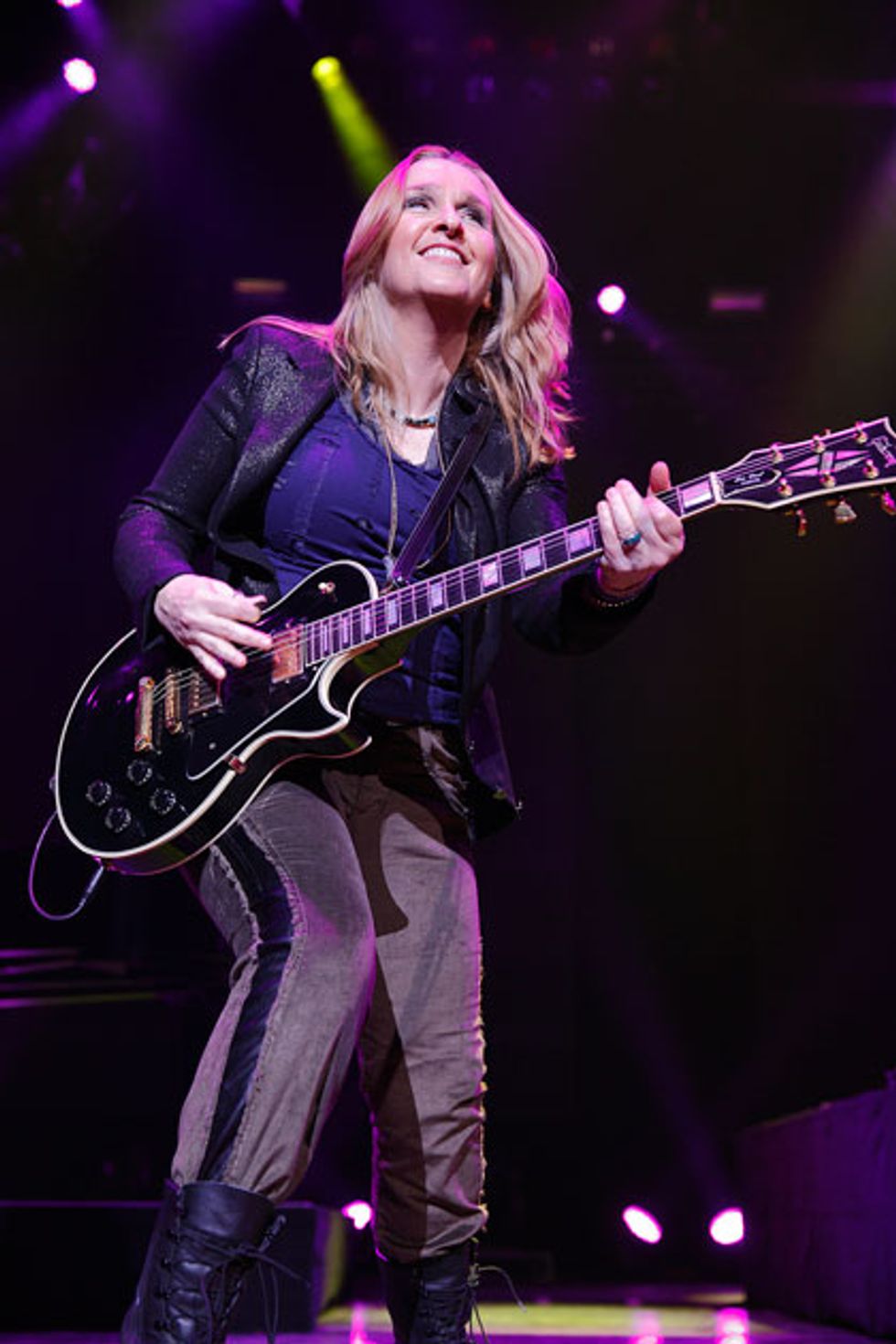 Melissa Etheridge plays her favorite electric guitar, a custom 1982 Les Paul, live in February of 2014. There's no sitting allowed on her stage. "I want to make a sign of a stool with an 'X' through it," says Etheridge of her performance style. Photo by Ken Settle.
In the days of the Ed Sullivan Show, it was actually the cartoon garage band The Archies that caused 6-year-old Melissa Etheridge to fall in love with the guitar. She didn't have her own instrument then, so she pretended to play on a badminton racket. "I really wanted to be Reggie," she remembers.
When her father brought home a Stella beginner guitar, Etheridge was 8 years old and very determined. "He brought it home for my sister," Etheridge says. "I was like, 'But I want to play!' My sister was 12 and the teacher said I was too young. Finally the teacher said, 'Let her come but she'll quit after a week because it'll be too hard. Her fingers will bleed.' Of course, yes, my fingers bled ... and I did not quit [laughs]." (Her sister, however, did quit.)
YouTube It
Melissa Etheridge performs her new single "Take My Number" live during a solo show at the Mayo Performing Arts Center in Morristown, New Jersey on July 3, 2014.
This is the story behind her first guitar experience, and there have been many since. For her just-released album This Is M.E., Etheridge wanted to do something special to kick off the tour for her first record on her own label, ME Records. For the first leg of dates, she wanted to play solo, with the help of nine or 10 of her best friends: her guitars. "I love playing solo—it's where I came from," Etheridge says. "I played solo in bars for 10 years."
For her solo show, Etheridge stands ("no stools allowed" is her motto) onstage within a semi-circle of her favorite instruments, a group that includes the usual suspects along with a few wild cards. From the road, Etheridge shares the unique background of each guitar she's using on this tour, instruments that help her explore the many styles in her repertoire. Without further ado, meet the guitars and gear of Melissa Etheridge, as described in her own words.