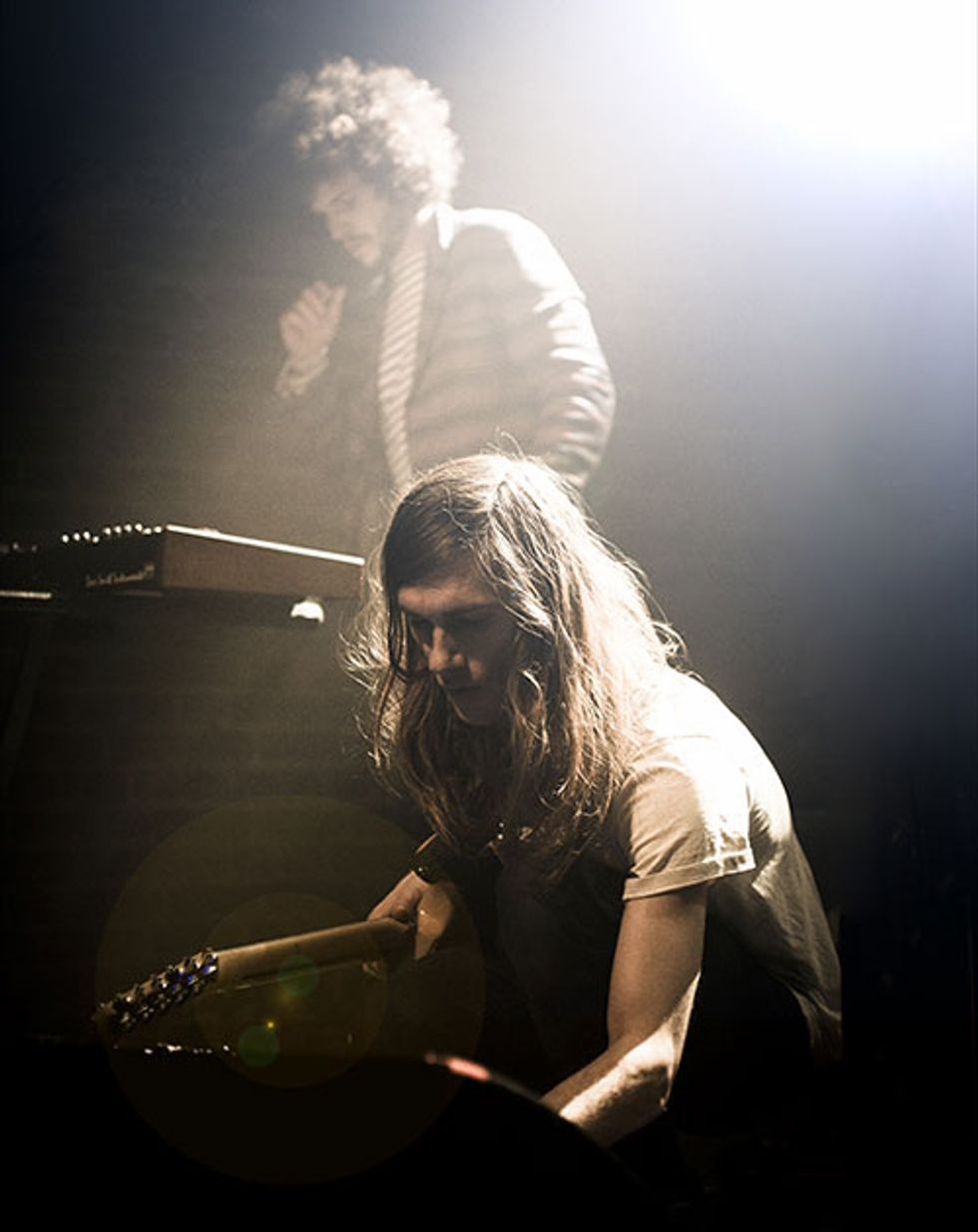 Liam Magill's go-to guitar is a 2005 Fender American Deluxe Stratocaster with an ash body. Photo by David Cleveland.
Music is sometimes likened to "a painting of sound." But there's a better visual metaphor for Syd Arthur's second full-length album, Sound Mirror: "tapestry"—a multicolored sonic fabric woven from threads of prog, pop, jazz, and electronica that unfolds over 10 songs.
With roots in Canterbury, England, Syd Arthur sometimes gets compared to the seminal progressive acts that emerged from the city decades ago, such as Soft Machine, Caravan, and Hatfield and the North. But the collective work of Liam Magill (guitar, lead vocals), his brother Joel (bass, vocals), Raven Bush (violin, keyboards, mandolin—coincidently, the nephew of Kate Bush), and Fred Rother (drums), is much too eclectic to pin down—and much too fluent in digital soundcraft to be retro.
Self-produced in the band's own studio, developed in part with the help of British rock icon Paul Weller, and mixed by Grammy-winner Tom Elmhirst (Adele, U2, Arcade Fire), Sound Mirror reflects Syd's growing mastery of the art of recording. Yet the songs also percolate with the organic interplay of live performance, an increasing rarity in the digital age.
When Premier Guitar caught up with Liam Magill and Raven Bush during Syd Arthur's summer U.S. tour opening for prog-rock icons Yes, we found them in a reflective mood.
Sound Mirror blends a lot of different elements and music styles. Where does that come from?
Bush: We're very much a band in the classic sense. We feel like the music comes from all of us. Even if the initial idea starts with me or Liam, it always ends up becoming what it is in the rehearsal space or the studio.
"Writing music is something we do all the time. It's probably the number one thing we do individually and collectively as a band."
—Raven Bush

Magill: The tunes for this record came together over the year leading up to its release. We started off spending a week in Ireland at Fred's parents' house. We set up in the living room and got lots of ideas onto tape. Through the year we started bringing that stuff out in a live environment, getting a feel for it by playing it for an audience, and then eventually crafting and honing it over the year. At the end of the year we got into the studio and started sinking our teeth into it, pulling it apart, rehearsing it a lot, and tracking.
So the songs were fully arranged by the time you started recording?
Bush: We went into the studio with only half the record solidified. "Singularity" is almost entirely jammed. It was very much inspired by some of the Miles Davis recordings with [producer] Teo Macero. I think their approach to chopping up jam sessions is fantastic. The song started as just a guitar riff. It's the only track on the record that we played to a click—but it's not a click track. It's actually a sequence on an old French synthesizer called an RSF Kobol. These things are really rare. It's my dad's old synthesizer. We basically got a sequence going, then chopped it up and mapped it to MIDI. Then I started getting my Prophets [synthesizers] in sync with the RSF, because then we could get sequences overlapping with each other. And that's what we played along to. We talked about some shape to the improvisation and then we just did a load of takes. A couple of days later Joel and I edited the jams, then we all listened and finished it.
"Hometown Blues" is comparatively uncomplicated. How did that song come about?
Magill: We were at Paul Weller's studio tracking and coming up with ideas for a few days, and Paul wanted to coax this song out of us. Raven had the piano section—the verse—and we started playing through it, building it up, and then I came in impromptu with the second section, which is the chorus. We decided to keep that song straight up—we wanted it to be a simple, kick-back tune.
The lyrics came the second day. Paul wanted to get something actually finished, so there was pressure on me to come up with these words. So I did and we tracked it. It wasn't the final version, but it was the first proper demo of "Hometown Blues."