Solid-layered camouflage wood, zebrawood neck and headstock, and top-shelf electronics make for a unique and eye-catching heavyweight contender.
I'm the Bourbon Cowboy, a singer/songwriter from East Corinth, Vermont, and proud owner/operator of the Bourbocaster-211, an S-style guitar that I designed and built over the spring/summer of 2021. The guitar body and neck were built by a luthier named Tom Boise from New Haven, Vermont, who hand-labeled this body "Serial #1" on the inside of the control cavity.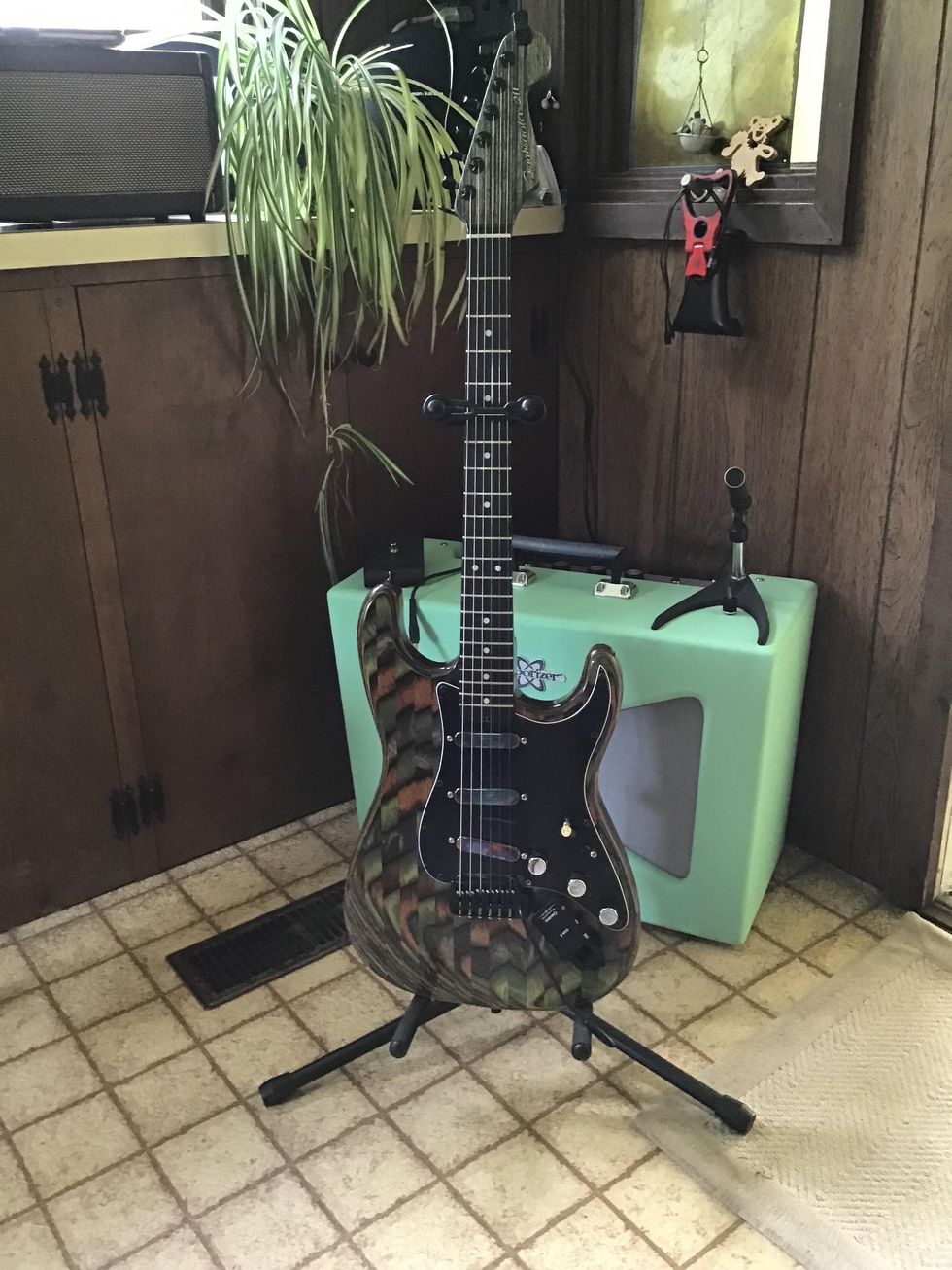 The stunning camouflage design is not a paint job: It is solid (layered) wood, stained various colors and glued together before being carved into a guitar shape (you've likely seen cutting boards made with a similar technique). The exotically gorgeous neck is zebrawood, I believe, as is the headstock.
When I received the guitar as a gift from my brother and sister-in-law, it was only the guitar body and neck. There were not even screw holes drilled to mount the pickguard! I ordered and installed a set of Hipshot locking tuners, including the very cool Hipshot GT2 Electric Xtender Key, which allows for drop-D tuning at the flip of a switch. I lined the control cavity and pickup routs with black shielding paint, drilled a hole front-to-back for the ground wire, and installed a pickguard loaded with Lace Chrome Burner pickups.
A local luthier friend, Dave Richard, carved and installed the bone nut, and installed the Hipshot US Contour 2-point Floating Tremolo system, which is a delight to play—so much fun!
The Bourbocaster-211 is a heavyweight contender, weighing in at over 10 pounds. It plays with a smooth, charcoal-mellowed feel, but is also capable of delivering kick-you-in-the-face, rotgut whiskey rock 'n' roll!
The .38 Special shell casing on the 5-way selector switch and a Jack Daniels neck plate complete the design of this stunning and unique dream guitar. If you catch my current musical project, 65 Miles from Normal, you'll get to see the Bourbocaster-211 in action.
Send your guitar story to submissions@premierguitar.com.
A Hendrix fan details the journey of his first real guitar, a 1972 Fender Strat that he modded, returned to spec, and is now enjoying again in quarantine.
Name: Tony Houston
Location: Dayton, Ohio
Guitar: 1972 Fender Stratocaster
After years of reading about other readers' guitars, I decided to write about my original 1972 black Fender Stratocaster. Attached is a picture of my Strat and original warranty card, and myself.
I was 21 years old back in 1971 when I first started to learn guitar. I was already a fan of Jimi Hendrix, as was a co-worker who played guitar. We were talking about Jimi and I mentioned that I would love to learn guitar, but at that time couldn't afford it. It turned out that he had an original Sears Silvertone guitar/amp in the case that he gave me. It was almost impossible to play, but I loved it.
By 1972, I was in much better shape financially (well, somewhat) to buy a "real" guitar. For over a year I would stop in Bernie's Music here in Dayton and look at guitars. I was mesmerized by the white Strat that Jimi played at Woodstock. They had one in the store, but when I went in to buy it, it was gone. They had a black Strat, and I was told that I could trade it back when another white Strat was in stock … they never got another one.
Fast-forward to the late '70s. I'd read enough about guitars to mod my Strat, so over a few years I installed a brass bridge, replaced the stock bridge pickup with a DiMarzio Fat Strat, and did various re-wirings of the pickup switch. Also the stock pickups weren't wax-potted properly and would squeal like a pig! I re-potted the pickups by dipping them in melted beeswax.
Here's Tony Houston playing his black Strat in 1980 with his band BLACKMALE, getting awesome feedback at around 2:38.
I gigged with it until 1988, when it was almost stolen at a show. I decided then to retire it, as I had brought a couple more Strats. In the mid-90s, I decided to restore it to factory specs. I'd kept the original bridge pickup and the original bridge. While testing the bridge pickup with a multimeter, I found it had a short. I sent it to Lindy Fralin and had it wound to original spec.
Since being in quarantine, I have it tuned to Eb now, and, at 70 years old, decided that I was going to properly learn to play Jimi's "Little Wing."
Send your guitar story to submissions@premierguitar.com.
The world's most iconic electric evolves again—this time with a roasted pine body, contoured heel, rolled fretboard edges, and more articulate pickups.