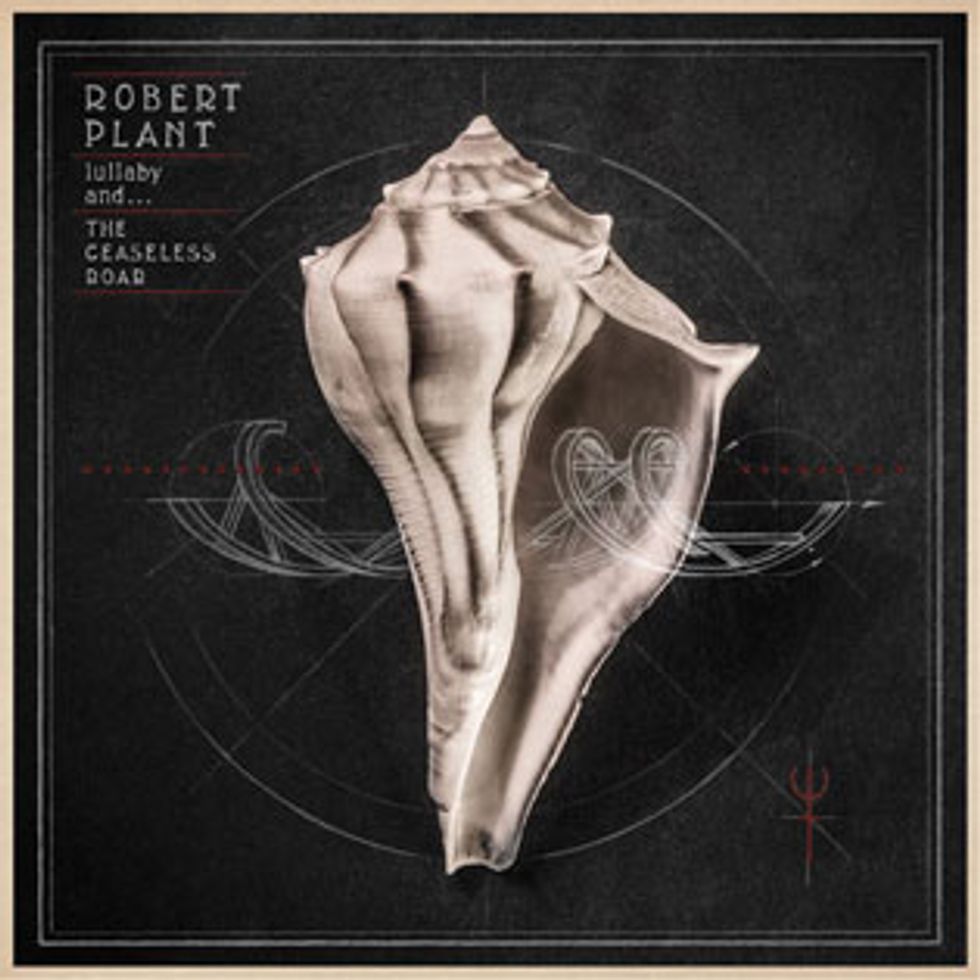 Robert Plant Live: The Song Remains (Somewhat) the Same…
Sure, it's nigh impossible to suppress the reflex to ask Robert Plant the age-old question: Will there ever be a Led Zeppelin reunion tour? Plant understands the need, and he politely deflects it with warmth and humor, even suggesting that he and Jimmy Page might discuss it over "lots of lunches." But he also readily acknowledges that he's "still that guy" who sang "Whole Lotta Love," "Thank You," "Babe I'm Gonna Leave You," and "Black Dog"—each of which, along with several other Zeppelin chestnuts, makes the current setlist of Plant's solo tour.
In the hands of the Sensational Space Shifters though, the Zep catalog goes through a rearrangement that fits almost seamlessly with the new material from lullaby…and the Ceaseless Roar, to the point where the new songs start to feel almost as familiar as the classics. Before the band even takes the stage, Link Wray's loping guitar instrumental "Rumble," made famous in the film Pulp Fiction, blasts over the PA to set the tone. Sometimes the set will kick right into Zep—on their second night in Brooklyn, the band opened with a devastating version of "No Quarter"—but they might change it up for the occasion too, as they did for a hard-rocking midnight show at the Brooklyn Bowl about 10 days later, opening with Howlin' Wolf's rollicking "Spoonful," which just about tore the roof off the club.
Skin Tyson travels with Hiwatt amps and a veritable fleet of guitars, including various Strats, Telecasters, and Gibsons (solid, semi-hollow, and acoustic), as well as a cherry red Fender Electric XII that comes out during "Thank You"—an instant eye-catcher. "I've been borrowing that from my friend in the U.K.," he says. "He tells me it's gonna be the next hot guitar, because if you get a '65, which that one is, there aren't that many of them. I was gonna buy a new modern Gibson 12-string, because it's got a wide neck and a great push-pull out-of-phase, but I held out and found this one."
For Justin Adams, his ever-present '52 goldtop and a vintage Harmony H77 with DeArmond pickups, which he uses on the band's cover of Bukka White's "Fixin' to Die," are his main guitars onstage. "There's an interesting story about my current amps," he says. "We were doing a gig last year—I think it was in Connecticut—and this young guy in his 20s came up to me." As it turned out, this was Torey Harding, who studied with amp and guitar tech Mick Johns. "He really liked the tone of my goldtop, and was obviously a gear freak, so he told me, 'I build amps, and I really want to give you one.' And I said, 'Don't be stupid—you don't wanna give me an amp!' Then he contacted me on Facebook. It sounded a bit mad, but he sent me this little pink amp with a 10-inch Jensen in it. And I plugged it in and couldn't believe it. It sounded incredible. That's the Harding Deluxe, and now I have the big one called the Rocket 88."
Adams also plays other acoustic instruments, including mandolin on "Going to California," and the 3-stringed tehardant (also known, depending on where you live in Northwest Africa, as ngoni in Mali, xalam in Mauritania, and guimbri in Morocco) on "Little Maggie" and "Poor Howard." Plant describes the instrument as a "twanger," which is an astute term for the sound it makes.
"I put a little piezo contact mic on it," Adams explains, "and then we run it through my Line 6 PodXT, which has a graphic EQ inside it, so I EQ it a lot by taking out the lower mids, otherwise you can get this nasty ringing sound. Then I put it through my regular amp with just a bit of drive and delay."
There's an infectious energy to the way the Space Shifters dig into everything they play—especially an epic like "Babe I'm Gonna Leave You," which Tyson opens with a stretched-out nod to flamenco masters like Paco de Lucía. "You really need to have 50 years of sitting in a café with a dancer and a singer to get it right," Tyson jokes, "but I can have a tickle at it and do my own version." In the end, what immediately comes across to anyone in the audience is that the band is having fun. And with Robert Plant as your frontman, who wouldn't?
"That attitude really does come from Robert," Adams says. "I just feel so lucky to be in a band where things are open and constantly moving, and where every member of the band is encouraged to play in their own way. I mean, I'm the guy who hasn't bothered to learn every Jimmy Page lick, much as I love them, because I was too flipped-out with trying to work out some little Moroccan thing or an Ali Farka Touré thing, or just figuring out my own weird way to play a Moroccan rhythm on a guitar with a load of distortion. But I guess that's why I've got the gig. The idea isn't to be a cover band. The idea is to make music with that original creative spirit that musicians like Robert understand and represent."