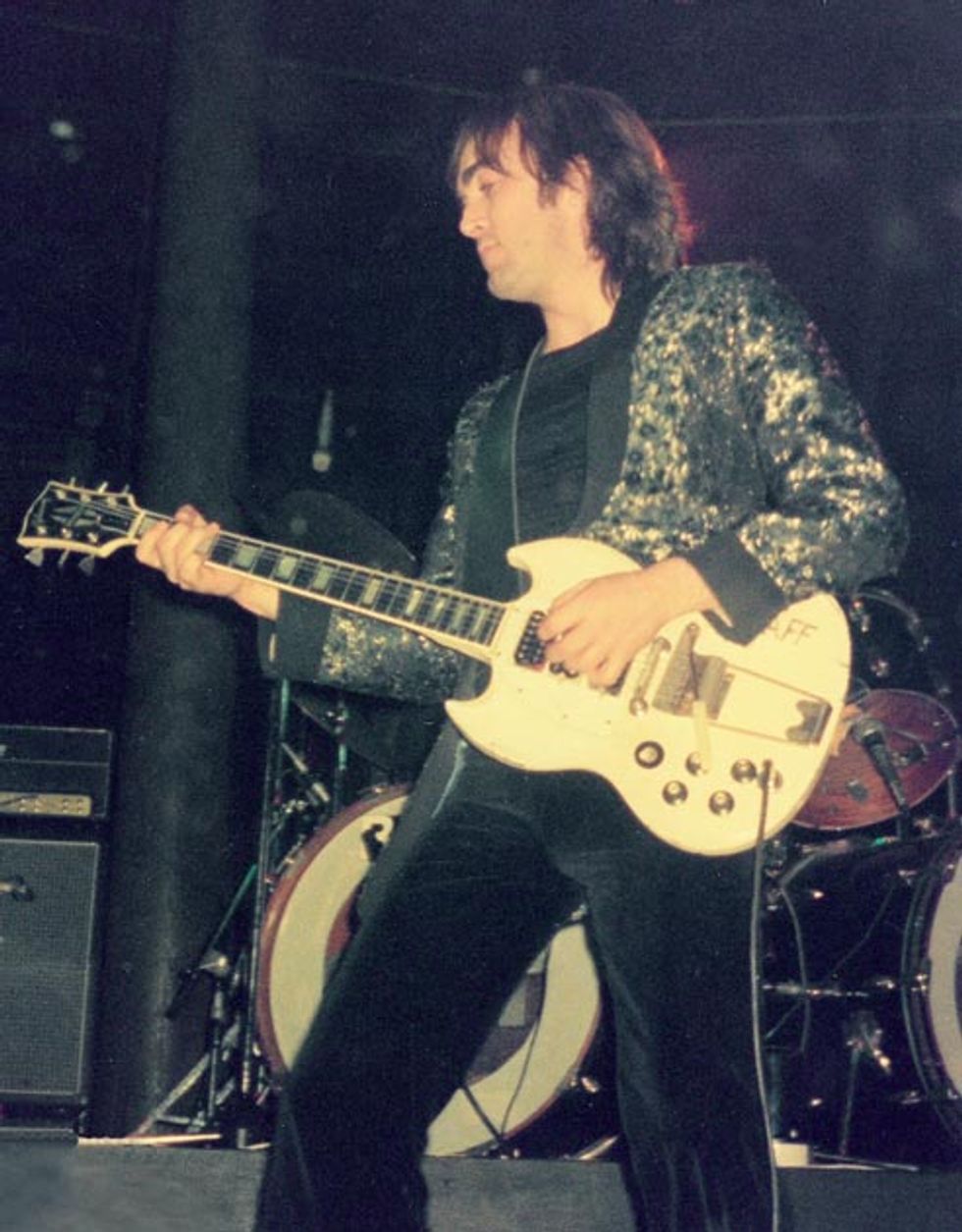 Ollie Halsall took up drums at age 13, and then moved to London to be a vibes player at age 16 before taking up guitar a few years later. In this shot, Halsall performs at the Roundhouse in London in 1975. Photo by Andrea Pennessi.
In mid-'60s Europe, if you were hip and dug music, swinging London was the place to be. The Beatles were there, as were the Stones, the Who, the Small Faces, the Kinks, and every other great British band of the day. The British blues boom was flourishing, too—Eric Clapton and Peter Green, the Yardbirds, Alexis Korner, John Mayall. Chas Chandler brought Jimi Hendrix to London to launch his career. Youth, money, fashion, style, music, art—the stars aligned, forces converged, and London was the epicenter of cool.
But London had its outliers, too. Timebox, a small band with a minor hit, was playing the clubs. They were known for their live shows, which were manic, unpredictable, and nothing like their radio-friendly singles. Their guitarist, Ollie Halsall, was emerging as London's guitarists' guitarist. He was different. He played faster. His note choices were unusual. His phrasing was unique. He was fearless, reckless, impulsive, hysterical, and listening to him was an adventure. The people who saw those shows still recall them with awe.
Fame eluded Halsall, but his influence was enormous. XTC's Andy Partridge summed him up in an interview for PopDose in June 2009: "Once I heard [Halsall's] guitar playing, I was, like, 'Oh, I need to be able to play like that.'"
"Ollie and I always used to share rooms. He used to sit up half the night just running up and down the neck. I'd be trying to get to sleep, and he'd be doing his scales over and over." — John Halsey

Catching the Vibes
Halsall was born on March 14, 1949, in Southport, England, a small city just north of Liverpool. His given name was Peter, but everyone called him "Ollie," a play on the pronunciation of Halsall (pronounced 'Alsall).
Halsall started playing the guitar at 7, but it wasn't long before he decided to take up the drums instead. He joined his first band, the Music Students, at 13, but that didn't last either. Clive Griffiths, a school friend, was living in London, and he invited Halsall to join him. Griffiths wanted Halsall to join his new band, Take 5, but playing vibes, not drums.
Halsall didn't know how to play vibes, but that didn't stop him. "I always wanted to be a vibes player," he told Melody Maker in January 1972. "I used to listen to Milt Jackson all the time. Griff knew that, and he sensed I was a natural musician because I was a pretty good drummer."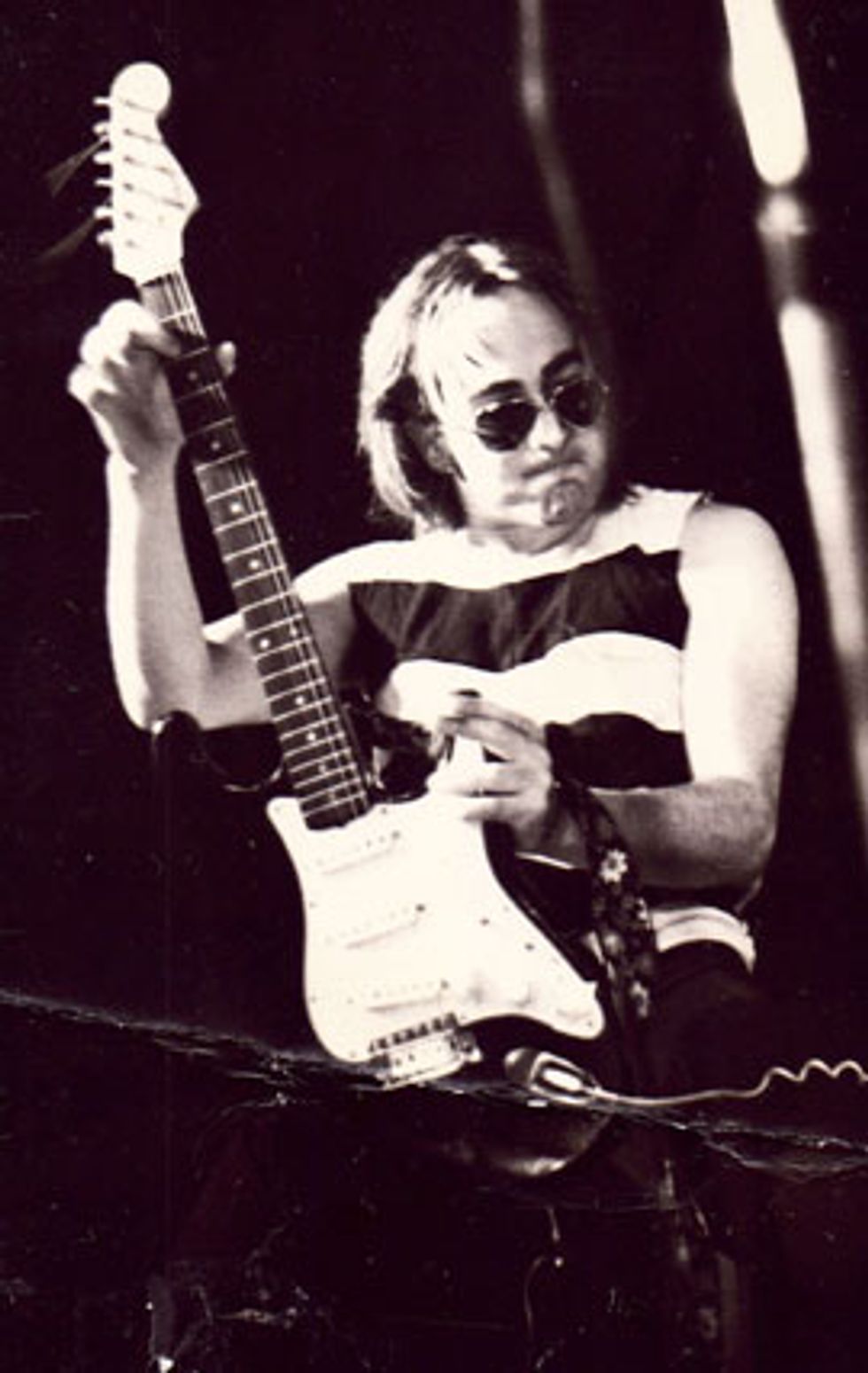 Halsall onstage in 1975 at The Black Swan in Sheffield. Photo by Bob Beecher.
John Halsey, the drummer in Halsall's bands Timebox and Patto, remembers a different chronology, though Halsall's achievement was no less impressive. "Ollie looked at a piano keyboard, cut strips of paper to match, and laid them on his bed," he told Terrascope in 1992. "He bought some vibes beaters with his pocket money and learned to play like that. After a while he told his parents, 'I can play them now.' They took him to a music shop in Liverpool, and he could. He turned pro when he was 16."
Take 5 morphed into Timebox. Their sound was the sound of Swinging London. They wore matching outfits. Their songs were radio-friendly. They signed to Deram (a subsidiary of Decca). And their single, "Beggin'"—a Four Seasons cover—peaked at number 38 in the UK.
Kevin Fogerty, Timebox's guitarist, quit in 1967, and Halsall took over. He wasn't a guitarist, but that didn't seem to matter. He practiced and got good. Fast. "Ollie and I always used to share rooms," Halsey said in that same Terrascope interview. "He used to sit up half the night just running [scales] up and down the neck. I'd be trying to get to sleep, and he'd be doing his scales over and over."
Timebox's evolution followed a similar trajectory to other British bands of this time period: They released radio-friendly singles (including the great B-side, "I Wish I Could Jerk Like My Uncle Cyril") but got heavier and more experimental in their live performances.
Unfortunately Timebox's singles failed to chart, which became a problem, and they weren't a blues band. Their music got more avant-garde, they were more open-ended and improvisational, and they played in odd time signatures. They were zany.
Keyboardist Chris Holmes quit in 1970 and the remaining members, sick of their dual identity, renamed the band "Patto," after lead singer Mike Patto.