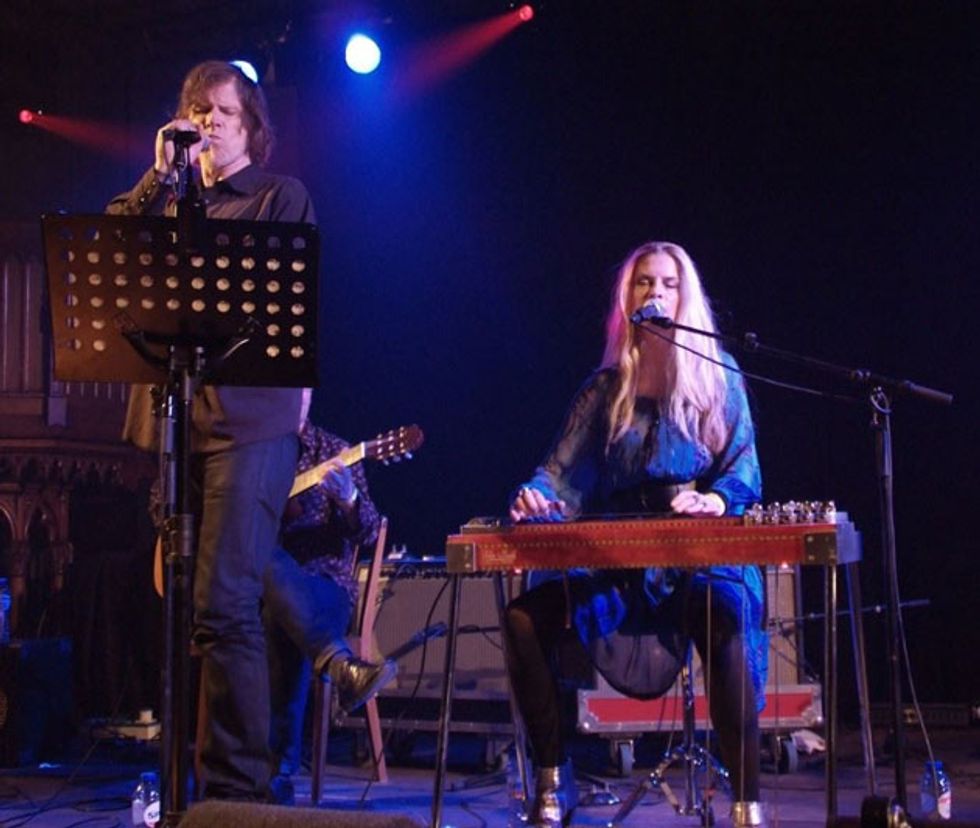 Björklund backing up Mark Lanegan with her go-to 10-string Sho-Bud single-neck. Photo by Josine Laarakker.
Few instruments proffer as much emotional depth and unchecked possibility for expression as a well-piloted pedal steel. From lush textural flourishes to virtual singing, the instrument can conjure an incomparable range of sounds via its complex guts of rods and pulleys. For many, becoming a proficient pedal-steel player can prove a most difficult dragon to chase, but the artistic dividends are immense once the beast is tamed.
The instrument has its share of established heroes, ranging back to its primordial days in the golden era of American country music, but few have ventured away from those traditional sonic tropes with the zest and imagination of Denmark's Maggie Björklund. Björklund's approach to pedal steel is as unconventional as it is breathtaking. She often sounds as if she might be the progeny of Daniel Lanois and Bill Frisell—a self-contained avant-jazz post-rock orchestra with a compositional mind and gossamer vocals to match.
Given that, it's no surprise that Björklund has captured the attention of a host of remarkable artists, including Mark Lanegan, X's John Doe and Exene Cervenka, and Jack White, who hired her to perform on Lazaretto and its subsequent tour. Björklund also just released her second solo album, the evocative and haunting Shaken. A masterpiece of aural cinema that owes as much to Morricone as to Mozart, the album should solidify her place among the greats of the alt-Americana movement.
"I was playing around with some pull-offs and some bouncing things … and I just stumbled across that lick and loved it. Then it was just like making a sandwich: I piled things on top of it, recording myself and playing on top of that." —Maggie Björklund

How did you get started on pedal steel? Aren't they difficult to get ahold of in Denmark?
Yeah, it's a really rare instrument in almost all of Europe. I started out as a guitar player, and I played a lot of country music, but I was always really curious about other instruments. When I went to a music store, I would always try out the banjo or the mandolin or whatever was there, just to see, "Hey—what's that sound like?"
I was always really intrigued by the pedal steel but, of course, I didn't know anybody who played it, and the only times I saw it were when an American band would come through town. I had a friendly acquaintance that played, and one day he said, "I have this student model sitting at home—why don't you buy that from me?" I said, "Yes! Let me buy that!" I regretted that day for a few months, because it was so hard to figure out how to play it. But I eventually fell in love with the instrument. It requires a lot of coordination with your feet, your knees, your fingers, your eyes, your ears—everything is engaged in playing it!
Do you generally compose your songs on the steel?
No, not necessarily. Some songs I write on the pedal steel, and some songs I write on guitar or something else. Some songs—like "Missing at Sea"—are obviously composed from the pedal-steel part, goofing around on the instrument and finding new ways of getting sounds out of it.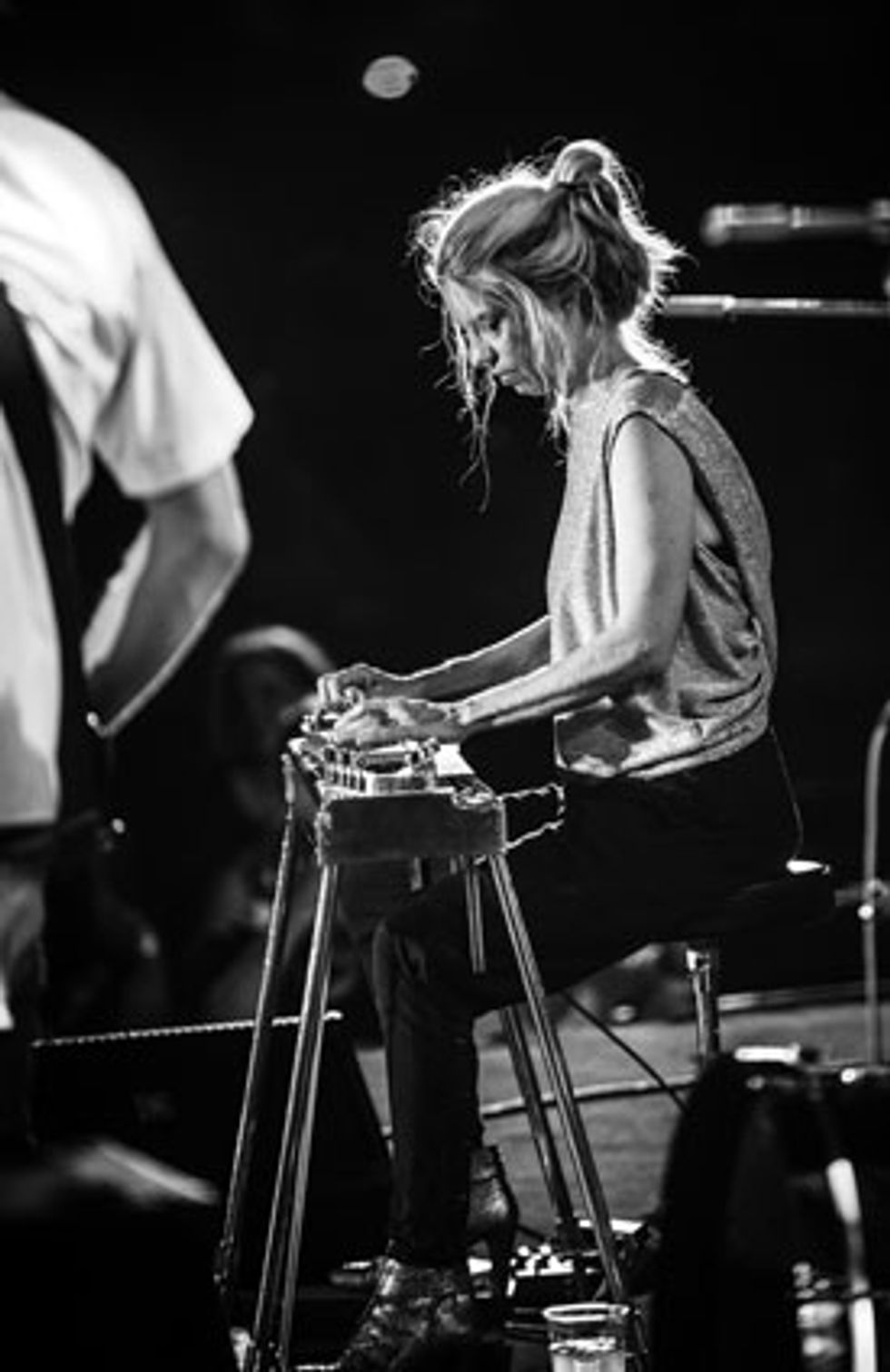 Photo by Aleksandar Ratkovic.
That track, in particular, features a very unconventional steel lick. How did you come up with that part?
It's made up of that loop lick you hear through almost the whole song, that boo-eep sound. I was playing around with some pull-offs and some bouncing things—because that's fun to do sometimes—and I just stumbled across that lick and loved it. Then it was just like making a sandwich: I piled things on top of it, recording myself and playing on top of that. It came to me fairly quickly once I had that first lick.
You certainly have an unconventional approach to the instrument. How did you develop your style?
I think I don't play conventionally because I wasn't born and raised in America. I have a different cultural background. I didn't hear the steel guitar for the whole of my upbringing, and it was not until I got a little older that I noticed the instrument. Since nobody around me played it, I had to teach myself. I think you can hear that I grew up on European music, like classical music, Danish traditional folk music, and stuff like that. Those things shine through in my way of playing. I can't play like they do in Nashville. I love the way they play, but I was not born and raised with it, so it's unachievable for me to play like they do. I had to come up with my own playing style.
There's a common thread of melancholia in new Scandinavian country and Americana artists such as yourself and First Aid Kit. What do you attribute that to?
Denmark and Sweden have a lot of culture in common, and we're deeply rooted in darkness and light—long, dark, cold winters in which you sit down and wait for the spring to come. It has this kind of feeling of longing and loneliness, and a lot of our culture is rooted in that.
Which artists were particularly influential to your steel playing?
People like Daniel Lanois. The way he plays his pedal steel is really inspiring, because he doesn't go the Nashville or traditional way either—he has come up with his own unique style. But some of the old cats like Lloyd Green and traditional players like that influence me through things like how their tones were so massive and so interesting. Of course they play wonderful stuff, but it's something about the intensity of their tone that's very inspiring.