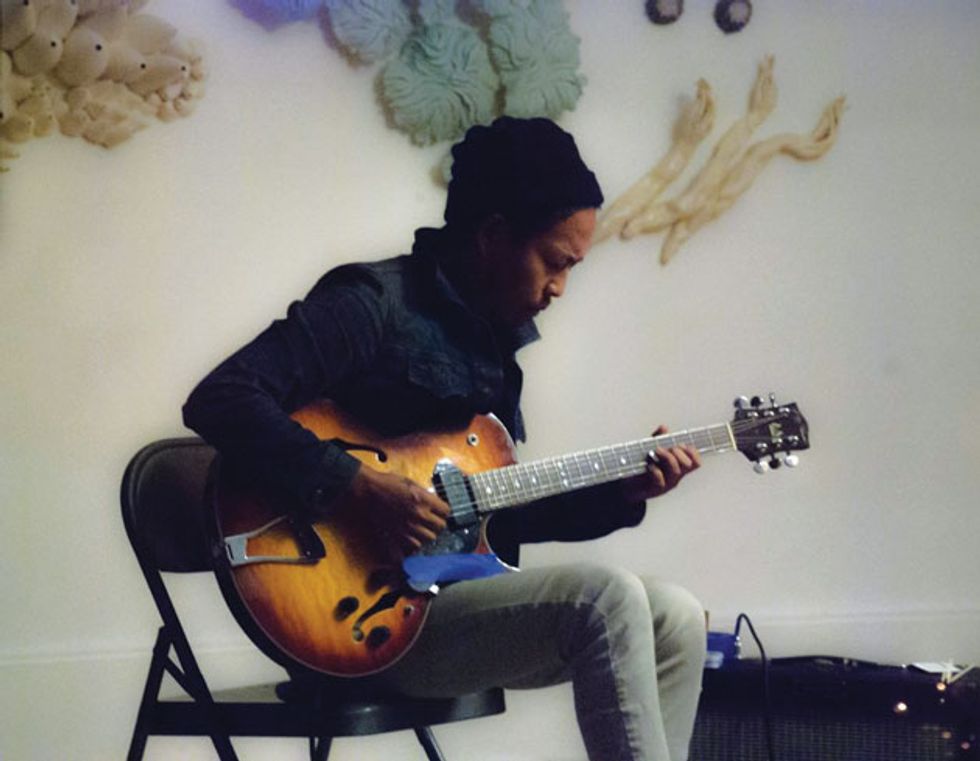 Photo by Jason Scott Furr.
Tashi Dorji
Tashi Dorji is the most strikingly original musician of this roundup, in part due to geographical circumstances. The 36-year-old guitarist grew up in Bhutan, the small mountainous country whose neighbors include India and China. A lack of internet and television limited Dorji's access to the information guitarists in other parts of the world took for granted, and he was forced to rely on his ear and his imagination to learn how to play on a nylon-string guitar whose setup was suboptimal.
In 2000, Dorji moved to Asheville, North Carolina, to attend Warren Wilson College. But the sheer volume of new music he encountered distracted him from school. He lived with roommates who introduced him to punk rock, and he also got entrenched in free jazz, noise, and the avant-garde in general, devouring the catalog of every artist his friends mentioned.
After a few years, Dorji dropped out of school to focus on music. He has since developed a style of free improvisation—all of his pieces are spontaneously composed—in which he gives equal consideration to metallic-sounding gestures and lush harmonies, as heard on recent releases like his self-titled vinyl debut album or the blue nest of larks that die EP (available on his Bandcamp page).
What was it like to learn the guitar in Bhutan?
It was very different. I had really limited access to sounds—only shortwave radio and a national station that played hits three to five years after they came out, which I listened to on this mini boombox. I was also exposed to traditional music, a lot of monastic music from the northern part of the country, with dancing and drums.
"I've always been wary of school, of the institutionalization of the mind, and hearing something completely removed from tradition or dogmatized playing really freed me." — Tashi Dorji

In high school I started swapping bootleg cassettes from India, and I got exposed to Bollywood and a lot of music from the U.S., mainly classic rock. When I was in 9th grade, one of my friends had a cheap nylon-string guitar, and after I learned a chord or two on it, I convinced my mom to get me a guitar of my own. My friend then taught me a few easy Neil Young songs that he learned from a tab book he'd managed to get his hands on.
I didn't have a television or the internet, and, not being able to see what guitarists were doing, I had to figure out things on my own. Since I had a good ear, I was able to listen to Nirvana's Unplugged and teach myself the chords. Those were essentially my lessons—learning Nirvana songs from Indian bootleg cassettes.
Describe the impact Derek Bailey has had on your music.
I first heard Derek Bailey around 2007, but didn't delve deeply into his music until several years later. I'd moved temporarily to Maine and found his CD Standards at a used record store for five dollars. It completely moved me and affected me deeply in a lot of ways. It was a huge epiphany. I've always been wary of school, of the institutionalization of the mind, and hearing something completely removed from tradition or dogmatized playing really freed me. It gave me permission to approach the guitar in a very nontraditional way.
Tashi Dorji's Gear
Guitars
Hohner HW605 concert-sized steel-string
Ibanez 2839 nylon-string
Strings and Picks
D'Addario EJ17 Phosphor Bronze (.013–.056)
Martin M120 Silverplated Classical (.028–.043)
You use extended techniques judiciously in your playing.
I'm obsessed with finding percussive sounds on the guitar, and extended techniques drive me into those realms. I insert bobby pins, chopsticks, or whatever else I can find between the strings, to create really percussive, metallic textures. Sometimes I'll clip a safety pin around a string so that it creates a complex buzzing sound. By using these techniques, along with more conventional ones like harmonics, I can create tension, color, and dynamics.
Do alternative tunings determine your improvisations, or is it the other way around?
I think it works both ways. Some guitarists reserve specific tunings for certain styles of performances, but I really don't. I like to play around with different tunings at every live show, and often come up with them on the spot. Sometimes I just try to come up with a tuning that sounds weird, and that definitely dictates how I play. But generally, I'm really open to new tunings. I don't have any specific agenda.
What do you think about, structurally speaking, in your improvisations?
Sometimes I try to come up with a head, so to speak, and play variations on it. Other times, I decide if the piece will be a long or a short one, and just see where the music takes me. I've found my state of mind also determines the content. When I'm caffeinated, I find myself playing faster, with jittery textures. But the thing is, my structure is essentially no structure. It's kind of anarchistic in a way.
You don't seem to be much of a gearhead.
I only play two acoustic guitars that I bought used—a small steel-string Hohner and an old Ibanez classical guitar. I don't really care too much about what I play. I guess I'm not such a good subject for a guitar magazine! [Laughs.]