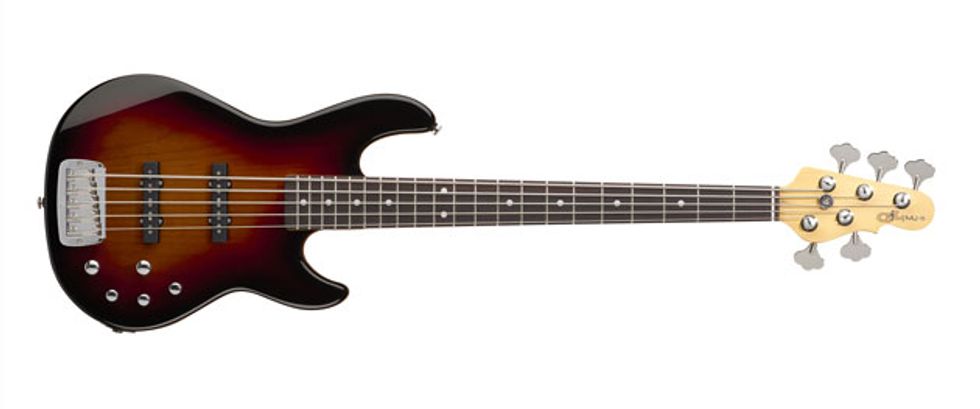 Fullerton, CA (January 28, 2014) -- Following in the footsteps of G&L's acclaimed MJ-4 four-string, the new MJ-5 brings all of the features of the MJ-4 into a 5-string platform, with re-engineered Bi-coil Alnico V pickups paired with the MJ-spec preamp/control system for a wide range of single-coil tones from classic jazz to far beyond, all without single-coil hum.
A G&L Alnico Bi-Coil pickup looks just like a traditional Alnico single-coil pickup, but under the cover are two side-by-side coils configured in series-humbucking mode. These new pickups are optimized for a specially tuned version of G&L's studio-quality M-spec preamp and control system, dubbed MJ-spec. The 18v system features volume, pan and +/-14dB 3-band EQ with center detents, and is powered by twin 9v batteries housed in an easy-access compartment. With an LF442 chip, 100v poly caps, 1% metal film resistors and big, fat signal traces on the mil-spec circuit board, this preamp reveals everything the player and the instrument have to offer.
Features:
G&L Bi-Coil pickups for classic tone without the hum
MJ-spec studio-quality 18v preamp
Primary volume and pan controls
+/-14dB 3-band EQ with center detents
Impeccable, familiar "feel" of the instrument in the hands and on the shoulder
1 3/4" nut-width, medium-C neck profile
Medium-jumbo, Plek-dressed frets
The MJ-5 starts at MSRP $1,950.
For more information:
G&L Guitars