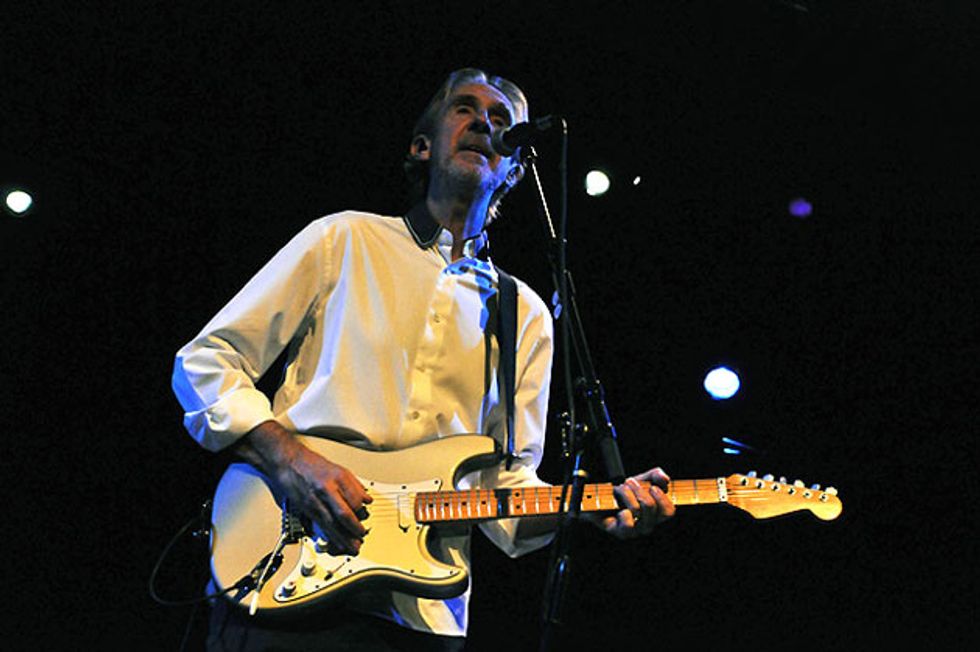 These days Rutherford's workhorse is a Fender Eric Clapton Strat. Photo by Frank White.
Guitarist/bassist Mike Rutherford was a founding member of Genesis, a band that's sold 130 million albums over the course of a career spanning nearly half a century. But for some Rutherford fans, that accomplishment is rivaled by the legacy of "The Living Years," a 1988 song by Rutherford's side project Mike + the Mechanics. It was a tearjerker mega-hit, a father/son song sad enough to turn a stone-cold bastard into a sobbing mess.
"The Living Years" is back in the spotlight. Rutherford recently uncovered his father's unpublished memoirs and wrote The Living Years book, which came out last year. To commemorate the 25th anniversary of the song as well as the 30th anniversary of the band, he's just released Living Years 25th Anniversary Deluxe Edition, which features the original studio album plus a bonus disc of live recordings from the 1989 Living Years UK tour. The package also features an updated version of "The Living Years," re-recorded with vocalist Andrew Roachford and the South African Isango Choir.
Sacrilege? Not exactly. "The original was a classic," says Rutherford. "You can't ever do a better version, but you can try to honor the occasion with something a little bit different."
"I went into a guitar shop with my 12-string Rick and my Rickenbacker bass and said, 'Can you cut that one and that one and join them up?'"

It's been a busy couple of years for Rutherford. Genesis recently released R-Kive, a companion to the BBC documentary Genesis: Together and Apart. The three-CD set is a retrospective of the band's hits along with highlight from the solo careers of sometime band members Rutherford, Phil Collins, Peter Gabriel, Steve Hackett, and Tony Banks.
Premier Guitar spoke with Rutherford just before the start of the first North American Mike + the Mechanics tour in decades.
What inspired the Living Years memoirs?
I found my father's unpublished memoirs about his life in the Royal Navy. It was very well written, and I had a fascination for years about the generational change from my father's era. England was an old-fashioned country with empire days, and our parents came out of two world wars. Then we appeared with our long hair, guitars, music, and probably even drugs—it was a huge left turn. Until the '60s, young men wanted to become their fathers. From the '60s on, they wanted to become anything but their fathers.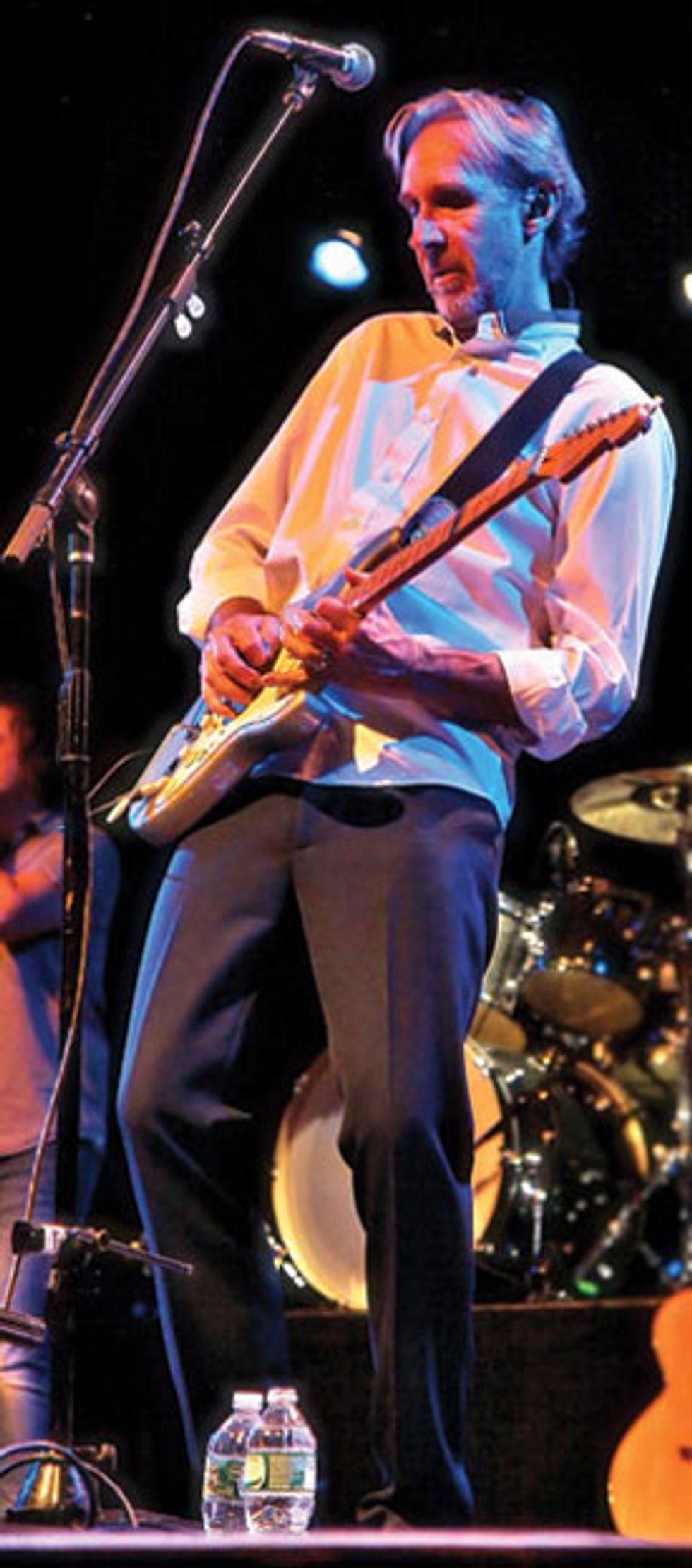 Photo by Robert Juckett.
The book's release coincides with the release of Living Years 25th Anniversary Deluxe Edition.
When you get to my age and the length of my career, everything you do is a celebration of how many years it was!
Beyond the South African choir and Andrew Roachford's vocals, did you also re-record the actual tracks?
Yeah. There's no point doing it like the original version—it has to be different, and it is. The original version was one of those songs where everything came together and kind of worked. This one is less rhythmic and has a different feel.
Which version do you prefer?
Well, the original. It's a classic. You can't ever beat that. I mean, the new one's got a great vocal beat. It's something different, you know? But you can't beat the original.
When Mike + the Mechanics returned in 2010, you introduced a new lineup. How different is it working with vocalists Andrew Roachford and Tim Howar, as opposed to the late Paul Young and Paul Carrack?
Funny enough, not that different. The Mechanics stopped in the early 2000s, though we didn't really announce it. We had one more album in the pipeline, but it didn't really feel that great. We felt like it was an end of an era. Then around '08, I had some songs and I thought, "These sound like Mechanics songs. Let's go back to how the first album happened. Let's write some songs, record them, and find someone to sing them." I knew Andrew, and I knew the Mechanics needed to have an R&B voice and a rock voice—two lead singers are always a big plus. So Andrew came down, and it took off.
How are vocal duties split between Andrew and Tim?
It's kind of like it was with Paul Young and Paul Carrack. You know when you write a song who's going to do what. Hardly ever would Paul Young and Paul Carrack go through a conflict about who sang what—it was obvious. There was a song called "Beggar on the Beach of Gold," where they both did a version. But Paul Young's was definitely better.
Some fans might have expected new material for this album and tour.
There was a new album in 2010 called The Road, which is quite good actually. It's funny though—it's like I now know who the band is. We've done quite a few shows over the last three years. I've got a bunch of new songs that we're working on. Once you know who the band is, you can write more for the voices.