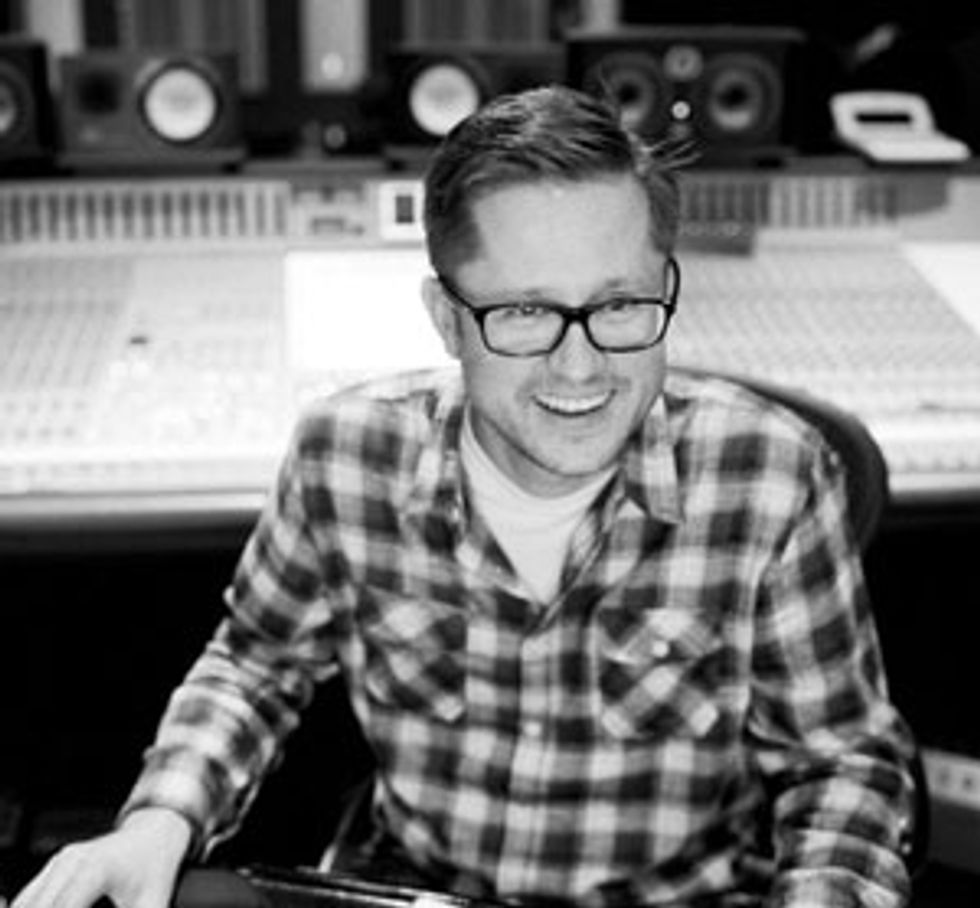 Photo by Jeff Gros.
Eric the Engineer:
Bruno's Right-Hand Man
From field recordings captured on a terminal bus at an airport in Germany to phone messages from friends and wild bass lines too beastly for their own good, AWOLNATION's new album is brimming with wicked sounds. The only other person who worked on realizing those creations with Aaron Bruno was his engineer, Eric Stenman (Lovedrug, Senses Fail, M.I.A, Weezer), who names AWOL as his favorite musical project to work on. He shares his experience with Premier Guitar.
I understand you and Aaron go way back, before working together on Megalithic Symphony?
Yeah, I worked with Aaron way back on his first hardcore straight-edge band back in 1998 or '99 when he was just a kid. We reconnected when he started to make the first AWOLNATION record.
This time around was unique because you were the only other person in the studio for the making of Run.
Aaron is the captain of the ship and I'm the one who's trying to get his ideas through the speakers, just trying to move quickly and keep up with the ideas while they're fresh.
How did this studio experience compare to making the first album?
Every song on the first album he started at home on his simple laptop recording setup and made a skeleton of a song. Then he'd come to me, and we'd build on top of that and replace sounds or add to them. This record started that way and then about halfway through, he started from scratch in the studio. In some ways, he would almost use me as another instrument—it was kind of rapid-fire like, "Okay, give me a hip-hop drum sound … now let's plug in a guitar that sounds like a dreamy, warm guitar tone … now let's do a Rhodes piano." He wrote and played every note on this record, and there was a combination of what he brought in to start with, and then a lot of times inspiration would come from whatever instrument he picked up when he walked into the room.
Let's talk instrumentation. How important were live instruments in the studio?
Aaron writes more on guitar than anything. He has a guitar that his dad gave him, just this old, cheap nylon-string acoustic guitar. He got it redone, set up, cleaned up and back into working order. It made some appearances on the record and was pretty special to him—it was the first instrument he ever owned. It's a piece of crap really, but a cool family heirloom. Any time you hear an acoustic guitar on this record, that's what that was.
What was your approach to getting guitar tones?
Besides that acoustic guitar, there are four guitars on the record. Two of which were Aaron's, two of which were mine. The two guitars I brought into the equation were a Gibson goldtop and a Nash T72, a Telecaster clone. Those were the four electric guitars used over the course of the record.
Aaron doesn't pick up the guitar as an art form in itself. He's never going to know how to play scales or theory, or how to play an Em7 straight off the bat. Aaron picks up the guitar as part of his toolbox for creating songs.

In the spirit of going quickly and not stopping to over-analyze a guitar tone, there were times when we'd DI a guitar and then maybe reamp it, or just use software or a preamp to blow it up so it sounded nasty.
AWOLNATION isn't your typical guitar-rock band.
I think what AWOLNATION has done in the past, and even more on this record, is to promote an interesting new use of guitars. A lot of it is layered, without a single bass guitar. A lot of what people may traditionally think is a bass guitar on this record was a pitched-down electric guitar with maybe a synth behind it, or the guitars plugged in the DI spot on a preamp and just cranked. And the level into Pro Tools is slammed, and maybe we dropped it down an octave there. So it's a non-traditional use of guitars, but there is a ton of them and they play a huge part on the record.
From the beginning of the title track, to "Hollow Moon (Bad Wolf)," and "KOOKSEVERYWHERE," the low-end guitar tones really standout on the album. How did you get those tones?
Some of that would be as simple as pitching the guitar down in the computer, just playing it with the pitch shifter dropped an octave. Some of it would be my Whammy pedal with an octave drop on it. And then a lot of it would be, whether it's apparent or not, some sort of synth that's going on along with the rhythm of the guitar.
"Run" in particular is one of the Gibson guitars at half speed. Basically, we did the part and it was pitched down to start with, and then also the break section is dropped down—half-time and half-pitch—from there. It was just examining how far we could take a traditionally tuned guitar and then just manipulate the pitch in the recording process.
What type of guitar player is Aaron Bruno?
I would say he's utilitarian. Aaron plays guitar to write songs. He doesn't pick up the guitar as an art form in itself. He's never going to know how to play scales or theory, or how to play an Em7 straight off the bat. Aaron picks up the guitar as part of his toolbox for creating songs. With AWOL it's more than that: There's an aesthetic that comes with the sound and the tonality. He's going to use the guitar to capture a part of a song that's roaming around in his head.