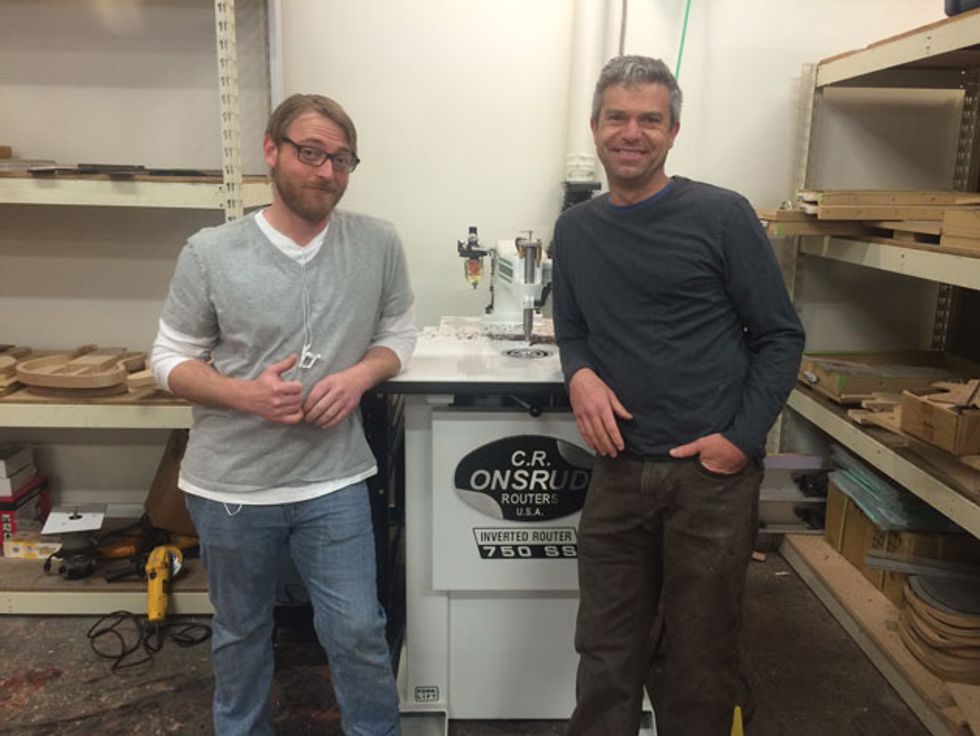 BilT Guitars' Bill Henss (left) and Tim Thelen.
BilT Guitars happily shared its onboard-effects expertise with us, but they are unable to offer one-on-one advice. Please respect their time, and if you have questions about your own project, consult a local tech with the necessary skills outlined in the Q&A portion of this article.
In 2008 Brandon Darner couldn't have known the mods he commissioned for his new Fender Telecaster Deluxe would spur the formation of one of the Midwest's hottest new guitar companies. Just as he probably never imagined his Des Moines-based band, the Envy Corps, would later get a delicious sammich named in its honor at the local Zombie Burger + Drink Lab, a joint whose unique culinary tributes to classic undead flicks have been featured on several television shows. Both unforeseen consequences testify to the power of being a bit twisted in a place that's really not known for that.
Just what were these mods—and who did Darner trust to carve up his guitar? He wanted a Sustainiac neck pickup, and two pedals—a Red Witch Fuzz God II and an MXR Carbon Copy delay—installed in his Tele. Tim Thelen, who'd already made a go of it as a luthier of boutique Strat-, Tele-, and Les Paul-style guitars, was the chosen luthier. (The burger? A grade-A ground-beef patty with pulled pork, ham, pepper jack cheese, salsa, fried jalapeños, red onion, and chipotle mayo.)
"I'd been going to Tim's repair shop for several years at that point," says Darner, who's produced albums for Imagine Dragons, Radio Moscow, and more. "The Tele started off as just an average Deluxe. I bought it from Pro Music in Des Moines and took it straight over to Tim to paint it." Darner broke two tuners throwing the guitar at its first U.K. gig, so it was out of commission for the rest of the 40-date tour. During the interim, his younger brother's old Electra Modular Powered Circuits (MPC) guitar gave him the idea of installing effects in the Tele.
"I came at it from the point of, "This is going to be kind of weird and dumb, so I've got to be able to put everything back in the pedal.'"
—Tim Thelen
Thelen was initially skeptical. "It took him a couple months of trying to convince me, but he was persistent," he recalls. The Tele—since dubbed "the Monster"—has big routed-out cavities where the original Red Witch and MXR circuit boards and controls were dropped in before being covered by two custom pickguards. It also has a Jazzmaster vibrato and Mastery bridge. "It was pretty basic, pretty rough," says Thelen. "It was super glitchy with the sustainer and all the stuff going on with those three effects—the Fuzz God is just insanity. But I got all the bugs worked out, and it was really pretty cool."
Darner thought it was more than "pretty cool." He insisted Thelen build more guitars with built-in effects.
The builder laughs as he remembers Darner's optimistic prediction that people would "really want them." "I was, like, 'Well, no—nobody really wants this.'" But a few domino crashes later, BilT Guitars was born as a partnership between Thelen, longtime repair cohort Bill Henss, and Darner. Today, players such as Nels Cline, Mastodon's Brent Hinds, the Melvins' Buzz Osborne, Limp Bizkit's Wes Borland, Imagine Dragons' Wayne Sermon, and the Killers' Dave Keuning use the BilT Relevator—the production model that evolved from Darner's outlandish request. Here we talk to Thelen about the metamorphosis from one-off Tele bastard to offset mayhem machine.
Why you were initially reluctant to take on Brandon's Tele project?
Well, you've seen what's available with effects built in. It's that cheapie Danelectro [the 2001 Danoblaster Innuendo and Hearsay guitars and Rumor bass], or the Electra with the cartridges. There isn't a big, reputable gallery of popular—or even usable—instruments with effects built into them. The other side of the coin was that I had resigned myself to repairs. I was no longer interested in building guitars. I'd tried a lot of different things a lot of different ways, and I just kind of gave up. I realized the world didn't need another Tele, Strat, Les Paul, or dreadnought copy. Then this came along, and it was pretty cool. It got a lot of attention locally.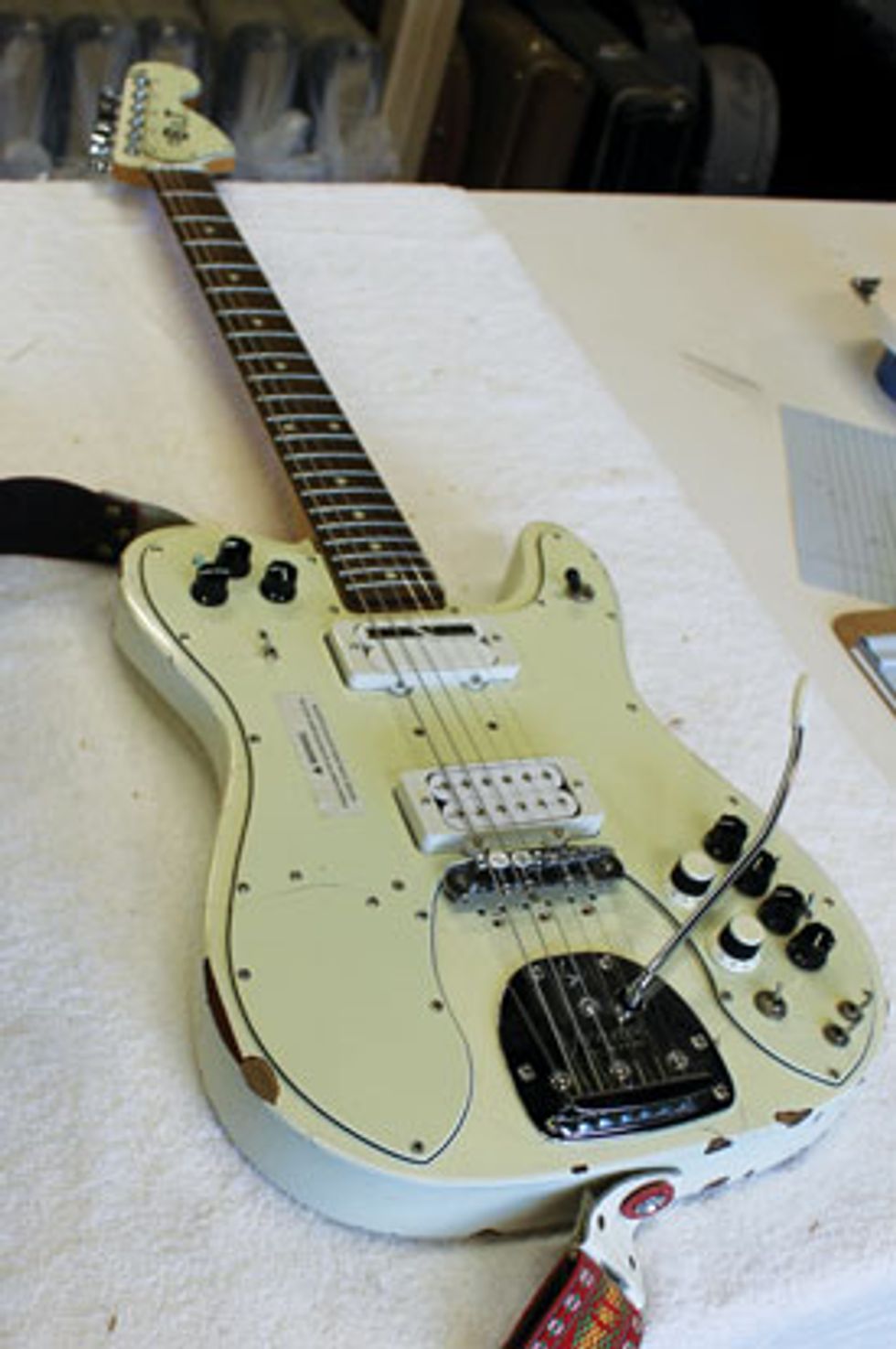 Brandon Darner's guinea pig T-style.
What were the biggest surprises of that first project?
When we took the pedals apart, I was nervous that I was going to ruin this stuff. So I mapped everything out, hand-drawing schematics of the controls and how everything related on the circuit board.I came at it from the point of, "This is going to be kind of weird and dumb, so I've got to be able to put everything back in the pedal." And the Sustainiac has its own quirks and weirdness as far as proximity and how glitchy it can be with crosstalking, the wiring, the circuit board. That was probably the second or third one I had ever installed, so I knew a little bit about it. But man, you start introducing all this extra stuff and you realize, "Oh, wow, if I touch this wire, it gets crazy. Shield that one, and all of a sudden every wire in the guitar is shielded." It was extremely frustrating, standing at a bench all day chasing weird little noises.
So what happened after that Tele project?
We hired a couple of guys to help with the guitar side of things. One of them turned out to be Bill Henss. As he and I went along, we ended up collaborating on a guitar [a rosewood Jazzmaster-style model] for a client I'd had as a friend since the '90s: Nels Cline. We approached him about making the Jazzmaster and he thought it was a great idea. So we had this distinct customer telling us this thing could really work. It's not going to burn the world down, but there are people out there who would dig it. Then I stumbled across a picture of a Fender Marauder that I think is currently in Dave Rogers' collection [at Dave's Guitar Shop in La Crosse, Wisconsin].
We did a video tour of Dave's shop a couple of years ago, and at the end we show that same Marauder.
Fender prototyped, like, eight of them and [the model] made it into the '66 color catalog but was never produced. The one at Dave's has three enormous plates, a ton of switches, a really cool offset body shape, a tremolo, the Starcaster headstock. The thing offered us something that wasn't going to be in direct competition with Fender. It had everything, but especially the right amount of real estate on those plates for effects controls. I saw that and it just gelled. We studied the Marauder and ended up prototyping our first Relevator. That became our flagship—the only model we were offering. We started by doing a run of 10.