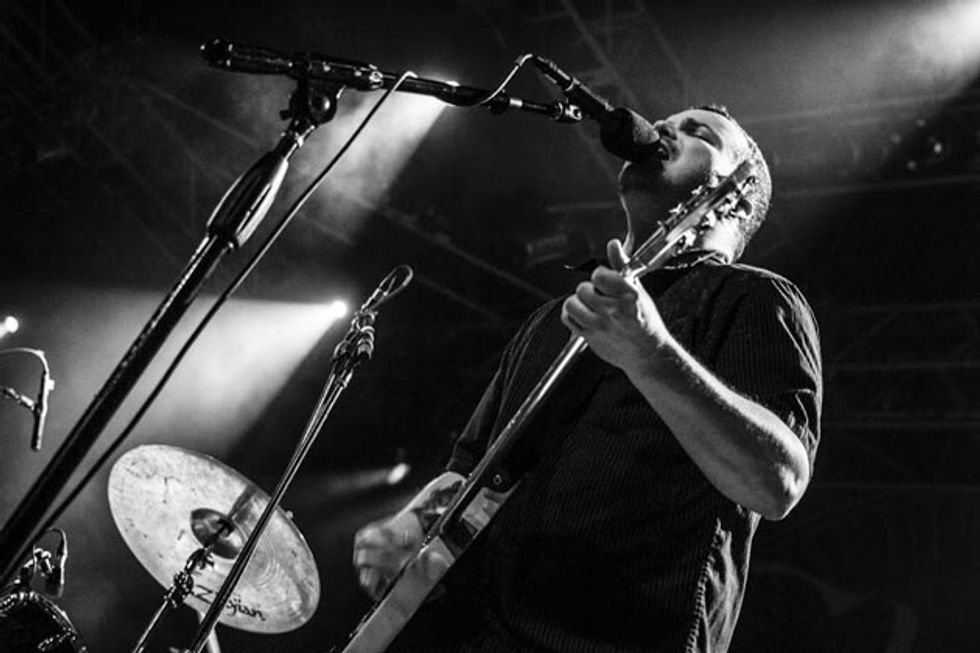 Torche frontman and guitarist Steve Brooks uses Electrical Guitar Company aluminum guitars for his special tones.
(Just don't ask him about his tunings.)
Having risen from the ashes of the (formerly) defunct sludge-metal legends Floor, Miami's Torche has been defining its own genre for more than a decade. Unlike the many other bands aping post-Melvins metal since the late '90s, Torche creates their infectious onslaught by combining slack-tuned noise with catchy, high-octane rock 'n' roll. The band returns this year with a triumphantly crushing fourth full-length release, Restarter.
Rife with the churning bombast and saccharine melodies some have labeled "doom-pop," Restarter marks a distinct return to the merciless sonic bludgeoning that characterized the band's early output. While Restarter's heavies weigh more than anything the band has put out in recent memory, the album also displays frontman Steve Brooks' desire to introduce unexpected melody at every opportunity. The album is a testament to Torche's unique and evolving aural personality.
We spoke with frontman/guitarist Brooks and bassist Jonathan Nuñez—who also produced and engineered Restarter out of his Miami studio—about the group's sonic footprint, and what it's like to make a record with band members strewn about the country.
"The simplicity of Moog synth riffs really inspired some of the stuff. It's just straight-up power." —Steve Brooks

Jonathan, Restarter is the highest profile album to come out of your studio, Pinecrust. You recently closed it down and relocated from Miami to Gainesville. Do you think Restarter is an appropriate swan song for Pinecrust and what you set out to accomplish as a producer and engineer?
Jonathan Nuñez: I think as time goes on you develop your own sound as an engineer, but we also have as a band. I developed my sonic identity here, and the band has expanded and progressed over the years and just about all of that has been done here. Other local bands did some great albums at Pinecrust and it was a wonderful experience, but I'm not necessarily sulking over leaving because I think Gainesville is going to be a great move. It's closer to the other states, and the new room sounds great. I'm teaming up with a dude who also has great equipment and is really kind and courteous. I wouldn't be surprised if we start cranking some new Torche stuff out of here relatively soon.
How does the band stay so active with its members so far flung?
Nuñez: Well, Restarter is actually a year old for us. It was written in two-and-a-half weeks last year. We had a couple of delays with the mix, mastering, and art, so we held off because we felt we'd have a stronger release in the beginning of this year, as opposed to the end of last year. Plus, Steve was busy with Floor.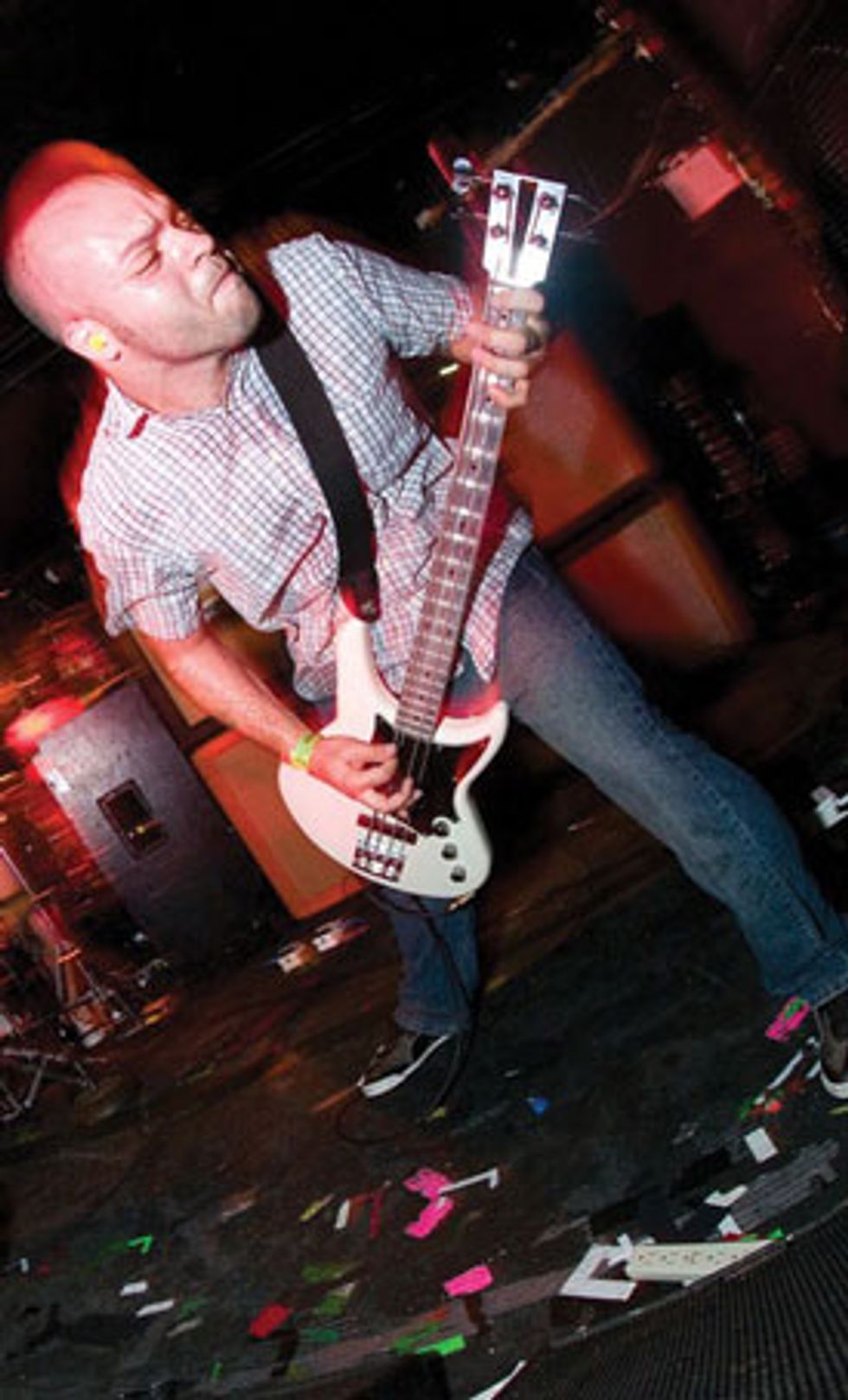 Torche bassist Jonathan Nuñez produced and engineered his band's fourth album, Restarter. The gearhead spent months researching equipment before going into the studio. Photo by Tim Bugbee.
Whenever we get together, we know there's absolutely no time to waste. We're paying for the flights that take Steve from the West Coast out to Miami, and [guitarist] Andrew Elstner either flies or drives down from Atlanta, so we know we have a limited window to work in. We usually have tours booked around that time, so it's a practice/writing, grind-it-out type of scenario when we get together. It makes for a long, relentless day. We stop to eat and take small breaks, but other than that, it's pretty intense. For Andrew in particular, it's a lot. He walked into it at the eight-year mark, so he's had a lot of catching up to do.
Steve Brooks: I don't want to spend too much time away from home [laughs]. So, when we get together for a couple of weeks, it's an intense couple of weeks. Like, 12-hour days or more sometimes.
Does the time pressure work to the band's benefit?
Brooks: Yeah! We've been doing it for a long time, so, it's worked for us thus far. I would eventually like to spend more time with everybody together, but we all live in different places now and we all have our lives to live. When we do get together, we make it happen.
The band had intentions to continue as a trio briefly following Juan Montoya's departure. Has Andrew Elstner's role been fully realized at this point and did he contribute any writing on this album?
Nuñez: He definitely has his own sound and playing style, which cuts well within our sound. Andrew wrote the sci-fi sounding track "Restarter," but this record was mostly Steve and myself, and we put a lot of it together on the spot.
We tend to work really well while on the spot. The vocals were put off a little too long in my opinion, but Steve does pretty well under pressure and he definitely delivered. Everybody certainly brings something to the table, however. We all always have input in what's going on and Andrew wrote some of the songs on Harmonicraft [2012], too. The way we work, most of the time if it's not an entire song written by someone, it's a part or two brought in and we run with it as a group. "Hey look, this riff is cool," and we try to sort something out with it.