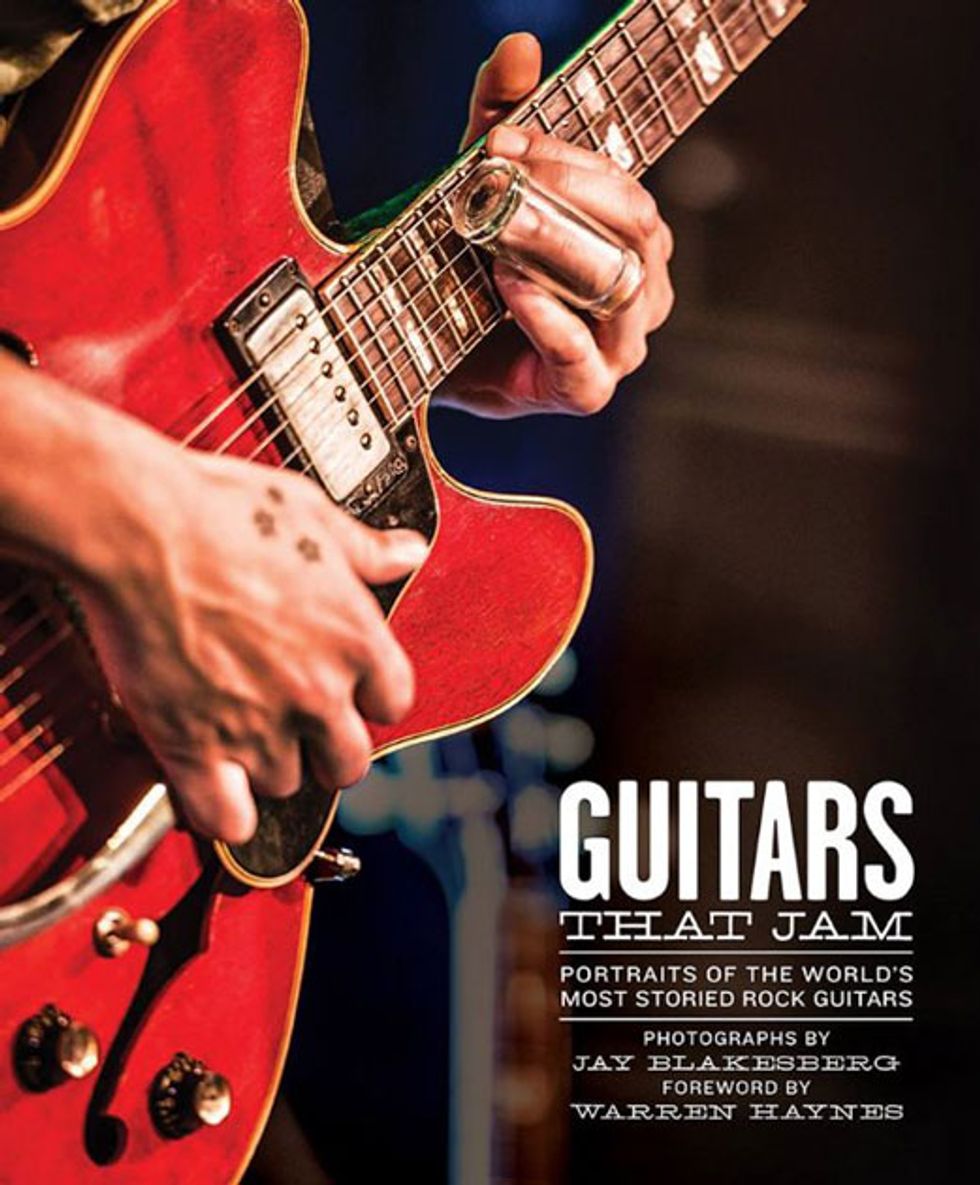 San Francisco-based photographer Jay Blakesberg has been documenting the growing improvisational rock scene long before the "jam-band" moniker became popular. Blakesberg's latest book, Guitars That Jam, focuses on a cross-generational group of musicians and the tools that fuel their exploratory solos and wildly interesting collaborations. Admittedly, the "jam" label gets stretched a bit—we're looking at you Satriani—but the stalwarts are well represented with insights from Phish's Trey Anastasio and Mike Gordon, the Grateful Dead's Phil Lesh and Bob Weir, and members of moe., String Cheese Incident, Widespread Panic, and the Tedeschi Trucks Band.
Rarely does a photographer have the ability and access to capture how a scene evolves more than Blakesberg. His images have graced countless magazine covers and albums while offering a unique perspective that fans don't often see. For more than 30 years he has captured the essence of improvisational music. In this exclusive excerpt, we take a look at five artists that live comfortable within the community but also do what they can to expand it.—Jason Shadrick
Jerry Garcia's 1973 D. Irwin, Custom "Wolf"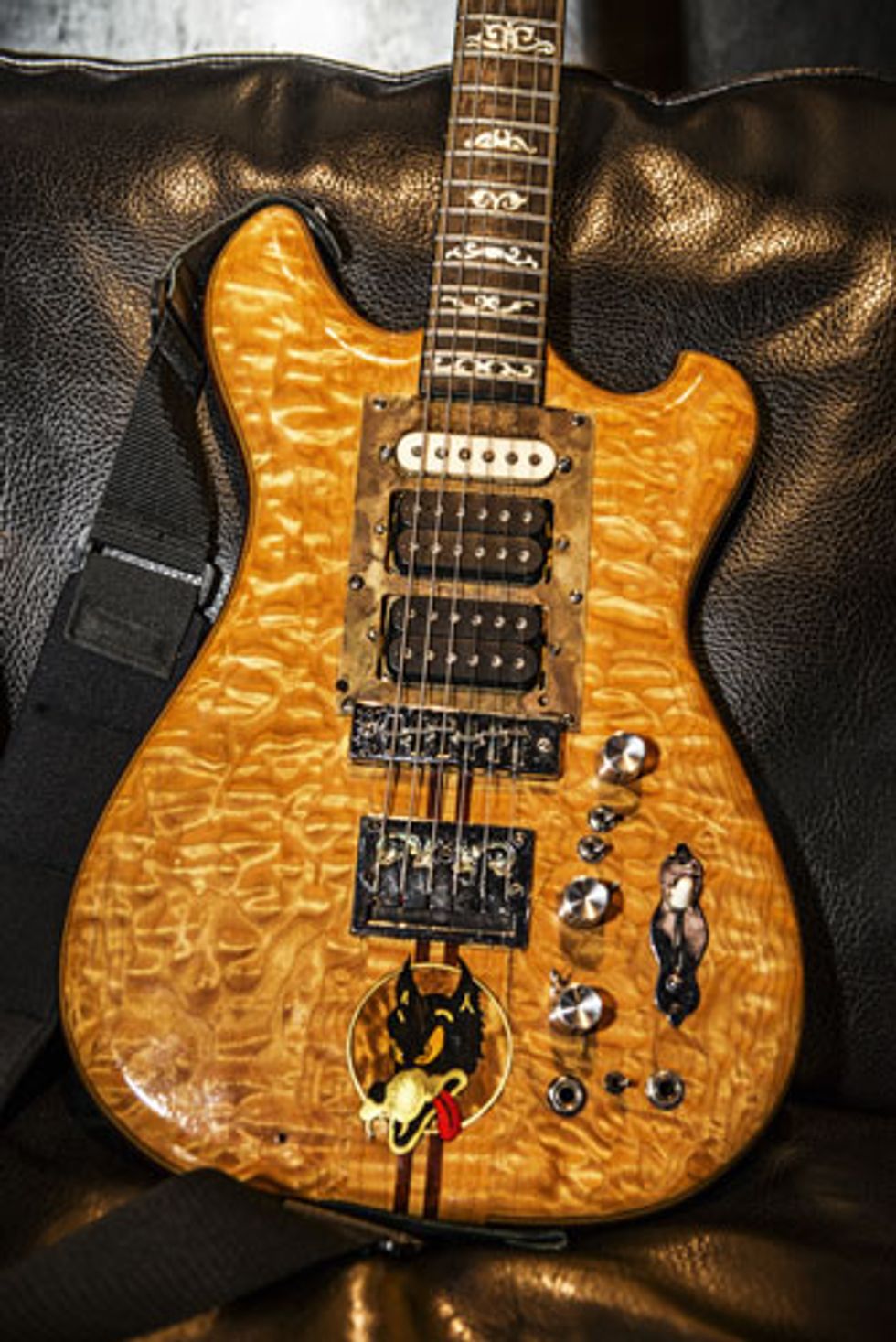 If Tom Anderson's recollection is correct, at the beginning of the Wake of the Flood sessions Garcia was presented with the custom guitar that would become his primary axe for the next couple of years (and intermittently for many more years). Garcia's new axe had been crafted by a luthier named Doug Irwin, who, Rick Turner says, "came to work with me when we set up the chicken-shack factory [in Cotati]. He trained with me and eventually started making the guitars for Garcia and then split off and did his thing."
Rick Turner hired [Irwin] for a half-time job at Alembic; he spent a year or more there, learning the ropes from Turner and Frank Fuller and devoting his free time to building his own electric guitar. One day, toward the end of 1972, Garcia was in Alembic's Brady Street store and spied the first guitar Irwin had made for Alembic. "He bought the guitar right on the spot [for $850], and asked me to make him another guitar," Irwin recalled in an interview.
"So I built the next guitar for him," Irwin recalled in the same interview, "which I had actually started building at the time he ordered it; it was made out of purpleheart [also known as amaranth, a South American wood] and curly maple. It had an ebony fingerboard and mother-of-pearl inlays. This is the one that became the 'Wolf.'"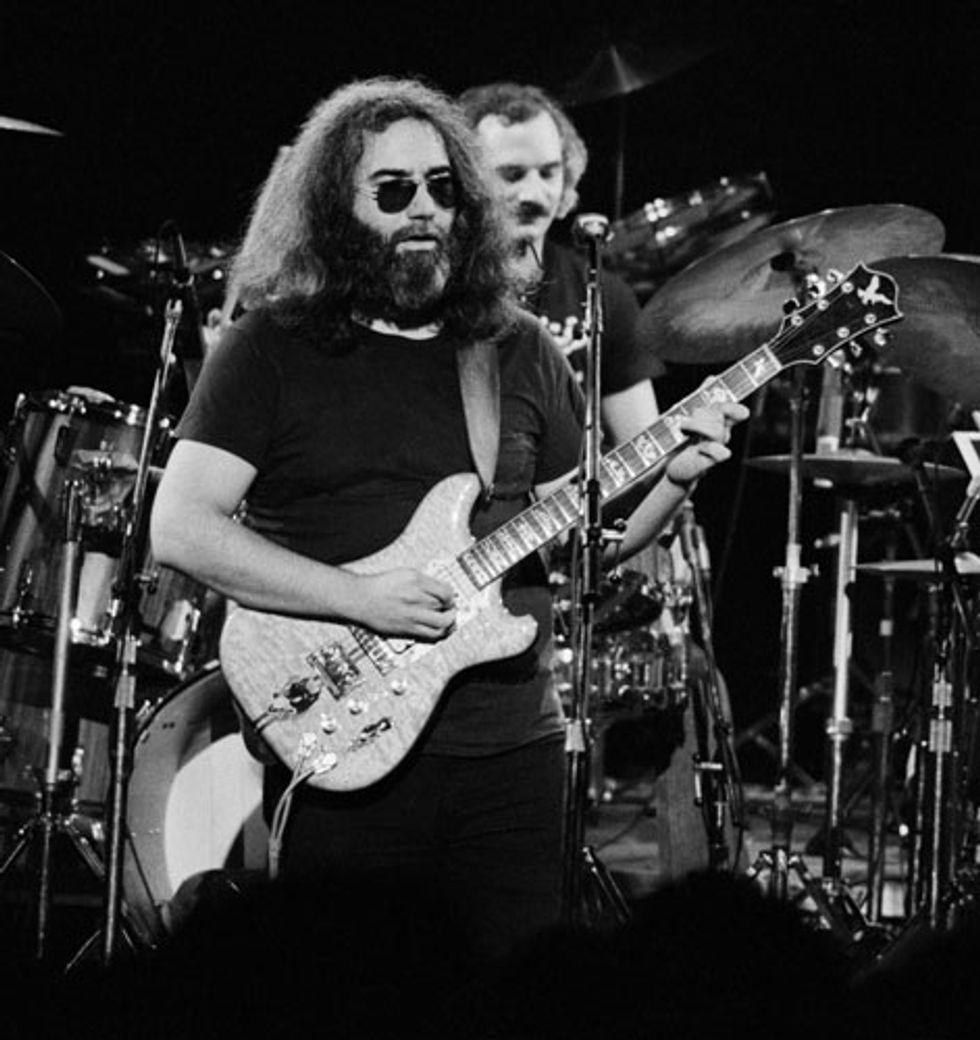 Grateful Dead, Capitol Theater, Passaic, NJ, November 24, 1978
The guitar didn't receive its "Wolf" moniker until later. Garcia had put a decal of a bloodthirsty cartoon wolf below the tailpiece, and after bringing it in to Irwin for refinishing between tours one year, "I knew the decal was going to be gone, so I just redid the wolf as an inlay," Irwin said. "In fact," Garcia recalled in 1978, "it was a week or so before I even noticed what he had done!" Garcia first played the Irwin guitar on the October '73 tour.
Beginning with the fall 1977 tour, Garcia stopped playing Travis Bean guitars and went back to the Irwin "Wolf," which a little earlier had been retooled to include the effect loop and unity-gain buffer that had worked so well in the TB-500. Garcia never expressed any particular dissatisfaction with the Beans; perhaps he just liked the woodier feel of the Irwin axe. It was at this time, too, that Doug Irwin inlaid the "Big Bad Wolf" (as Jerry called it) on the spot where an identical sticker had been.—Excerpted from Grateful Dead Gear, by Blair Jackson