1. Elder's Nick DiSalvo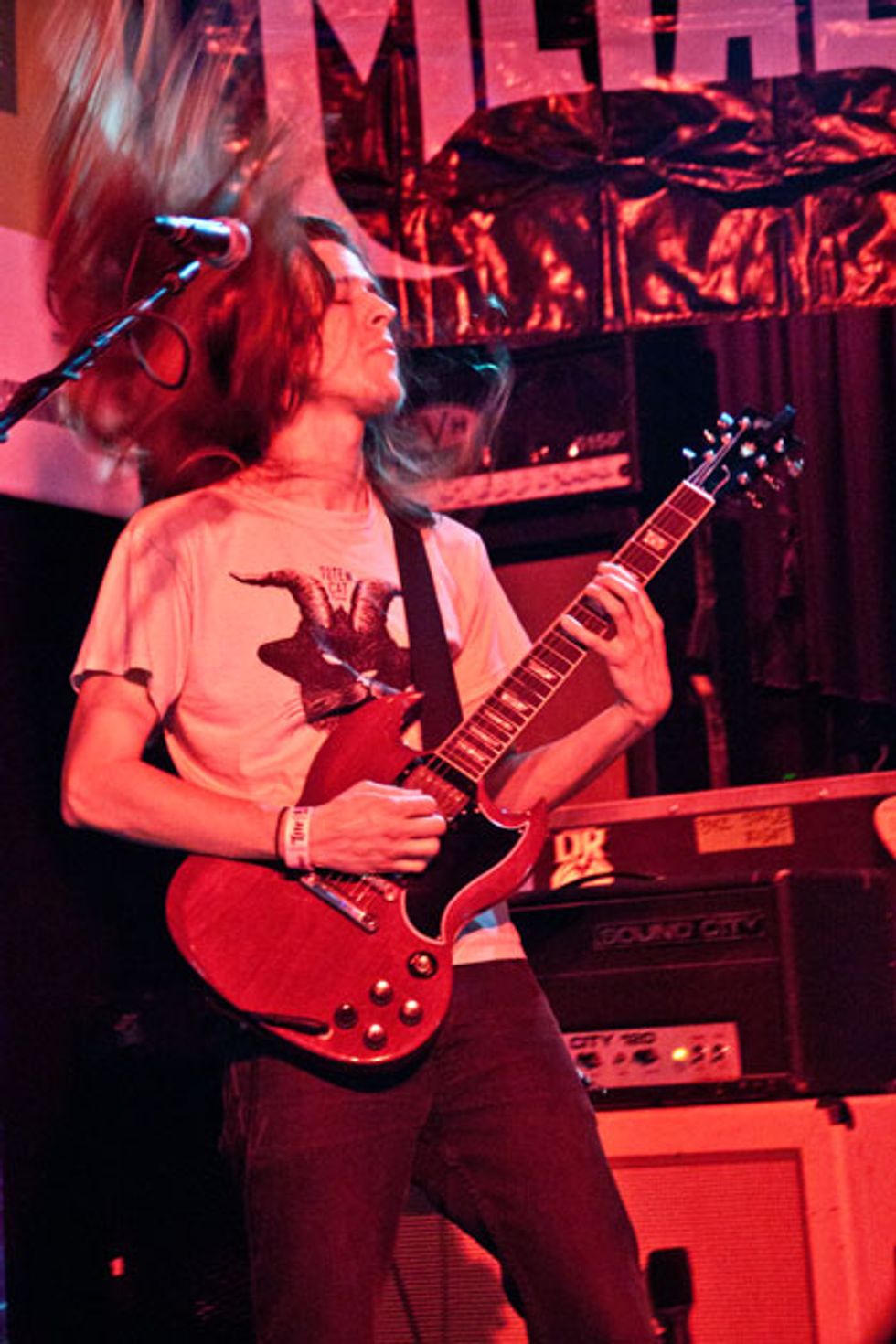 Guitarist Nick DiSalvo stoically leads the Boston power trio by letting his riffs do the talking. The psych-stoner-rock band mixes equal elements from metal juggernauts Sleep and Sabbath by writing and performing long, droning rippers. DiSalvo uses his superb dexterity to lighten things in the vein of Rush's Alex Lifeson (listen to the colorful flair in songs like 'Compendium' off of
Lore
, which has a 'Natural Science' vibe in its opening). The band's most-recent release,
Lore
, is a 5-song, 58-minute epic that balances between teeth-rattling heavy and melodic ambient passages in a manner that never makes the hour of music drag.
Guitars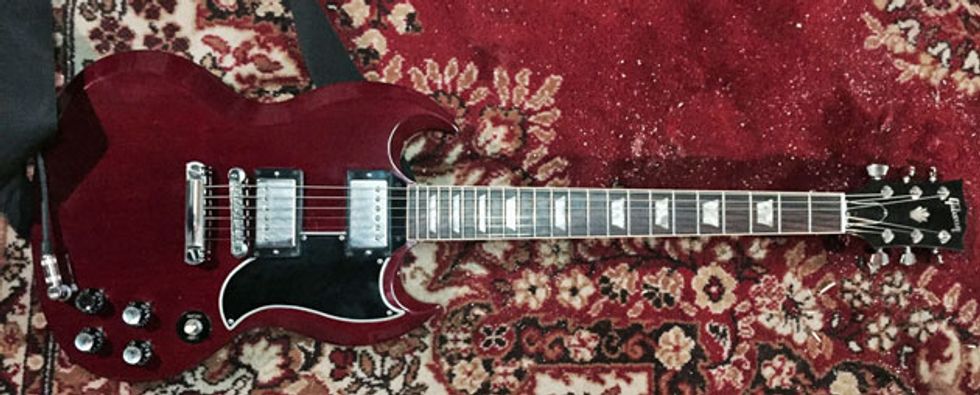 Unlike the band's complex music, DiSalvo prefers to use one guitar and one guitar only—his Gibson USA SG '61 Reissue. "I love this guitar firstly because of its playability and relatively wide tonal range for a SG. It has the thinnest neck I've ever felt and held, it's super light, and it's so easy to maneuver with (or simply have hanging from your neck for hours every night on tour). I can get everything from ripping trebly leads that hurt the ears, back to lush, thick chords, thanks to the stock '57 Classic pickups."
Amps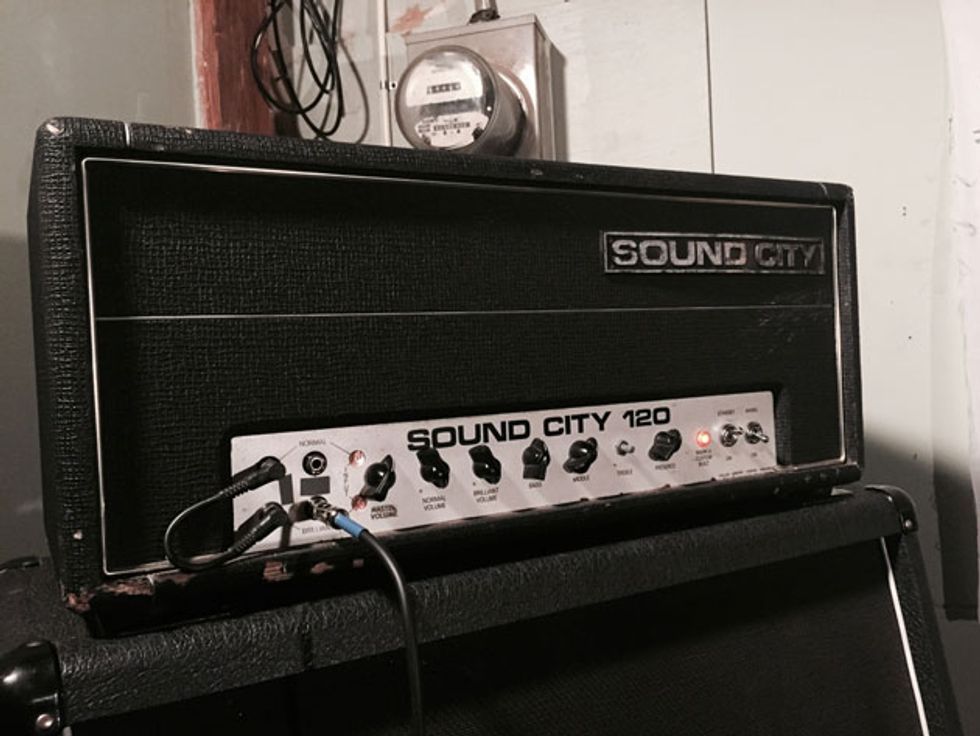 While many bands at SXSW carried their guitar and pedalboard from bar to bar, DiSalvo took it upon himself to bring his whole rig during his week in Austin. "My primary head is a Sound City 120, modded to the specs of a Hiwatt DR103. Anyone who's heard that amp knows it's got classic British crunch and wicked clean sounds, the problem with Sound City amps is that they don't have a master volume and, well, don't sound
that
good. I picked this head up from a friend who modded it and I knew instantly I wanted it. It's not as clean as a Hiwatt, it's got some strange static-y noises, and always seems to pick up the local pop radio station, but I love it—even with all its eccentricities. Currently I'm using a Marshall 1960A and an Orange PPC412 cabinet. The Marshall has G12T-75 speakers and the Orange has V30s, neither is actually my ideal but together the darker and more dampened Orange cab mixes well with the treble from the Marshall. It works, but I'm looking for old Marshall cabs with V60s."
Effects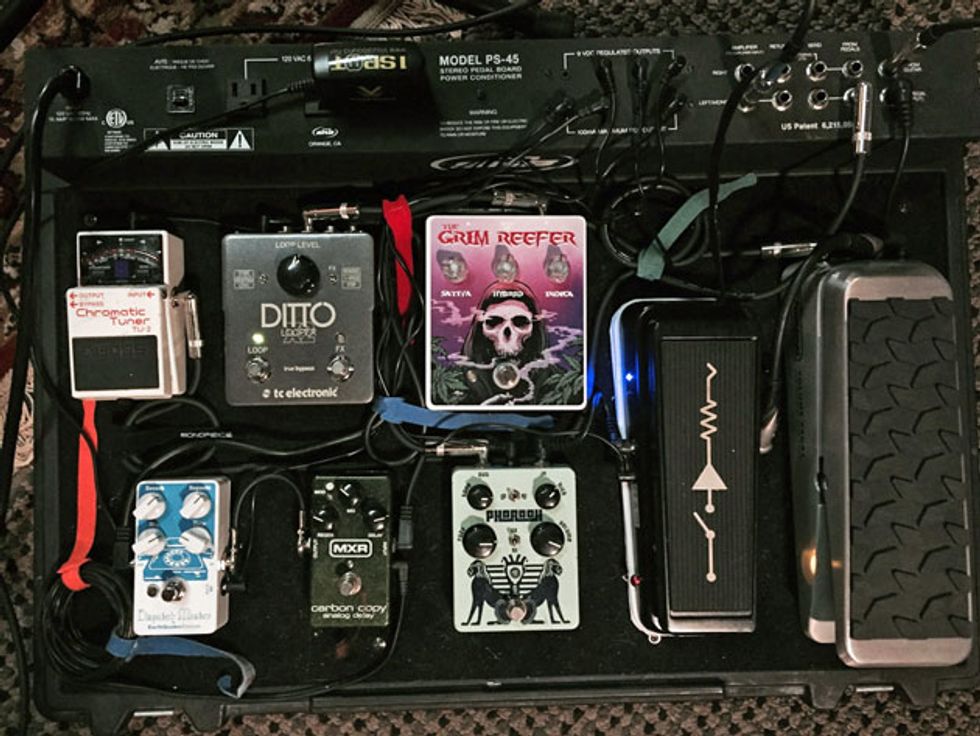 (Left to right, top to bottom) Boss TU-2 tuner, TC Electronic Ditto X2 Looper, EarthQuaker Devices Grim Reefer fuzz, MXR CAE Wah, Dunlop volume pedal, EarthQuaker Devices Dispatch Master reverb/delay, MXR Carbon Copy delay, Black Arts Toneworks Pharaoh fuzz.
"I finally caved after almost a decade of refusing to get a pedalboard. The allure of being able to have all of my usual pedals at the ready without setting up and breaking down finally won me over. My setup now has become more diverse than in previous years—I try to let my amp and guitar do most of the talking without anything too over-the-top effect wise. I have a few fuzzes (one for rhythm, one for leads) that are my main tools. I love to use the Pharaoh fuzz for heavy, chunky riffing and my (beloved and very limited) Grim Reefer for squealing bends and weird phase-shifty grime. The Dispatch Master is a great pedal for helping recreate some of the lusher soundscapes fromLore, while my Carbon Copy is my go-to for simple slapback delay sounds. My most recent addition would be the TC Electronic Ditto Looper—I don't use it much, probably only twice per set, but it really opens up possibilities to play studio songs more accurately live."
---
2. The London Souls' Tash Neal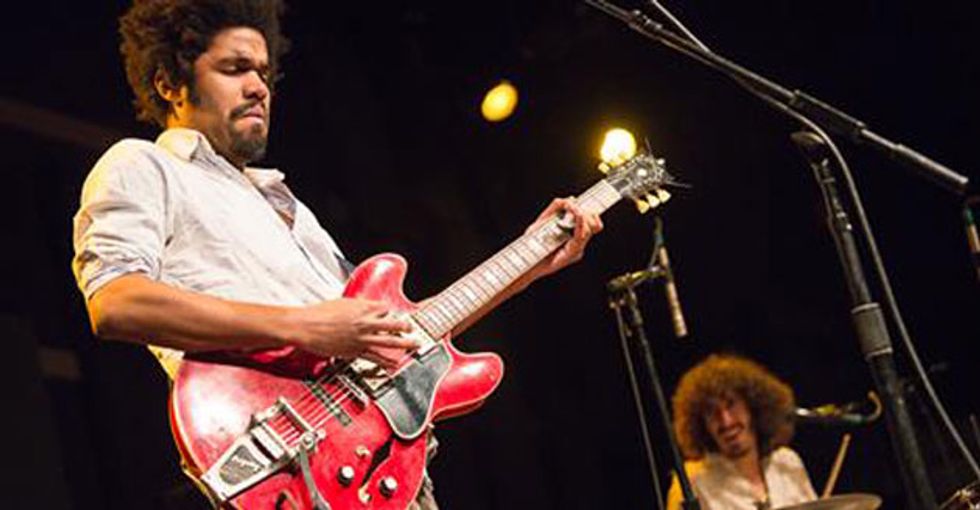 To say guitarist Tash Neal was glad to suffer through the heat, long lines, and overpriced beers in Austin is an understatement. About three years ago Neal was in a life-threatening car crash that that required brain surgery, the removal of a piece of his skull, and a medically-induced coma. Since the incident, Neal, and drummer Chris St. Hilaire have honed their retro-rock sound by incorporating Big Star-esque power-pop catchiness with a bit of psych-rock freakout on their sophomore album
Here Come the Girls
, released earlier this year.
Gear
"I don't use much in terms of equipment and right now my go-to guitar is a Gibson ES-335. I've always loved Gibson semi-hollows and I figured I'd take it with me for SXSW and our other Texas dates. Other guitars I use regularly are a Fender Telecaster and a Gibson Les Paul.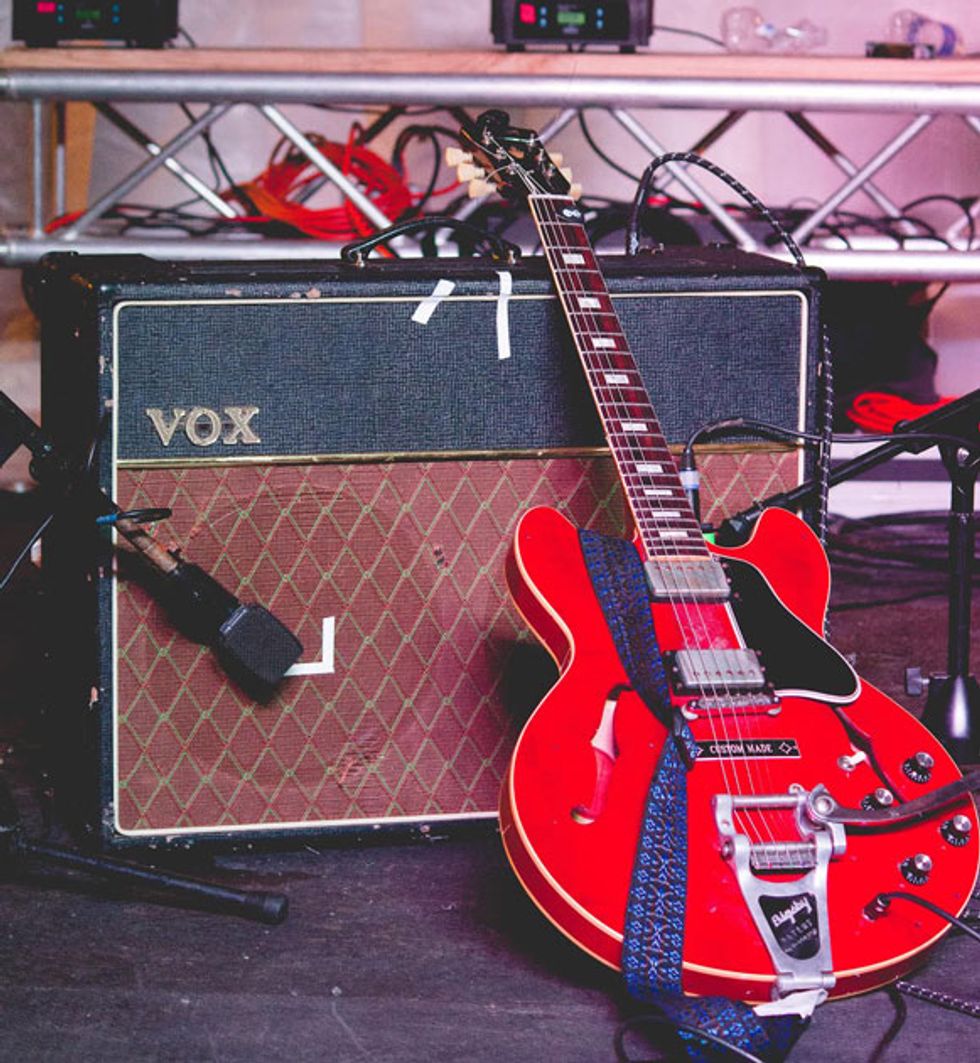 Right now I have a Vox AC30 because it's a reliable amp that you can pick up at any guitar store. It's off-the-shelf and it sounds great. I'm not like most guys you probably cover in that I don't shop a lot—only when I need to. I don't have a pedalboard and the only time I use a pedal other than a Boss TU-2 tuner is a clean boost to make the AC30 break up just a tad earlier. I just use an input boost to boost my signal and not cut it: I like for the sound to be from my playing, and the amp."